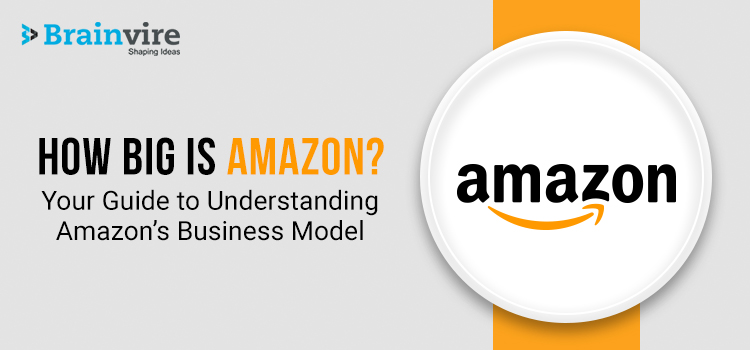 Amazon, one of the most highly used eCommerce company is continuously growing, all thanks to more and more consumers who are now choosing to turn toward the internet for purchasing goods. Talking about How Big Is Amazon? Your Guide to Understanding Amazon Business Model, Amazon has become a massive retailer that provides a mixed bag of both new and used products to the products. In this blog, you can take a glance at the following topics revolving around this giant:
Understanding the Amazon business model
How does Amazon's model affect its revenue?
What are Amazon's marketing strategies?
Valuation and Statistics of Amazon Business Model
One of the most important websites on the planet, Amazon is a standout in itself by being the 6th most used website in the world. It was in 2015 that Amazon crossed Walmart as the most valuable retailer in the US. 
Accordingly, the eCommerce giant is the fifth most valuable public company in the world. It also holds the title of being the largest Internet company by revenue in the world.
As per popular industry statistics, when we talk about How Big Is Amazon? Your Guide to Understanding Amazon Business Model, Amazon is the leading eCommerce in the United States with net sales close to $136 billion in 2016. Amazon was able to generate such a huge amount of revenue because the company acquired Whole Foods Market for $13.4 billion in 2017, which ultimately increased Amazon's presence in the physical retailer. 
The reasons behind Amazon's rewarding success are many. But one of the biggest reasons behind Amazon's unbeatable success is the fact that it enables everybody to offer or purchase items on the eCommerce site.
Understanding the Amazon business model
Amazon's gigantic business model has many moving parts. All things aside, the best part of this eCommerce website is that offers products straightforwardly. Several products are available for purchase on the Amazon online storefront with a small markup. Moreover, all the business stock is kept within the extensive system of stockrooms. 
All customers who visit Amazon's site accept that products available here are more affordable and can easily be accessed for buying.
Notwithstanding direct deals, Amazon Business Model gives a stage to different retailers to sell products to consumers. Even though Amazon does not charge its retailers for allowing them to list items available on their site, the business does charge a small amount in the form of commission.
For consumers though, Amazon keeps up a membership-based business model using the Amazon Prime administration. Using this record, consumers can pay a yearly amount to secure a free two-day or same-day dispatching on certain eligible products. Additionally, they can also stream media using this membership. Another way Amazon's business model generates income is by offering its e-readers the Kindle.
Want to convert your idea into a successful app or website? Schedule your free call with our expert now.
How does Amazon's model affect its revenue?
In order for a business to be profitable, entrepreneurs must ask themselves whether their business model can be transformed into a practical, money-spinning industry venture. They also need to ask themselves the number of resources (money) will it take to achieve those results.
Based on this, there can be 3 major factors that can be taken into consideration for Amazon's revenue model.
Investment
Ever since day one, Amazon was able to completely understand the total cost involved for the launch of the company. The company also has a clear idea about the amount that will go into sustaining the entire business.
Cost Drivers
Since Amazon has been able to identify the cost components that can have a major impact on their entire cost structure, the company is able to disaggregate its entire cost data to discover the key drivers.
Revenue Sources
Now, because Amazon has been able to identify the key revenue streams, the size, and importance of the different revenue resources, it is able to disaggregate the revenue data to discover the key revenue drivers.
In the initial period though, Amazons' business growth was pretty much depended on a detailed strategy that consisted of SEO and Adwords to target millions of keywords. After years and years of trial and error, Amazon has worked well on the final output that is beneficial for their revenue model.
How big is Amazon's business model?
Talking about How Big Is Amazon? Your Guide to Understanding Amazon Business Model, Over a period of 20 years, Amazon has evolved to become a complete ecosystem in itself. The network of Amazon has become so strong that anyone who has ever used the internet must have, at least once, landed on Amazon's giant website. 
Consequently, the business strategy of Amazon's business eCommerce is so perfect and well-designed that it has also gained independence and multiple revenue sources that are all well-connected with each other.
In order to understand the Amazon Business Model in detail, it is important to first learn about how big Amazon is. This involves learning about all the products and services it offers to the customers.
So, coming to the crux now, how grand is Amazon's business model? Amazon boasts of the following models into its business.
Amazon Marketplace 
One way in which Amazon generates revenue is through commissions. Another way to generate revenue is by charging a commission from sellers for the sale of their product.
Amazon Books 
Another area that helps Amazon create revenue is the books department. The eCommerce giant makes revenue by selling books on the Amazon eCommerce site, book depository, AbeBooks, audiobooks on audible, comics on ComiXology, as well as through Amazon publishing. The company has also created a brand new demand for e-books by introducing Kindle in the market. Additionally, there are a few countries in the world where Amazon owns physical bookstores.
Amazon Music and Videos 
The business model of Amazon also includes star websites such as IMDB and twitch.tv. These two companies generate substantial revenue for this giant online store. In addition to this, Amazon Music and Videos also add to the company's annual profits.
Amazon Gaming 
A popular subsidiary of the Amazon company called Amazon Game Studios has now become one of the renowned names in the world of gaming. Furthermore, a section of this giant called Amazon Digital Game Store also fulfills the purpose of selling third-party games. Both these subsidiaries have their fair share in Amazon's yearly returns.
Amazon Web Services
Amazon web series is among the top IT infrastructure providers in the world. These services provide support to the CIA and Netflix.
Amazon Fire Products
 It has been a while since Amazon launched its wide range of fire products. This list of products includes phones, tablets, TV, and Mobile OS.
Amazon Prime 
The subsidiary provides premium membership to all Amazon's customers for all the services the eCommerce giant provides through Amazon prime.
Amazon Patents
The final subsidiary that adds to Amazon's annual turnover is the fact that the eCommerce store holds more than 1000 patents. Many of these patents are licensed by other companies.
Amazon Marketplace
The Amazon marketplace, more commonly known as amazon.com, is the gigantic e-commerce platform where numerous products from Amazon and third parties are sold to the users.
The Amazon eCommerce business operates just like any other usual eCommerce marketplace. The platform executes interaction between sellers and buyers. What distinguishes Amazon from other platforms is that Amazon provides world-class facilities to both buyers as well as sellers.
Let's take the example of the Alibaba business model. Unlike how the Alibaba business model works, all the items sold on Amazon by the third-party sellers are either Fulfilled By Merchant (FBM) or Fulfilled By Amazon (FBA). 
Furthermore, on Amazon, all the FBM goods are kept in the third-party seller's inventory. Similarly, duties related to shipping and customer service are handled by the third-party merchant. Now, the FBA goods on Amazon are stored in Amazon's fulfillment centers. Over here, both shipping and customer service are handled by Amazon itself.
As mentioned earlier, Amazon also charges a commission, which is also known as a referral fee, from all its third-party sellers. Over here, the commission amount varies for different types of goods sold online.  On Amazon, the FBA fee that is inclusive of a pick, pack, and weight charge is also charged from third-party sellers that make use of FBA.
Since Amazon has millions of active user accounts around the globe, As part of ecommerce seo services, the eCommerce store also charges its sellers to advertise and promote their respective brands on its website. Amazon does this by listing the sellers' products on the top of the search results, meaning on its homepage.
What are Amazon's marketing strategies?
Officially, Amazon does not speak out much about its advertising approach in its yearly reports. However, there are a few statistics available online to evaluate How Big Is Amazon? Your Guide to Understanding Amazon Business Model, which are carried out by market experts that can throw some light on Amazon's marketing strategies.
In the year 2011, Amazon stated that it fetches clients to its website by fundamentally focusing on several internet advertising channels. This includes Amazon's sponsored search, portal promotion, associates program, email advertising efforts, and various different activities. 
Other activities that Amazon indulges to rope in customer includes outdoor and TV publicizing. In the 2011 announcement, Amazon stated it intends to lay more emphasis on features that result in higher levels of client satisfaction. 
The eCommerce company further added that while costs related to free shipping are omitted in the advertising costs, the company still considers free transporting offers and Amazon Prime as powerful overall promoting tactics. This simply means that Amazon will continue to offer them to its customers indeterminately.
Valuation and Statistics of Amazon Business Model
Here are some statistics on the Amazon business model that you can glance at.
Valuation Measures
| | |
| --- | --- |
| Market Cap (intraday) 5 | 568.19B |
| Enterprise Value 3 | 578.81B |
| Trailing P/E | 300.65 |
| Forward P/E 1 | 147.01 |
| PEG Ratio (5 yr expected) 1 | 33.68 |
| Price/Sales (ttm) | 3.53 |
| Price/Book (mrq) | 22.99 |
| Enterprise Value/Revenue 3 | 3.59 |
Fiscal Year
| | |
| --- | --- |
| Fiscal Year Ends | 31-Dec-16 |
| Most Recent Quarter (mrq) | 30-Sep-17 |
Profitability
| | |
| --- | --- |
| Profit Margin | 1.20% |
| Operating Margin (ttm) | 2.01% |
Management Effectiveness
| | |
| --- | --- |
| Return on Assets (ttm) | 2.17% |
| Return on Equity (ttm) | 9.07% |
Income Statement
| | |
| --- | --- |
| Revenue (ttm) | 161.15B |
| Revenue Per Share (ttm) | 336.79 |
| Quarterly Revenue Growth (yoy) | 33.70% |
| Gross Profit (ttm) | 47.72B |
| EBITDA | 12.93B |
| Net Income Avi to Common (ttm) | 1.92B |
| Diluted EPS (ttm) | 3.92 |
| Quarterly Earnings Growth (yoy) | 1.60% |
Balance Sheet
| | |
| --- | --- |
| Total Cash (mrq) | 24.31B |
| Total Cash Per Share (mrq) | 50.45 |
| Total Debt (mrq) | 43.19B |
| Total Debt/Equity (mrq) | 175.14 |
| Current Ratio (mrq) | 1.03 |
| Book Value Per Share (mrq) | 51.16 |
Cash flow statement
| | |
| --- | --- |
| Operating Cash Flow (ttm) | 16.25B |
| Levered Free Cash Flow (ttm) | 10.67B |
Want an Amazon of your own?
From where it started, Amazon has come a very long way. If you too wish to have a massive eCommerce platform like Amazon or WordPress website does, you need to start somewhere. Your somewhere begins by getting in touch with a good mobile app development company that can help you make a database just like Amazon has.
If you are looking for such an eCommerce development company, then Brainvire can be an excellent company to rely on. Backed by an army of trained and expert developers, Brainvire has both the skill set and zeal to turn your challenging vision into a true, existing reality.