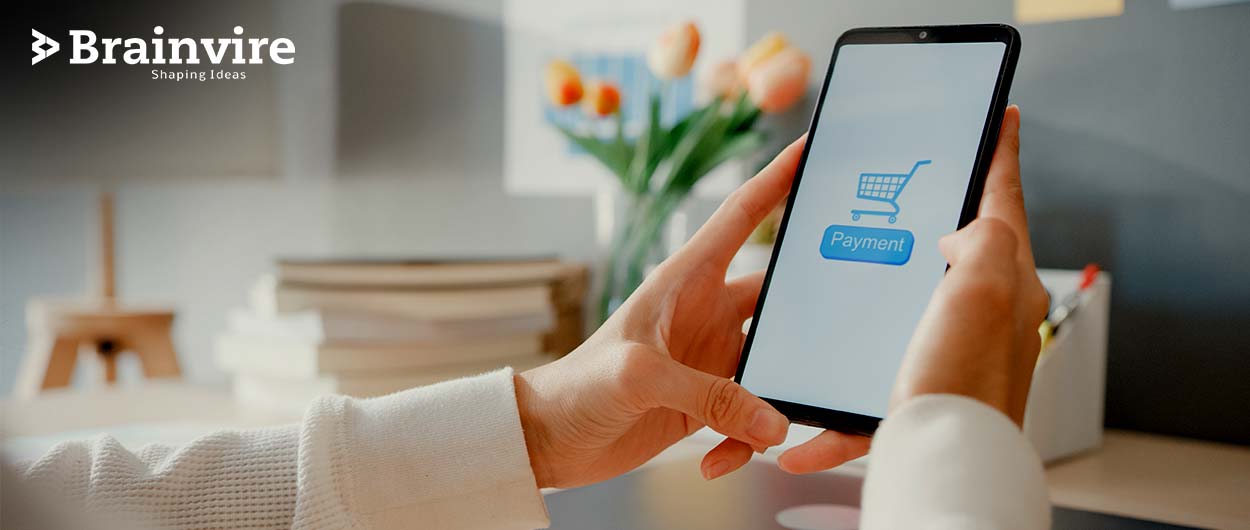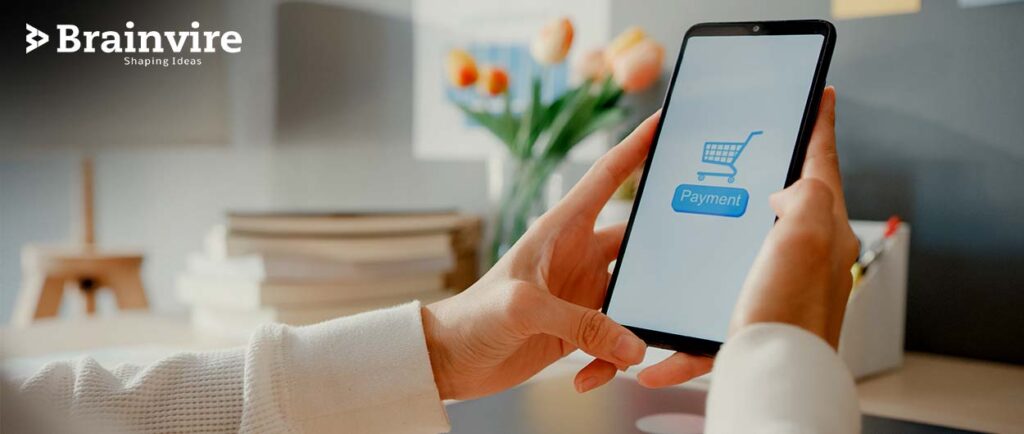 According to Statista, the global eCommerce sales amounted to $4280 billion and are expected to surpass $4891 billion in 2021. With the exponential growth of the eCommerce industry, there are ample opportunities for online businesses.  
Whether you are a newbie in the terrain or want to expand your online business, understanding the eCommerce business model that your company follows/should follow sets the foundation for success.
Different Types of Ecommerce Business Models- Traditional and Innovative
Let's discuss different business models and brands that use them to help you understand which one will suit your business needs.
1. Business to Consumer (B2C)
If you have bought the slippers you had been eyeing on for days or a cool-fit t-shirt that perfectly resonated with your style from online marketplaces like Amazon, you already know what a B2C eCommerce model is. Theoretically, it is a  retail model that involves an online commerce transaction between an eCommerce business and the end-user (consumer).
It is the business model that people most commonly attribute to eCommerce. Since the exchange of products is between the main parties involved, the sales cycle is generally short. As a result, B2C online retailers typically receive more orders, but the order value is less, leading to lower revenue than B2B businesses. Amazon, Walmart, eBay are based on the B2C model.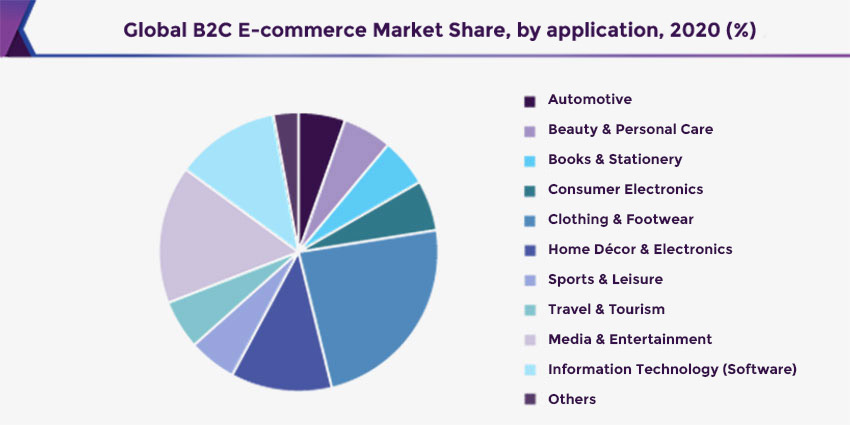 Market share of different sectors in the B2C segment
According to the report, clothing and footwear ruled the roost by constituting 24.7 percent of the B2C segment's total revenue.
2.  Business to Business (B2B)
When businesses sell products and services to another business, they follow the traditional B2B eCommerce business model. Most of the time, the buying business sells this product or service to the consumer. However, at times, they are the end-user.
A sizable portion of businesses following this eCommerce model is service providers. A web development company creating a website for their client is a typical example of this. This doesn't mean that all the businesses following this model offer services.  A company selling office furniture would be an example of the B2B model.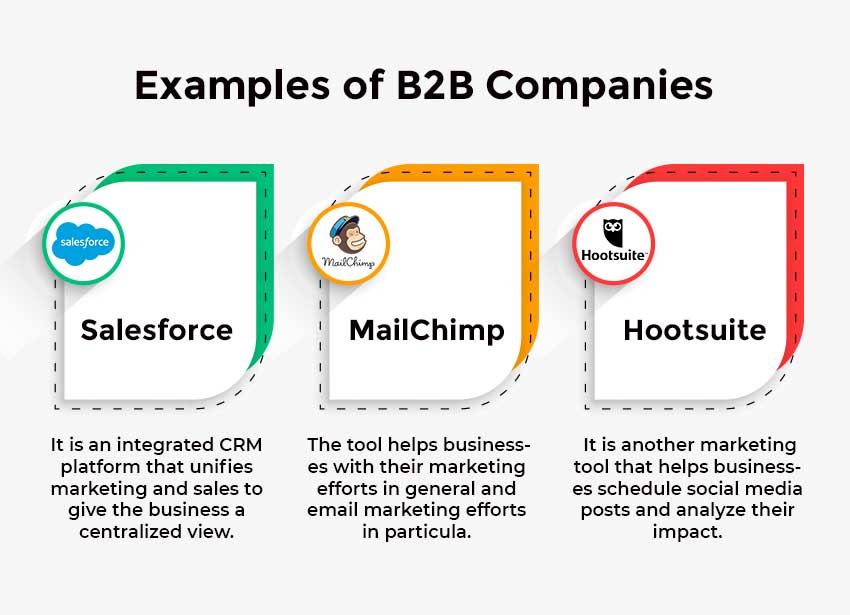 If you are a manufacturer selling raw material or end products to another business, your business will also be a part of the B2B eCommerce ecosystem. The volume of transactions that take place between businesses is considerably low in comparison to B2C. However, the order value is generally much higher. 
Hybrid model-  Despite the stark differences between the B2B and B2C models, a company can cater to both these markets at once. Software as a service (SAAS) based companies are a great example of this.
[Also Read: An Entrepreneurial Guide to develop a profitable ECommerce Solution]
3. Consumer to Business (C2B)
This traditional eCommerce business model doesn't seem conventional in the first place, at least when you give it a shallow thought. When you think for a couple of minutes, you can come up with a good number of examples.
Have you ever come across freelancing websites like Upwork and Freelancer? They essentially operate on this eCommerce model. These websites allow consumers to showcase their talent in their specific field and allow businesses searching for similar services to have a look at their work and hire them.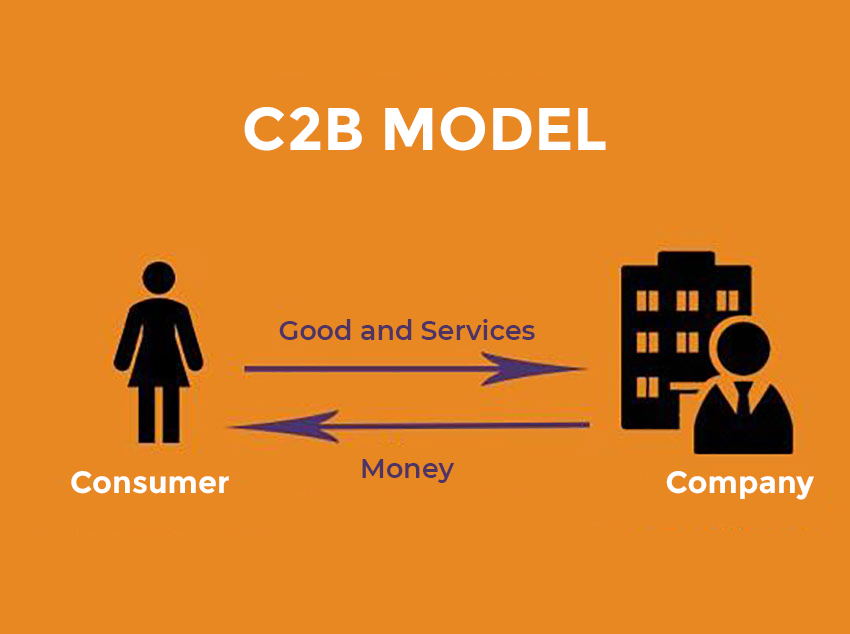 Exchange of goods and services in the C2B model
In simple words, C2B is an eCommerce model wherein a customer offers products or services to a business to contribute to one of the activities of a business process. Although paid reviews are not ethical, online eCommerce brands swear by their importance and are in great demand. Also, websites like Shutterstock, where consumers upload their work and a business buys its usage rights, is an example of the C2B model.
Mentioning a company's brand name in an independent write-up is another example. Influencer marketing is an innovative form of C2B type of eCommerce business. However, the prices/ fee is competitive owing to the stiff competition.
4. Consumer to Consumer (C2C)
In this type of traditional eCommerce business model, both the seller and the buyer (end-user) are consumers. They find each other at a third-party website like eBay that offers an auction system. Craigslist and Etsy are other similar examples that allow consumers to sell new and pre-owned items.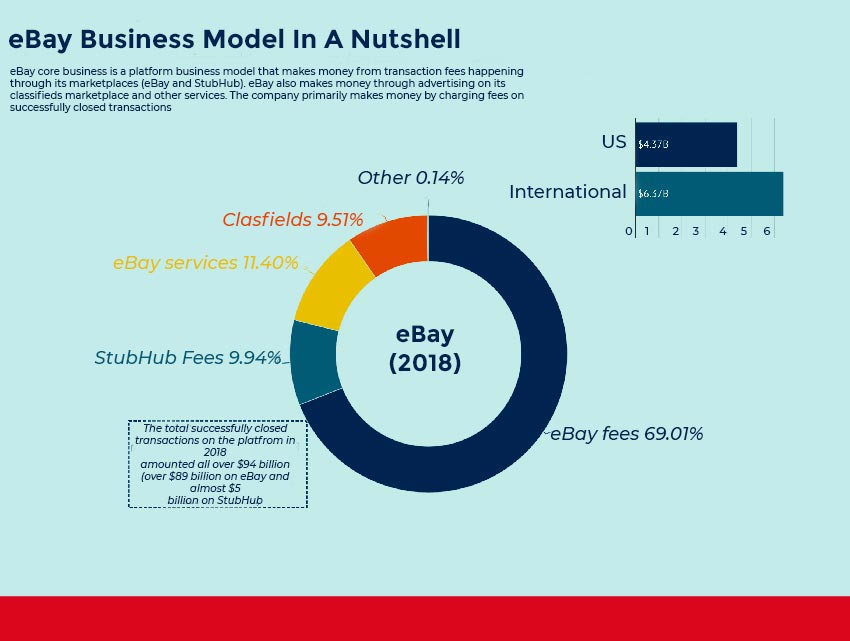 Fee is the primary source of income for eBay
According to Statista,  there were over 100 million visits to eminent C2C marketplaces in the US alone in 2020.
Since there are no intermediaries involved, this business model is profitable both for buying and selling consumers as the profit margins are high and the cost is low. C2C websites like eBay make a big chunk of their profit by listing products and helping buyers and sellers to meet at one place. However, due to little power over quality control, the product's quality may not be satisfactory at times.
Innovative Ecommerce Business Models
Ecommerce business types can be as diverse as brick and mortar stores, even more. Selling products or services online is not the end of the story. The value you create is equally important. There can be different ways of creating value for your customers.
1. Dropshipping
To be an online business, you don't necessarily need to spend a hefty sum maintaining your stock. Many independent sellers, especially on social media platforms, swear by receiving orders, getting them delivered to their address, and charging a commission for doing so.
The Chinese app Alibaba is a classic example of this creating an impressive success story.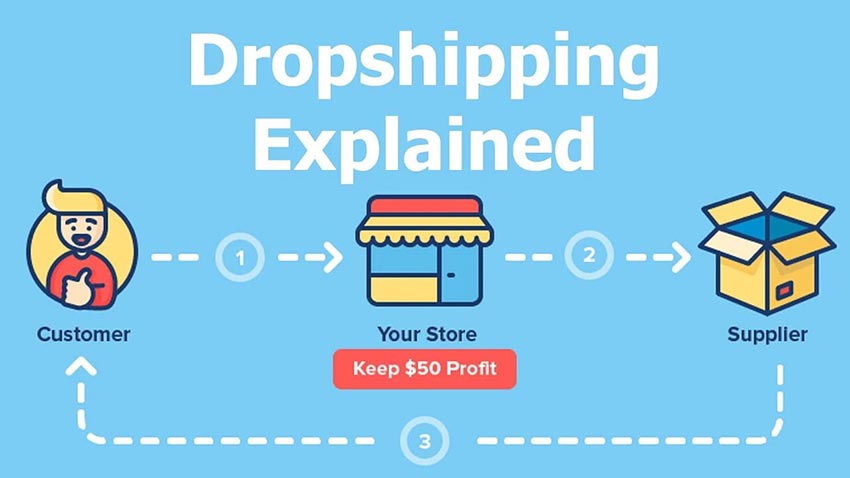 How dropshipping works
2. White Label or Private Label
Creating a product from scratch is time-consuming, requiring massive spending on market research, product design, and rectifications. Therefore, brands that want to launch their product swiftly in the market rely on the expertise of companies or manufacturers who create a product under your name (called white label or private label) to deliver a ready-to-use end product to you.
White labeling is a big hit, especially in the application development arena.
3. Wholesale
Many online retailers adopt the innovative hybrid selling approach. They have a fixed price for consumers (B2C) who buy in limited quantities. Additionally, they have a significantly low price for corporates who buy in bulk (B2B). In this way, they can offer the best of both worlds.
4. Subscription
Subscription models are an innovative way of creating loyal customers. When you buy Netflix's yearly subscription service plan, you are essentially experiencing this approach. For example, an oral hygiene brand in Australia named Boka offers buyers the subscription of their oral kit, including toothbrushes, toothpaste, and floss.
When your customers pay in advance, it becomes easier for you to ensure the continued availability of funds that you can use to catch the attention of more potential customers.
How to Choose the Right Ecommerce Model for Your Business
Deciding which type of eCommerce business model you should opt for is not easy(or wheather to hire magento development agency or not). So let's simplify this decision-making for you by stating the determinants that will guide you through.
Remember that nobody understands your product better than you. Answering these basics in your mind will help you decide which type of online business model you should follow for your business.
I. Target Audience
While deciding your line of products, you must have pondered who it will serve. Over time, you can think of broadening the scope of your market,  but having a preliminary understanding of your target audience is the single most crucial thing that you need to know. Do you want to sell products to consumers or businesses? Do you want to be a retailer selling products to the end-users or a wholesaler selling products in quantity to retailers?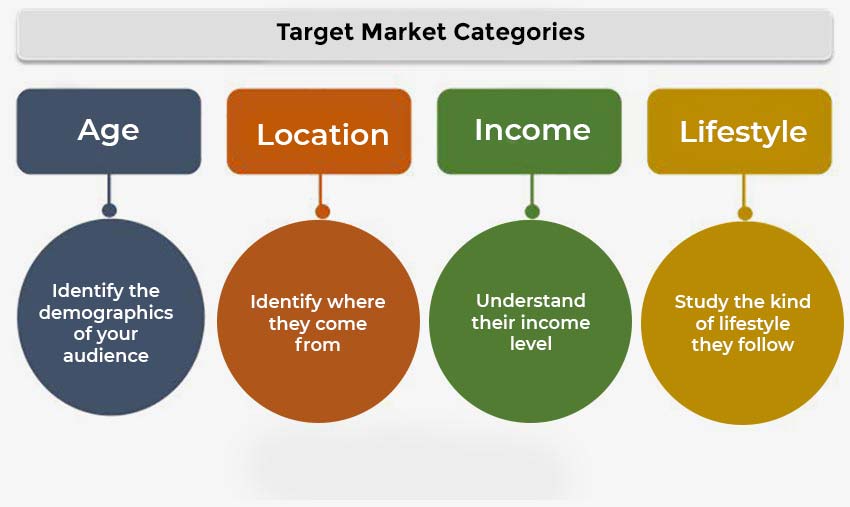 The basis for segmenting your target audience
II. Availability of Resources
Once you streamline who you want to cater to, the next step is to analyze whether you have the resources for it. For instance, a wholesaler needs to maintain bulk quantities of products, contrary to a retailer who keeps a stock in significantly lower portions.
If you have limited resources, opt for a model that calls for considerably lesser resources. For example, you could go for B2C while using dropshipping as a subset.
[Also Read: Top 7 facts that confirm the importance of Affiliate Marketing in Shaping eCommerce]
III. Nature of Product/Business
Understanding what you do in the real world is crucial in deciding a suitable model for your business.
For instance, if you are a manufacturer, your realistic option would be B2B- i.e., businesses that can sell these products to end-users.
IV. Degree of Competition
If you are ready to face a high degree of competition and are satisfied with products that are lower in price but call for more customers, B2C is your go-to model.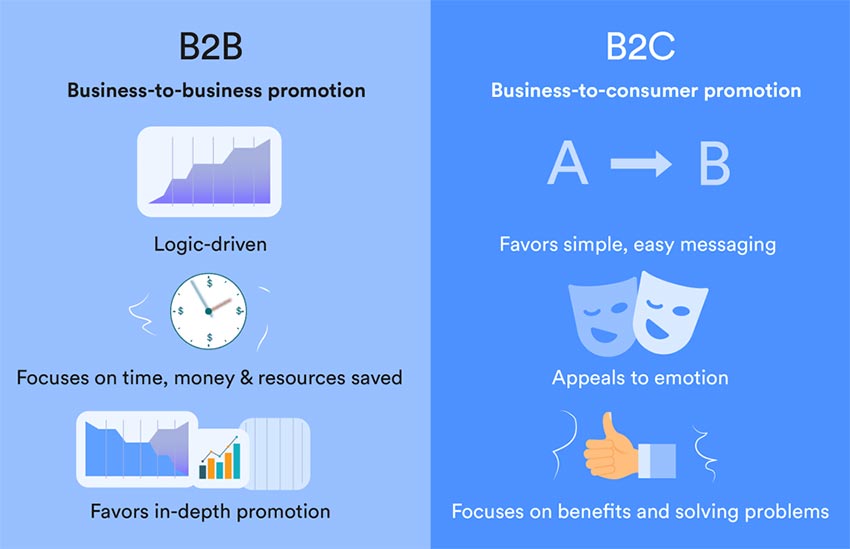 Difference between B2B and B2C eCommerce
On the contrary, if you want less but high-paying customers, you should opt for the B2B business model.
Need help with choosing the model that best fits your business needs?
Are there just 4 eCommerce models, or are there more?
The four traditionally used business models are business to consumer (B2C), business to business ( B2B), consumer to business (C2B), and consumer to consumer (C2C). There are several other models like business to government (B2G) that you will find while surfing the Internet, but for understanding the suitable eCommerce model for your business, these four traditional models will help you make the right decision.
Example of an Innovative Business Model to Let Your Creative Juices Flow
Airbnb is an excellent example of a successful online business type. It provides the hosts and the guests (travelers) a platform where they can meet. Hosts can opt for making their property available. If a potential guest wants to stay there, they need to pay using the Airbnb app.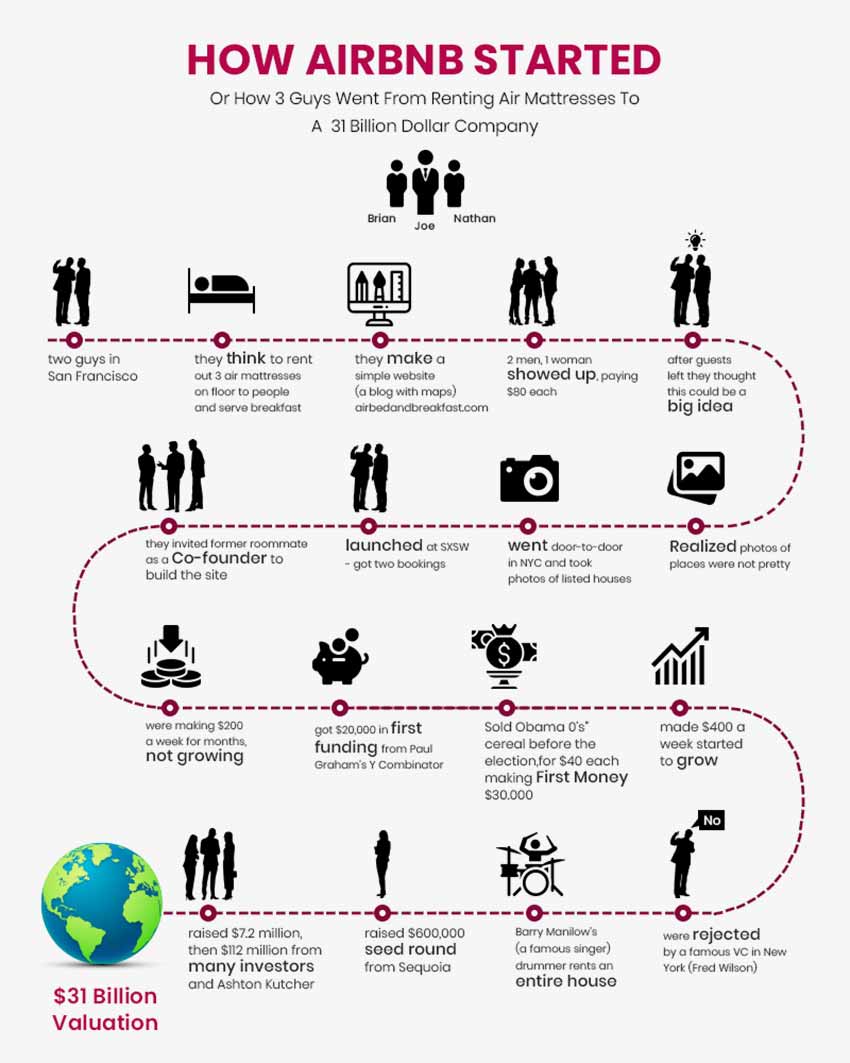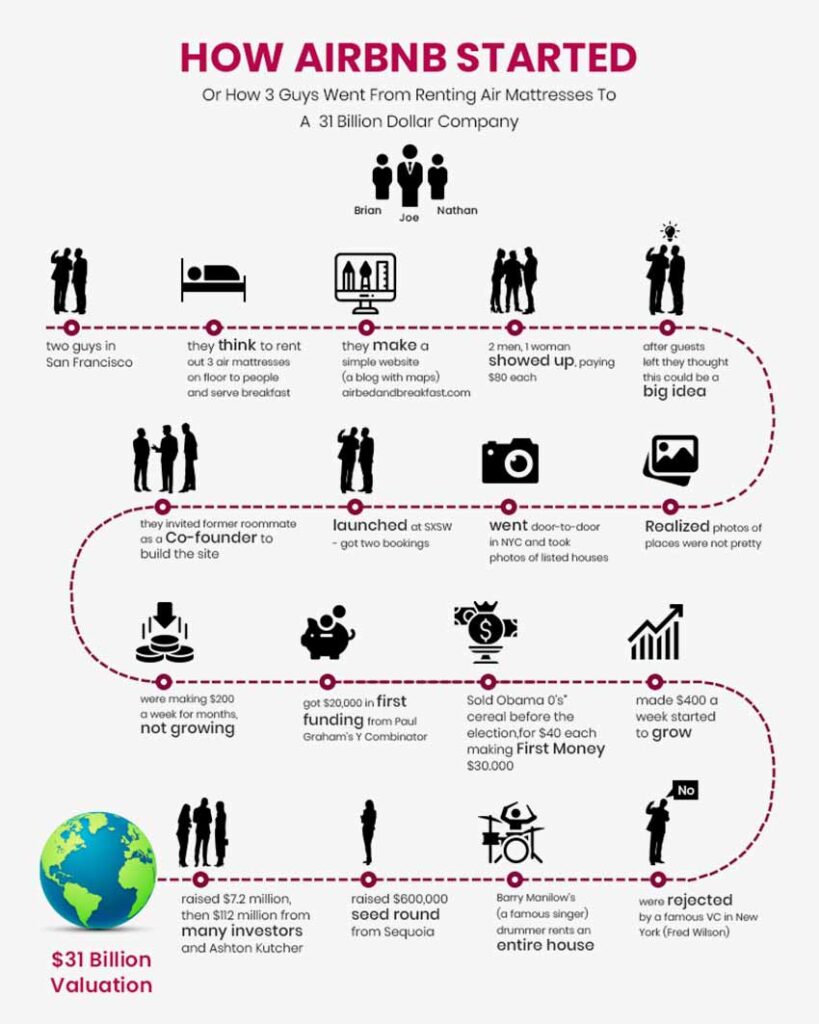 Airbnb- inception to today
The best part is, the company doesn't own any of the listed properties. Guests enjoy the app because it gives them a chance to enjoy the authentic experience of staying close to the locals. Hosts opt for it because they have to pay the commission only when they cater to a guest.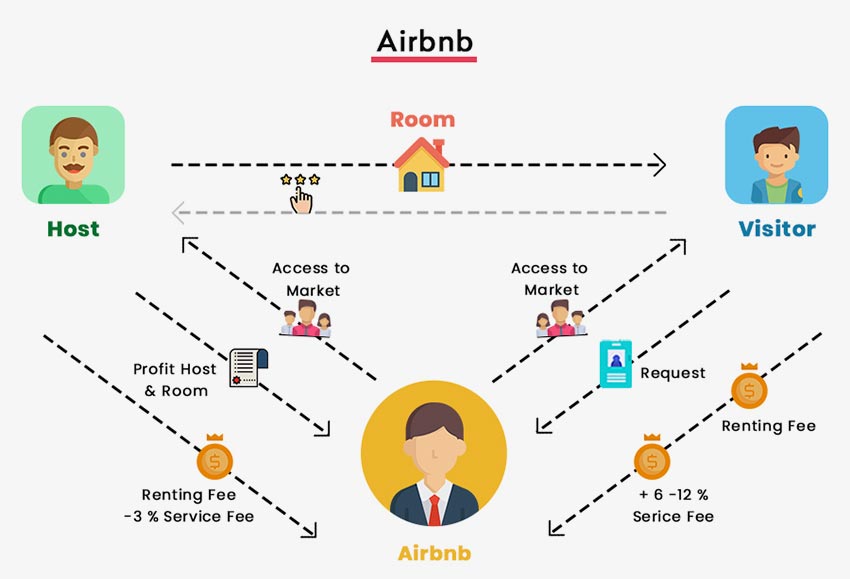 Airbnb's business revenue model
Conclusion
Now that you have adequate knowledge of different eCommerce business models, it will be easier to set a strong foundation for a successful online business. Analyze your product and resources to decide whether you want to sell a self-created, drop shipped product or wish to opt for white-labeling or private labeling to come to a sound decision. If you need help in eCommerce website development or marketing your products to get noticed by the right people, write to us at info@brainvire.com to leverage our 20+ years of experience in the web development industry.