eSports (electronic sports) has attracted the attention of gaming franchises and the younger audience in the past few years and continues to do so. If industry reports are to be believed, this market is expected to generate revenue of around USD 1.5 billion in 2019.
There are many reasons for this hype but we will discuss three of them in this blog. Before going any further, let me tell you four interesting facts about eSports as an emerging business model:
More viewers have watched the world finals for League of Legends than any other game of the NBA Finals in the last 2 years.
Analysts forecast a CAGR of 35% over the next 5 years with the expectation of eSports becoming a billion dollar industry next year.
There are currently estimated to be 400M eSports fans globally, all under the age of 35.
There are many monetization opportunities in eSports as compared to traditional sports with the average basketball fan spending $15 a year whereas eSport fans spend less than $3 a year.
Some of the leading eSports franchises include Fortnite, League of Legends, Dota, and Overwatch.
Now let's get started with the three reasons that are making this industry score big in the gaming arena.
Influencers and Storytelling Are Adding More Value to the eSports Audience
The traditional sports audience is being drawn into the eSports arena. Competitive gaming is taking the upper hand due to the rise of live streaming and broadcasting, and greater engagement around live events.
Celebrities and brand influencers are redefining the authenticity of eSport franchises by participating in their tournaments. The audience wants to watch their favorite celebs indulge in team-based battles and first-person arena combat games. Popular rapper Drake and top Fortnite gamer Ninja broke records on Twitch when thousands tuned in to watch them play together.
Compared to traditional sports marketing, brands can take advantage of the opportunities and establish their identity in this industry. We have seen gaming content creator ElrubiusOMG hit live gaming records and Tyler "Ninja" Blevins become a household name with the emergence of Fortnite.
In addition to digital consumption, Global Web Index explains that 2019 will witness the emergence of esports on traditional TV. Esports first appeared on ESPN primetime in 2018. Beyond broadcasting live competitions, the network has also developed content that tells the human-interest stories behind the games in the form of a documentary. These stories can capture the attention of a casual fan or engage an avid fan while transforming the in-game experience of professional gamers.
The Global Web Index also revealed that one of the top reasons why internet users don't watch esports is that they did not get the chance to explore it (see chart below).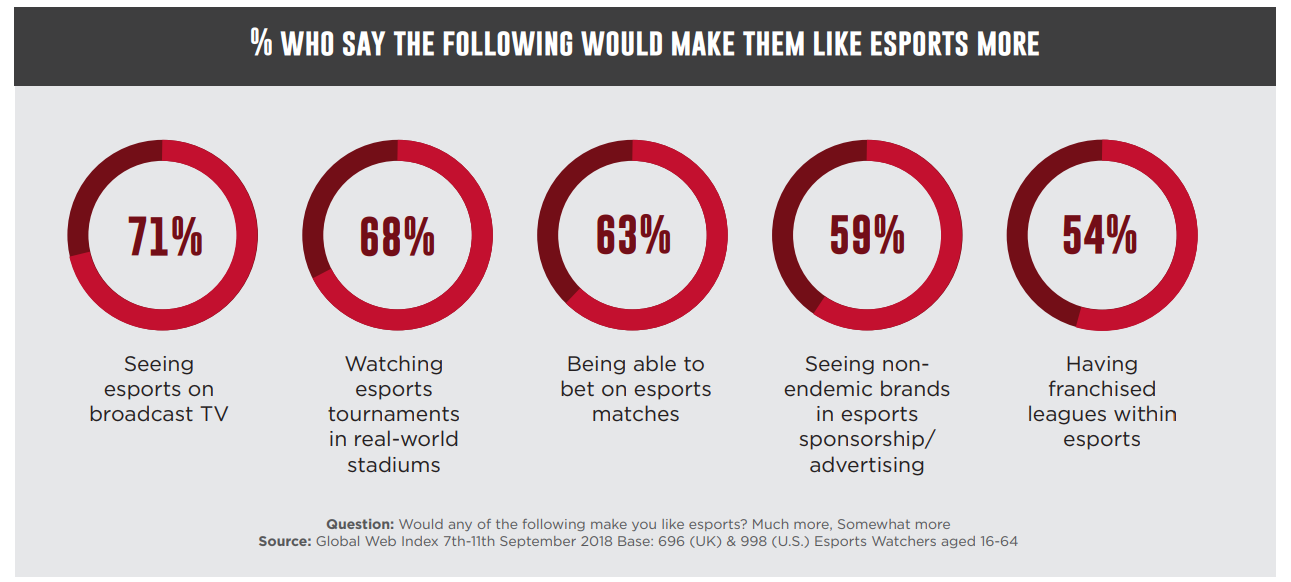 Source: Global Web Index 7th-11th September 2018 Base: 696 (UK) & 998 (U.S.) Esports Watchers aged 16-64
The conversion of the traditional audience into the eSports audience is pushing the industry towards an unprecedented growth in the years to come.
Traditional Sports, Entertainment, and eSports are Blending With Each Other
Spending a considerable amount of time with electronic gadgets, or listening to music has contributed significantly to eSports. Take a look at the results of the survey below, you'll be amazed by the numbers.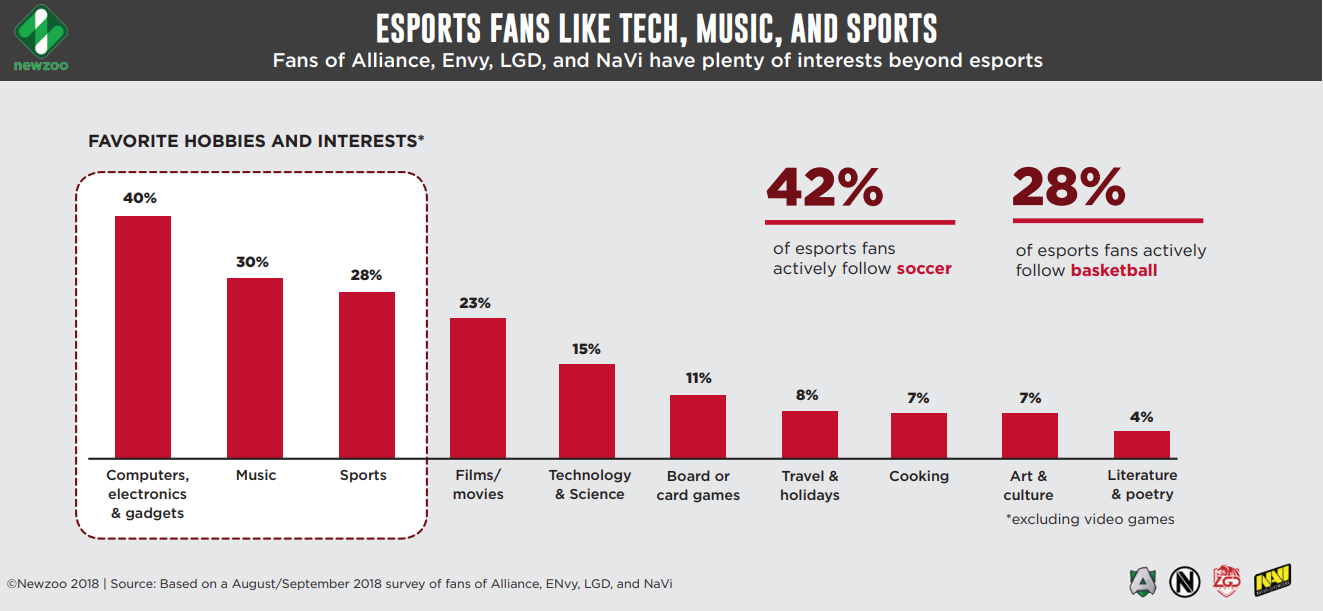 Source: Based on an August/September 2018 survey of fans of Alliance, ENvy, LGD, and NaVi
The buzz around esports has sparked excitement in entertainment and pop culture that is attracting coveted audiences like Millennials and Gen Z. The convergence between esports and other forms of entertainment is being driven mainly by celebrities and apparel brands.
Gamers are not necessarily known for being fashion icons. However, some of the leading sports apparel brands have taken such initiatives in 2018. It's likely that fans of esports will engage with their favorite apparel brands to create product lines for gamers. Brands like Champion, Nike and Adidas have signed partnerships with gamers (professionals and students), publishers and teams.
On the other hand, the momentum between the music industry and eSports is building. It is beneficial for both: eSports can find financial and cultural capital from the music industry which, in turn, can diversify its revenue streams.
According to Newzoo, there were many sources of revenue that helped the eSports economy accumulate over $ 493 Billion in 2016. The breakdown of these sources has been depicted below –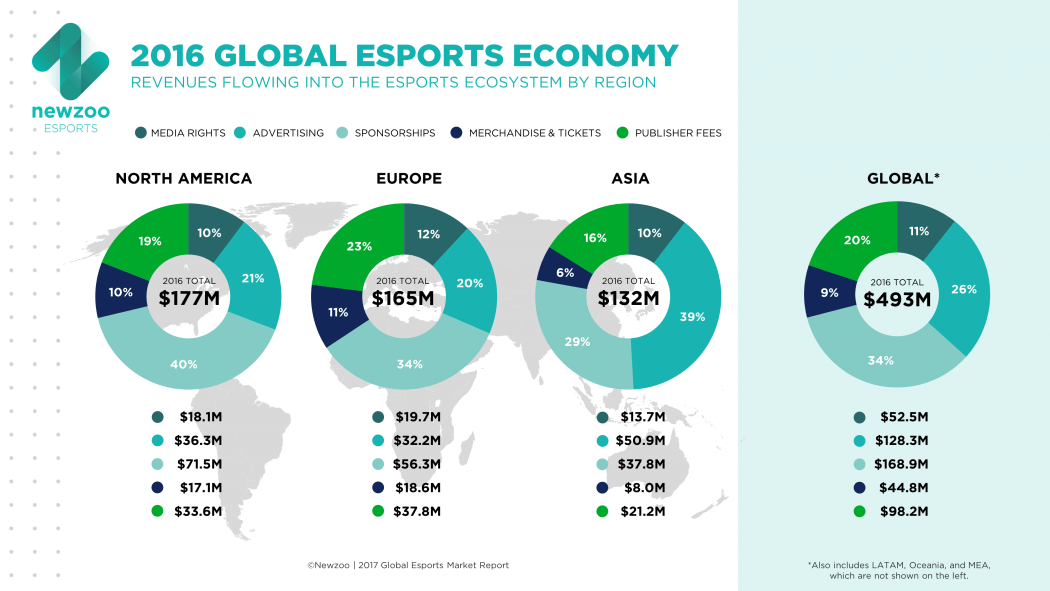 Source: Global eSports Market Report, 2017 (Newzoo)
The business strategies of brands can be seen revolving around social media marketing and the sale of merchandise. These steps are helping them to fetch a better ROI and ROO (Return of Objectives) with time.
Want to convert your idea into a successful app or website? Schedule your free call with our expert now.
Enhanced Analytics Has Improved the Ability to Measure ROI
The eSports industry has been plagued with challenges surrounding the measurement of ROI. If we compare it to other industries then measuring metrics and user engagement is a difficult task here. It can be compared with the measurement of Television Rating Points (TRPs) for TV channels.
Advancements in analytics software are changing the situation for the better. It is now possible to collect data from leading streaming services like Twitch, Facebook and YouTube. The data provides market intelligence that revolves around digital video gaming use, sales, audiences, consumer research, video game tracking, and esports sponsorship valuation.
A holistic view of how players and fans are engaging with content across popular channels can predict online gaming viewership statistics. Big Data is playing its role in the process.
If sponsors and other stakeholders have metrics in their hands, they can align their business with the current market trends, thus making it profitable.
The Future of a Profitable Business Model
The current scenario in the eSports industry is conducive to the companies in media, entertainment, and professional sports segment. They have an opportunity to access a valuable global audience, unlock advertising potential, and develop new entertainment and hospitality offerings. Businesses can capitalize on the crossover between eSports and other forms of entertainment. These factors will secure the future of competitive gaming and make it more interactive and immersive for the masses.