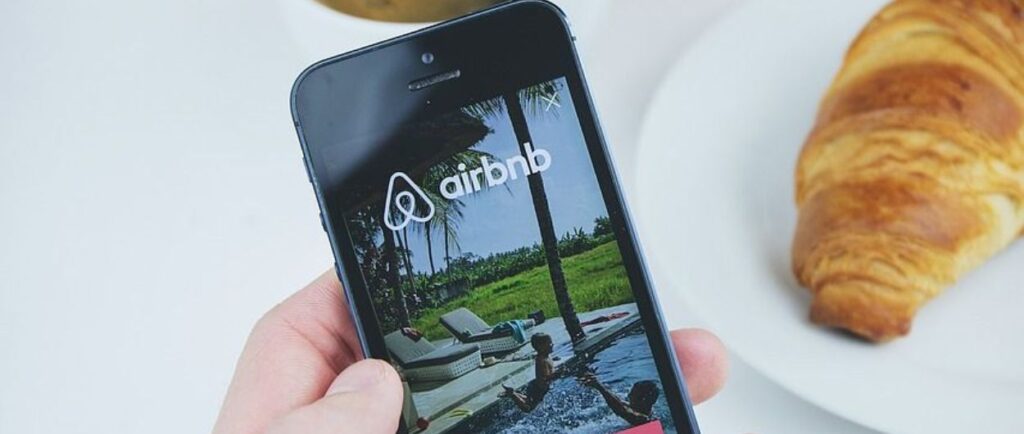 Airbnb has been around since 2008 and also has assisted travelers with finding a place to stay or find lodging during their trip. They've seen a considerable increase in popularity in the last year.
Today there are 2.9 million hosts on Airbnb worldwide and about 15 million listings in more than 200 countries. The site has more than 150 million users, and the average user checks into an Airbnb property every 3 seconds.
Airbnb is a company that offers virtual accommodations to those traveling to your destination. They are constantly encountering new challenges while remaining ground-breaking in the hospitality industry. 

How Did Airbnb Start?
What's the story behind Airbnb's creation? 
This is one of the fascinating questions we all ask ourselves. 
When Airbnb started, they had difficulty paying the rent, so they thought about making some money for the site. In their research periods, almost all hotel rooms became booked for large conferences, which attracted large crowds. This was when this youth had a chance. They bought an airbed and gave guests space to have all necessities and lunch. They called this Air Bed and Breakfast, and the idea was born!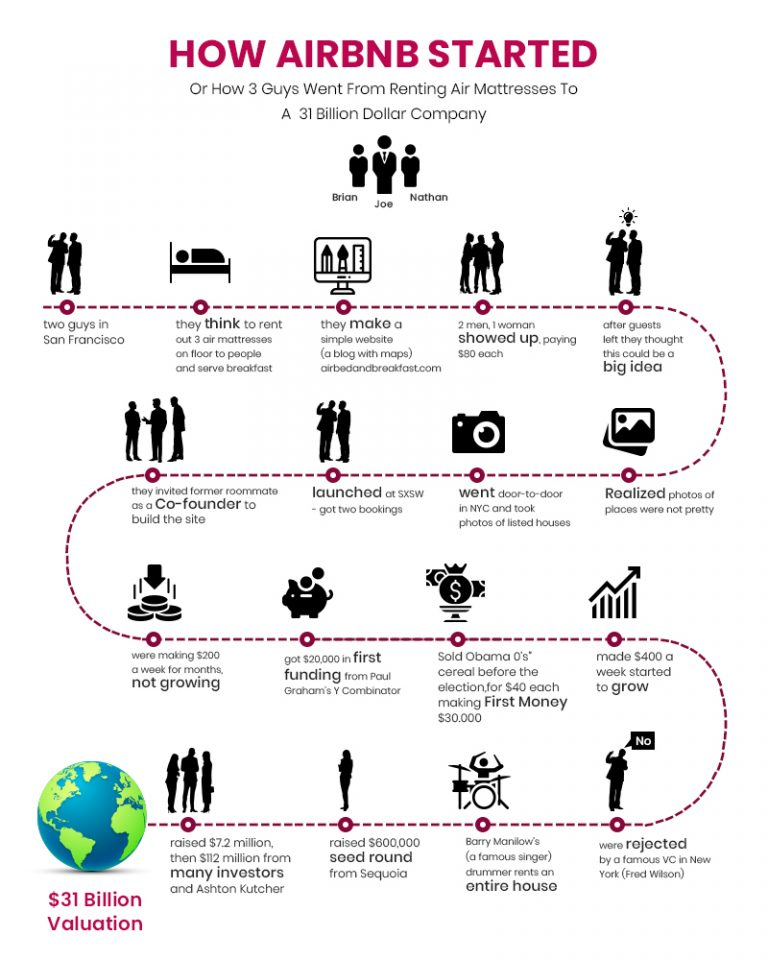 How Does Airbnb Work?- The concept of Airbnb
Airbnb focuses on sharing economies. With its web-based platform, travelers can make connections between hosts. Airbnb has a simple concept. Hosts can provide details of each property to Airbnb.org. Voyagers can browse properties and choose what suits them. It's basically a double market. 
Airbnb lets a host list the contents of a house and makes additional revenue. On the other hand, travelers can get a better experience by staying in a nearby area and experiencing authentic experiences. Airbnb has rolled out three other service plans.
What is Airbnb Business Model?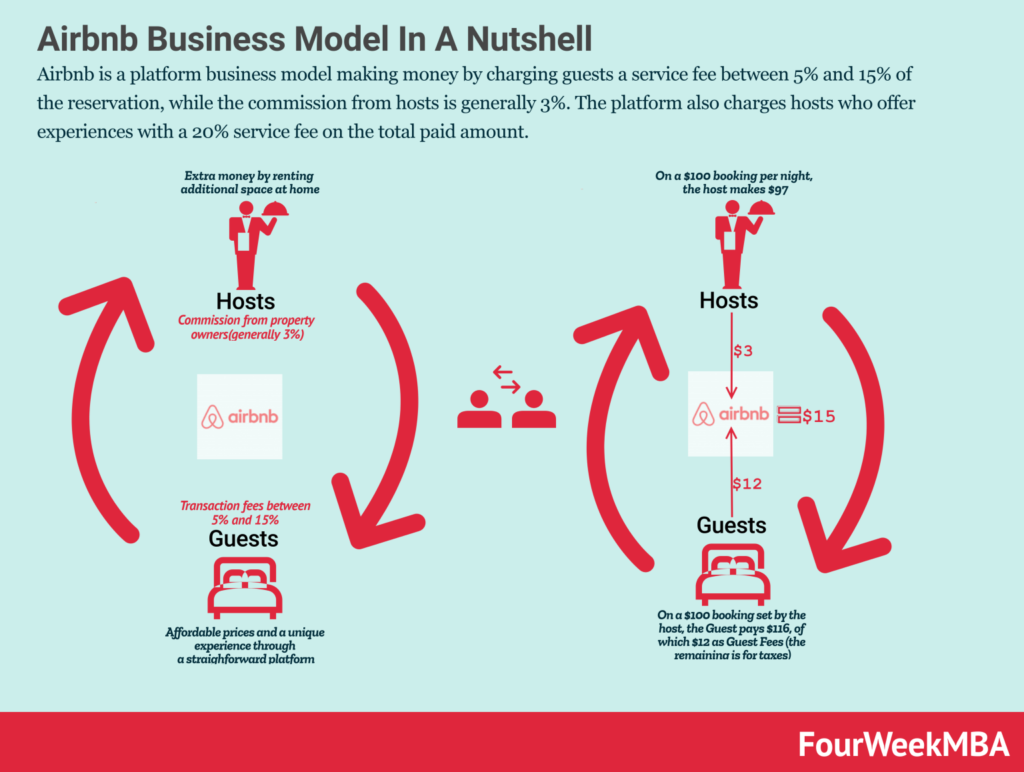 Airbnb's business model is an aggregator model, just like Uber and OYO. Airbnb has a very successful business model run on an online platform connecting each component of their service. It also helps to save time and resources when booking lodging. Airbnb is one of the most valuable companies because they are built on the efforts of their members. These individuals are crucial to making a successful and reliable platform. Airbnb provides a platform for hosts and travelers who can connect to arrange short-term stays. Hosts and guests can put up their property for stay, and if someone wishes to stay there, the hosts get money in exchange. The individuals who stay at Airbnb and eat at the hostel's cafe get a completely different experience by staying close to the locals.
Airbnb provides travelers with high-definition pictures of the properties, which helps them easily determine whether they want to stay there or not.
Airbnb Revenue Model
Airbnb hosts provide a place for travelers to stay. They take a commission from the transaction, which is similar to Postmates. Postmates earns from fees collected from restaurants and customers. The Airbnb revenue model runs on the listings and stays. Airbnb is a website where you can find rent or bookings on different nights. This is how Airbnb makes money. Airbnb's revenue comes from two major sources:
Commission from hosts: Once you book with Airbnb and pay your booking, the company will take 10% of your reservation as commission. This is part of the company's fee structure.
Transaction fee from travelers: Airbnb has a 3% fee for stays in most places, which goes towards the company's revenue.
Airbnb Market Segmentation
So far, we've learned what Airbnb is and how it works. Now let's take a look at how Airbnb segments people and their needs.:
Hosts:
Hosts are hosts who list their spare places on the website in order to have a way of earning rent from their setup.
Hosts sometimes have to decide whether or not to accept travelers who have submitted reviews about their stay, even if the reviews are negative.
They can list their properties, the services they provide, and their check-in and end date.
Travelers:
Hosts rent out their living space to travelers, who will stay on a set schedule.
They have search options that will help them narrow down their search. They can specify the rental price range, the basic facilities, and the number of guests.
Online booking is cost-effective and efficient. This offers hassle-free booking.
Photographers:
Airbnb hires freelancers for photography.
Airbnb bookings show the quality and value that professional photography offers. Airbnb pays photographers because they provide incredible quality and are available on demand.
How Much Is Airbnb Worth?
Earlier this year, the firm had a value of about $31 million. Airbnb is the largest potential technology startup. Then, in 2020 the COVID pandemic impacted travel industries, especially those who had to adapt. Airbnb's valuation at its IPO could be $20 million. Of course, the prices and value of Airbnb jumped immediately. The business grew to over $100 billion during its initial public offering. Airbnb aims to create a safe travel ecosystem for all who travel safely.
Airbnb Cost Structure
3 main costs involve Airbnb's room and board structure. 
Pay to permanent employees: Every employee is paid a monthly salary along with other amounts as part of the salary.
Set up and running costs for technological: The business costs of setting up the websites, servers, etc., are typically paid by the company that booked you through Airbnb. It's not just financial costs either, as other expenses include monthly electric bills and other small rent.
Payment to freelance photographers: Airbnb needs photos to be of the best quality – so they've hired freelance photographers. For this service, they have to pay the photographers the decided amount.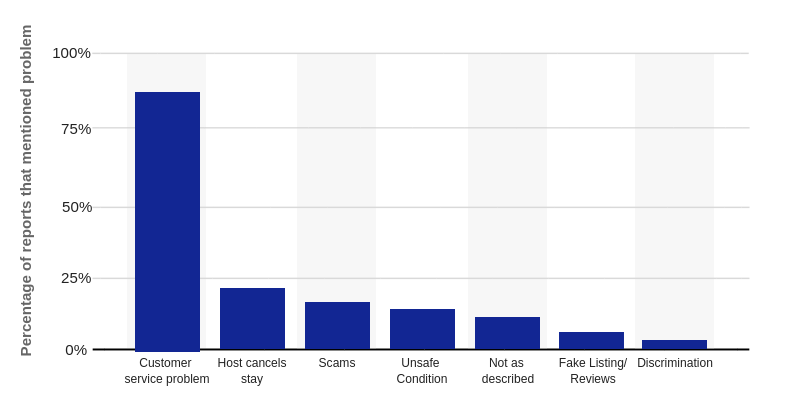 The Airbnb business concept is no different from the way other businesses operate. There are always some problems, but how you solve them matters the most. They have also faced some issues, but they solved them quite smartly to stay relevant and ahead of the curve. Let's look at two of the biggest problems that Airbnb faced.:
Trust Issues: Trust was the biggest issue that hosts and travelers faced when using Airbnb. It was a skeptical step for the hosts to give their house on Airbnb to an unverified traveler. There is still a lot of concern about sharing your space with strangers, so travelers also felt the same about it. Airbnb has implemented the verification process, but they have also added a new way for travelers and hosts to connect their social media profiles. Trust is improved through this merger of personal information.
Traveler Retention: Businesses' retention strategies are crucial for keeping your customers happy and ensuring long-term growth. Asking them for feedback helps you understand how you can improve in the future. Businesses add occasional offers, discounts, credits for travelers on their Airbnb service to improve retention and customer service.
Competition: Airbnb has been growing at a faster-than-expected rate since its launch. Many business models have been adapted to the model established by Airbnb. However, what stands out and differentiates this company is the strategy of entering into new markets, developing partnerships, and perfect services.
Find out how we can help you own the next Airbnb Clone!
Airbnb And How The Future Of Travel Is Changing?
Airbnb is a platform that lets homeowners rent out their homes or rooms to travelers, sometimes for a few days, sometimes for an entire year.
The future of travel is changing as more and more people discover the benefits of staying in someone else's home. Airbnb has been able to capitalize on this trend and is one of the fastest-growing companies globally.
Airbnb has impacted how people view travel and how they want to experience it. They have brought back the idea of traveling as a social experience by connecting travelers with locals who can host them for free or at a reduced rate.
Problem With Airbnb's Legality
Airbnb remains a significant challenge, even despite the strong economic expansion. In many parts of the country, Airbnb is being censored. The company has a short-term rental program, which hits many legal hurdles. In such cases, it should be checked before renting to see how the place will suit your needs. In addition, unintentional landlords face criminal prosecution if they unwittingly rent their properties. It will also be challenging for Airbnb to expand geographically.
How Airbnb Acquires Customers?
Airbnb relies heavily on regular guest bookings from regular guests. In addition, Airbnb has run dozens of paid advertisements through Google AdWords or Facebook Ads. During the first two months of 2019, sales and marketing spending jumped by 58 percent to $367 million and was projected to become the largest annual increase since 2009. Airbnb uses many advertising channels – creative, audience, and remarketing.
Customer Relationships
Having good customer relations is important for success. Conversely, there is a need for rapid response to any issue that may be encountered to avoid a damaging reputation of a company. Relevant – especially for the host, the customer relationship with the supplier (the host) is primarily determined in terms of the amount that the platform earns in return for protecting visitors' properties.
Mission And Core Values
Airbnb offers more than affordable lodging options. The company hopes to help travelers feel at home wherever they travel by building links with local host communities and accessing unique locations in their destinations and cultural attractions.
How The Airbnb Product Changed Throughout The Pandemic?
As the company stated in its financial statement, the company needed to modify its entire platform support services in order to accommodate the user's demands and how the global economy was affected. 
Product and platform focus on:
Support For Hosts And Guests
Airbnb started a host fund in the aftermath of the pandemic. Although the fund was relatively small compared to the losses, many host experiences were experienced. Apparently, this was only the minimum release for certain hosts.
Enhanced Cleaning Services
Cleaning services are integrated into the platform to help prevent COVID infection by reducing congestion in public places and ensuring that they are clean.
Online Experiences
Airbnb also announced its online experiences platform, helping host businesses offer online services.
Airbnb Business Canvas Model
The Airbnb concepts can be clearly defined through its business canvas model. Those activities include critical assets, incentives, key collaborators, customers, and channels. In addition, Airbnb's costs structure is mentioned.
The Future Of Airbnb
Airbnb was the largest company in the world, and the company has grown immensely since its introduction to the Internet and air beds. Airbnb has continuously updated its business model and site. It was only possible through a booking site, but it expanded to apps this time. With increasing usage, apps are being developed for companies who want to work with them. Today, businesses are turning towards mobile apps because mobile development isn't so expensive. Airbnb customers spend more in the day (780) than hotel customers (530) 60% of Airbnb customers have saved money through Airbnb.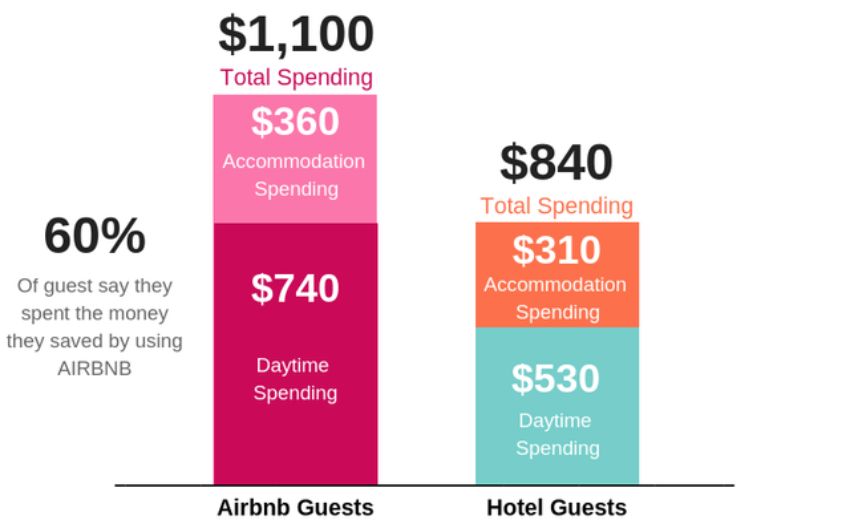 Here's what Airbnb plans to be doing in the future.
After its launch of flexible dates, Airbnb is adding two new searches- Flexible listings and destinations.
Airbnb's app or website might recommend certain unique types of homes such as adobe houses or castles, which will allow you to see a different side of the property.
Airbnb changes are now underway, which could change the way you book a reservation in the future. Changes include an easier checkout process, review systems & cancellation policies.
They want to hire more customer support representatives at their company.
The popularity of Airbnb's business model has grown rapidly in recent years. It is surprising how many people prefer to stay in an Airbnb rather than a regular hotel.
Conclusion
We hope you have a better understanding of the Airbnb business model now. As you can see, Airbnb has continuously enhanced, reinforced new features, intensified its business and revenue model to invite different homeowners and open choices for travelers to get accommodation at a suitable location. No wonder, it has set a benchmark for anyone adopting an aggregator business model.