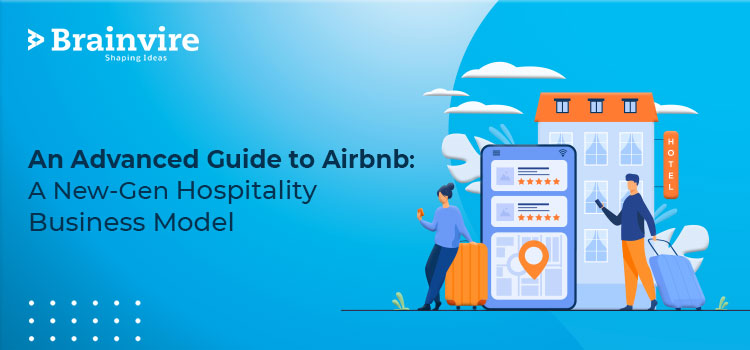 While looking out at the house across the street from the hotel window or while passing through the streets, have you ever wondered how it is to live in a town where you are vacationing? Today, Airbnb has made it possible for millions to experience local life and culture while holidaying, both domestically and internationally. Not only that, the Airbnb business model that leverages technology is a prime example for a mobile app development company. 
While this stands true, many people still have confusion around the way it works. If you are one of them, this article will answer your questions. 
What is Airbnb?
Air Bed and Breakfast or Airbnb is an online hospitality platform that connects travelers and local hosts. It facilitates localities to list their home or rooms on Airbnb, and earn profit from renting the space to travelers. On the other hand, travelers can book unique homestays at affordable prices, where they can interact with locals and experience their culture firsthand. 
Want to convert your idea into a successful app or website? Schedule your free call with our expert now.
The Airbnb Story
In 2007, founders Joe Gebbia and Brian Chesky shifted from New York to San Francisco. They needed some source of income to survive. During the time, they noticed that the hotels in the city were fully booked because of a design event. Amidst this, they saw a business opportunity. They bought a few air beds and started a site called Air Bed and Breakfast. Their idea was to provide a place for tourists to sleep and have breakfast, for which they charged $80.
The idea succeeded, and soon after Nathan Blecharczyk joined the group. Although they had their ups and downs when they started, the trio worked towards creating the Airbnb business plan and platform.
Since August 2008, when the company launched once again after an initial setback, it has received a large amount of funding over a period of time. It is a masterpiece aggregator model and an example for every Android development company and iOS app development company. 
Airbnb Founders: Joe Gebbia, Brian Chesky and Nathan Blecharczyk
Business valuation: $75 billion
Amount of Funding Received: $6 billion
Airbnb Headquarters: San Francisco, California, United States of America.
Nations: Appx. 220
Travelers staying regularly: 1,40,000+
Listings: Around 7 Million listings
Understanding the Airbnb Business Model Canvas
Unlike large hotel chains, Airbnb business model is an aggregator model, which uses the online medium to connect each element within the plan. Think of it as similar to Uber or OYO models. Because of this, it does not need a huge capital to set up. 
Out of all the components, the hosts and the guests play the most important part in Airbnb. As mentioned before the hosts can list their available space for travelers to rent, while travelers can enjoy a local homestay through Airbnb. In addition to this, they also have photographers who click high-definition images of the properties to enable guests to make the right choice. This is also a part of their marketing strategy. 
To make it simpler for you, let's look at the process in a step-by-step format. 
The process starts with a local host listing their property with Airbnb, which includes providing every detail about the property and its facilities. 
Once it is all verified and done, Airbnb photographers visit the property to click HD images, which go on the website. 
People planning to travel browse and pick the property of their preference after checking out the details. 
Once the host gives their approval, the travelers pay the amount, which might include extra charges. 
As the final step, Airbnb pays the host after deducting the commission. 
Decoding the Key Components of the Airbnb Business Model
Like any other venture, Airbnb business plan also includes the target audience persona. Let's look at how Airbnb defines its hosts and travelers. 
Airbnb Hosts
Hosts or homeowners are people who have spare rooms or spaces to list on the website. 
These hosts can further review their guests, and also approve/reject travelers if they are given poor ratings by other hosts. This means that they have full control over the property even though it is listed on Airbnb.
Airbnb Travellers
Travelers are people visiting the city or town, who wish to book a homestay through Airbnb. These travelers can search, filter, and enter their needs while booking a space. 
In addition to this, the business also hires freelance photographers, who help them with completing the home listing and advertising. 
Airbnb's Value Proposition
Now, that you have an idea of how the Airbnb business model works, let's look at the kind of value it offers to its key elements of hosts and guests. Airbnb's value proposition offers guests a chance to experience a home away from home. It enables them to live life like the locals and explore their culture firsthand at a reasonable price.
Airbnb provides its hosts a chance to make money by renting space that otherwise offers no value. They also have the upper hand to choose who can and cannot stay at their homes. In addition to that, the brand provides insurance to houses listed on the website. 
Airbnb Revenue Model
Although the Airbnb model is highly valuable for travelers and locals, you must be wondering how Airbnb as a brand earns revenue and grows in profitability! Its revenue model revolves around the fee charged to hosts and travelers. There are two major sources from which Airbnb makes money: 
It takes a commission from the hosts when their property is booked. The brand takes around 10% of the amount as commission.
It also earns by way of a fee charged to travelers. Guests are charged a 3% transaction fee while booking their stay with Airbnb. 
Some of the aspects that determine revenue include:
Platform growth and maintenance expense
Infrastructure expense
Sales and marketing expense
Employees salaries
Capital expenditure
Credit card processing fees
Regulatory and insurance expense
Administrative and legal expense
Key Challenges in the Airbnb Business Model
No business is flawless, and the Airbnb business concept is also not distinct. Two of the major challenges that Airbnb encounters include: 
Reliability Issues
Trust plays an important role in aggregator business models be it Uber, OYO, or Airbnb. The hosts and travelers are strangers to each other, which triggers issues of reliability. Airbnb resolves this through a stringent verification process, which both parties undergo. 
Retaining Traveller
Who doesn't want to earn customer loyalty! Like many other businesses, Airbnb also faces the challenge of traveler retention, which it tries to resolve by providing promotional offers and discounts. 
Competition
A lucrative, upcoming model that promises profitability attracts competitors. The same happened with Airbnb as many other such models appeared in the market. However, Airbnb continues to evolve and set itself apart from others to combat the challenge of competition. 
The Future of Airbnb
Since the time it launched, Airbnb has made several improvements to its business model. Initially, Airbnb existed as only a website. But, seeing a surge in the number of mobile users in recent years, the brand leveraged mobile technology to come up with the Airbnb app. 
In addition to this, Airbnb has several other plans for the future, which includes: 
Airbnb plans to add four new property types to its existing ones. This includes vacation homes, unique, B&B, and boutique types. 
The brand will also add Airbnb plus, which will have verified hosts and guests.
Airbnb also plans to include a new collection of homes for every occasion like social gatherings or weddings. 
They are making improvements to the business model and might redefine their existing fee structure.
Conclusion
We hope you have a better understanding of the Airbnb business model now. As you can see, Airbnb has continuously enhanced, reinforced new features, intensified its business and revenue model to invite different homeowners and open choices for travelers to get accommodation at a suitable location. No wonder, it has set a benchmark for anyone adopting an aggregator business model.