The Adobe Experience Platform brings together a set of business suits to create a single, real-time customer profile. This platform enables you to provide personalized experiences to your customers.
Adobe Experience Platform is a valuable tool for managing and stitching together large amounts of disparate data to create cutting-edge, real-time experiences. The Adobe Experience Platform has the potential to completely change your Marketing Cloud Platforms.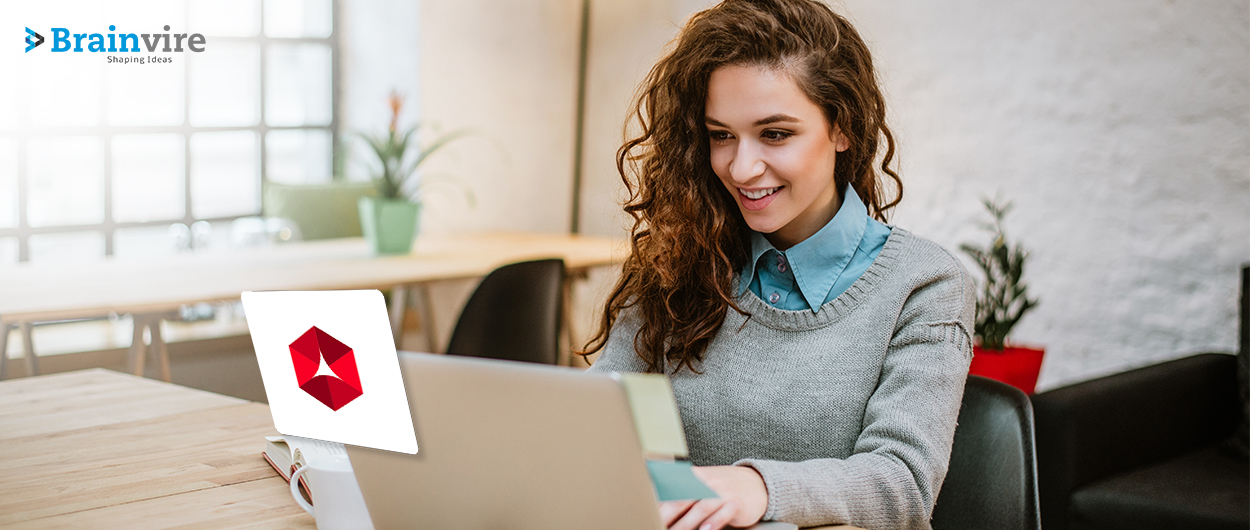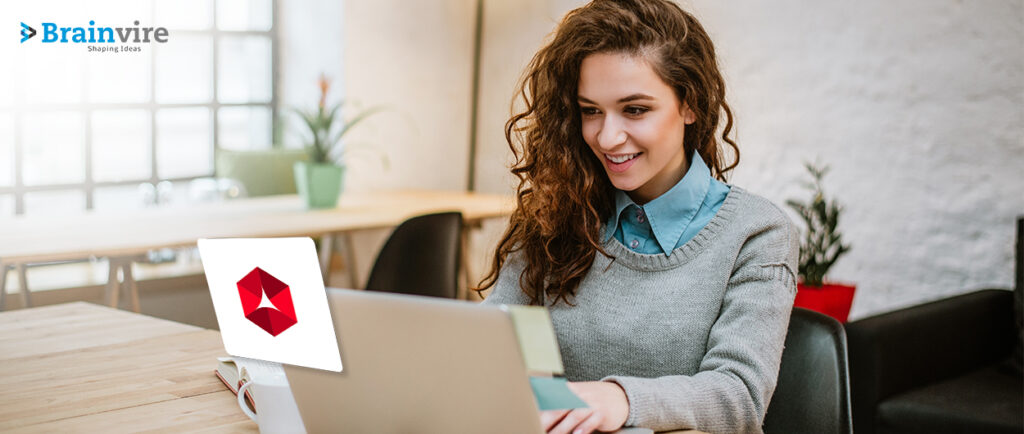 The Adobe Experience Platform (AEP) is the foundation of multiple services and tools that Adobe offers. It allows businesses to centralize and standardize customer data from any system before using data science and machine learning to improve the design and delivery of rich, personalized experiences.
Explore the future of customer experience
In the market, Adobe Experience Platform is unique in its power and flexibility because it gives partners, customers, and a community of developers a foundation to innovate. It's a platform that makes The Experience Business possible: exceeding customer expectations by constantly improving the omnichannel experience from looking at their preferences by the 360-degree view.
How can different industries leverage AEP?
Adobe Experience Cloud is a set of apps and services based on the first platform created particularly for exceptional customer experiences, providing organizations with the most comprehensive capabilities for insights, content, engagement, and more.
That's where Adobe began with AEP, and the following features were created:
Feature 1: AI & Machine Learning
Artificial intelligence is giving companies new ways to address their data and make informed decisions. For example, utilizing machine learning, more businesses can understand customer needs through information-driven experiences for better decision-making abilities.
Not many people realize that data scientists have to go through an extensive process before they can get started on their prime work. First, they need to investigate where the data is stored and in what form, whether it's accessible or not, then map out how all of this information flows together into one cohesive system.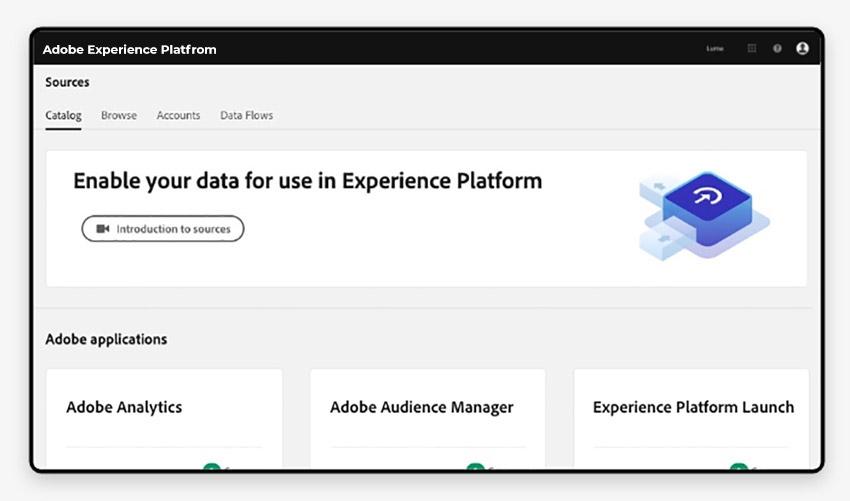 Experience Platform unites data from all your sources into one comprehensive profile that is updated in real-time. This allows data scientists to focus on analysis because Adobe has developed the Experience Data Model to classify and organize all of this input before ingestion.
Adding context to data can help you discover new insights
Streamline data analysis with data science models that are customized, imported, or ready to use
To acquire faster insights, implement machine learning models on a centralized omnichannel data source
Analyze data from numerous channels and platforms using SQL queries
Use built-in BI tool integrations to visualize data
Feature 2: Single view of the customer
Adobe eCommerce platform and Adobe solutions and core services save visitor and customer information. Each of these tools only provides a small portion of the profile and event information. You will be able to share this information throughout Adobe solutions and establish a single picture of the customer by integrating them. However, combining tools allows you to accomplish a great deal.

[Also read: Adobe's Analytics can help you succeed in Digital Marketing]
All you need is a combination of various Adobe and non-Adobe tools:
Profile data from a CRM system
Web and email event data (Adobe Analytics and Adobe Campaign)
Call center records
A system to track visits to branches
A tool to calculate propensity scores
Finally, you will need to make the necessary integrations to make all this data available to Adobe Campaign
AEP develops a real-time customer profile based on all client data and accesses all connected data sources. This allows businesses to send the correct message to customers at the right time across all touchpoints. Furthermore, the sales representative is immediately aware of where and how the user was engaged online.

[Also read: Adobe's Analytics can help you succeed in Digital Marketing]
Feature 3: Open Platform
Integrate with a platform that can be expanded.
To get started quickly and move forward, connect with an open platform.
Improve product performance by creating customized cloud applications and services.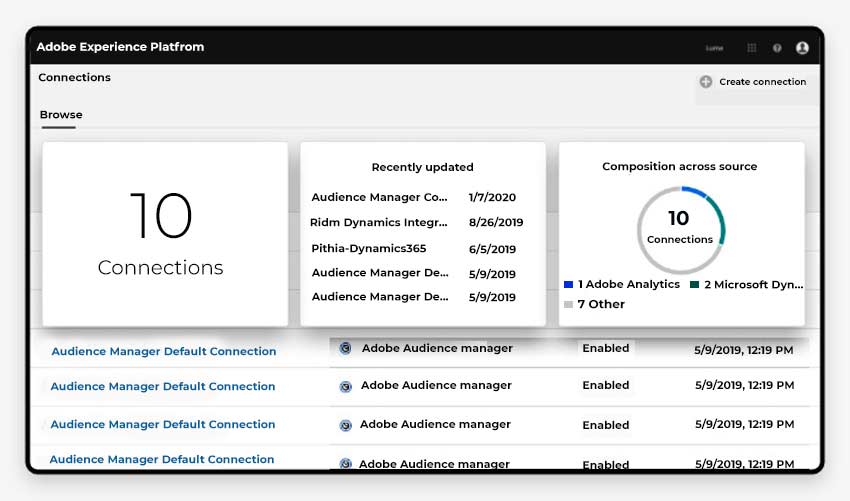 REST APIs are used to connect non-Adobe products and destinations.
Integrate the Experience Platform with your own data lakes and settings.
Feature 4: Data Pipeline & Governance
AEP creates a real-time customer profile that accesses all connected data sources. This enables companies to deliver the right message across touchpoints quickly, and the sales agent knows where and how they were active online immediately after.
Features 5: Faster delivery of experiences
In any system, you can look up and activate client profiles and segments in milliseconds.
Audit your tags to ensure that your customers have a personalized, fast, and consistent experience across all media.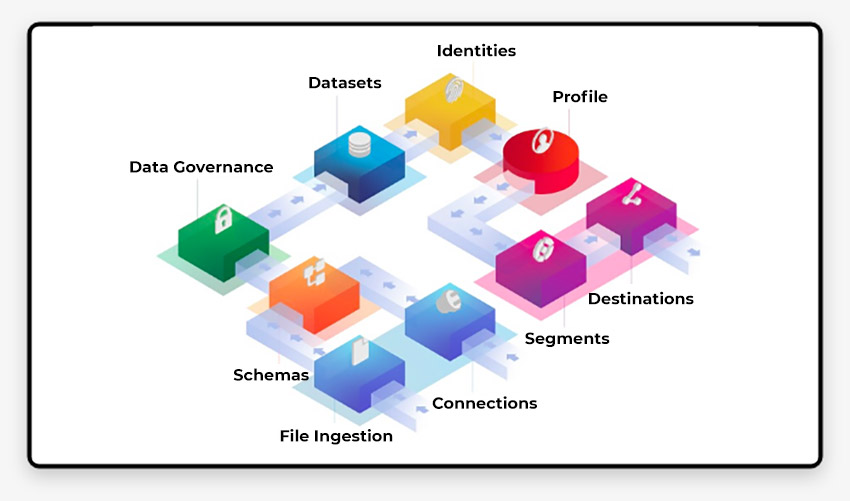 Send data to our worldwide Edge Network in real-time and in all formats to multiple channels.
Incorporate location data to provide the appropriate experience to the appropriate individual at the appropriate time.
Feature 6: Cross-Channel Access & Activation
The AEP also allows the data to be made available in multiple different ways. This means all segments created within the AEP can be used across various marketing channels, leading companies to have a uniform customer approach across their whole business.
Integrating Adobe into the existing tech stack
Adobe wants to change the Experience Cloud such that AEP is always the starting point. All available systems can be linked there, and data can be entered so that all unique customer identities from various systems become "similar in construction." They can be connected to the appropriate data in this way. The Tag Manager "Adobe Launch" is mainly used for the integration. Here you will find all of the relevant information. They'll be able to use them in the AEP after that.
The integration is straightforward: the business needs to place the Adobe Launch code snippet on its website. However, mapping data sources within the AEP and their incorporation into the Experience Data Model are more complicated (XDM).
Conclusion 
The Adobe Experience Platform is the latest offering from Adobe, and it couldn't have come at a better time. It's critical to address users with personalized messages in today's world of digital marketing.
The AEP can assist businesses in resolving some of the challenges associated with data collection and processing, allowing them to provide genuinely tailored consumer experiences. As with many similar tools, the implementation effort is high. However, if you've done your research, you'll be able to provide clients with a great, tailored, and unique user experience in real-time, which is a crucial competitive advantage.
Brainvire is a recognized Adobe Partner providing best-in-class eCommerce web development. 
For major brands all around the world, Brainvire has unlocked the power of the Adobe Experience Platform. Our Adobe certified professionals will help you realize the full potential of AEP's cutting-edge technology by bringing unrivaled knowledge and highly specialized abilities to offer bespoke and scalable solutions.