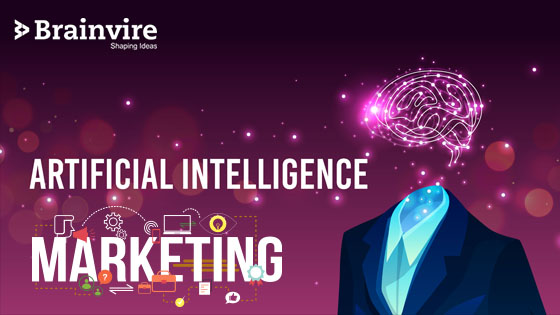 With continuous evolution in the technological world, people are eager to leverage each of them in all possible ways. And as a marketer, I am sure you also might have thought of using various technologies for enhancing your marketing strategies.
The technology that is making rounds now days is "Artificial Intelligence". Yes, most people view artificial intelligence as a future technology, but people, you need to wake up as the future is here. Artificial Intelligence is everywhere now! From the minutest sector to large enterprises, AI is influencing all the sectors to give them a sales boost.
To all the marketers, artificial intelligence should be your next big thing to explore and today you will get a sneak peek of the current scenario of AI.
Let's start by getting a brief about Artificial Intelligence. The basic idea of Artificial Intelligence, as everyone might have a slight idea is various technologies such as deep learning, voice recognition, image recognition, natural language processing and so on. All these technologies are connected to give out desired output and responses.
The influence of Artificial Intelligence in changing the face of marketing can be bifurcated into a number of ways. Have a look at some of them and if you think something is useful for your business, ask the experts today!
Few aspects that can show the use of artificial intelligence to upgrade the traditional marketing methodologies are discussed here,
Effect on the business models due to Artificial Intelligence
Artificial Intelligence touching the crannies of marketing
AI takes a transformation on customer interaction
Advertisements have reformed
Effect on the business models due to Artificial Intelligence
AI has made its way into all the sections of the markets and attracted the eyes of marketers to enhance their strategies as brand marketing day by day. The first thing that is affected by artificial intelligence is business models. The former models required brainstorming and deep analysis of the audience's needs keeping in mind the current trends.
With the introduction of AI, all the business models are undergoing a 360-degree transformation. The proof of this being the current successful business models such as Uber, Airbnb, etc. Each one of this has incorporated AI in their business model in some way or the other. Some of the artificial intelligence tools that have found space in the current leading business models are enlisted here,
Customer engagement tools
Augmented reality
Virtual reality
Natural language processing
Speech recognition
These were just a few out of the plethora of features AI has in store for the marketers.
Artificial Intelligence touching the crannies of marketing
Marketers have already started leveraging all possible benefits of AI to scale up their business and revenues. There are various crevices of retail marketing that are highly influenced by artificial intelligence and gaining popularity with each passing day.
The whole marketing sector is slowly getting influenced by automation to ease out the tasks that were quite cumbersome at times. Artificial intelligence is playing a major role in customer behavior analysis, customer segmentation, personalization, revenue analysis, etc.
Whether it is the use of chatbots instead of human interactions for customer service or prediction of future events, artificial intelligence is providing tools that can cover all the manual work without even a single error.
With the help of IoT for connected devices and sensors to analyze customer behavior, businesses can gain huge profits just by analyzing the unstructured data. The intelligent software that is used by AI provides the business owners with near to real-time behavior.
AI takes a transformation on customer interaction
Marketing is all about understanding customer needs and feeding them with precise information. And this is resulting in a positive transition for the customers as well. 

In the past, customers had set expectations of seeing, browsing, and making purchases or availing services. However, with the integration of AI into the marketing sector, numerous processes can now occur in the blink of an eye. This includes understanding customers and delivering precisely the content they seek, significantly enhancing the customer experience. As a recognized Microsoft Gold partner, we leverage these advancements to elevate customer experiences and streamline marketing processes.
Some of the marketers even use AI to display their products, brand awareness or tools that enhance the customer experience.
Advertisements have reformed
The ways in which advertisements are making their way in everyone's life has reached a new level. Earlier there were advertisements in the form of pamphlets, hoardings or television ads. And as AI entered the market, a change was seen in the advertisements too. Print ads and other forms of advertisement are made by using AI and AR development to bring the ad to life for providing a novel look to the products as well.
Artificial intelligence is also incorporated in various banners and to provide a unique shopping experience to the customers as well. For instance, you can hover over the Vespa advertisement in the newspaper to get all the details of that particular automobile. That's not it, everyone is up for advertising their products/services in the form of online ads and posts.
Final word
All the aspects discussed above are just an overview of the huge transformation that is brought by artificial intelligence in the marketing sector. Other than these, there are various ways stored by AI to take marketing to another level and increase their profits.
Plunge into the trends of Artificial Intelligence with Brainvire for digital marketing agency gear up your marketing strategies and gain higher profits. Send in your requirements and we will get back to you right away!