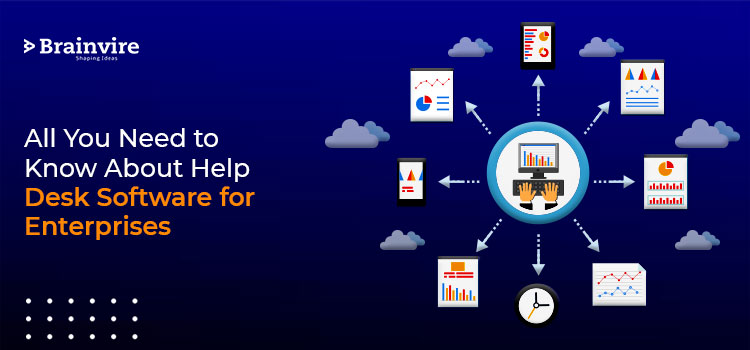 As an entrepreneur, you may have encountered several business apps to ease the management process and mundane tasks at hand. The trending technologies have led to the birth of innovative and advanced business apps.
When you approach a .NET development company, they will inform you about the popular enterprise help desk software.
Now, what is this software and how does it help you?
In this article, we have discussed all you need to know about this software:
Understanding the Enterprise Help Desk Software
Steps to Choose the Right Help Desk Software
Key Features Your Help Desk Software Must Have
Understanding the Enterprise Help Desk Software
Help Desk Software is a comprehensive and one-stop solution that bridges the gap between customers and the internal team. Through this software, the internal staff gets informed about all customer problems and questions.
It further assists the internal team to resolve customer grievances and problems through a ticketing solution. The system raises a ticket when a customer shares a problem and updates the internal staff about it. The staff can then provide an appropriate solution to resolve these queries.
The Help Desk software comprises a dynamic range of tools that can support the staff to respond to queries immediately and through the right approach.
A study highlights that over 42% of customers expect a prompt reply within an hour and this activates the need for powerful and reliable Help Desk software.
A couple of finance software companies have noted this behavior and recommend that Help Desk software can play a significant role in customer satisfaction and also the company's growth.
Want to convert your idea into a successful app or website? Schedule your free call with our expert now.
Steps to Choose the Right Help Desk Software
In the last two decades, there has been a tremendous evolution in the features and the way businesses have used Help Desk software. Ideally, this software was designed to replace spreadsheets and resolve customer issues.
However, today, there is more to a Help Desk software than this. A good ASP.NET Core development company can provide feature-rich Help Desk software. It can also guide you to choose the right software.
Discussed here are a few steps that can ease the selection process of the right Help Desk software:
Define the purpose
In search of the right system, you are bound to miss out on the main reason why you need Help Desk software. Remember that appropriate Help Desk software can offer you a helping hand in serving customers consistently and swiftly.
Good software is bound to provide A-class customer services and support that you wish to offer.
The modern world has different mediums to reach the audience. Similarly, determine whether you want to reach your audience through emails, social media platforms, or any other tool.
Custom-Design the customer experience
There are different ways to interact with customers. Every firm aims for a different approach to stay connected with its customers. Imagine the type of relation and interaction you want to create with your customers.
This will assist you to pick the right software that is in sync with the customer experience you desire to provide to your customers.
Roadmap for your support team
Your support team may not understand the significance of the Help Desk software but they are likely to use it more often than they think. The software will act as an additional pair of hands for your team.
Easy-to-use Help Desk software can save a lot of time and effort for your team.
How can you enhance your existing customer services?
It may so happen that you already have a customer service practice to withhold your loyal customer base. The Help Desk software can urge you to upgrade this existing practice and implement an advanced solution.
For instance, initially, you may have a manual process where 2-3 of your team members look after your limited loyal customer base. However, the Help Desk software can replace this with an automated process where your team can reach out to more customers and convert them into loyal customers.
Ask yourself the following questions to improve your current customer services:
Is this the most ideal way to solve customer issues?
Can we get the same result with a modern/advanced approach and enhance our customer experience?
What is the difference between our team's capability now and then?
Shortlist key Help Desk features you need
Modern Help Desk software has several features. This makes it difficult to differentiate between essential and non-essential features for your business.
At this stage, the most important question you must ask is whether this feature will help provide the customer service experience that you desire?
If the answer is yes then, it is an essential feature and vice-versa.
We have provided a detailed description of features further in the article.
Test the selected Help Desk solution
Preset a few frequently asked questions to examine your customer responses. This way, you will learn what customers can visualize, their perspective about your services, and how responsive are your services.
With the Help Desk software, you can custom-create customer experiences and test each tool.
Key Features Your Help Desk Software Must Have
There are several exclusive features that you can include and search for in your Help Desk software.
But, we have prepared a concise list that can provide you a better preview of features that must be included in your software.
Discussed here are a few essential Help Desk software features:
Ticket automation
This is a mandatory feature for almost every Help Desk software irrespective of which industry you belong to or the size of your organization. Automation eliminates the human task to constantly check for any tickets.
Instead, the system reminds you about pending ticket responses and directs a proper response to the concerned user.
These smart ticket tags notify you about common customer issues so that you can rectify them promptly. They can also inform you about the right articles based on the tags attached to the ticket.
Avoid SLA violations
The Help Desk SLA feature can prioritize tickets so that your team doesn't violate SLA norms unknowingly. The system automatically prioritizes tickets and your team and rectifies them in the right order.
Individual ticket queue
Your internal staff may be working on similar individual tickets. With the individual ticket queue feature, they are well aware of their tasks. They can also review other team member's tasks and help them resolve issues faster.
Personalized ticket templates
If all tickets appeared to be the same it will be difficult for your internal team to respond to them. Instead, select software that has several templates which make the task of your internal team convenient.
Your team can blend these templates in case the ticket has multiple questions.
Customized ticket status
There are certain instances where tickets are not resolved instantly. They need more effort and hence your software cannot simply have two status options. Make sure that your Help Desk software has a customized ticket status feature where it can change status automatically as per the current status.
Differentiate private and public actions
Every action of your team members is not necessarily to be reviewed by your customers. Hence, ensure that your software has private and public action features where you can hide internal actions from customer sight.
Apart from these, multiple other features are available in Help Desk software. But, the inclusion of those features largely depends on the needs of your organization.
Reach out to our team to obtain an expert opinion about the right Help Desk software for your business.