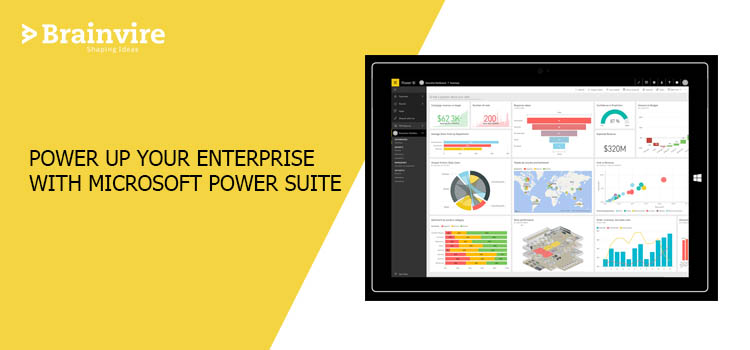 Microsoft is constantly evolving by incorporating new solutions for the modern age. This dynamic transition makes the giant company stay in the race, leading the IT industry. Recently, Microsoft Development has gained wide recognition with its Power Platform, which has presented businesses with a comprehensive solution.
Source: docs.microsoft.com
Excited to deep dive about this solution? Stick to this piece.
What Is Microsoft Power Platform?
The Power platform is a unified term for three different Microsoft products:
Power BI
Power Automate, and
Power Apps development services
These products facilitate clients to manipulate, automate, analyze, and efficiently surface databases. You can also use this database with third-party applications, including Dynamic 365 and Office 365. 
This is possible because CDS (Common Data Service) can empower data platforms to work on a simplified and unified data structure. It is solely responsible for the smooth inter-operation of services and apps.
Want to convert your idea into a successful app or website? Schedule your free call with our expert now.
1. Power BI – Dynamic Analytical Reports
Power BI development is a popular business analytic tool that enables easy accessibility to data sources and visuals. It also helps to gain business intelligence in a short span, and offers the following features:
One-click connect with Microsoft, other cloud services, and on-premise data inceptions.
Working on language interpretation to analyze data and receive data (i.e show the sales channel for 2020 Sept by Andrew).
Effortlessly manipulate data to build charts, visuals, maps, dashboards, etc, which further enables you to keep data in an easy-to-use format.
Enables you to understand big data for improving your business strategies.
2. Power Automate – Define your Workflow
Initially termed as Microsoft Flow, this solution helps clients to enable automated workflows for Microsoft and other third-party services and applications. With this, the entire process or operations becomes more productive and efficient.
It has a preloaded template library for traditional automation (you have to choose from the given library).
It provides automated alerts, triggers, emails, and pushes notifications without coding.
You can customize your applications using apps including Microsoft application, Gmail, MailChimp, Asana, Twitter, Outlook, Office 365 suite, and more.
The automation process enables zero error and increases productivity.
3. Power Apps: Organizational App Development
PowerApps development services provide a one-click solution for users who need to create apps quickly, mainly working on a point and click approach. 
Here are some of its key benefits:
It can connect and broach data from business applications like Office 365, SharePoint Online, and third-party applications
You can assemble mobile-friendly applications in no time.
It curtails pressure on engaged IT teams that too without development knowledge
The user-friendly approach helps the users get the desired data for fulfilling the task
Importance of Microsoft Power Platform
With digitalization, the amount of data we create is increasing enormously. Every bit of this data is important for a company to achieve proper insights.
Earlier, the process of data analysis and app creation was handled by the IT development teams. This involved employing a crew to outline the application and submit it to the IT department, which would then decide on the approval and start working on it.
Obviously, this process is both time-consuming and expensive, and it can also incur huge losses if it is carried out urgently.
Fortunately, Microsoft's Power Platform can solve digital-age problems and help to manipulate data for a smooth workflow. Also, the end-users can do more with the data without coding. Though it is rigid in custom coding, it provides simple techniques to build, customize, analyze, and automate data for expansion.
Key Benefits of Microsoft Power Suite
Improved Visibility
Advanced business tools help you to get 360-degree insights into your services, company, and business processes. It works on the dynamic requirement theory and can be helpful on a busy day.
Enhanced Productivity
It provides smooth automation for many common processes and manual tasks. This solution is error-free and also increases business productivity.
Outstanding Control
You can fully govern the services to assure a smooth execution of business strategies. The business will run under a one-touch point theory. The users get an easy approach for completing tasks as it can be controlled with a normal language. You don't need coding for accessing or understanding the data.
Smooth Integration
Power Platforms has made the integration process a hassle-free and errorless experience. It stimulates the ERP without changing it because of a seamless integration between both the systems.
Benefits of Power BI Development
Requires No Time to Start
Just sign up for free to enjoy unlimited benefits. You don't need a credit card, training, and a setup to start using it. You can get valuable data insights in no time by simply using services, like Salesforce, .Net core application, and Google Analytics.
Stream Data Anywhere
No matter where your data is, be it in Excel spreadsheets, on-premise databases, or cloud services, you can get a holistic view of your business. The data produced will be able to help end-users make development strategies.
Solutions in Normal Language
This solution enables virtual interactions for data queries. All you need to do is ask questions. Power BI enables the data solution in the used language, making it more convenient and productive for the business. 
Benefits of PowerApps
Power Apps is a wide collection of services, connectors, and applications that contributes to building customized applications for businesses.
It can use any data either from a CDS or cloud and on-premise data sources. Power Apps development services can transform your business from a manually-driven approach to a technologically-driven and error-free solution. The applications on Power Apps are mobile-friendly and can work on any device.
You can store data from external sources as well as in the application directly. Once your app creation process is completed, you can send it to your company and start publishing articles on it.
Benefits of Power Automate
Microsoft Power Automate is feature-packed and comes with extended features. Let's take a look at some of them.
Easy no-code guidance
AI-based builder
Peek code
Over a hundred pre-built connectors
Prevention of data loss with cloud storage
Identity management
Conclusion
Microsoft Power Platform provides three technologies for an enhanced app creation experience. With the use of PowerBI development, Power Automate, and PowerApps, companies have witnessed a significant hike in production rate. As the process is automatic, there are little-to-no chances of any error.
If you want a 360-degree digitized solution personalized for your business, go for Power Platform. It will reduce the extra burden on IT development teams and also lower the error rate.