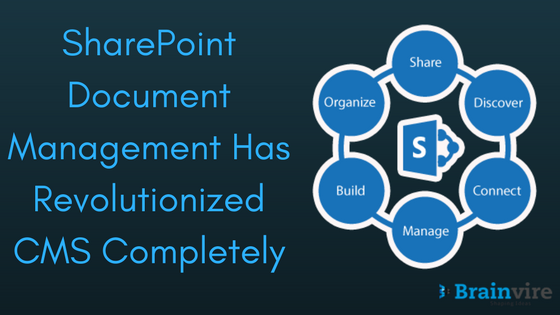 Talking About SharePoint Document Management Has Revolutionized CMS Completely , Document management was never a smooth task to do. Delivering a presentation to stakeholders, CEOs, CFOs has to be recorded, orchestrated and secure. The market is equipped with lots of common software which can help you smoothen the processes. But SharePoint document management has the potential to provide support by offering intranet solutions for management, organizing, sharing, download-upload, storage of companies' internal documents. The below statement would show the power of SharePoint in the current scenario.
Out of 3 employees, 2 employees use SharePoint
50% Fortune-500 companies are opting for SharePoint
Across the globe, 100 million users are using SharePoint
Above, statistics dictate that SharePoint has sharply penetrated in the world of cloud-based document management system and it surmounts its position by providing updates at regular time intervals.
Over last 5 years, 75% of intranets were developed based on SharePoint. SharePoint has strengthened its foothold in enterprise content management (ECM), BI, File Sharing, records archiving, records searching and much more in the area of web development. Industries have taken tons of benefits by having SharePoint document management in their existing system.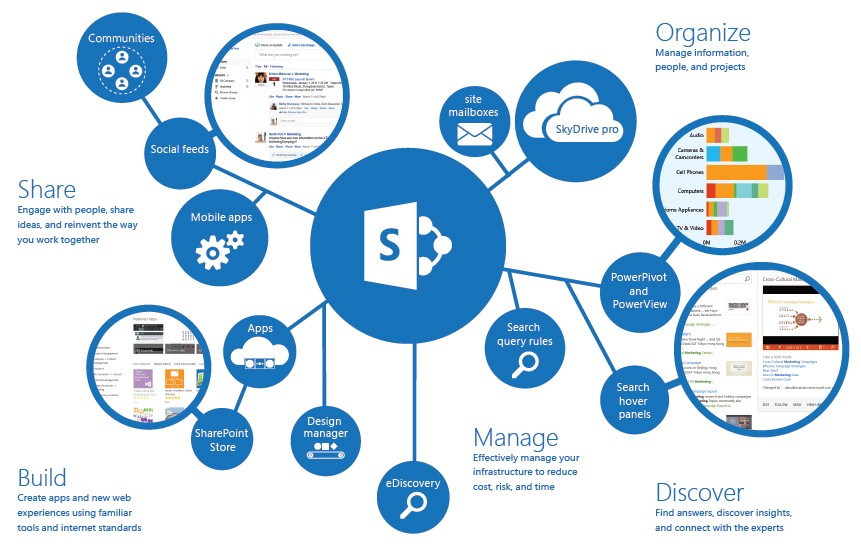 Credit: iotap.com
Media & Entertainment Industry
Talking About SharePoint Document Management Has Revolutionized CMS Completely , The media industry is more impacted by the presence of SharePoint document management. A SharePoint based web application can collect the data in terms of XML or CSV format from a variety of sources, 3rd party applications such as PPI, Comyan, CCI, 4CPlus etc. An employee can request for the data, and the exact data comes in the format of reports immediately.  The application can help media industry with myriads of reports based on criteria such as stories, updates, published/unpublished, images, videos, advertisements, editorial pages and much more. Such kind of SharePoint based applications helps in smoothening of document management process. The system remains well integrated with other IT systems of an organization. The higher authorities can take the progressive decisions based on the detailed and full-fledged reports offered. For a well-known newspaper of the country, Brainvire successfully implemented an online media doc tool and the results helped client streamlining the document management systems in a correct way.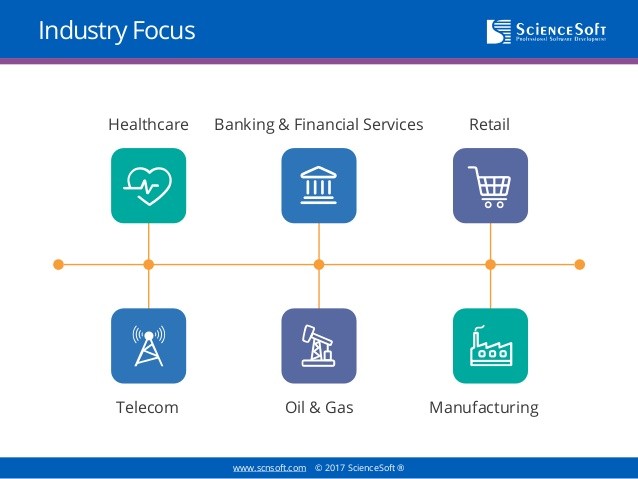 Finance Industry
The industry where regulatory body keeps changing the laws and the numbers frequently, there is a strong necessity to keep the records updated and at the same time archived. The information management has strategized to make it more secure and handy in order to ease out the process flow of the financial services. Information in terms of email attachments, Microsoft Office files, metadata etc. are directly handled by SharePoint Server.
A banking sector takes the huge benefit from SharePoint Development Services. For example, a user puts the request for a loan through a web application. Necessary docs can be sent over the web application to a respected employee automatically. If documents are not in corrected format, an employee can send a notification to the member and he/she can again send the required docs via an application. No need of personal appearance to the bank, no waste of time.
Same way for any company where third party transactions are involved, a SharePoint based intranet or extranet would empower the business to streamline the approval or rejection or follow-up processes seamlessly.
Government
The emails and attachment sent to the government officers have to be recorded somewhere. One solution is to keep the emails archived. But keeping in archived format doesn't differentiate the crucial information and it doesn't come in handy. The government officials always require something which comes at the fingertip and precise. SharePoint based solution gives the email records with the more simplified way that anyone who has access to it fetches it without wasting a time.
Parting Thoughts
Talking About SharePoint Document Management Has Revolutionized CMS Completely , SharePoint document system eases out the system's document needs and puts the document system in the automated mode. The employees can work more on productive and decisive aspects rather than spend valuable time on searching for or examining the docs. Contact Brainvire a leading SharePoint Development Company to Hire SharePoint Developers.