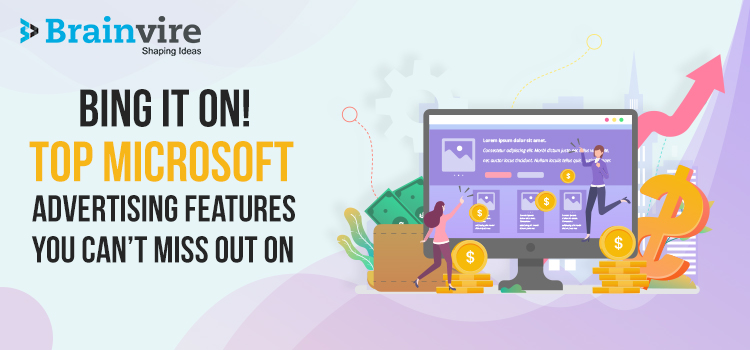 An essential part of SEO marketing is online advertising, and the two most prevalent ad platforms in use today are Facebook Ads and AdWords. Amidst these popular giants, let's not forget about the good old Bing! Reinstating the very importance of Bing, here's what you can glance through in this blog:
Starting with Bing
Features of Bing advertising
Why should you use Bing?
Using Microsoft Bing
In conclusion
Source: Reuters
With Google stealing away all the thunder, Bing isn't the first ad channel that would come to your mind when it comes to PPC. Now, if you think your company is drawing in some remarkable revenues through various ppc management services like Facebook Ads and AdWords, then Bing is something that you must try out.
Source: cryptonewsz
Starting with Bing
Did you know Bing represents a whopping 20% of the entire US search volume?
Did you know Bing has also partnered with Yahoo to display advertisement, ultimately pushing itself over the 30% market share? In simple words, this means that if you are only choosing to advertise on Google, you are easily losing out on one-third of the potential customers.
Source: searchengineland
In addition, to claim a higher market share, Bing has also introduced Bing Rewards, which allows you to get paid for searching.
What's the best part about Bing is that because a fewer number of people run Bing Ads, this platform can be at least 70% less expensive than other advertising channels!
Isn't that great! This deal is a single-handed deal to boost your company's ROI, which is driven by your CPC, conversion rates, and sales volumes.
Also, if you are under the impression that using Bing is going to be difficult, you are mistaken. Bing is pretty similar to Google's keyword planner. Take a look at this screenshot to resolve your doubts.

 Features of Bing advertising
More often than not, most of the Google campaigns are copied from Google Ads without using any distinguishing configurations from Microsoft advertising. Only the search marketers or brand marketing people who put in some extra tailoring into their campaigns can make it big in this market.
Consequently, every ad platform boasts of having tools that can set itself apart from the other channels. So over here, we are going to cover some of the best ad features that Microsoft Bing offers that can help you grow your business.
Want to convert your idea into a successful app or website? Schedule your free call with our expert now.
1. Action extensions
As the name suggests, action extensions are nothing but call-to-action buttons that appear beside an ad in the search results. Unique only to Bing advertising, these buttons can also be used to directly send the user to the landing page of your choice.
 Along with providing additional incentives for the user to click, with these buttons, you can make your ads stick out from the crowd. This is an example of the action extension button.
 Setting up action buttons in your Bing account is a very simple, two-step process. You can do it by yourself, or if you have too much on your plate, you can also outsource a Bing management PPC agency to do it for you.
Although you can't totally customize your ad copy here, Bing promptly offers many pre-established text options. Check these out:
The platform allows you to change the language as per your target audience.
If you want users to try your free software, Microsoft Bing also allows the option of 'Free Trial'.
If you want to offer users a discount, you can use the 'Coupon' option.
For driving people to a physical store location, you can use 'Direction'.
Lastly, Microsoft Bing gives you the liberty to test multiple extension variants to see what works best.
2. Reviewing extensions
If you remember, GoogleAds discontinued review extensions right at the beginning of 2018. If you miss this feature, then you can rejoice because all these extensions are alive and kicking in Microsoft Bing!
These tabs essentially allow featuring your brand mentions from various third-party sites. By doing so, your site can establish credibility through outside sources.
 Here is how this feature appears in effect.
As per the Microsoft guidelines, you cannot post individual customer reviews. You have to make sure that your reviews only come from a good, reliable, and trusted sources.
For instance, if your brand is into selling anti-inflammatory ointments, then having an article from a physiotherapist or a fitness website can help you rank your product better. Such an instance would be an ideal fit for a review extension.
 A few things you must know about this feature are as follows:
The review text and source name combined should not be more than 67 characters.
The Microsoft team is pretty selective when it comes to approving extensions, so you will have to check with the support team for either approval or disapproval.
Once the review extension gets active, it will also display the performance stats.
Moreover, Bing also allows you to run multiple extensions to compare data.
3. Targeting the LinkedIn profile
 Undoubtedly, one of the best ways to target B2B professionals is LinkedIn.
 Microsoft Bing allows you to test B2B LinkedIn targeting that can help you narrow down on your targeted audience base.
You can add your desired LinkedIn audience by navigating to the Demographics tab. After that, select you can select the preferred parameters for your campaign level.
 You might know that LinkedIn audiences strictly function as Bid Only for search campaigns.
After this, your campaign will reach anyone who is searching for your targeted keywords. Furthermore, Microsoft Bing allows you to view data for LinkedIn audiences and add positive or negative bid adjustments based on the performance of the campaign.
But when you are using Bing, you can either choose to Target and Bid (applicable only for the LinkedIn audience) or you Bid Only. So by using Target and Bid, you can promote your campaign to people who have a specific job type or work in a particular industry.
4. The Competition tab
Do you want to know how well your competitors are performing in the ad market? Well, using Bing, you can exactly do that.
The landscape on Bing is quite different from Google, as it provides you with special insights about how aggressively your competitors are running their campaigns.
 The Competition tab on Microsoft will provide you with a detailed account of the most searched competitors, as shown here.
The Competition graph on Bing shows a breakdown of metrics that displays your visibility compared to all the competitors that showed up when the user was searching for the same keywords.
On this tab, you can also check out the following:
This share allows you to see the percentage of all the available impressions that each brand has received.
b. The average position
Using this, you can view the average position of your advertisements in the search results. The lower the number, the higher the position.
c. The overlap rate
Using the overlap rate, you can check the percentage of times your company has overlapped with a competitor in the SERP.
d. The position above rate
Over here, you can see the percentage of times a competitor's ad has been displayed above yours.
e. The top of page rate
This tab allows you to see the percentage of times an ad is displayed above the organic search results of the web page.
The outranking share allows you to see the percentage of times your ad is displayed at a higher result than your competitors on the web page.
A few more items you can view on this tab are right here:
The tab also allows you to view the data history.
You can essentially set the range of dates back to understand how your competitors have been bidding in the past.
Furthermore, you can also flag the date scale where your competitors have stopped bidding. This can help you identify seasonal trends. 
5. Experiments
Although new to Microsoft Bing, Google AdWords has been providing this feature for quite some time now.

On Bing, Experiments allow you to test the performance between two different types of campaigns.
Here's an example that you can refer to:
If you wish to test whether the Target CPA bidding can outperform the Manual CPC, you can keep your original campaign on the manual bidding, and then set the experiment campaign to use the Target CPA.
Additionally, you also have the liberty to test whether or not limiting the ad schedule to weekdays from 9 to 5 drives a better CPA than actively running the campaign round the clock.
You can compare two campaigns using the Experiments tab within your account. Next, you can click on 'Create Experiment' and start defining your parameters.
Here are the steps you can follow to access the Experiments tab:
Firstly, start by selecting the campaign you want to control.
After this, name the experiment, and fix the percentage of traffic that goes into the experiment version.
Additionally, you also have the choice to define an end date or have the experiment run open-endedly until you wish to stop it.
Finally, after your experiment goes live, you can also view the performance data on the same page.
Why should you use Bing?
Using Microsoft Bing for advertising can be very advantageous for your business. If you take a look at the demographics of all those who are searching on this platform, you might be rightly compelled to start using Bing right now!
Who's searching on Bing
Just like any search engine, Microsoft Bing too has its own loyal customer base. However, in contrast to Google, the audience using Bing follows very specific trends.

Source: statista
Here are a handful of Bing highlights that you can encourage you to use this platform:
More than 85% of Bing users are located in the US itself.
1 out of every 3 or over 38% of Bing users have a household income that easily surpasses 100,000 USD.
Bing users are not as tech-savvy as other search engine users.
About 70% of the searches that take place on Bing are carried out by people who are 35+ years of age. 30% of Bing users are over 55 years of age.
Searches on Bing are more likely to be from a blue-collar wage earner rather than a white-collar professional.
Bing consists of 47% of paid computer software clicks in the USA.
A Bing user is 49% more likely to spend anywhere between 7,500 to 9,999 USD on consumer electronic products.
Take a look at this statistical chart.

Source: googleppcagency
If that's the kind of market your services would like to tap, then Bing is your go-to answer.
And even if the above-mentioned segment isn't your usual viewer subject, do give Bing a shot because the search engine is home to a surprising base of a niche audience.
Take this example:
Despite 80% of Bing users are Americans, the search engine represents 12% of all the searches in the UK and 14% of all the searches in Canada.
Using Microsoft Bing
All those statistics definitely aren't cynical for a search engine that derives about 86% of its users from the Internet Explorer. If you haven't already started using Bing, take your sweet time to understand its exceptional features that you can implement into your account. If needed, you can also bring aboard a Social media marketing agency.
For starters, you can check by testing an action extension to promote an offer, and then see the results by yourself. Feel free to find a quote that can be featured in a review extension. Since both of these extensions are not extensively used by the majority of advertisers, you can incorporate them into your strategy to make your brand stand out.
In conclusion
Keep in mind that blindly executing these campaigns will not reap the desired benefits for your company. Take your time to learn, understand, and execute these features or best, have a Digital Marketing Agency handle this whole advertising project for you.
With time, you can familiarize yourself with all the exclusive features provided by Microsoft Bing. Consequently, you will also be able to test them for your company and eventually make your organization stand out from your competitors.