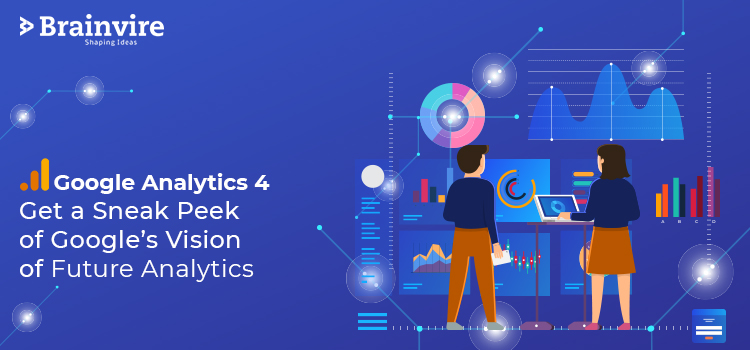 Digital marketing services are on the move, the practices that were effective a year ago may not necessarily bring results in the next year.
Website data is considered to be the main crux of the digital wing and this is also constantly evolving, and Google Analytics happens to be the same. In October 2020, Google announced the launch of App + Web which is now known as Google Analytics 4.
Now, what is Google Analytics 4?
The digital world is stepping into a cookie-free world, and hence Google is introducing an analytics tool for digital marketing that offers smarter insights to increase ROI.
As a digital marketer, the only question that surfaces your mind is that does this change have a direct effect on my job?
The major transition that one is likely to experience with Google Analytics 4 is the way you use it. The buffer time is a good aspect since it gives you time to prepare for the changes.
You can simply utilize this time to understand how Google Analytics 4 functions and save common errors and time in the future.
The transformation from Universal Google Analytics to GA4 is surely not a cake walk, but strategizing data can make the process comparatively easy.
In this extract, we have discussed the following-
Build your Data Stream
Evaluate Real-Time Updates in GA4
Edit Activities in GA4
Uplifting Transforming Journey
Highlights of Google Analytics 4
Build your Data Stream
When you set up Google Analytics 4, your very first step is to construct a data stream. The Universal Google Analytics allows you to upgrade property from the Admin section.
In case you upgrade your property now, then you will have to use gtag install for Google Analytics. This upgrade will build a new property for tracking that begins with G-.
During the learning process of the new interface, you must keep the universal property active, and use both tags on your website. This way, you can keep using the universal reporting and simultaneously get familiarized with GA4.
Want to convert your idea into a successful app or website? Schedule your free call with our expert now.
Once you have crafted the property, the next step is to link it to the data stream. In case you wish to track both- app and website traffic, then you can add both the data streams to the report.
On the contrary, if you plan to use Google Analytics solely on the website, then you can simply organize a website stream.
Google Analytics 4 has a default feature that can track-
Scrolls
Page views
Site search
Outbound clicks
File downloads
Video engagements
Once a stream is channelized, Google can offer a comprehensive G property and code for your site. Remember, you still have Universal Google Analytics code intact on the site.
Evaluate Real-Time Updates in GA4
Once the fresh codes are installed on the website, it is easy to generate real-time reports and confirm the data flow. GA4 has the potential to combine all individual real-time reports and create one mega report.
This means that you can view data of what has occurred on your website in the last 30 minutes along with real-time updates of the user map.
Make note of the two significant changes referred to as events and conversions.
Events-This feature allows you to track all user activities inclusive of page views in form of events.
Conversions- The important actions that you used to examine as goals are now known as conversions. You can track as many as 30 conversions in GA4.
Although Google is smart enough to track conversion, you have to be mindful of the events that you are tracking especially when you are having an eCommerce business. You can also opt for eCommerce SEO Services for your business growth.
To ease your task, Google also offers an option to customize and edit events in the Analytics interface. This functionality reduces the coding hassles required while tracking events in the Google Tag Manager.
Edit Activities in GA4
On your first visit to the events menu, you are bound to notice the standard events available in Google Analytics 4. You can also learn more through the buttons on the top of the screen and modify the existing event.
The smart sliders on the menu help transform events into a tracked conversion.
There is no doubt that every visitor that clicks on your website is significant but only specific clicks are considered to be conversions.
Click on the create an event button, enter an event name, and the suitable conditions for that event. For instance, create an event named services to track page views on the service page.
Click on the real-time menu to check the effectiveness of the customized event created.
Uplifting Transformation Journey
At the first glance, Google Analytics 4 may appear like a completely new landscape and you may be reluctant to adopt it. Digital marketers of a good SEO Agency are in the flair of learning the new Google Analytics 4.
Right now is the time to test and discover the right use of these new tools.
Create a learning plan at the beginning so that you have a clear picture about all you will know at the end of the session. In due process, prepare a list of the most visited reports in Universal Google Analytics.
This list can offer you a helping hand to kick-start your learning and search the same data in Google Analytics 4.
This process can be overwhelming and hence start slow, one report at a time so that you can enable a complete migration to GA4.
Highlights of Google Analytics 4
Apart from the above mentioned changes, GA4 offers you improved capabilities. Some are discussed here-
Improved AI-based insights and predictions:
It's been a long time since machine learning-powered insights are implemented for analytics. The brand new GA4 comprises AI-powered insights and predictive capabilities.
With this technology, marketers can obtain automated alerts on data such as trends, products in demand, and peak purchase hours.
Comprehensive reports indicating customer-lifecycle:
This is one of the most prominent features of GA4 which keeps all the reports organized. This feature helps maintain and organize the customer lifecycle. These reports empower marketers to dig deeper and gain customer insights.
For example, a report can indicate a particular customer is inclined towards which channels. Further, marketers can utilize these channels to boost customer engagement.
In-depth integration with Google Ads:
Marketers can know and connect with audiences that have visited their app or the web. For instance, a user gets selected for the audience list as they have shown interest in the product/service through the web or app and were discarded from it once they placed the order.
The list automatically removes the user to ensure that they are not retargeted with ads.
Enhanced data control:
Google Analytics 4 offers a platform where advertisers can review and comply with all the advertising and data norms such as CCPA and GDPR to name a few.
The well-designed consent mode in GA4 makes it easier to take end-user consent to obtain data. They have included a separate consent option for ads and analytics.
Simultaneously, data deletion capabilities have been revised that allows an agency to remove only the data that is requested by the user. The preview mode gives a glimpse of the site once the data is verified and removed.
This is the right time to get familiar with Google Analytics 4 and you can approach our experts to gain more information.