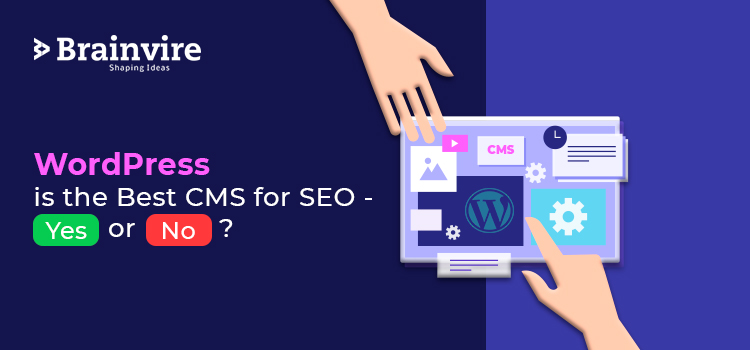 As more and more people are trying to make their presence known to the online world, be it mere blogging or getting a business started, one might wonder how and where to access a feasible, attractive, and easy to use tool which provides a platform to fully grasp one's creation of content and it's management, in other words; Content Management System (CMS). 
Selecting a good CMS software is essential to build and cater to one's forum or website which provides a good variety of templates and content management tools that enables one to customize the content in accordance with one's preference. Another crucial aspect of selecting a CMS software is its easy interface that provides hassle-free coding with mobility which in the end improves one's Search Engine Optimization (SEO).
[Also Read: Which Platform Should I Host My Website On – Drupal or WordPress?]
WordPress development through WordPress development services is undoubtedly the most popular and thriving platform with a simplified and user-friendly interface that grants users to take full control of the content which is to be published online. 
The WordPress community has grown immensely since it was first launched in 2003 and it keeps on growing which provides more credibility to its users. There is a long list of reasons why WordPress is the best CMS for SEO but here are the crucial 10:
1. User-friendly:
Setting up a website is a tedious job as a lot of intricate planning, designing goes into developing one. While not everyone may have the knowledge or the skills to build a website, WordPress designers offers its users a platform with a simple user interface, easy-to-understand options, and numerous functionalities. It possesses highly functional WordPress themes, plugins, and tools that help anyone with basic computer knowledge create a dynamic website.
WordPress launches constant updates for themes, tools, and plugins that are easy to install and makes site management even easier. And if you still think this requires a lot of skills, Hire a WordPress developer.
Want to convert your idea into a successful app or website? Schedule your free call with our expert now.
2. Handles Google Parameters:
Ranking on SERPs can bring users to your doors. That's the reason why website owners are concerned with SEO (Search Engine Optimization).
Google looks for some aspects of your website, based on which ranking is given to your website. WordPress takes effective care of those aspects:
Precise HTML Markup: 
HTML markup is the core of most web pages and plays a crucial role in Technical SEO. SEO professionals communicate data about the page to users through HTML elements. This will help explain the meaning, purpose, and structure of a page's content, as well as its links to other web pages.
Improved Content Creation- Your content tells SERPs what the website is all about. It's the best way to showcase your website. WordPress allows content creators to publicize any content ranging from blogs, newsletters, case studies, etc., and provides an easy interface for the same.
Permalinks- Permalinks, which stands for Permanent Links. They contain keywords related to your content, and WordPress provides easy customization
Image Optimization- The appearance of any page must be built in a manner to hold the attention of the target audience which indirectly affects the pages' ranking. WordPress has a built-in editor that helps you to Optimize Images with Alt tags, descriptions, content, etc.
3. WordPress is a package full of Themes:
WordPress offers a wide variety of layouts, themes, templates as well as multimedia for customization in accordance with the nature of the content be it a portfolio, business website, online shop, blog, etc.
4. Title, Tags, and Headlines:
The most important part of any site is its title page which requires writing complex HTML but is simplified by WordPress. When someone lands on a page it is because of the title and headline of the content. It also includes all the tags and keywords which are provided to various search engines used to attract the target audience.
5. Social Media:
Search engines do not limit the exploration of the content rather it also extends to various social media platforms. In the last decade, the usage of various social media platforms has spiked tenfold so it's only smart for these platforms to be integrated for a wider target audience. Content on WordPress can be linked or shared among various social media platforms which easily promotes them and also improves their SEO.
6. Plugins:
Apart from all the management and modification tools, WordPress also offers its users various SEO-focused plugins that enable a user for a better understanding of their content and how it may or may not affect the SEO. From content breakdown to integration and mapping, WordPress plugins improve the functionality of the platform by analyzing and providing effective solutions.
[Also Read: Top 15 Questions to ask when hiring WordPress development company]
7. Mobile Optimization:
Mobile usage has increased to 55% in recent years and it will grow more in coming years. If you own a website and want to draw more traction. Make sure your website is mobile-friendly.
Google prioritizes mobile for ranking a website. So underestimating mobile criteria would be a bad idea if you are willing to rank in a mobile search.
8. Integrations with other software tools
You probably have a target if you are building a website-maybe it's just to showcase your work online, generate leads for your company, or streamline your users' details. You're probably using a few other apps to accomplish them, regardless of the target, such as social media sites, online marketing tools, or analytics apps.
9. Security:
WordPress offers top-notch security servers and constantly monitors viruses or spamming threats which are often seen on various websites all over the internet. Its firewall and various security plugins allow users to operate their pages smoothly and if in any case something suspicious is detected, WordPress quickly notifies its users with a security update.
10. Support:
It is obvious to face some sort of difficulty while building up or running a website on WordPress which can be overcome by WordPress support. It's an online community where a user can ask their questions. It's also noted that most of the questions asked are regarding SEO improvement which is proactively answered by a lot of users. 
It is an obvious fact that WordPress is the most SEO-friendly CMS in the market and that's what makes it popular. From its layout to tools and plugins, WordPress was created to give a simplified and better user experience. Building content on WordPress provides ease and comfort as it caters to all, both simple and complex websites without having the users process the actual knowledge of coding. Its easy installation and operation make it the most popular choice amongst the users and is also widely appreciated for digital marketing.
In short, if you're looking to build a website with less hassle and better SEO ranking, WordPress might be your best CMS option for SEO. It supports your platform and guarantees the best user-experience, thus providing heaven to young builders and content aspirants.