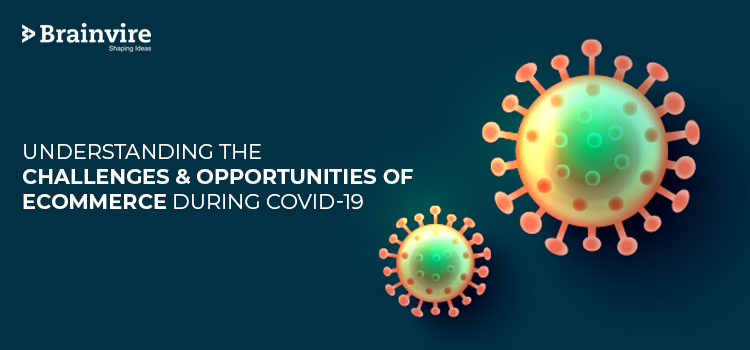 With the novel Coronavirus wreaking havoc all across the globe, there has been a significant shift in the ecommerce realm.
While this crisis has shot up internet usage by 50% – with the majority of people relying on it to meet their daily needs; millions of others are on the verge of losing their jobs. This has further reduced the eCommerce conversion rate by 14%.
Here's a stat showing a spike in the VPN usage across various countries:
To make things worse, the outbreak of COVID-19 has also slowed down the shipping, production, and manufacturing line.
[Also Read: Experience an Exponential eCommerce Growth with WordPress Website]
Now businesses either have no products to sell or have the stock and are facing extended delivery times. Here is a stat showing the impact of Coronavirus on the ecommerce sales:
Source: Bigcommerce
This brings up 3 important questions:
Does this mean, it's time to call it quits?
Should businesses lay low and wait for this crisis to end?
Or can they deal with the challenges and transform them into opportunities?
COVID-19 And ECommerce
Whether you run an online business or have an eCommerce chain alongside a physical store, you are likely to face the COVID-19 blow.
But this article helps you understand the challenges and opportunities oSource: TechSpotf ecommerce, and ways to come out strong! 
Here's what we will talk about –
Challenges Of Ecommerce Business During The COVID-19 Outbreak

Disruption In The Supply Chain
Unanticipated Shift In Availability Of Stock & Customer Demand
Customer's Budget Restraints
Safety Of Consumers & Employees
Increase In The Website's Traffic

Opportunities For Ecommerce Business During The COVID-19 Outbreak

Change In Customer's Buying Behavior
Upcoming (Indoor) Holiday Celebrations

Taking Advantage Of The Current Situation – Steps You Must Follow

Let Your Customers Know About The Stock Status
Offer Exceptional Customer Experience
Increase The Speed Of Your Search Process
Have A Better Filtering System In Place
Organize Your Website's Checkout Process
Transform Your Mobile Application To PWA
Look For Other Suppliers
Evaluate Your Social Media Campaigns
Improve Your Website's SEO Ranking

Positive Impact Of COVID-19 On The Ecommerce Realm
Challenges Of Ecommerce Business During the COVID-19 Outbreak
With customers rapidly shifting to online shopping during this pandemic, the majority of businesses are facing unforeseen issues in the eCommerce world.
Want to convert your idea into a successful app or website? Schedule your free call with our expert now.
Here are some of those major challenges:
Disruption In The Supply Chain
Being the largest manufacturer across the globe, China's factories and plants have faced a huge downfall over the past few months. As per an estimate, their manufacturing units have taken a 40% blow.
Here is a stat showing the same:
With several businesses relying on China for the export of supplies, this has become a huge challenge. As the factories are shut, there is a shortage of supplies and you can remain operational only for a few weeks.
If you are running out of supplies, stop selling the existing ones as your supply chain is extremely frail. Also, for the time being, look for suppliers outside of China.
Luckily, China has curbed the spread of the virus and factories are back in action. Within a month or two, the supply chain will recuperate.
Unanticipated Shift In Availability Of Stock & Customer Demand
The novel Coronavirus has spread to more than 190 countries and the majority of them are put under lockdown. This has led to consumers flocking to online stores to purchase essentials while trying to follow the "stay at home" norm.
[Also Read: Simplify Ecommerce App's Checkout Process Will increase your revenue. Here's How!]
But with the fear of products running out of stock, they're purchasing supplies in bulk and sometimes even cancelling the order.
This has created an unanticipated fluctuation in the product demand and stock availability. This has also made it difficult for ecommerce store owners to handle the inventory.
Customer's Budget Restraints
As COVID-19 turns the global economy upside-down, it has been forecasted that nearly 3 million people in the US alone are at risk of losing their job.
Take a look at this stat:
Also in Canada, over 500,000 people have applied for Canadian unemployment benefits – an estimate as per the third week of March.
With more people losing their jobs, customers have become cautious while purchasing products. 
They are focusing only on the essentials like food, household products, and medicines. So if you are selling items that don't fall under the "essentials" category, you're likely to hit rock-bottom!
Safety Of Consumers & Employees
The safety of employees and consumers is every business's priority, since protecting them means safeguarding the firm.
Amidst this crisis, since non-essential travel has been banned, over 52% of business professionals in the US are working from home. But this isn't the case with ecommerce businesses.
People in the delivery and inventory chain can't work from home and are constantly exposed to the virus. When it comes to customers, though they're at home, they come in contact with these workers while receiving their order.
Increase In The Website's Traffic
The biggest telecommunication firm in the world, AT&T has reported a massive increase in network traffic.
Network insights as of April 8:
Source: PCMag
Interaction through Facebook also increased over 100%, forcing them to drop the video quality to reduce network congestion. Likewise, YouTube has brought its default quality to 480p.
Along with social media channels, several e-stores have witnessed a surge in website traffic as people shift to online shopping. This traffic can put immense pressure on the network and ultimately disrupt the site's performance.
Opportunities For Ecommerce Business During the COVID-19 Outbreak
Every coin has two sides – it is the same with this COVID-19 outbreak. While it seems like these challenges have no end, you have to look for those hidden opportunities.
Here are the two important eCommerce opportunities:
Change In Customer's Buying Behavior
On a positive note, this outbreak has shifted the majority of people towards eCommerce websites. With physical stores being shut, customers prefer buying products online to maintain the social distancing protocol.
But the idea of eCommerce experiencing exponential growth through a leading eCommerce website development company because of this crisis is being perceived from 2 viewpoints.
While some feel this trend is being followed temporarily, some firmly believe that this buying behavior will continue even after this crisis ends. In fact, based on research, nearly 74.6% of the US population avoided shopping malls. Also around 52.7% avoided general stores.
Take a look at this:
Soon customers will start looking for similar products like yours. So it's essential for you to understand the customer's new buying behavior and accordingly make changes to your business.
Upcoming (Indoor) Holiday Celebrations
During holidays, people often exchange wishes and gifts. But this year, it seems like most of the celebrations will happen indoors.
This will lead to people buying products online and exchanging gifts through online portals. So you have to be prepared and offer customers your best products and services.
Taking Advantage Of the Current Situation – Steps You Must Follow
During this situation, you're likely to ask the following questions:
How can I take advantage of the present situation?
How will the change in consumer's buying behavior contribute to business growth?
How can I stay ahead of competitors amidst this economic downfall, supply shortage, and extended delivery times?
Although we can't provide you with concrete answers for these questions, there's one thing you can learn – NOW is the time to bring your 'A' game!
You must understand that the time is changing. Adapt to the changes now and ensure your business runs smoothly. If you fail to do so, you'll probably lose your business in the upcoming months.   
Here are the steps you can follow:
Step #1 – Let Your Customers Know About The Stock Status
With uncertainty in the demand and supply of products, it is better to display the status of your inventory.
While you know the availability of your stock, your consumers do not. This will lead them to buying products in bulk and leaving your inventory room empty.
If you aren't prepared for such a situation, then the chances of you not being able to support your consumers is high. So make sure you mention the status of your stock and inform customers about what's available and what's not.
Step #2 – Offer Exceptional Customer Experience
Since 'staying at home' has become the new normal, people are spending the majority of their time online. This has led to a decrease in the rate of foot traffic and a rise in the number of online traffic.
Several businesses have also shifted online, meaning the list of your online competitors will only get longer. So what can you do to stay ahead of the curve?
Pay heed to the customer experience offered by your business. Understand what your users feel while using your website.
Here's a stat showing the impact of better customer experience:
Source: Crystalfanfan.wordpress.com
To convert them into your potential lead, offer seamless search and navigation, easy product filters, and a simple checkout process.
Step #3 – Increase The Speed Of Your Search Process
During this crisis, spending hours looking for a product is not what the consumer wants. 
So ensure that your users can quickly find the items they're looking for. In simple words, the search bar should display the product results the moment your user types the word.
Step #4 – Have A Better Filtering System In Place
Of course, being under lockdown your consumers have the time to browse through your website. But that doesn't mean it is okay to not have a filtering system in place.
Along with a faster search process, you must also offer a better product filtering to your customers.
So sort out your products, make sure that they are displayed properly, and help customers find the required items quickly.
Step #5 – Organize Your Website's Checkout Process
With an increase in the number of offline stores running out of stock, customers are resorting to buy products online. But the one thing that's stopping them is – the checkout process.
Several questions are coming to their mind while heading to the checkout section:
Do I have to pay additional charges for the delivery?
What will be the charges for shipping?
Which method can I use to make the payment?
By when will my order be delivered?
Why are there so many steps in the checkout process?
Is it possible to place an order without registering?
If you succeed in removing these hurdles, you'll witness an increase in your conversion rate. Here are a few ways to streamline the process:
Offer an estimated date of delivery
Let customers pick a convenient delivery date
Accept shipping charges and order payment on the same page
Offer product tracking details
Allow consumers to provide feedback on the delivery methods
Let people place orders without creating an account.
Step #6 – Transform Your Mobile Application To PWA
Shopping through mobile devices has been made available in every nook and cranny of the market. Also you have already created an online store with a mobile-friendly interface.
But during the present situation, it isn't enough!
With COVID-19 having a huge impact on the network, you must convert your mobile application to PWA.
The Progressive Web Apps (PWA) technology acts as the pre-cache of your website app. It helps you reduce the app's load time at a significant rate. It also helps your customers to communicate with the site at a faster pace.
Step #7 – Look For Other Suppliers
With the fear of this pandemic to increase every day, ecommerce businesses must recognize and get other additional suppliers onboard.
Yes, China has been getting its production line back on track. But with the uncertainty in various supply chains, it is essential to review your current suppliers and look for an alternative.
Here is a list of suppliers across the globe that you can fallback on:
Step #8 – Evaluate Your Social Media Campaigns
With people spending the majority of their time scrolling through social media feed, it is extremely important to stay on top of your ad campaigns.
This is when you must be relevant, do your part for the society, and communicate with the customers on an emotional level.
Also solve, don't sell! Focus on coming up with meaningful and appropriate solutions for the issues faced by people during this COVID-19 outbreak.
[Also Read: The Ultimate Guide To Build An E-Commerce App Like Amazon]
Step #9 – Improve Your Website's SEO Ranking
Irrespective of the situation, you should never ignore your SEO rankings.
During this crisis, it is even more important to ensure your website ranks higher in the search engines result page. So embrace the requirements of all the search engines and boost your SEO score.
Positive Impact Of COVID-19 On The Ecommerce Realm
While this COVID-19 outbreak has created loads of obstacles for ecommerce businesses, the crisis does have a positive impact.
Here are some of them:
The majority of people have started shopping online for various products using different approaches. So it is safe to say that this outbreak will change the way people look at ecommerce.
Despite an increase in customers shopping online, a certain number of people still resort to buying products offline. They do purchase hard-to-find products from the website, but for everything else offline stores are their go-to option.
The online sales of grocery has seen an exponential growth. Even applications like Walmart Grocery app, Shipt, and Instacart have seen a raise of 160%, 124%, and 218% respectively.
Here's a stat showing the same:
Source: TechSpot
People resisting to adapt to the latest technology, mostly the 60+ age group, have also started exploring various online options.
With such positive changes happening in the ecommerce world, online businesses will surely experience long-term benefits.
The Bottom Line
The realm of eCommerce is rapidly changing; all credits to the COVID-19 outbreak. But as an eCommerce business, the real question is – Will you hunker down and wait for the crisis to end? Or will you adapt to the changes and come out all guns blazing?
The choice is yours! But if you need help to deal with these challenges, Brainvire can help with it get in touch with us today!