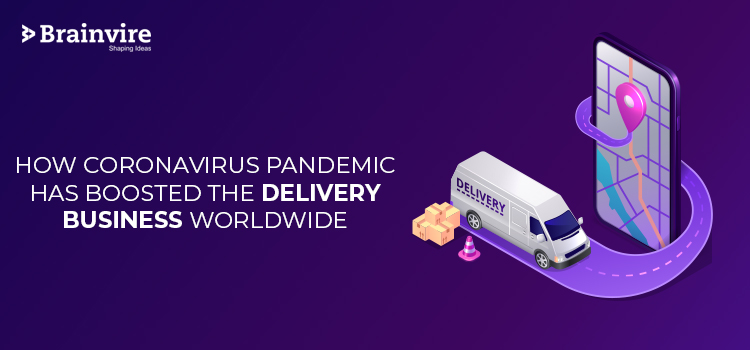 The ongoing Coronavirus pandemic has disrupted countless businesses around the world. But the only one to witness a spurt in the market is the delivery business.
With countries under months of lockdown and social distancing as the 'new normal', the majority of customers have now turned towards online shopping. This has increased online sales by 52% and customers by 8.8% as compared to the previous year.
Here is a stat showing a rise in the revenue growth of the online delivery business:
Source: Supermarket News
Be it Walmart, Shipt, Instacart, or Grocery, every online delivery application has achieved a new milestone! These apps have been experiencing an enormous upward shift in their everyday downloads.
Here is a stat for the same:
Source: TechCrunch
Almost overnight, the revenue levels of every industrial segment like travel, manufacturing, capital goods, and transportation was turned upside-down.
But amidst this uninviting situation, there is a silver lining – the door to new opportunities have opened up for certain industry verticals. In this article, we focus on those rapidly growing sectors.
Here is a gist of what we will be talking about:
Online Grocery Services
Courier & Mail Delivery Services
Online Food Applications
Online Retail Business
Inception of Zero-Contact Delivery
Impacts on The Payment Methods
2 Steps Delivery Businesses Must Embrace
Let's get started!
Online Grocery Services
Amid this chaos, one sector that has endured an incredible increase in terms of its revenue levels is the online grocery delivery business.
With social distancing being strictly practiced worldwide, people have started resorting to online stores and on-demand applications to buy essential food supplies. This is why applications like Walmart and Shipt have seen a surge in their everyday demands.
When compared to the number of downloads from Feb to March 2020, Walmart, Shipt, and Instacart have seen an exponential growth of 160%, 124%, and 218% respectively.
These applications generally witness around 20k+ number of daily downloads. But as of March 15, Walmart alone has experienced more than 54k downloads.
This stat shows the surge in the download rate of Walmart app
Source: TechCrunch
As per studies conducted by Carrefour, the delivery of vegetables has also increased up to 600%.
It is not just delivery businesses in China that have experienced such a massive shift in customer's buying behavior, but companies in the US are witnessing the same too.
A stat showing the impact of COVID-19 on customer's buying behavior:
Courier & Mail Delivery Services
The COVID-19 pandemic has also affected the courier and mail delivery business. But most of the companies continue to function as always, even though their delivery speed has taken a tremendous hit.
Even the US postal service is carrying out its business operation of door-to-door mail delivery.
Here is a list of all the necessary precautions taken by the mail delivery companies to curb the spread of this virus:
Regular sanitization of workplace
Contactless delivery of products and packages
Use of masks and gloves
Screening of employees for fever
As per studies, the possibilities of COVID-19 spreading through packages and products are very low because of its poor survivability on such surfaces. This has proved to be beneficial to the courier and mail delivery services, as they can continue working.
But all the companies are constantly re-evaluating their contingency plans and following the required norms.
Want to convert your idea into a successful app or website? Schedule your free call with our expert now.
Online Food Applications
With more and more people ordering food online, several third-party companies and restaurants have come together to deliver meals to their customers and boost profits.
Among various food applications, Uber, Grubhub, and DoorDash have endured a massive demand for online food delivery during this pandemic.
Numerous dine-in restaurants have also taken the online leap to encourage people to stay at home!
Here is a stat showing the growth rate of food delivery apps.
Though an uncertain and stressful time, this novel Coronavirus pandemic has offered a lot of benefits to the food delivery business. Since the majority of people are working remotely and prefer avoiding crowded places, they are likely to place more online orders.
Online Retail Business
The present situation has a positive impact on the online retail business too.
A leading online retail brand, Amazon has decided to get in nearly 100,000 people in the US on board. This way, the retail giant can not only meet the customers rapidly increasing demands, but also offer opportunities to those who recently lost their jobs.
The only issue they are facing is the limited availability of inventory or delay in delivery time. Even Amazon's prime customers have to wait for their orders.
Due to this, retail businesses are compelled to put up notices regarding the same.
Inception of Zero-Contact Delivery
Since social distancing plays a crucial role in breaking the chain of this virus, online delivery businesses have adopted the zero-contact delivery approach. Some of these companies include Zomato, DoorDash, McDonald's, Glovo, Pstmates, Deliveroo, and Just Eat.
When placing an order, you must opt for the contactless delivery option to ensure you aren't receiving the order directly.
Source: Jet`s Pizza
In the zero-contact delivery method, the person delivering your order will place it at your doorstep to prevent the spread of this virus. They will wait for you to collect the order while maintaining the required distance.
Impact on Payment Methods
Alongside the delivery business, it is the ecosystem of digital payment that has seen a boost during these uncertain times. People continue to use these platforms, they trust the provider and systems, and so no significant issues have been faced.
The challenge arises with people trying to save money and reduce their spendings.
Here is how the novel Coronavirus pandemic has affected the payment methods.
1. A Stronger Push Towards Cashless Payment
In the initial weeks of March, the World Health Organization had warned about the possible spread of COVID-19 through banknotes. They recommended the quick adoption of cashless transactions to help curb the spread of this virus.
Certain countries like South Korea have gone a step ahead – they are quarantining the cash present in their central bank for 14 days before sanitizing and circulating them in the market. Even China has taken up the same route to break the chain of transmission.
Such restrictive measures coupled with the increasing fear among customers will not just push them to follow WHO's recommendations. It will bolster the digital transactions as well.
The approach of cashless transactions is expected to increase at a rate of 10.5% from 2020 to 2024 – especially if other worldwide markets with heavy cash transactions start implementing these measures.
Here is a stat for the projected rate at which cashless payments have increased:
Source: The Asian Banker
With a massive increase in the usage of cashless payments, more customers, particularly the ones who prefer using cash, can be attracted to such transactions. It will also raise the acceptance curve of the payments.
2. An Ignition in Online Ordering & Digital Checkouts
With every country urging its people to practice social distancing and stay at home, there has been a surge in the number of people ordering products online and opting for digital payments.
Companies such as Amazon, Instacart, and PayPal are witnessing an enormous spike in their demand.
But there are two crucial challenges that every payment provider and customer is facing:
Firstly, every provider offering an average shopping and order placement experience is put on a radar. The clock has been ticking for these companies to enhance the systems.
Secondly, as a lot of customers are turning towards online shopping to purchase essentials like groceries, they are vexed about the repetitive process. If their order is similar to the last time, then why do they have to go through the same process all over again?
These customers are likely to prefer ordering essential supplies through devices that are authorized by IoT (Internet of Things). For instance, this can involve automatic ordering of groceries at a specific time.
In the years to come, payments driven by IoT are likely to see an upward trend!
3. A Surge in Tokenized Payment Systems
The Coronavirus pandemic has given customers enough reasons to be vigilant in terms of using payment terminals.
Digital payment systems like Google Pay and Apple Pay enable customers to make payments without using their PIN or entering the card details. So it is safe to say that tokenized wallets will witness an uptick in the coming years. Possibly, the usage of physical cards may shrink a little.
Companies that do not or are incapable of accepting payments through mobile wallets can undergo restrained growth post the end of this pandemic. On the other hand, contactless transactions can become the 'new normal'.
4. An Increase in Digital Innovation Because of Change in Buying Behavior
Maintaining a social distance of at least 6 feet and other pandemic-related measures have bolstered the demand for online banking. It has also compelled several conventional payment sources to speed up their digital transformation process.
A stat showing the percentage of people avoiding crowded areas:
The collaboration between payment providers and banks is also possible and that can lead to improved digital transactions.
On the whole, this industry will not witness any impact of COVID-19 for several months, if not years! The worldwide economy will be completely different once this ends.
New pool of possibilities will involve:
Replacement of cheques and cash with digital transactions
Development of infrastructure to enable merchants to work from home
Adoption of digital money along with other payment solutions
Inclusion of automation, analytics and cloud-based systems to rethink scale
2 Steps Delivery Businesses Must Embrace
Amid this pandemic, though the delivery business has received a massive boost, it is essential for them to take up the following steps.
1. Be Prepared for Intense & Swift Demand of Online Delivery
With the number of COVID-19 cases on the rise, the majority of customers have started avoiding crowded places. Due to this, most of them are using on-demand apps to buy essential supplies.
This has further led to an increase in the demand for online delivery and a decrease in the number of delivery personals.
So it is important for businesses to have a plan in place to tackle such situations.
2. Identify What Inventory Is Demand & What Is Not
In the present situation, it is obvious that essential products like gloves, sanitizers, face masks, toilet paper, disinfectants, etc. and food supplies such as vegetables, bread, and milk are the need of the hour!
Here is a stat showing the rise in sales of health-related products:
Source: BigCommerce
But other non-essential products such as electronic gadgets and toys won't be in demand.
So if you're a business that offers both essential and non-essential items, it is best not to stock up the latter.
The Bottom Line
The novel Coronavirus has spread to several countries around the globe and countless businesses have already taken the brunt of the virus!
While numerous industries are working round-the-clock to stay afloat, the delivery industry is experiencing an increase in the demand and fluctuation in the stock availability. But a few months down the line, we'll surely come across new ways to deal with the surge in orders.
If you are seeking help to keep your business up and running during this pandemic, Brainvire can help you with it. You can contact our team today!