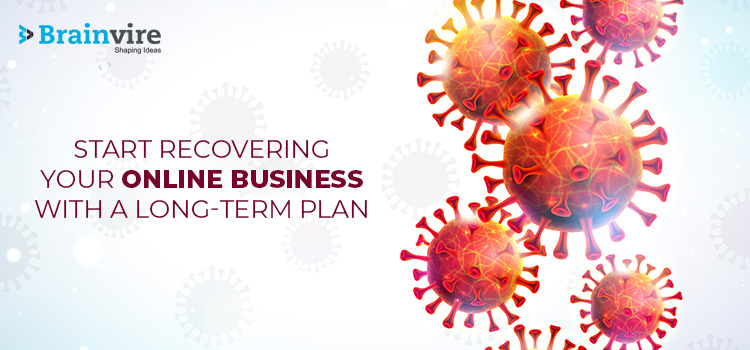 Ever since the novel Coronavirus has spread across the globe, there has been a dramatic shift in the priorities of the majority of businesses. This has further led to the disruption of everyday business functions, supply chain, and the manpower.
This is how COVID-19 has impacted businesses as a whole:
Source: Supply Chain Digital
A research revealed that nearly 27.2% of businesses do not have a pandemic preparedness plan in place. Around 23.8% of companies are still in the process of creating one.
Here is a stat for the same:
Source: Tribe Blog
Amid this outbreak, with most of the people working from home, businesses must develop a business continuity and recovery plan for long-term benefits.
This article helps you understand the significance of a Business Continuity Plan. It also offers tips on how to shape a plan and use it in the fight against this COVID-19 outbreak.
Take a glance at what we will be talking about:
What Is a Business Continuity/Response Plan?

How It Helps Your Business
What Must be Included in the Plan

Three Essential Components of a Business Continuity Plan
What Steps Must be Taken When Developing a Long-term Business Plan
Prepare a Recovery Plan Now
Bonus Tip – How Can You Take Your Social Media & Branding Game Up a Notch
Without further ado, let's get started!
What Is a Business Continuity/Response Plan?
As the name suggests, this plan highlights the systems and procedures your company can use to prevent the potential business issues.
Source: LG Networks, Inc.
A Business Continuity Plan ensures the staff and other company assets are safe. It helps you quickly recover and continue the business when going through a pandemic.
Want to convert your idea into a successful app or website? Schedule your free call with our expert now.
How Does It Help Your Business?
In the event of a potential threat, such as this COVID-19 pandemic, having a business recovery plan helps you in the following ways:
Keeps all your employees safe.
Reduces the threat of your business transmitting the virus.
Ensures the measures are in place, provided one of your staff gets infected or quarantined.
Offers alternative provisions in terms of suppliers, customers, and other concerned parties.
What Must be Included In the Plan?
When creating a business continuity plan, ensure you make the following factors a part of it:
Supply Chain Management, Human Resources, and Customers

Prepare for business continuity.
Plan on how you can schedule arrangements.
Evaluate the HR policies like overseas travel and sick leaves.
Ask employees with travel history to COVID affected countries to submit health declarations.
Evaluate your health insurance policy.

Source: Parker Hannifin

Business Operations and Other Functions

Educate your staff on infection control and personal hygiene.
Offer necessary training and stock of masks, hand sanitisers, and disinfectants.
Screen all your staff for fever.
Keep tabs on the latest COVID-19 developments and other instructions passed by your government.
Disinfect and clean your store regularly if it is open for the customers.

External and Internal Communication

Develop a proper communication plan to tackle issues if one of your staff is infected by the virus.
Determine your essential suppliers and share your continuity plan with them.
Make sure the staff is up-to-date with their respective responsibilities.
Have a communication platform to solve the queries of your customers and employees.
Three Essential Components of a Business Continuity Plan
You can address these essential elements while developing a business continuity plan. These components ensure your business is up and running even during a pandemic.
1. Business Flexibility
By all means, your business recovery plan must include business flexibility.
In today's time, you are combating an unforeseen situation to keep your business afloat. In other words, you require a modification of protocols that ensures your company functions smoothly.
But for you to focus on business flexibility, it's essential to evaluate other core operations.
This is the perfect time to leverage the potential of various technologies. By monetizing in the right place, you can ensure that your employees have complete access to the necessary resources and tools when working remotely.
2. Authorization Requirements
Authorization requirements for all your employees is another important component of business continuity plan.
For example, you have around 500 staff but access to just 300 VPNs. To deal with such situations, it is imperative to have a relevant policy in place. You must also have configuration to firewall architectures to tackle a sudden surge in online traffic.
Have other network safety solutions, such as IPS (Intrusion Prevention System) in place too.
3. Cyber Security Attacks
A lot of people are taking advantage of this pandemic. They are conducting phishing campaigns to focus on vulnerable companies. 
Your employees waiting to receive updates regarding Coronavirus are the ones to be affected by it.
So prepare a recovery plan that includes a robust system to prevent these phishing scams. This offers better insights about the situation to your staff while putting a stop to cyber security attacks.
Here is a checklist on how you can combat cyber security attacks:
What Steps Must be Taken When Developing A Long-Term Business Plan
To tackle any kind of pandemic and recover from its impacts, your business must create and implement a business plan. The recovery strategies in your plan have to display the core areas of your business that need evaluation.
Here are the essential steps to follow when preparing a long-term business continuity plan.
Step #1 – Prepare A Recovery Group
Select a number of employees and make a recovery group. Ensure they have the necessary reinforcements and are aware of their responsibilities. This group will act as an emergency group.
Train every employee for all kinds of emergencies, so that they can look after the assignment if one of them falls ill.
Accustom your recovery group to manual processes if the apparatus or equipment is damaged. If you deal with harmful tools, give your staff the necessary protection gears.
This helps ensure they are safe all the time. It also reduces the impact of the situation and recovers quickly.
Step #2 – Make Your Employees Safety Your Priority
Ensuring your employees' well-being and safety is of utmost importance. Since they look up to you and your business for assistance, you should openly address all their concerns.
Here is a stat that shows how important it is for brands to look after their staff:
Source: MediaPost
Having 100% transparency helps you in the long run. It also helps improve their engagement and reassures the firm's continuity.
An essential adjustment businesses must make is to offer flexible work timings. Prepare policies to let your staff work remotely. Based on the industry, determine your essential teams and offer them the required resources.
During such a crisis, come up with various wellness policies and programs to support the health of your staff.
Step #3 – Re-evaluate Your Business Strategies
The majority of companies are experiencing tremendous disruption in their everyday business functions. Most of them are also likely to underperform during the pandemic. 
Initially, the supply chain issues were visible on businesses that heavily relied on China. But with the US and UK being affected by the virus, many other businesses are facing operational challenges too. They are also witnessing a dramatic shift in the consumption and buying behavior of customers.
To overcome these challenges, try this out:
Analyse your liquid assets.
Evaluate the functional and financial issues and react soon.
Look for an alternative supplier.
Identify how this Coronavirus outbreak affects your business plan and budgets.
Step #4 – Get in Touch with Suitable Stakeholders
When trying to reset your business during a crisis, it is extremely important to have timely and transparent communication.
Ensure you are constantly in touch with your employees, creditors, suppliers, regulatory authorities, investors and customers.
Step #5 – Be Flexible When Preparing for a Pandemic
After solidifying your new business strategies and sharing it with the stakeholders, implement them in the market.
When executing the renewed strategies, keep tabs on the present situation. If there is an issue with a material, report it ahead on time. This helps the business to take the necessary actions required to prevent further damage.
Once this crisis ends, re-evaluate your business continuity plan.
Assess how it works and if there is an issue, determine the root cause-
 Is it the absence of proper infrastructure? 
Is it the shortage of labor? Is it the timeliness of your decisions? 
Or is it some external issue?
Consider preparing new internal policies and guidelines depending on the lessons learnt from this situation. Create a solid contingency plan. Develop resilience and respond faster to such issues.
Prepare a Recovery Plan Now!
The Coronavirus outbreak is a situation that cannot be predicted using forecasting equipment.
But businesses can learn lessons and use them in the future when this crisis ends. After all, you have got an opportunity to evaluate your response during such tough times!
Since it is not yet over, you need to take the right decisions and actions to receive long-term benefits. Analyse if you have a stronger initiative and management team to face this crisis. Understand and reshape your business forecast that supports your supply chain.
Once this ends, you will realize whether you have got the potential and resilience to reset your strategies and become successful in the market.
Before we wrap it up, here is the bonus tip that we promised:
How Can You Take Your Social Media & Branding Game up a Notch
Your customers need you now more than ever.
So put your voice out there and let people know what actions you are taking for your employees, customers and the overall business. Educate the general audience about this COVID-19 outbreak.
Here is a stat showing the number of times people post about Coronavirus on social media:
Here is what you can post on your social media pages:
Outline your general hygiene and safety procedure to reduce the panic surrounding this pandemic.
Add the dos and don'ts of COVID-19 and its myths.
Provide motivational quotes for fellow businessmen.
Outline the supported government bodies and other efforts you have taken to help the people in need.
Give your loyal customers a shoutout for continuing to shop from you and showing their support.
The Bottom Line
Businesses worldwide are trying their best to stay afloat during these uncertain times through their online presence. If your business is not online yet then create your online presence now. Yes, there are substantial risks of this Coronavirus outbreak. But there are still certain areas that businesses can re-evaluate for long-term benefits.
If your business needs any help, Brainvire will help you with that you can get in touch today!