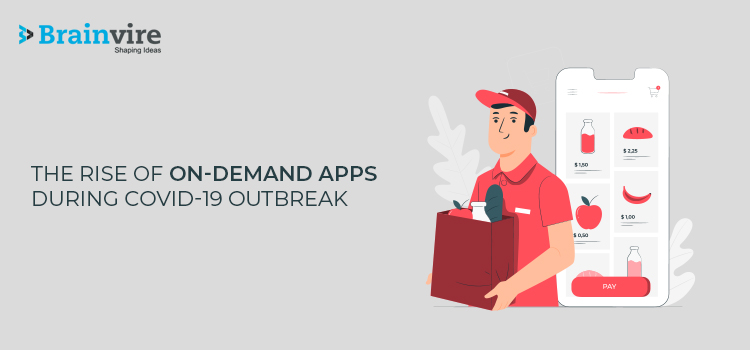 In the wake of this pandemic, no matter where you live, it is likely that your life has been affected. COVID-19, or Coronavirus, has rather turned the entire world upside-down!
As of April 2020, more than 2 million people have been infected due to this deadly virus. These alarming numbers of infections seem to increase at a faster rate. 
Here is a stat showing the rise in Coronavirus cases:
With this virus being transmitted from one human to another and the increase in cases overpowering our healthcare systems, many countries have gone under a lockdown.
Self-isolation and social distancing has become the new normal. Be it education, running everyday errands or work, things have changed tremendously.
The COVID-19 outbreak has changed our consumption and buying behavior. While certain on-demand apps have witnessed an increase in popularity, the others have experienced a massive decline in sales.
Take a look at this stat showing the shift in demand patterns in Italy:
Now, this leads us to an essential question – How can businesses take advantage of the rise of on-demand apps to stay ahead in the competition?
The present situation has certainly wreaked havoc across the globe. But it somewhat has a positive impact on the online industry and that is what we are going to discuss in this article.
Here is what we will be covering:
Reasons Why On-demand Apps Have Seen An Upward Turn In Their Sales
Different On-demand Delivery Applications

On-demand Grocery Apps
On-demand Food Delivery Apps
On-demand Tele-conferencing Apps

Why Does Your Company Need an On-demand App
What Steps To Take When Offering An On-demand App Service
How Can Brainvire Help Your Business
Want to convert your idea into a successful app or website? Schedule your free call with our expert now.
Before we take a look at the reasons behind the success of on-demand apps, let's address another important question.
Are We Prepared to Follow This Quarantined Lifestyle?
Working from home has already been a norm in several countries across the globe. 
As per various research, around 3.4% of the US population prefers working from their home for nearly half the week. Also an estimate of 62% of people, falling in the 22 to 65 years age group, opt for remote working occasionally.
Take a look at this stat showing around 74% of people in the US willing to work from home:
Online education, particularly in the US, is equally prevalent. Studies have revealed that more than 6 million US students enroll themselves for online courses.
Even the norm of online shopping, for luxuries and essentials, has been increasing at a steady pace. As per Statista, a revenue worth of $107 million was generated in the year 2019 – all credits to the Online Food Delivery Sector.
Here is a stat showing the number of food delivery app users in the US:
These stats confirm that several people across the globe have already adopted the online world and are accustomed to remote working.
So, it is safe to say that we are somewhat prepared to follow this new lifestyle. Also there are a few apps that have made life easy while we practice social distancing.
Reasons Why On-demand Apps Have Seen an Upward Turn in Their Sales
With self-isolation becoming the latest trend, the majority of people have completely shifted to online shopping. This has led to many on-demand apps witnessing a surge in their sales.
Here are the top two reasons behind their success:
1. Availability of Options from the Comfort of One's Home
When it comes to on-demand applications, be it grocery or food delivery app, the pool of options are endless.
Regardless of the service provider you choose, you are likely to see them work in collaboration with various vendors and organizations. Apart from the fear of getting infected by the virus, this is the reason why most people prefer buying essentials from on-demand apps.
2. Extensive Offerings, Including Different Needs
The online delivery and on-demand apps are rapidly growing in popularity because of the expansive products they offer. The option of being able to purchase everyday essentials with just a few clicks is the reason why more and more customers are shifting to these applications.
Different On-demand Delivery Applications
The Coronavirus outbreak has definitely affected the worldwide economy. Yet, there is a positive side that we must look at.
Here is a list of a few on-demand apps that are doing well during this pandemic:
On-demand Grocery Apps
To break this transmission of the virus and flatten the curve, it's essential to follow the social distancing protocol. And this is the time to shift to online grocery shopping rather than stepping out of the house.
Look at this stat showing a surge in grocery sales:
A few apps that are presently in high demand:
1. Union Coop
This is a smart application that lets you purchase products from various supermarkets linked to Union Coop. This app offers more than 26,000 items that you can purchase.
2. Carrefour Now
Initially developed as a fast delivery app, Carrefour Now ensures your order is delivered at the doorstep at least within an hour. Although maintaining a similar benchmark during these times is a little difficult, the app does provide essential goods through its supermarket and hypermarket chains.
3. Waitrose & Partners
This is another online chain that provides its customers with essential products. Just download the application, register yourself, and start looking for goods. They function 7 days a week and offer free-of-cost delivery.
On-demand Food Delivery Apps
To ensure people are able to satisfy their food cravings and prevent them from leaving their house, several restaurants have started delivering food. Even various food delivery apps are offering this service. If you are a restaurant but don't have an on-demand app, then develop one now.
Here are some popular food delivery apps:
1. DoorDash
A leading restaurant delivery app, DoorDash charges around a $5.99 fee to deliver its lunch, dinner, and breakfast service to various areas.
2. GrubHub
You can download this application on both Android and iOS mobile devices. It functions in more than 1000 cities in the US and has around 50,000 eateries. The charges for their service depends on your order.
3. UberEats
Uber is not only on an online riding platform, but also offers food delivery under UberEats. Users having an Uber account can enjoy their online food delivery service.
On-demand Tele-conferencing Apps
With everyone confined in their house, online communication is the only way to stay connected with people. This is why the majority of people have started using various tele-conferencing apps. This has further led to an increase in demand for more such applications.
Here is a stat showing an increase in the download of business apps as compared to 2019:
Source: TechCrunch
Apps that are used during this outbreak:
1. Zoom
Zoom app has gained unbeatable popularity in the past few weeks! Many users have resorted to this app to connect with their friends and family. In fact, even businesses and schools are using it to conduct meetings and classes.
2. Skype
Although Zoom is used by several firms to hold meetings, many companies opt for 'Skype for Business'. This is because the security offered by this app adheres to Microsoft's safety policies.
3. Google Hangout
You can download this application to connect with people amid this outbreak. Google Hangout lets you conduct video conferencing with around 10 people and add nearly 100 connections in a group conversation.
Why Does Your Company Need an On-demand App?
During this outbreak when coming in contact with others is a threatening feat, every firm offering essential products must have an on-demand app. This ensures your business is up and running!
Also when you properly develop an on-demand app, it helps you replace your offline store more efficiently.
To tackle this outbreak, build an application that offers seamless navigation and user experience. Also, sort out your inventory and accept only online payments to prevent the transmission. A similar model can be followed for any type of on-demand app.
This is the time when you need to bridge the gap between your business and customers by monetizing in the right place.
Now more than ever, your company requires an on-demand app. With the app, you can easily offer your customers what they are looking for and ensure you are still a part of the competition.
What Steps To Take When Offering An On-demand App Service
With COVID-19 rapidly spreading among people, most of them are looking for on-demand options that can curb the spread of this virus.
As of now, with meagre information about this deadly virus, the panic amid customers is high. So if you are a business offering essential services, you need to consider a few things.
While offering an on-demand app service, ensure you are taking up the following steps:
Step #1 – Offer Contact less Delivery
When providing an on-demand application service, particularly for grocery or food, make sure you have a contactless delivery in place. This ensures there is zero contact between your customers and the delivery personnel.
A no-contact delivery is the safest option. This is because it prevents the transmission of the virus if you are delivering to an infected person or someone who is in contact with a COVID-19 patient.
This is the best way to break the spread of this virus.
Step #2 – Prepare Beforehand for the Rise or Fall in Demand
People are likely to keep revising their online cart. So, the previously saved customer data will perhaps not come to aid.
During this time, you must collect real-time data about your customers based on their changing buying behavior, geographic location, and the virus's intensity. This data will help understand which products people are likely to consume. You can also prepare your business for the change in demand beforehand.
If your company isn't prepared for the present situation, the possibility of you not being able to serve your consumers is very high!
Step #3 – Let Customers Know about the Actions You Are Taking
The world is in a state of panic. After all, very little is known about this virus and a lot of it isn't true!
So if your business provides essential goods, make sure your employees and customers are aware about the actions you are taking. Educate them on how you have planned to tackle this situation and the steps taken to protect everyone.
This approach helps you stay ahead of the curve and lets people make the right decision.
Step #4 – Have an Efficient Supply Chain
Make machine learning and artificial intelligence (AI) a part of your on-demand service.
It helps prepare a fully-customized recommendation based on the customer's needs, specifications, and geographic location. It also helps modify those recommendations when the mindset or preference of your user changes.
Using AI lets you foresee the product demand and improves user engagement along with the conversion rate.
With a better supply chain and smarter warehousing capabilities, you can handle the demand effectively and focus on inventory management. 
How Can Brainvire Help Your Business?
Coronavirus is not only a widespread health emergency but an economic crisis too!
Several small-scale organizations are finding it difficult to stay in the competition amid this lockdown imposed by the majority of the countries around the world. To ensure your firm stays afloat during this pandemic, leverage the potential of the online world.
Prepare a business model that helps deliver products at the customer's doorstep with nominal to no contact.
To start off, build an on-demand application for your company – this is where Brainvire comes in the picture. Be it food, grocery, laundry, or teleconferencing, an application is your best bet!
At Brainvire, we house a team of highly experienced mobile developers who can help you build a seamless application for your business.
Here are a few other ways through which we can come to your aid:
Our team has a decade-long industry experience, which assists us in analysing the changing situation and come up with top-notch solutions for the same.
We are abreast with the present economic circumstance, understand the way it works and what indicates the rise in demand.
We have delivered our on-demand services to an array of clients and this experience helps us comprehend the customers interests. It helps us offer experiential and engaging app solutions.
Our team understands the way companies evolve during such times and has helped many of them in the best possible ways. We also create efficient and smart solutions to help your business deal with uncertain times.
Wrapping Up!
We are going through tough times! Being confined to the four walls of your house is no mean feat, particularly for those who thrive in social occasions. Yet, for the greater good, it is important to stay where we are!
But if your business needs help during this uncertain time, Brainvire can help you with that feel free to contact us!