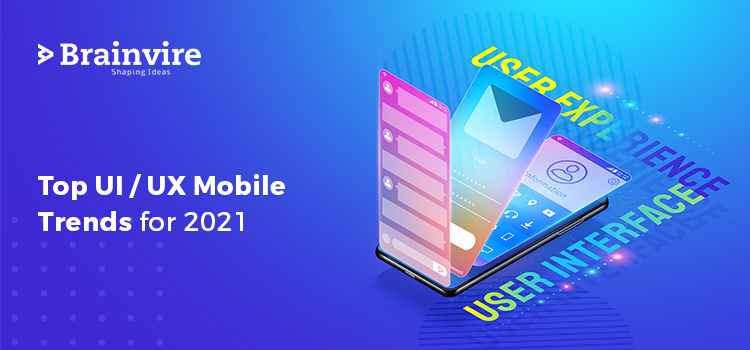 Staying on top of the UI/UX mobile trends is important to keep your mobile app ahead in the competition, Always! and with UI/UX design, you can make your mobile app intuitive, accessible, and inclusive.
UI is an acronym for User Interface and UX stands for User Experience. Both these terms are correlated and are often used interchangeably and together. These terms are interrelated and one is not possible without another.
Better your Mobile app's UI/UX design to overthrow your opponent.
Why Should You Focus on the UI and UX Aspect?
With technology, the UI and UX landscape is also ever-evolving by bringing recent updates and trends. Designers must keep with all the upcoming crazes and leverage them to enhance the mobile app's performance and reliability. Missing out on new trends and retaining the outdated style will hamper user interface and user experience. Trying out new trends after some time won't help, incorporating new things before anyone will add brownie points and will attract users the most.
Experimenting with 2019 and 2020 trends will do no good to your Mobile app. What you need is to understand the trends that are going to gain popularity in 2021 and stay focused to strike those trends before your competitors.
Want to convert your idea into a successful app or website? Schedule your free call with our expert now.
Top 9 UI/UX Trends
1. Dark Mode
The dark mode is the latest 2021 brand design trend and is going to be the UI/UX trend for this year. The outlook is stylish and elegant at the same time.
In 2021, your audience will not appreciate you jumping on several trends without looking for form and functionality in the UX. Dark mode has been widely accepted in various OTT platforms and messaging apps in 2020, you must consider its use to reach your goal.
Here are some advantages of the dark mode.
It enables designers to make certain elements pop to draw visitors' attention to special things.
It curtails screen fatigue.
It helps in retaining the user's device battery and prevents it from draining out.
It can hide defective pixels without putting much effort.
2. Motion Graphics
Visuals make the learning process easier and affluent than written phrases. That's the reason the audience is consuming a huge amount of visual data every day and your trademark needs to cope up with this trend.
Motion graphics help to improve user experience by
Elucidating complicated processes with ease
Making transitions runny
Drawing the audience's attention to things that need to be done
Confirms action and gives negative or affirmative reminders
There are a plethora of benefits of motion graphics but don't overdo it. Too many pushing elements on the Mobile app can distract the user and obstruct them from doing what they wanted. Try to make the experience immersive, not detracting.
3. Minimalism
The best thing about this trend is that it is ever-evolving and robust at the same time. Minimalism this year has brought huge strips of white space and that too in unexpected places. Simple designs are great as they are good for easy navigation and put users at ease. Complicated designs can sometimes chase your users from your Mobile app, as they are tough to navigate and lowers user experience.
With minimalism, users stay active on websites, applications, and digital platforms, this makes users visit the website or app regularly.
Simple designs are not new in the industry but continue to evolve with technology.
4. Aesthetic Illustrations
Illustrations are ruling the digital industry for a long time. Their past trends are impressive. Illustrations are light animation with line style drawing, this is a popular choice and is best for storytelling. This UI design is prominent because it is a bit impulsive and unforced. Plus, it feels and looks beautiful due to its wide range of artistic elements.
Illustrations are attention grabbers and usually makes the product lively and different from others by adding extra character and texture. Illustrations help in engaging users with your brand and is an incredible way to tell your brand story to the audience.
5. Focusing on 3D Elements
The 3D graphic is the new common these days, from movies to videos to video games, you will find it in almost everything. 3D graphics was initiated decades back but its ever-evolving trait has made its use in almost every other thing.
The advancement of mobile and web has enabled web designers to implement 3D graphics into web and mobile interfaces.
By using 3D graphics, you can present a product more engagingly and interactively. In 2021, more websites will employ 3D graphics for providing a real-world shopping experience.
3D graphics can be shown in a 360° presentation, improving the overall user experience.
6. Augmented and Virtual Reality
2019 was a great year for the expansion of virtual reality, there was a huge craze for virtual headsets due to the gaming industry. Virtual reality was employed in hand interaction features and was highly-appreciated in 2020. This trend will evolve in 2021 and will help to provide a real-time user experience.
Augmented Reality has witnessed a massive surge in 2020. Leading tech companies invested millions of dollars into AR development. Apple has introduced its first-ever AR toolkit called ARKIT3 to help web designers build AR-based products. UI design for AR will still be one of the strongest trends in 2021.
7. Voice Interaction
Nowadays, most people want some time off-screen due to screen fatigue. 2021 is going to witness the rapid transition from visual to voice. With NLP (National Language Processing) aptitudes on the surge, brands are focusing on voice interaction and voice search. Tech giants like Microsoft, Google, Amazon, Apple all are into voice search devices, some are in the making stack while others are available in the market.
So make sure that this technology talks to your users to make their lives better and relaxed. Voice interaction is not new but is a successive step for UI/UX designs.
8. Liquid Animation
Almost every Mobile app has animation to attract and engage users. Animation has subsisted in digital space for a long time, the current trend now is liquid-animation that appears to be like water and is moving constantly.
Liquid animation can be used in whole scenes as a way of changing video elements, general animations are great for getting clicks. The only trick for liquid animation is to keep the movement speed. It should flow smoothly like a fluid to provide the most realistic feel.
This design can be used in multiple ways to build a mobile app interface that works perfectly with the content.
9. Modulating Typography
Typography is a vital element of user interface design. Good typography establishes strong visual structures and procures a graphic balance to the site.
In 2020, web designers tried and attempted to modulate and break the conventional typography rules. This trend will work only when breaking rules, like spacing, odd sizing will not affect users' understanding and they will comprehend the content easily.
This trend will be stronger in 2021, and will still stay stable for the upcoming years. In 2021, maxi typography will witness extensive growth, web designers might split words into several lines.
Conclusion
In 2021, UI design trends are a blend of futuristic dark mode, advanced virtual and augmented reality, realistic liquid animation, voice search, and abstract 3D elements. Keep yourself on top of the trend, incorporate these tendencies to create an engaging UI.  
Overdoing can ruin your entire user experience. It can be distracting for the users if you put too much of everything; minimalism works best here. Complex elements can hamper the navigation system and chase your visitors away.
Good Mobile app designing is a balance of different techniques and tools to enhance the user interface and user experience.