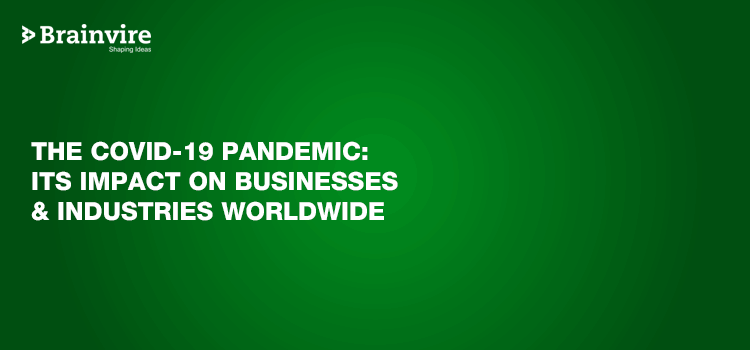 Countries worldwide have introduced stringent action plans to stop the propagation of the Coronavirus pandemic. Countries and business capitals are primarily locked and major industrial supply networks have stopped completely. 
According to the Organisation for International Cooperation and Development (OECD), the global economy could expand as gradually as the year 2009 owing to the coronavirus epidemic.
The demand for  consumer stores items such as toilet paper, vegetables and bread soars high as the pandemic continues to escalate. Supermarkets and online delivery companies record huge increases.
Investors also look for less risky investments when a grave crisis hits. Gold is the ideal choice of investors in periods of instability. It is the "safe harbor" for speculation. But this time, even gold rates fell in March as creditors prepared for the global recession.
Investors believe the coronavirus dissemination would kill economical growth and may not be sufficient to stop the decrease in government action.
This is how the Covid-19 pandemic has affected several industries across nations.
ECommerce Industry
Coronavirus has severely impacted business owners and consumers both. Public and private sectors have slowed down with the spread of the virus. The full impact is still not clear but it sure seems severe: 
The virus has led to the cancellation of thousands of events, trade centers, and hotel bookings. Restaurants, shopping complexes, and many more places have been shut. With companies holding online seminars and conferences, work from home has come to effect, resulting in the change of the traditional business work cultures. 
The graph here shows the impact of coronavirus on the ecommerce industry.
Source: Digital Commerce
Since major countries have implemented lockdown, shops and stores are shut and people have fully adopted self-quarantine. This has led to an increase in online traffic. In fact, grocery stores have witnessed an 84% increase in their online visitors.
Source: Apptopia
Tech retail sites recorded an increase in the traffic by 20%. Major eCommerce businesses have also witnessed a hike due to the lockdown but only for essential items. Most other businesses are experiencing a downfall.
Want to convert your idea into a successful app or website? Schedule your free call with our expert now.
How to overcome the current challenges?
Here are a few ideas to help companies maintain pace during these tough times:
Companies can assess their social media ad campaigns
They can update their product descriptions and make people aware of their usability. 
Businesses can redesign and optimize their websites.
They can work on their delivery and transportation services.
Businesses can keep an eye on their analytics for products receiving high-traffic and recommend alternatives.
They can look into promoting web-based live chats to handle requests and to maintain the top level of customer service.
They can build a new page with COVID-19 FAQs to inform customers about product availability, order fulfillment and other steps the business is taking.
 Retail Industry
Owing to strict lockdowns and restrictions on transport, the retail sector has taken a huge hit because of the coronavirus outbreak. This is how the retail industry is affected:
Brick and mortar shops and outlets are all shut except those offering essential items.
The supply chain has been disrupted as factories are shut down. The overall movement of products and services has come to a standstill.
People have mainly shifted to online buying behaviors, which has hugely benefited the eCommerce companies.
Merchants and business houses that solely rely on physical stores, especially for non-essential products, have been majorly affected.
The job security for people working in the retail sector is at risk.
For instance, Gap said it is prepared to grant leave to almost 80,000 store employees in the United States and Canada. The company also owns Old Navy and Banana Republic.
Take a look at these stats:
 How to Counter Current Challenges?
Retailers should try to shift their business online along with their physical shops for added benefit.
Effective marketing and promotion will help the retail business to get out of this depression.
Retailers need to focus more on delivering efficient home delivery systems as most people are on self-quarantine.
Promote cashless transactions with different payment methods for added convenience and contactless payments.
Reduce in-store shopping hours to reduce foot traffic and promote online shopping. Reserve a special 'seniors-only' shopping hour. 

Expand social selling

and increase your social footprint using Facebook, Twitter, Instagram, and LinkedIn to increase your sales reach.
How the government can help
Relaxation in the government regulations and laws will be of great help for the retailers. The government needs to extend support to the retail sector by providing concessions in taxes, GST. etc.
Finance Industry
The coronavirus pandemic has disrupted global financial activity due to rapid rise in contamination rates caused by its wide geographical expansion. Stock markets around the world have crashed causing panic among investors. Such a massive loss has concerned investors as the future seems uncertain due to the current circumstances. 
After the outbreak of the disease in China, the market did not react immediately due to inadequate information. However after the virus' global expansion, the crash finally occurred some time around February 28, when all the leading stock markets around the world met their worst fate since the global financial crisis of 2008. 
Take a look at this:
Source: cnbc.com
As per leading reports and indicators, the losses suffered by share marketers are :
In terms of severity, the coronavirus crash ranks 5th and looks less severe in terms of impact than previous ones like the Great Depression, the Financial Crisis of 2008, France Invasion by Hitler and the crashes of Blsck Monday.
Source: Financial times
 How to Counter Current Challenges?
In order to stabilise the markets and uplift the market sentiments, major central banks have intervened by providing the necessary fiscal support in various ways.
Here's how the world is grappling with it:
The US Federal Reserve slashed interest rates by 50 basis points to a range of 1% to 1.25%.
A pledge to closely monitor and safeguard financial stability was taken by The Bank of Japan and Bank of England.
The Central Banks of Gulf countries like KSA, UAE, and Bahrain slashed interest rates by 0.5%.
In order to address the tragedy and the economic crisis, the IMF and the World Bank issued a joint statement.
The European Central Bank also stood ready to fight the slowdown, 
Chinese officials approved a loan of $71 billion to smaller enterprises that were struggling to resume operations.
How Business Owners Can Ensure Financial Continuity and Mitigate COVID-19 Risk
Business continuity is directly impacted as several business operations take a hit. This is why businesses need to proactively assess their weak points from both financial and operational perspectives. Then, they should proceed to mitigate risks by planning for fiscal and recovery impacts.
Given the importance of cash flow management in the time of a pandemic, business owners should promptly create a financial plan for cash management. Looking into refinancing will help alleviate the pressure and keep your business afloat in the time of crisis. Some options that you can look into are:
Asset and Wealth Management
Financial Control and Reporting
Integration of Financial Portals with Trading Platforms
Operational Fund Accounting and Management 
Risk and Compliance Solutions
The move proved to be of little help because the markets fell again on March 3rd after a bounce back the previous day. To add to this dismay of uncertainty the biggest fear of global economic growth still lies ahead. OECD has warned about a fall in the global GDP growth by 1.5%, an estimated reduction in the current projected increase by 1.45% which will send some economies into recession if the pandemic escalates any further and weakens the market more.
Education Industry
The recent coronavirus pandemic has affected various sectors worldwide with education being one of the most crucial ones. It has led to the widespread closing of various institutions worldwide after throwing the entire education system in a loop. 
According to estimates, over 421 million learners were out of school as on April 3, 2020 after nearly 200 countries implemented the closures.
The major problems caused corona in the field of education are:
Postponement of exams across various levels. It has affected the high school students and undergraduates who are in their final year and currently face an uncertain future.
Hindrance in digital learning due to unreliable internet services and access to technology in some areas.
Challenges related to consistent caregiving, food security, and heightened stress, faced by the low-income families which further disrupts their ability to learn at home.
Some students find it difficult to cope with online classes due lack of real time instruction and interaction.
Uncertain future of several educators related to this field due to the changes in staffing, technology and programming models. 
Since the online model has not been tested before at this scale, the degree of effectiveness remains unknown.
Check this out:
Now take a look at this:
This graph shows households applying for broadband connections as classes move online:
Source: Brookings Institution
How to tackle current challenges?
In order to cope with the above challenges, the following measures can be taken:
Ensuring a two-way communication channel for educators and the parents of students.
Supporting the immediate and basic needs of the families.
Improving and upgrading the medium of online instruction.
Supplementing through non-technological offerings
Boosting the morale and character development of students through the promotion of soft skills.
Deployment of staff through new means.
Providing a robust online learning experience
Placing emphasis on independent learning
Pharmaceutical Industry
Impact of COVID-19 on Pharmaceutical Industry
A lot of industries will suffer from the COVID-19 outbreak. But the scenario in the pharmaceutical industry looks different and profitable.
Both the government and private industries will invest in finding the right drug and effective test kits, leading to a race among pharmaceutical companies. The global pharmaceutical industry will profit from this.
The premise is set. The United States has already spent USD 700 million since 2003 after the SARS outbreak. The federal Biomedical Advanced Research and Development Authority and Regeneron Pharmaceuticals inked a deal recently, and the former will bear 80% of the total cost of manufacturing drugs and developing treatments.  
Pharmaceutical companies developing drugs for coronavirus are immune to the market crash.
The United States Government recently approved USD 3 billion to find a cure for coronavirus.
How to Counter Current Challenges?
Pharmaceutical companies can rely on certain steps to secure their coming years. After the COVID-19 attack, the global response to drug development will change. New steps will be required to put the industry back on track.
COVID-19 influenced several private and public collaborations. Governments and private companies are collaborating to find a better cure for the disease. Eli Lilly and Gilead joined the White House Coronavirus Task Force to increase the momentum of finding a cure. 
The government funding will introduce changes. For instance, the National Institutes of Health is spending huge money resources to find treatment for coronavirus.
A lot of companies depend on China for generic drugs. COVID-19 unsettled the Chinese pharmaceutical industry, which created a generic drug shortage. These structural gaps require special attention
Companies like Pfizer are acquiring smaller biotech firms who are developing new drugs
In India, various pharmaceutical companies are asking for relaxation in government regulations. This will help them to come up with better test kits. In the future, this can assist in better drug discovery.
In light of the pandemic outbreak, as a local pharma company, you stand to benefit. Imports from China for various medicines and raw materials are on a standstill. This means you can apply for the local manufacturing of drugs that can boost revenue. 
There are other ailments and diseases that people are still suffering from other than the Coronavirus. So, ensuring the availability of other critical medical supplies is also essential.
Pharma companies are working tirelessly to develop a vaccine for but it'll be at least a year before it is developed. This means you can contribute to vaccine development by making extra equipment, technology, and resources available to accelerate the rapid development of trial vaccines.
It is still too early but antibody test results look promising. So as a pharma company, focus your efforts to contribute to this field.
Food & Beverage Industry
The food and beverage industry thrives as it serves one of the basic human necessities. But it was not spared from the onslaught of COVID-19. After the initial shock, it is still far from recuperating. 
China was the epicenter of COVID-19. It is also one of the largest producers and consumers of the food and beverage industry. World Integrated Trade Solutions (WITS) calculations said that in 2018, China's intake was worth USD 27 billion and it exported worth USD 34 billion. This took a hit from the pandemic.
The supply and demand link is crippled due to ongoing lockdown. Several supermarket workers were found COVID-19 positive. 
There is a rise in the consumption of food and beverage with a long shelf-life. Shelf-stable plant-based milk experienced a 323% hike in demand in the last week of February.
It is a struggling time for both restaurants and brick-and-mortar businesses as many of them are expecting to shut down for a long time.
How to Counter the Current Challenges
This global pandemic is triggering some measures that will restore the food & beverage industry:
This increased the demand for premium deliveries. In various cosmopolitan cities, people are looking at it as an option. But this process has to be made safer.
An increase in demand for a cleaner and expensive product is expected. Price-sensitive consumers will now opt for cleaner and sustainable products to stay safe
Companies like Califia Farms will produce more shelf-friendly products to meet the huge demand.
Companies are limiting travel out of production facilities for workers and ensuring a curb in contact between workers. This is showing positive signs
People are demanding safer logistics. China produces 30%-35% of the global agrochemicals. Preventive measures in logistics can help in such situations.
The outbreak is already experiencing and inciting new customer behavior. This means businesses will stand to benefit if they gauge this behavior and come up with essential products suitable for the change in demand. 
Businesses can offer discounts on immune-boosting beverages to customers as the current market situation demands it.
No matter how bad it gets, people have to eat. So, the food and beverage industry has to be flexible and work on creating an operating plan that is relevant in these trying times.
Manufacturing Industry
The manufacturing industry will witness huge loss due to the COVID-19 pandemic. Shutdowns are taking place in a lot of production facilities. This will halt the production and trigger a greater economic crisis later.
With the rise of COVID-19 in countries, various companies are going into a lockdown mode. 53.1% of manufacturers are predicting a chance of collapse in the economy and structure of such facilities. 35.5% are already facing disruption in the supply chain.
Most of the companies are in the pre-lockdown or lockdown phase. In Europe, car manufacturers are facing a huge loss.
The U.S. manufacturing industry produces around 18.2% of the global market. During the lockdown, these companies will face huge losses for this sector.
A crash in the global economy will impact the manufacturing industry as these are interlinked.
Manufacturing industries will slow down once the crisis is over.
 How to Counter the Situation?
People are hoping for a quick respite from the COVID-19 crisis. But its long-term effects will impact decision-making procedures. The following steps may help in countering the situation.
The market will find smaller market pockets to work on. Companies may incorporate shorter value chains to avoid disruption.
Governments worldwide are planning economic measures. The Italian Government announced a €7.5 billion plan to counter the economic crisis.
The UK Government is setting up a stimulus package worth £30 billion to revive the faltering economy.
A growth in digitization of various facilities is imminent. Demand for lesser human contact to avoid contraction of any disease in the manufacturing site will trigger this.
Hygiene rules are going to be a mandatory issue with manufacturing facilities over the world. The influx of investment will rise to ensure such moves.
Work decentralization has to be a top priority with the help of unified communications and collaboration efforts.
The protection of the supply chain by implementing strict screening methods is essential to containing risks. Moreover, implementing actions to address disruptions has to be prioritized.
The manufacturing industry has to pay special attention to their financial health with the help of effective cost-cutting, improving liquidity, and establishing a control tower for spending.
Beauty Industry
The COVID-19 pandemic is posing serious challenges to the beauty industry. Lockdown in countries means lesser consumption of beauty products and plummet in revenues. But a certain section of the industry guarantees preventive measures.
Soaps, detergents, and sanitizers will see a rise in the sale as they are essential preventive measures against the coronavirus. Skincare products witnessed a rise of 8% in Amazon.
The sale of cosmetics in Italy dropped by 17.3% in the latter part of the first week of March.
The ban on travel imposed by governments is affecting the promotional activities of various beauty products.
Lab testing of new products has suffered due to a lack in the number of workers
The supply of these products is taking a hit. This is due to governments urging companies to prevent the spreading of the virus by reducing logistics interference.
Indie brands are going to face unprecedented challenges.
Limited online sale of beauty products and shutting down of brick and mortar stores will severely impact sales.
Take a look at these stats:
How to Counter Such a Crisis?
Like many other industries, the beauty industry will face a lot of crises in the coming years. But there are ways to make the situation favorable.
Beauty brands are going digital to promote their brands. Various social media sites will make these types of promotions easier. Teaming up with social media agencies can ease the process
Sanitizers will see a huge rise in demand. EO Products reported that they are producing sanitizers 4 times more than they normally do 
Safe synthetic products will see a rise in manufacturing beauty products. This is to increase shelf-life but ensure safety. This will support growing tilt towards clean beauty products
Consumers are changing their shopping preferences. Due to the pandemic, the number of online buyers may rise. Indie products may take this as a cue for digitization
Beauty brands can refocus their efforts and concentrate more on influencer marketing as the current environment will help them capture a broader market.
DIY beauty tips have always been popular so it is high time that beauty brands place emphasis on curating content revolving around this to keep customers engaged.
For the beauty industry, it is the perfect opportunity to recapture and strengthen customer loyalty and engagement. So coming up with discounts and targeted marketing and email campaigns is ideal.
Healthcare Industry
As worries of the latest coronavirus outbreak spread across the world, the future for healthcare companies has grown dimmer.
Last week the big news was that share prices of Gilead Science and Moderna have risen and fallen. These two firms have been very attentive to their success in therapies and coronavirus vaccinations.
The initial stock reactions were overblown, which struck investors badly. Moderna's share received 22.7% on Wednesday, and on Thursday, opened another 23%, at 35.88 $ and was then decreased to 23.05 $ and 10.3% on the day.
Drugs are heavily dependent on products manufactured in Chinese processing industries that may create production issues while the Chinese economy begins to be affected by the epidemic.
The purchase of active pharmaceutical ingredients or APIs is secretly veiled, so it is not clear what medicines need Chinese ingredients. But this is one important factor: Sanofi which operates a couple of API plants, that 60% of global API is manufactured in China.
How to Overcome the Current Challenges?
The modern coronavirus currently called COVID-19 is a sudden discovery. It has led to fast dissemination that resembles the influence of contagious diseases.
Total mortality rates for the World Health Organization (WHO) are 3.4%, with South Korea reporting mortality of some 0.6%.
Wide spectrum research for RNA in humans has been crucial to progress.
Medical facilities use chatbots to track feverish and coughing individuals and inform them if they are tested for coronavirus contamination.
Two Israeli companies are focusing on reusable masks that will prove to be more successful than disposable masks filled with antimicrobial and antiviral chemicals.
Telehealth is the perfect way to treat patients in such an epidemic. It helps deter and manage illnesses and encourages people to be cared for at home without being subjected to any more illness. The number of patients in telehealth treatment is 11% greater than expected.
Now is the perfect time to introduce some worthwhile changes with regards to bettering administrative processes and the provision of treatment and care.
Look for ways to speed up the manufacturing process to tackle the shortage of availability of protective gear and medical equipment.
Providing mental and emotional support is crucial in these trying times as people are trying to cope with the new normal. So having dedicated helplines with on-call professionals will be a good business move. 
It gives us the opportunity to change what has been a very laggard industry in terms of the provision of care and administrative processes and takes us into a much better space.
Media Industry
Source: vox.com
The current pandemic of coronavirus impacts every aspect of people's lives. 
As per a recent report, the coronavirus pandemic could trim advertising and marketing expenditures by up to 3 billion dollars in 2020 .
According to Strategy Analytics, the worldwide market for premium online media platforms would earn a 5% blast from the coronavirus pandemic. The total number of subscribers is expected to increase by around 18% overall.
By 31 March, almost nine in ten advertisers in the UK (86%) have either stopped their promotions or evaluated them, up from 55% on 16 March, allowing just 14% of their activations to proceed 'as anticipated.
Other researchers noticed that there were less photos and video advertisements showing human contact with more than 1,100 labels and marketers working on Facebook and Instagram.
YouTube has also reported a 52% global rise in views of "studying with me" videos year after year, as millions of scholars migrate to online learning after close-outs of mass schools.
Source: axios.com
How to overcome the current challenges?
Now is also the opportunity to refresh the priorities of the communication strategies and to take an in-depth look at the results of previous initiatives.
A careful glance would definitely show that there is a great need to revisit most of the marketing materials generated in the past.
Nike and Coca-Cola have made their first push, asking for social distancing and relaxing at home.
Strengthening the emphasis on online marketing will help companies to retain normality in these insane days and offer a competitive advantage over rivals who are slow to respond.
Advertisers will also rely more on social networking sites as 27% between Gen Z, 30% between Millennial, 29% between Gen X and 15% among the elderly people are hooked to digital platforms.
According to the Global Web Index, more than 80% of consumers in the UK and the U.S. have consumed more content through online video platforms like TikTok and Youtube along with broadcast TV. These are the most popular platforms across all genders and generations. This means advertising on these platforms is the right business move because extensive visibility is guaranteed.  
You can invest in gamified apps and AR especially if your target audience is Gen Z. You can bank on this and curate advertisements to hook in more people.
Millenials are regarded as the foodie generation so they are most likely to search for recipes online while they read up on healthy eating. So that's another avenue that advertisers can explore.
Ideally, the whole situation will quickly pass, but no matter how long it takes, improving your web marketing activities will mitigate the danger and boost the overall role.
 Logistics Industry
Source: bloomberg.com
When a corporation, or its main vendors, holds a small inventory of raw materials and depends heavily on Asian sources of supply, then there is a high chance of disruption.
The sectors that fell in the greatest risk group include equipment and machinery, electronics & devices, OEM car parts, building goods, diversified chemical and manufacturing specialties.
China accounted for about 11% of global imports and 13% of global exports in 2018. This also acts as an import source of various raw resources and intermediary products.
There have been rumors that Alibaba may have suffered as a result of Corona Outbreak. In the recently ended period, Alibaba posted a 38% increase in revenue and a 58% rise in income which is below their expectations.
Capesize cargo mile demand has recently increased at the end of March, led by a rebound in demand from Japan and South Korea, while Chinese estimates are still weak. Averages of just under $6,000 income per day on 1 April that is up from $2,000 at the beginning of March indicating that changes should be anticipated in the future.
How to Overcome the Current Challenges?
The crisis has become a crucial driver for digital and technical developments in the shipping industry.
The first step would be to expand innovation in freight technology, data collection, artificial intelligence applications, and comprehensive end-to-end supply chain management. It should be important because it reduces pain, improves resistance.
Although other sectors are impacted, telecommunications, automobiles, electronic peripherals, and manufacturing conglomerates have fewer inventories in their supply chain; companies in these businesses usually have the size and capital to mitigate supply chain risks.
Improved spending in these sectors will be followed by development in the automated transport sector, opening the way for autonomous freight.
The essence of autonomous operations is one that can overcome many, many challenges and answer the center of resilience.
Alibaba also revealed plans to support small and medium-sized businesses hit by the explosion of loans worth US$ 2.86 billion in China. In fact, it is now promoting medical assistance in areas affected by CoronaVirus.
Now would be a good time to look into smart warehouse technology, automation as it not only promotes social distancing but also helps manage inventory.
Create a plan for transparency by

technology in logistics and supply chain

to determining operations and functions crucial for your business.
When assessing end-consumer demand, be realistic. You can use forecasting tools to produce logical estimates of base demand while positioning yourself to promptly respond and address faults in the system.
Jewelry Industry
Source: kitco.com
This is how the industry has been impacted:
Basel World, the world's biggest and most influential watch and jewelry exhibition, was postponed to January 2021.
The Diamond, Gem and Pearl Exhibition and the International Jewelry Exhibition in Hong Kong were postponed due to the Coronavirus outbreak.
Retail prices globally were also adversely impacted. China's retail shops have been locked, while India's jewelry and jewelry sector is affected by Hong Kong, India's largest trade center for silver, gold, and silver exports.
Hong Kong-based jeweler TSL reported they will record a loss of at least HKD 80 million for the year ended 31 March. The downturn is the product of a variety of causes, including the US-China trade war, the ongoing civil instability in Hong Kong as well as the outbreak of COVID-19.
Petra Diamonds records a 24% fall in revenue on a comparable basis between February and March in the South Africa's auction.
How to Overcome the Current Challenges?
The jewelry industry does not need to abandon its service. Jewelers might very well manage to compete by exploiting the modern world, after all, 87% of customers are looking for goods on various internet platforms.
Using 360-degree jewelry videos and images is a must, particularly in the coronavirus season, as it improves the shopping experience of shoppers by increasing interactivity and interaction.
Such technologies spare the need to go to the store to interact with the jewelry products, while the potential customers spend more time on the website or social media accounts.
Most of the renowned jewelers set up an online viewing room that encourages the patrons and shoppers to browse the beautiful selection and search by style, gems, or metals.
Unlike most exclusive activities, the jewelers can also entice their shoppers with a discount that is only available to VIP clients.
Tiffany and Co. have allocated $750,000 to the World Health Organization's COVID-19 Solidarity Response Program and $250,000 to the New York City Trust's NYC COVID-19 Response & Influence Program.
Hospitality Industry
Source: hospitalitynet.org
Following the outbreak in China, 20% of current bookings in hotels were diminished and there is only a 5% advance booking for the coming weeks. At the start of April, the hotel bookings were almost nil in most of the countries.
When coronavirus cases multiplied, travel activities canceled dramatically and policymakers have been able to enforce regional lock-downs and ask people to avoid traveling.
Tui, the world's largest tour operator, stalled payments, canceled hotel contracts and obtained an emergency loan of € 1.8 billion to cope up with the global lockout.
One of the largest chains of hotels, Hilton, has raised its loans from 255 million dollars to 1.75 billion dollars to resolve the recession.
Its rival, Accor, the biggest hotel company outside the United States has scrapped its dividend and reduced management's pay.
Demands are decreasing because of the forced closures by the government before the Easter holiday season begins.
 In the week of 23 March, two weeks after a national lockdown began, Milan, the Italian had only one hotel of 10 open for business. This week, the statistics are almost nil in Europe.
How to Overcome Current Challenges?
During the spread of coronavirus the "community of sharing" has been stopped to prevent contamination through food, bottle or human contact. Hotels are managing and adjusting their service quality to implement the guidelines.
The American Hotel & Lodging Association (AHLA) announced the commitment of over 15,000 hotels for its new 'Hospitality for Hope' initiative to recognize hotel properties to provide temporary housing for emergency services and medical workers as the COVID-19 public health crisis expands.
The insufficient availability of raw products triggers problems which would have a significant influence on the nature of consumer diets. The hotel industry will need to brace for a drastic rise in the tourism demand following the epidemic and change their cuisine accordingly.
A surge in customer cancellations is rampant in the hospitality industry in terms of both events and accommodation. To remedy this, hotels can offer welcome-back packages or credit notes to help retain customers.
Hotel owners should prioritize and enhance their asset strategy by renovating assets with high potential. That way they can position themselves to cater to the changes in customer requirements in a better manner. 
We'd say, hotels should completely leverage current online networks to improve their engagement with consumers and deal with the shift in consumption trends. Many hotels have extended catering services for online orders and distribution throughout the epidemic era.
How Brainvire Can Help You Bring Your Business Back on Track
Brainvire holds expertise in the deployment and incorporation of leading retail and online eCommerce applications and provides insights through market analysis. Brainvire provides advisory services to various businesses to identify their market objectives, choose the correct development framework and re-engineer their business processes at the time of the corona pandemic.
Brainvire's team of developers holds expertise in the healthcare segment. They can seamlessly design and create web applications, along with undertaking software designing and program architecture, handling performance tuning, and managing complex healthcare regulations. All these tasks are paramount in this testing time of the coronavirus outbreak.
We help you create personalized web portals for our clients in the educational sector to

deliver user-friendly mobile apps

to complete their students' schedules.
At Brainvire, we partner with retailers to maximize the efficiency of companies, reduce costs, increase profitability and continuously improve the competitive advantage at the time when home delivery is essential.
We ensure to provide consulting services that support different media in identifying their business strategies and selecting the right technology platform when marketing has shifted more towards digital platforms.
At Brainvire, we assist suppliers of financial services in securing reliable, creative and efficient finance approaches to mitigate risk, support legislation, and give the consumers new earning opportunities in this difficult time.
Our ethical business practices enable us to deliver the best technological solution worldwide to all our clients efficiently.
Brainvire has the technical abilities, resources and infrastructure to meet all the current logistical requirements at a time when the world has come to a standstill with this pandemic.
The Business Intelligence & Analytics team at Brainvire can successfully support clients by creating an ideal balance between technology and their true business needs in this hour of crisis.
The Brainvire team is focused on creating an accessible global Commercial Internet of Things. The IT technology and logistics we build specifically complies with standard practices and increases customer satisfaction.
At Brainvire, every demand is taken into account in order to deliver productive service to the real estate customers.