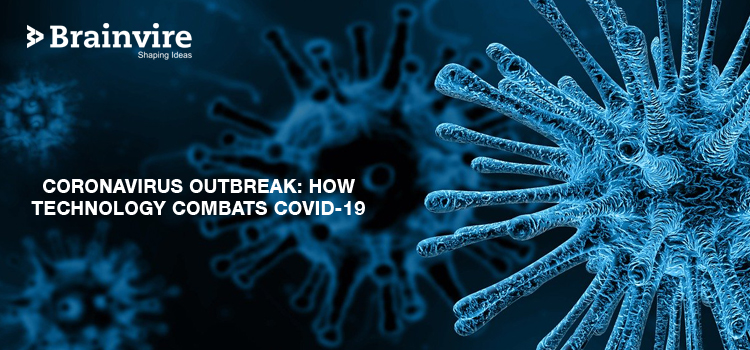 The novel coronavirus (COVID-19) continues to wreak havoc across the globe as this article is being written. Reported first in Wuhan, China, it has rapidly spread to 100 countries and has affected over a million people. These numbers are expected to rise consistently unless major breakthroughs are made with respect to the vaccine.
In the midst of chaos, technology is making life easy for humans, especially healthcare professionals and concerned authorities. This article will give you a complete picture of how different technology can play a role in curbing this outbreak.
We'll cover – 
AI and data science

HIPAA-compliant claims processing using blockchain

Telemedicine helps in remote diagnosis

Chatbots relay Coronavirus alerts in real-time

Robots and drones come to the rescue 
Furthermore, we'll also discuss the WHO's action plan against COVID-19. 
After going through this information, you'll be in a better position to apply technology in your daily life and deal with the situation.
Let's get started.
Tech Innovations to Combat COVID-19
Artificial Intelligence and Data Science
Predictive analytics and big data are combating deadly pandemics such as coronavirus and SARS.
AI can create intelligent systems to sift through data concerning people and determine the chances of disease occurrence. It works in conjunction with data analytics to map and prevent diseases. 
An AI-based startup named BlueDot had predicted the SARS pandemic using AI and data science. The prediction was true. The SARS outbreak claimed the lives of nearly 1,000 people.
Natural language processing (NLP) is another tool employed to detect diseases around the globe. It analyzes human languages and uses this information to forecast epidemics and pandemics. Machine learning algorithms offer the latest information about disease occurrences. 
Real-life applications
We'll understand how Harvard Medical School, University of Southampton, and Insilico Medicine are using AI and data analytics effectively in the current situation.
Harvard Medical School uses machine learning technology to review data related to COVID-19 from different sources. Using the NLP tool, researchers can discover relevant information and determine the outbreak's current location. NLP can also differentiate between people having coronavirus symptoms and those complaining about the disease but not infected.

The

University of Southampton

has adopted AI technology to model data from search engines. The researchers claim that AI technology helps them understand coronavirus's movement patterns globally. They can now predict its structure and the underlying mechanism. 

Insilico Medicine

, a start-up based in Maryland, USA, is working on a technology that informs doctors about molecules that can serve as an antidote against the deadly virus. They are also developing a database of molecules that medical researchers can use in their research. The AI system has already highlighted some molecules that can beat the coronavirus in its own game. 
In the past, Brainvire has developed an on-demand DNA testing platform. Researchers can use the genetic data collected by this platform and study the genetics of COVID-19, and even other viruses. 
John Hopkins University Uses GIS Technology to Fight COVID-19
Geographic Information Systems (GIS) is proving to be a major boon for the prestigious research institution. For example, its dashboard shows cases of coronavirus from different parts of the world, as seen in this image: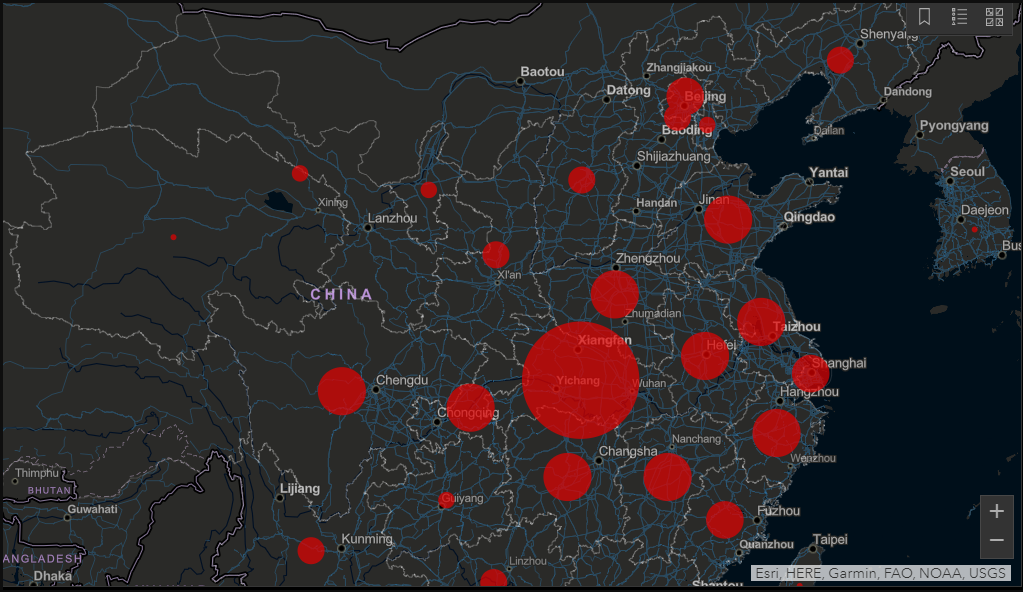 Source: John Hopkins
GIS technology relies on data mining to find out geographical areas where people are discussing the disease. Social media sites serve as reliable sources GIS maps the specific area where people are discussing the topic. Accordingly, the authorities can implement prevention measures in those areas. This results in a quicker prevention response time.
HIPAA-compliant claims processing using blockchain
Coronavirus is mounting pressure on the business and administrative divisions of hospitals and insurance agencies as they deal with the inflow of more patients. A blockchain platform is secure and can speed up claims processing and also decreases the amount of face-to-face contact between patients and hospital authorities.
The United States has already declared a national emergency to prevent the spread of coronavirus. However, healthcare institutions in America are bound by the Health Insurance Portability and Accountability Act (HIPAA) regulations when processing medical documents. 
Recently, the Office for Civil Rights (OCR) at the U.S. Department of Health and Human Services (HHS) relayed a special bulletin. It helps entities determine different ways of sharing protected health information (PHI) during an outbreak of infectious disease or other emergency situations. The OCR bulletin says that the HIPAA Privacy Rule permits entities to disseminate PHI without a patient's authorization in the following situations:
Disclose a patient's PHI to treat that patient or a different patient.

Disclose requested PHI to a public health authority, a foreign government agency (after seeking permission from the public health authority), and persons who are at risk of contracting a disease.

Share PHI with a patient's close circle (family and friends) who played an active role in the patient's care.

Entities can share PHI with anyone to prevent or lessen a threat to public health and safety.
In the case of the current coronavirus outbreak, health care providers have to comply with the "minimum necessary" standard when giving out the PHI of affected patients. 
Brainvire has already developed and deployed a HIPAA-compliant solution on the AWS server for such difficult and emergency situations.
Telemedicine helps in remote diagnosis
Telemedicine, or telehealth, is helping individuals more than expected. In layman's language, telemedicine is all about consulting a real doctor virtually, either through an app or a virtual clinic.
An examination of telehealth in China, where the outbreak originated in December 2019, offers insights into expanding telehealth in other countries. The Economist noted that China's telemedicine services such as Ali Health (part of Alibaba), and JD Health quickly launched online coronavirus clinics to treat patients. JD Health currently conducts nearly 2 million online consultations per month. 
The United States of America recently enacted the Coronavirus Preparedness and Response Supplemental Appropriations Act. It has sanctioned over $8 billion to combat the coronavirus and includes $500 million as an emergency waiver. This will expand coverage for telehealth services in Medicare.
Telemedicine services allow patients to access medical care without having to travel to the physical clinic, thereby reducing exposure to other individuals and preventing the spread of coronavirus. 
Expanding telehealth services rapidly may be a challenge for some providers. It is time-consuming to establish the necessary technology infrastructure, recruit experts who can provide virtual care, educate patients about telehealth, and negotiate coverage with payors. One of the ways to deal with such challenges is to build infrastructure and capacity after mobilizing internal resources. This includes getting a telehealth mobile app developed with live consultation functionality. 
Most of us have always thought about chatbots as a tool to boost e-commerce sales and improve customer satisfaction. Nevertheless, chatbots come in handy when dealing with coronavirus and other emergency situations.
Chatbots can provide real-time alerts of the coronavirus outbreak, especially to travelers. It can also make people aware of the symptoms, preventative measures and treatment procedures.
Chatbots and telemedicine
Interestingly, two telemedicine startups (San Francisco-based Memora Health and New York-based Ro) are developing a program that helps worried patients text their concerns about the novel coronavirus to a chatbot. It can connect them further to remote doctors. The goal is to avoid the gathering of patients in crowded clinics and slow down the spread of infection. 
The AI-enabled chatbot answers basic questions about COVID-19 and connects suspected patients to a doctor. The bot's database is fed with the recommendations of the World Health Organization (WHO) and the Center for Disease Control and Prevention (CDC). This is how the bot could look after development.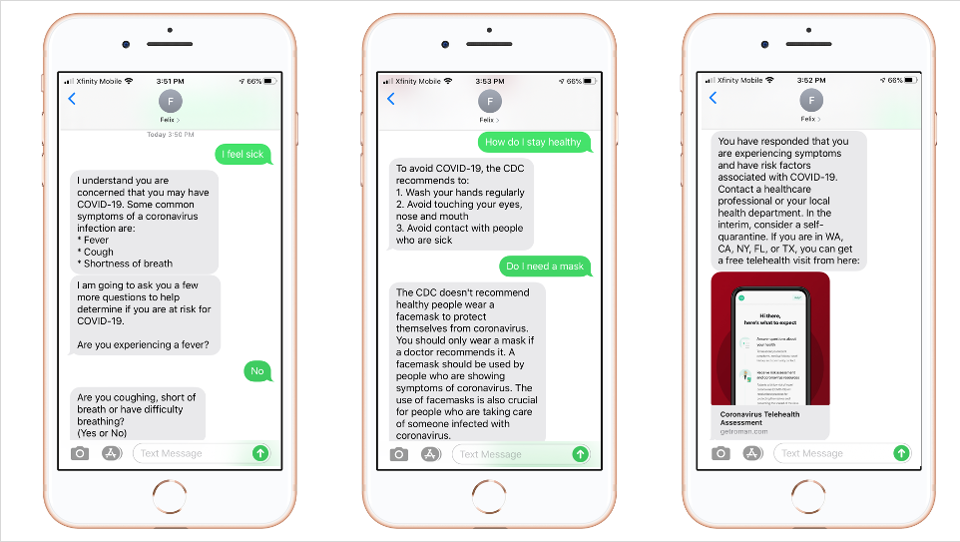 Source: Memora Health
Robots and drones come to the rescue 
UVD Robots, a Danish robot manufacturing company, says that its roving robotic pods can emit ultraviolet (UV) light in a designated area, killing viruses and bacteria. The robot's head has a hydrogen peroxide sprayer and its belly has nine ultraviolet lamps. Advanced navigation technology helps the robot avoid obstacles efficiently.
Robots can be controlled remotely by a health worker. Some of them are even self-driven, like the one in this image.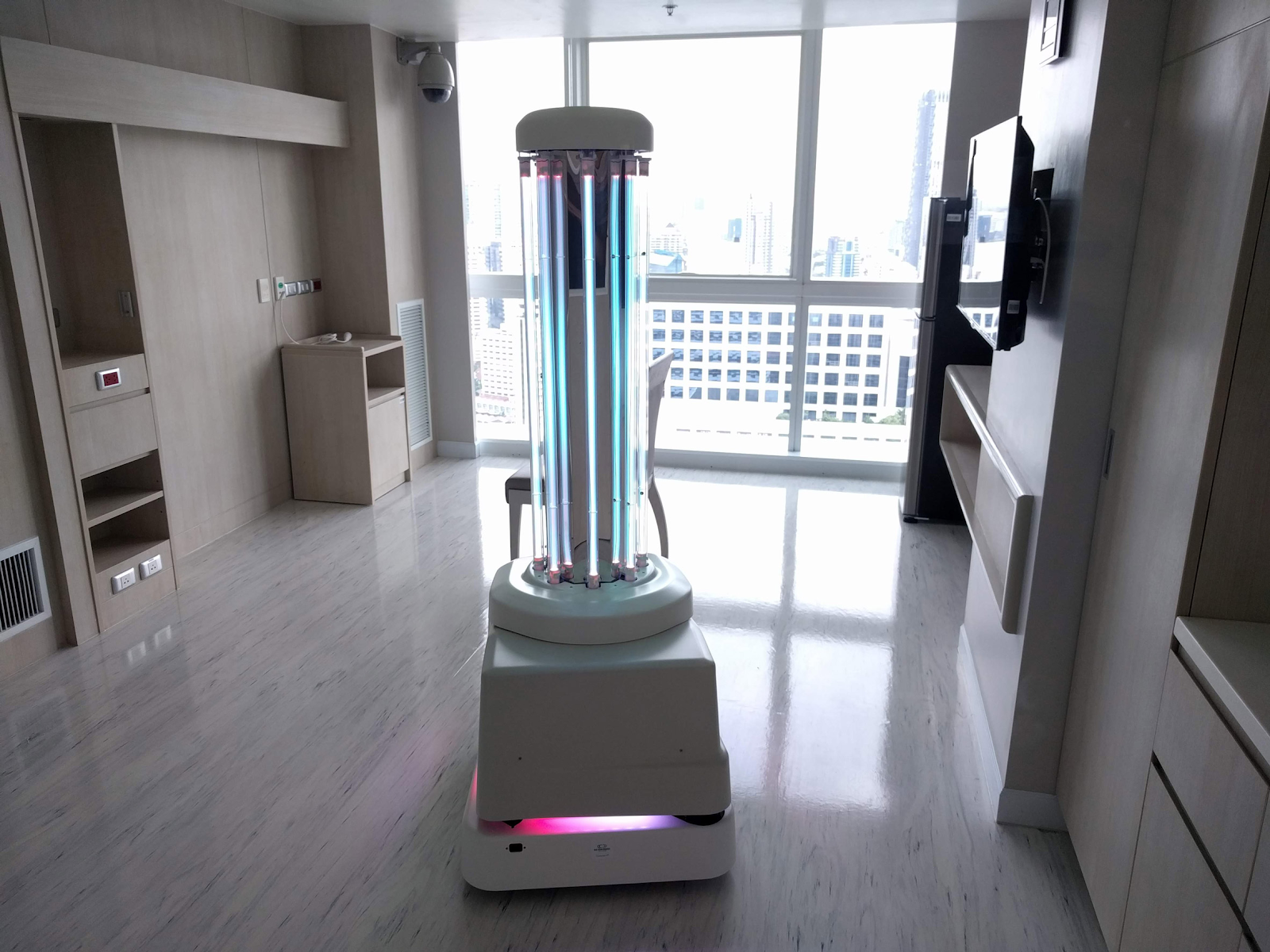 Self-driving vehicles are also helping medical workers in Wuhan get supplies on time. In fact, CNN reported that the Chinese e-commerce company JD.com is transporting packages short distances to a hospital.
Major robot manufacturer CloudMinds and China Mobile's Shanghai branch donated 5G-powered robots to a hospital. The hospital staff can use these robots to carry out disinfection, consultations, cleaning, and drug delivery.
Here are three real-life examples where robots are doing a commendable job:
GermFalcon is a germ-killing robot developed to disinfect and protect the surface of airplanes and the surrounding air from most viruses.

A  robot named Vici is treating one patient in Washington DC for the coronavirus. The patient interacts with his care team through this robot. 

In China, a robot called Little Peanut delivers food to infected people quarantined in a hotel.
Flying robots a.k.a. drones are also doing their bit. Shenzhen MicroMultiCopter has deployed drones to patrol public places, spray disinfectants, and conduct thermal imaging. Chinese authorities are also using them to check whether people are traveling with their face masks and following other quarantine rules. 
This is how technology is helping counter coronavirus across the world. As a responsible citizen of your country, spread awareness about telemedicine apps and other forms of technology that are readily accessible for the common man.
WHO's Action Plan Against COVID-19
The WHO is striving hard to stop the coronavirus from rearing its ugly head over human civilization. The first priority is to find out information about coronavirus so that authorities can get a complete overview of the situation and develop effective solutions. Secondly, the WHO wants to analyze and seal loopholes in the current virus outbreak. As we saw in this article, technology can take care of both these aspects. 
Research funding is another key area the WHO has included in its agenda. Research related to vaccine and drug development is not possible without Information Technology. The WHO has urged all governments and organizations to invest the best of their resources for this cause. 
Technology Can Help Us Overcome COVID-19 Pandemic Effectively 
Imagine if the technology we have today was not advanced. COVID-19 would have inflicted more damage than it is doing currently. To make matters worse, it would have crippled the economies. 
However, we are fortunate enough to live in this digital world where technology meets medical expertise and simplifies things for us. Let's hope for the best and prepare for the worst in the days to come!