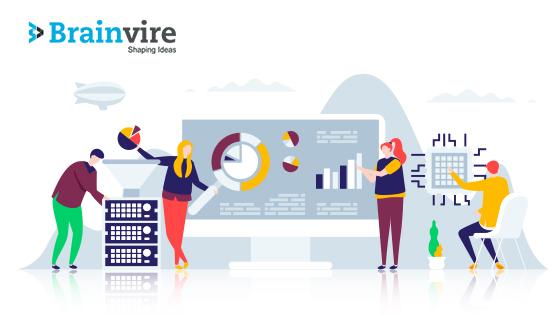 Talking About Why Enterprises Must Integrate Big Data Analytics with .NET Development, Effective and Efficient use of data is what drives business growth today. Every business depends on data to drive their business in the right direction so that targeted goals can be achieved.  But in recent years as the data storage becoming cheaper and the data pool becoming larger, handling data seems quite a tedious task.
While organizations strive to gather as much data as they can to make the right decisions to drive your business. The question arises, "How to compile and make sense of this huge stockpile of data?"
Well, the answer to this question can be the integration of Big Data and net application development
What is Big Data?
Big Data is a term that we use to refer to data sets that are too complex or even large to be adequately dealt with using traditional data application software. Similarly, when we talk about Big Data analytics, we actually talk about a process that helps in analyzing a large volume of data so as to extract any valuable information that could be used to prove the facts and figures related to customer preferences, market trends, help in combating crime, reveal business trends, as well as give us other useful information to help organizations make better-informed business decisions.
The importance of Big Data derives from the fact that data collection is never enough on its own. One needs to make sense of the data as well to be able to analyze it, and further share it to better their business prospects.
So, data science is an area that tells us how to extract data, which includes patterns, trends, and other kinds of useful information and apply the concepts of analytics to the same. It is, therefore, a kind of business intelligence, which is used to make better use of available resources, help improve managerial operations, and further enable organizations to get to the next level and eventually become more profitable.
Integrating Big Data with .NET Development
Microsoft .NET development is one of the most robust as well as highly acclaimed development frameworks that comes equipped with quite a comprehensive set of functionalities to help build complex apps. Enterprises across the globe have already begun realizing the importance of Big Data integration which has unsurprisingly induced a great demand for Asp.net development services.
While we agree that there are several technologies out there that offer Big Data integration services and claim to be the most powerful, what makes .NET stand apart is its ability to enable a seamless as well as strategic integration. On the top of it, what makes Big Data analytics integration with .NET application even more appealing is the fact that the Power BI, which is Microsoft's renowned data analytics software with Hadoop, just happens to be an open ecosystem for the world.
Enterprises everywhere look forward to processing massive volumes of data in order to get better insights as well as take quick, well-informed actions while partnering with a .NET development company and successfully harness the full potential of this technology. Anyone looking to make the most of this highly scalable and flexible technology can try coupling .NET with IIS Server; such an arrangement is sure to help one achieve huge business growth.
Why Go For Such Integration?
Talking About Why Enterprises Must Integrate Big Data Analytics with .NET Development, To manage complex business processes is never an easy feat. It's challenging, to say the least. One needs to answer a variety of customer-specific questions which have been becoming more and more complex, in turn making the task more challenging as well as time-consuming.
Big Data has made provided us with better data intelligence tools and thus simplified the whole process of answering questions. The entire process is today more robust, the time period is considerably shortened, from long months to a few weeks, sometimes days, or hours and in many cases, even minutes.
Big Data integration with the whole question-answer process to help drive better business decisions, has a great impact on enterprises; they not only have achieved a holistic view but gathered a more precise view of all the answers. However, there's always a huge risk inherent while processing large data volumes, as the data thus accumulated could easily be incorrect or incomplete. It can result in misinformed business decisions being made. But with Big Data, one needs to worry not. It's significantly minimized most of these risks by making available more precise as well as a complete view of data.
Beyond these benefits, which involve garnering high profits, substantial breakthroughs, and dynamic growth, Big Data integration has also empowered today's employees who are a part of the millennial generation, by highly simplifying the web development and software lifecycles through, therefore simplifying their lives!
Talking About Why Enterprises Must Integrate Big Data Analytics with .NET Development, Are you looking for the same solutions for your business? Brainvire is equipped with all competencies required and adopts an end-to-end solutions approach entailing data integration consulting followed by seamless execution. Reach us today as we are leading a dot net development company for Asp.net application development.