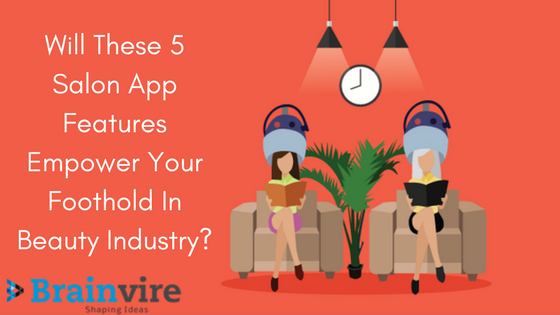 The Spa and Salon industry is heavily driven by the repeat business.
According to Gartner – "80% of your business's future revenue is going to be driven by 30% of your existing customers."
Talking About Will These 5 Salon App Features Empower Your Foothold In Beauty Industry? While the salon services like manicures, pedicures, haircuts etc. are important and are frequently in demand but the beauty industry is extremely over flooded with identical competitors.
Back in 70's, a trip to spa and salon was considered as a luxury and are reserved for well-heeled kind of people. Today, however, if you take a look around, you'll find a beauty salon at every turning points and on every street. In such scenario, setting up a beauty and salon business is not an easy task. So, what should you do to survive in such highly competitive industry?
 How Can You Stand-Out as Exceptional From Your Competitors?
The answer is quite simple – salon and beauty mobile app development.
Leveraging customers with a mobile app to book salon appointments not only shows that you are ready for the next and the upcoming trends but it also offers them what they need – A technology in-hand to make lives easy and simple.
With a dedicated salon mobile application development, you are unlocking potentials of customer retention and repeat business that creates a drastic positive impact on your business revenue cycle.
"The probability of selling it to the existing customers is 70-80% while the probability of selling to a new prospect lies between 5- 20%. – Says Marketing Metrics.
The above quote is pretty good enough to understand where your business needs to focus and a better way to put everything into action is the development of a salon appointment app which can be specifically designed to target repeated customers and create more business opportunities.
Now, you might already know that development of a salon appointment app for your business is the right solution to survive in this competitive industry, but do you know what type of salon app needs to be built? What features can make your salon app unique compared to your competitors?
Talking About Will These 5 Salon App Features Empower Your Foothold In Beauty Industry? Most probably, you don't! And, that's where we come into the picture! Brainvire house a team of certified and expert, mobile app developers that are updated with latest technology and trends to make your mobile app a success. Want to know how Hire mobile app developer from Brainvire can make difference? Scroll down a little to find out.
What Features Will Make Your Salon App Unique And Unbeatable In The Market?
Mobile Reservation and Appointment System:
Manage your appointments by integrating a built-in calendar. Customers can open your salon app and access mobile reservations linked directly to your in-house calendar. They can browse open slots and book appointment easily.
Loyalty Program:
"Buy 10 haircuts and get 1 manicure& pedicure absolutely free!" – Include such type of different perks in your on-demand salon appointment booking app and reward your most loyal customers in the best way. Also, do not forget to offer an incentive to entice users to return to your salon shop.
Push Notifications:
Push notifications- One of the best way to update users with an appointment and stay connected with them. Implement Geofencing technologies to target specific app customers & locations.
Fashion library:
"I want to get my hair cut in step cut style, but I also want my hair to fall in layers flap from down… Also, I want Madhuri Dixit kind of haircut… If you know what I mean…"
We do understand how complicated some customer do sound and so we implement to recommend a style library.
Adding photo gallery and collecting photos of different styles allow customers to browse and select their specific haircuts.
Customer Photos:
One of the best feature to generate a database for testimonial and reference purpose. If the customer does not remember what their hairstyle was in last summer, you'll have their photo in the database to share with them.
Final Thoughts: Increase Business Visibility with Mobile App Development!
Talking About Will These 5 Salon App Features Empower Your Foothold In Beauty Industry? Leveraging a mobile app for your salon business will not only you're your customers lives easy, but will also make it easy for you to interact with them at a personal level. So, are you serious about developing a salon app? Contact us now to discuss app idea and cost estimation.