At the present time, you can't ignore the ubiquitous nature of mobile apps. Every vertical of an industry is taking its steps towards evolution through the technology invention. With the rapidly booming mobile technology, business needs to be more engaged through the mobile channels. It is fact that, through the mobility and automation process of business, you could be able to conduct your business in comprehensive, yet in an impressive manner, irrespective of business size.
Besides, the stats of usage of mobile apps in our day-to-day life are growing like never before! Users are booming towards this inevitable and innovative sought-after mobile technology, too. According to a research, the mobile economy has increased at the rate of knots and is expected to reach $2 trillion by the coming year, 2017.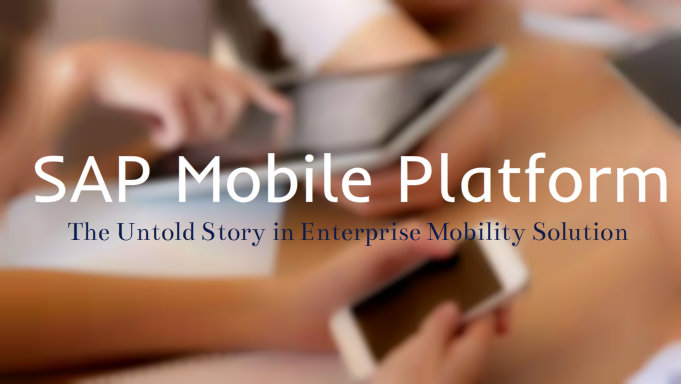 Were those insightful statistics for business enterprises to opt mobilized business?
Absolutely, it is. Diversified concepts of mobile apps have grown in popularity and are driving the revenue generation market. In such scenario, mobile app development platforms are flooding in the app industry, along with and feature-rich application building interface. The well-designed and performance-driven business apps can do wonders for your business.
In a Competiton with wordpress development Without a doubt, mobile apps can provide a lucrative business and become one of the most significant factors behind the success of any enterprise. Thus, it is a right time to invest in mobile apps and to be one of the successful stories embracing mobile apps.
As we head towards the app development platform, here is one of the high-in-class enterprise mobility platform for a ground-breaking solution in app development. SAP Mobile Platform is a mobile enterprise application platform exclusively crafted to deliver application solution that connects business and mobile devices. And it provides fully fledged workflow management.
The SAP platform dominates the market with efficient and full cycle mobile app development with a standard set of tools.
Why should you use SAP Mobile Platform to mobilize your business?
SAP Mobile platforms help to build and deploy business-driven enterprise apps that focus on core business services. Here is a sum of some worthy points to ponder:
Rapid results for development and deployment:
Being one of the premier enterprise mobility solutions, it delivers fast-track and flawless development due to its well-built architectural pattern. Indeed, it provides a whole strategy to develop, manage and deploy apps that have room for longer scalability. Also, you can customize your existing app that lets you assure the robust integration of back-end process with layered transactions in an enterprise.
Amendable application approach:
Based on Open source technology, SAP mobile platform provides a tailored approach for development that reflects your business needs to cover core objectives for apps. Additionally, ever-changing business needs a consistent framework that is highly adaptable. It enables the organized way of data across the entire organization that reaches to the end employee and can be operated on personal or corporate devices.
Security is a major concern:
With the rate of growth of mobile devices and their networks, security is a major apprehension whether it a personal or corporate way. Yes, this is true. Protection of data and seamless transactions are prime requirements while prototyping the application structure. The well-built architecture of SAP mobile platform allows you to update with the constant authentication for desktop or mobile environments. It enables the integrated security across the range of devices to provide a secure way in information exchange. This is how you manage the complete manner of security that is robust and end-to-end encrypted.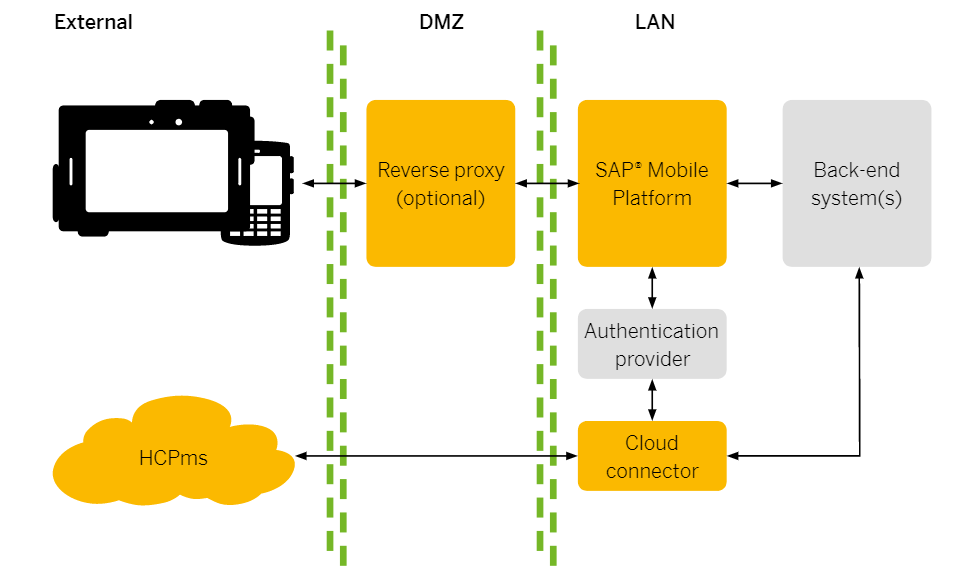 Figure: Security Boundaries Supported by Mobile App Development Platforms from SAP (Courtesy: SAP)
One Platform, entire mobility solution:
A robust and advanced set of services serve a purpose for complete mobility for enterprises. As a result, you can mobilize your business effortlessly with standard enterprise approach. SAP is also planning to provide the cloud-based mobile initiatives to access the strategic manner of transactions at your fingertips with high-end security and robust back-end process. SAP is a complete solution to mobilize the enterprise with accessibility across the organization starting from the employee to the high-level authority.
Afterword
Summing it up, SAP mobile platform allows overcoming major challenges in an enterprise that are time, cost and security. As more enterprises are moving towards mobile investments, new confronts also come into sight that must be conquered with an advanced and rich set of tools and frameworks. We are heading towards the closing year of 2016, that is more of mobility and advanced concepts, it is definitely the right time to convert your entire mobility imagination, which can be made into reality by such amazing mobile platform.
The world of mobile technology is brimming with whole new innovation ideas day-by-day, it is an appreciable way towards business mobility. With best wishes for the upcoming year, we ensure every time to give our readers perfect toast!