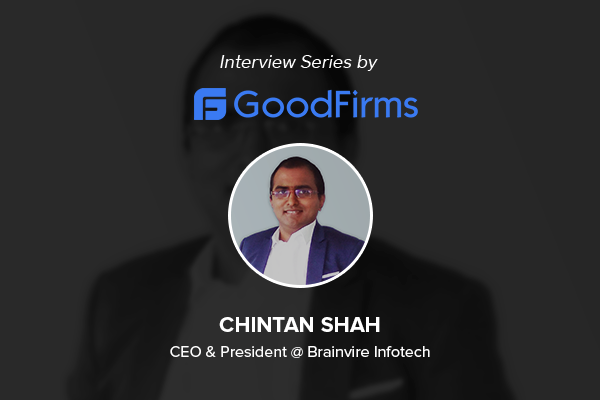 Talking About The CEO of Brainvire InfoTech Mr. Chintan Shah Shares Significant Business Strategies with GoodFirms, Brainvire InfoTech is a global IT solution, consultancy, and outsourcing firm with its headquarters in Utah, USA. It has been delivering innovations to industry leaders since 2000. With11 offices, it has plotted a global presence in different locations including the UK, UAE, Dubai, Australia, France, and others.
Mr. Chintan Shah is the man who has crafted the success story of Brainvire. His dedicated and futuristic approaches, coupled with the team's result-driven strategies have taken the company to a position of prominence. As the CEO of Brainvire, Mr. Shah is proactively involved in the company's operations and the structuring of long-term business roadmaps. Achieving iconic success for the company and ensuring digital transformation through disruptive technologies has been his vision.
Recently, GoodFirms, which is a prominent research agency, recognized Brainvire among the top eCommerce developers in the USA for its best-in-class e-commerce services. Thus, the team at GoodFirms conducted an exclusive interview session with the CEO of Brainvire. In this interview series, he shares interesting business acumen with the readers.
Elite Interview Snippets
In the interview, GoodFirms asked Mr. Shah about the company and his role. He said that Brainvire has always explored disruptive technologies like AI, ML, Blockchain solutions, and IoT. It has excelled in offering a plethora of services that includes mobile app development, sustainable digital data-driven engineering solutions, business intelligence, etc.
The Sutra of his firm is 'Don't Follow Digital Trends, Start them.' The inception of Brainvire holds a motive of enhancing the use of automation and mobility in today's technological arena. Mr. Shah has always strived to craft exceptional offerings that would fetch a better ROI for his clients.
Business Model of Brainvire
With 600+ tech-savvy employees, Brainvire follows an in-house business policy. Modern clients prefer this model as their crucial business data stays in safe hands. Additionally, the employees get a room for enhancing their skills by directly managing every task via peer-to-peer learning.
Talking About The CEO of Brainvire InfoTech Mr. Chintan Shah Shares Significant Business Strategies with GoodFirms, Commenting on the coveted clientele of Brainvire, he adds that his team of dynamic professionals firmly believes in aligning themselves with the latest paradigms of the Industry 4.0 revolution. It has resulted in the successful delivery of over 1300 projects to its clients and has achieved an exceptional customer retention rate of 95%.
App Development Insights in the Interview
Mr. Shah has mentioned in the interview that every mobile app development project has two major modules – Concept finalization and Wire-framing. He also deems that the company implements a digital project management methodology because clients prefer agile strategies. Thus, the team plans for an Agile Lean Canvas with its clients and helps them in choosing the best platform for launching mobile apps.
Such practices make the company unique and efficient, which caught the eyes of GoodFirms researchers. They believe that Brainvire will soon lead the way among the top app development companies in the globe.
CEO's Words for GoodFirms
In the interview, Mr. Shah shares his experience of connecting with GoodFirms stating that 'We have followed GoodFirms for a long time, and we do appreciate their business ethics and technology solutions. Our customers have often said that they have reviewed our past customer reviews over GoodFirms and checked out other details also, so it is a good, transparent platform for companies like us.
The interview has other exciting information like – CEO's suggestions on a revenue-generating model from apps, brief about recent mobile app enhancements prevailing in the industry and much more. For further insights, read the interview at GoodFirms featuring the exclusive ideas of Mr. Chintan Shah.
About GoodFirms
Talking About The CEO of Brainvire InfoTech Mr. Chintan Shah Shares Significant Business Strategies with GoodFirms, Washington, D.C. based GoodFirms is a maverick  B2B research and reviews firm that aligns its efforts in finding the top App development and Software development companies delivering unparalleled SEO, Advertising and PPC services to its clients. GoodFirms' extensive research process ranks the companies, boosts their online reputation and helps service seekers pick the right technology partner that meets their business needs.
About the Author
Anna Stark is presently working as a Content Writer with GoodFirms – Washington D.C. based B2B Research Company, which bridges the gap between service seekers and service providers.
Anna's current role lingers her to shape every company's performance and key attributes into words. She firmly believes in the magic of words and equips new strategies that work, always in with ideas, something new to carve, and something original to decorate the firm's identity.