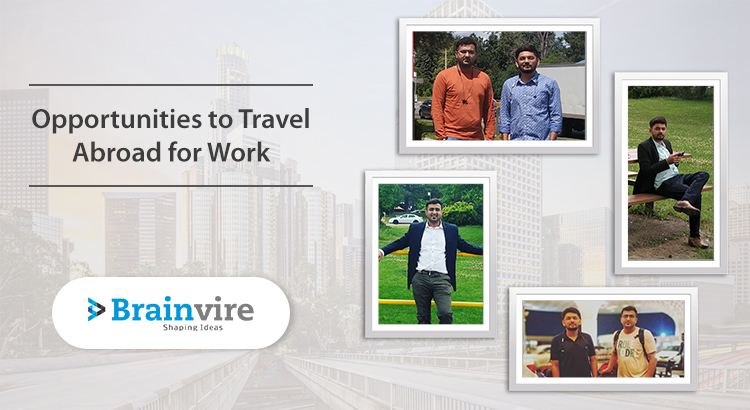 On-site opportunities have always attracted the attention of young IT talent. For most of us, it's a dream to work in the USA, UK, Europe, and Australia. Correct me if I'm wrong!

Whether it's professional growth or personal excitement, going on-site is similar to stepping your feet on the moon, especially if you are new in this booming industry.
Potential Benefits of Working On-site
Immersion
Immersion has long been regarded as one of the most efficient learning environments. When an employee works onsite, they're immersed in your unique company culture. This can drive productivity since they can learn those onboarding essentials much faster. You'll be speeding up the learning process as a new or temporary team member gets acclimated to the project and the workplace.
Greater Control & Coordination
It's far easier for development team leaders to maintain control over a project when all of the developers are working together on-site. This can be critical for highly complex, multi-faceted projects with lots of moving parts. It's also far more likely that problems or errors will be identified early in the on-site assignment, thus avoiding costly mistakes.

There is also greater control over data and information when the project is done on-site. Many companies deal with financial data or personal information such as medical records. Medical records, in particular, are governed closely by HIPAA. Thus, it is a big win for the clients if the consultants are working at their own premises.
Want to convert your idea into a successful app or website? Schedule your free call with our expert now.
Why Work On-Site With Brainvire?
Brainvire, a Digital Enabler with a legacy of over 19 years, is known to absorb passionate individuals into its employee-centric work culture. With a host of Fortune 500 companies and US-based start-ups on its clientele, the ocean of opportunities at Brainvire is quite deep. 

Let me tell you what it feels like to visit Brainvire's client locations from an employee's perspective. But before that, you need to understand the real reasons why Brainvire is scoring well when it comes to sending its employees on-site frequently.
Don't Follow Digital Trends, Start Them!
It is with this mindset that Brainvire was founded by Mr. Chintan Shah in 2000. Since then, it has come a long way in disrupting the global technological landscape through new-age technologies such as Artificial Intelligence, IoT, Machine Learning, Cloud Computing, and Blockchain service.
Personalized and Customer-Centric Solutions
Brainvire believes in providing personalized solutions that solve the real problems encountered by its clients. 

Technology is continually evolving – every second, every minute, every day! Amid such rapidly shifting paradigms, it becomes essential to keep clients updated about the latest trends in technology while offering them the best possible solution.  
Cost-effective Hybrid Delivery Model
In line with personalization, Brainvire follows a profitable hybrid delivery model that offers many advantages. This approach can be broken down into the following steps:

Understand the project by interacting with the client on-site. 
Sprint-based product development at our state-of-the-art offshore development centers.
Training and testing of the final product at the client's site. 
24*7 support system to resolve the client's queries and issues on a priority basis.
Rapid Expansion of Business, With No Geographical Limitations
It's 2019 and Brainvire has reached a position where it can venture into any geographical area and set up an operational hub within months. 

If we rewind back to 2017, Brainvire commenced full-fledged operations in Canada. This was indeed a strategic move by the management of Brainvire. With some of the biggest clients based in Canada, the local presence enables the company's consultants, digital strategists, and technologists to collaborate and ideate rapidly and efficiently. It further helps in the overall roadmap generation, execution, and support. 

The operational philosophies and achievements discussed above are a win-win situation for both the client as well as Brainvire. The clients get excellent services at lower costs, whereas employees can go on-site to engage in face-to-face interactions with the client. 

I must say at this point that there is a constant flow of new projects at Brainvire at any point in time. These ventures are a mixture of resource-based and fixed-cost projects. So, you are either deputed to the client site as a dedicated resource or interact with the client's leadership team for a few days. The second option involves requirement gathering, server deployment at the client site, implementation, and training.
Brainvire's Onsite Visits: An Employee's Perspective
Brainvire's international presence includes countries such as the US, UK, UAE, Dubai, Europe, Canada, Australia, France, and Singapore. More locations will be added to this list shortly.

The on-site visit is indeed an extravagant affair for the employees due to privileges and incentives offered by Brainvire. Needless to say, each and everything is taken care of by the company's dedicated travel desk.

Professionally, you are exposed to the latest happenings in the client's industry, and it expands your knowledge base. Ultimately, your career progresses in fast track mode.
Summing it Up
On-site opportunities bring out the better side of you as a professional. They prepare you for the next set of challenges and milestones in your career. By working with people from a different country, understanding their work culture and ethics, you can improve your own way of thinking. 

If you are planning to make a move from your existing profile, just drop in your CV at careers@brainvire.com.