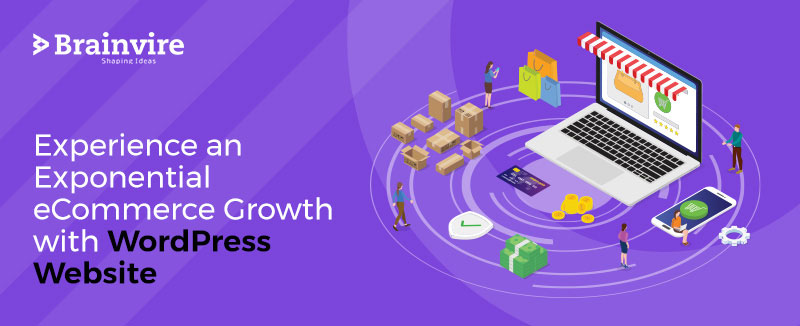 Are you planning to enter the digital realm or kick-start your home business? In either of the situations, you need WordPress development services to build an eCommerce website.
Today, modern businesses not only provide information on the website but also showcase their product/services online. Modern customers prefer the ease of online marketplace while owners prefer marketplace development and its advantages.
Entrepreneurs like you come across different eCommerce store set-up alternatives, but WordPress happens to be the best choice. It is a popular blogging platform but this is one of the many capabilities that the WordPress platform possesses.
[Also Read: 5 Ways to Enhance Your WordPress Website's Organic Rankings!]
WordPress is a flexible, innovative, and powerful modern-day software. It can be modified with advanced themes and plugins to develop a flawless eCommerce website.  
This software's Omni-presence and vast community is a good indicator that it is easy to gain support and inspiration during the design process.
In this article, we will share tools that can be used to customize the storefront and other allied resources along with the primary features of WordPress:
WordPress is a Bank of Advanced Plugin Solutions
The Latest WordPress Themes Are Inclusive of eCommerce Options
Lock Security Settings with Ease
Round-the-Clock Support from WordPress Community
WordPress is a Bank of Advanced Plugin Solutions
WordPress is a dynamic software that comprises all that you need for a good website. It acts as a work board where you can add features required for your business on the website.
Occasionally, business owners don't find specific features they want for their website in the core product. This is when plugins come into the picture. You can hire WordPress designers to upload plugins and enhance the website's functionality.
Plugins are precious for an eCommerce website development and hence you need at least one or two of them. A few plugins empower you to create and run an online store. Some other plugins assist in:
Inventory management
Additional support
Improved Functionality
Ease communication with customers
Popular eCommerce plugins perform either all or a few of the above functions. This means that you don't have to install a different plugin for each function.
There is a huge bank of eCommerce plugins and it can be confusing to select the best. We have discussed here some renowned eCommerce plugins:
Want to convert your idea into a successful app or website? Schedule your free call with our expert now.
WooCommerce:
This is the most popular and preferred eCommerce plugin for the eCommerce store. This plugin is easy to set up and design a customized store. It also comprises varied security options and user-friendly features that are responsive to mobile devices.
Alongside, WooCommerce also offers financial functions such as shipping and online payment options.
Easy Digital Downloads:
This plugin may not offer as many features as others but it can help design your website precisely. If you wish for such an eCommerce store, then this is the best plugin.
eCommerce Shopping Cart:
If you want a one-stop-solution, then you must choose this plugin. It has everything you need for a responsive design from improved functionality to support.
This plugin also allows you to link your store to Facebook and mobile apps. This makes it convenient for you to manage your eCommerce store.
WP eCommerce:
This is yet another popular preference to build a reliable eCommerce store. This plugin offers multiple useful features that can help manage sales, catalog, and maintain a track of financial information.
This plugin is updated frequently but fails to offer efficient support.
Experts recommend the WooCommerce plugin to be the most ideal choice. The main reason for this is that it is stable, well-supported, and compatible with most WordPress themes.
Above all, WooCommerce is easy to adapt and blend with any WordPress theme as per your preference.
The Latest WordPress Themes Are Inclusive of eCommerce Options
Once you have shortlisted the plugin, the next move is to choose a theme for your eCommerce store.
A theme comprises a software package to style your website- what will it look like, prominent features such as sidebars, menu, etc. The website theme plays a vital role since it controls the entire look and feel of the eCommerce store. It showcases how well you appear to your customers.
The right template makes it easy for your customers to learn more about your product and make quick purchases.
It is therefore important to choose an eCommerce theme that is inclusive of appropriate design features. A theme with a user-friendly interface, customization options, and a fully responsive design can be lucrative for your eCommerce store.
Create a list of features that you want in your store. The next step is to shortlist themes and plugins that support these features. This will simplify and quicken your decision-making process.
Lock Security Settings with Ease
Once you have brainstormed about plugins and the theme, the next step is to set security measures for your eCommerce store. Security is a major concern for almost every entrepreneur.
Every website takes fundamental security measures. However, the eCommerce store needs additional security measures along with an extensive solution. You need an eCommerce store that can protect business data as well as customer's data.
[Also Read: Simple and Better Ways to Manage Your Site Is with WordPress]
2003 marked the inception of WordPress and it has evolved through different versions over the years. The WordPress community has grown in leaps and bounds. This ensures that the core software of WordPress is not only advanced but also secured.
An experienced WordPress developer possesses the capability to enhance WordPress security features. The community took the following initiatives to offer increased security:
Backups: There are different techniques to take a backup of WordPress eCommerce store data in case something goes wrong.
Official updates: WordPress's development experts share minor and major updates regularly. A majority of these updates revolve around security to ensure the safety of your eCommerce store.
Security plugins: You can integrate free tools that offer additional security to upscale your store's defenses.
Activity trackers: A few plugins allow you to track user activity and changes. This makes it easy for you to learn user actions on your websites.
Round-the-Clock Support from WordPress Community
So far, you must have understood that WordPress is a powerful software that gives you liberty as an entrepreneur and much-needed security. However, with a robust system comes along a bit of complexity.
It is easy to set up a simple WordPress website but developing and running an eCommerce store is a different experience. You need technical expertise to run a functional eCommerce store efficiently.
These experts can help understand the constantly evolving WordPress sphere with ease. They can design a store that can adapt to changes at a rapid speed.
We have shared a few ways to enhance your WordPress awareness:
Visit the official WordPress support website
Follow popular WordPress YouTube channels
Take structured online WordPress courses
Visit well-known Q&A WordPress forums
Support relevant and precise plugins and themes
Read WordPress blogs
The WordPress community is quite helpful and can resolve all your doubts within no time. However, make sure that you approach reliable and honest resources as they can understand the situation better and assist you well.
Search for experienced and dependable WordPress developers for the same.
To know more about WordPress or the WordPress eCommerce store contact us!