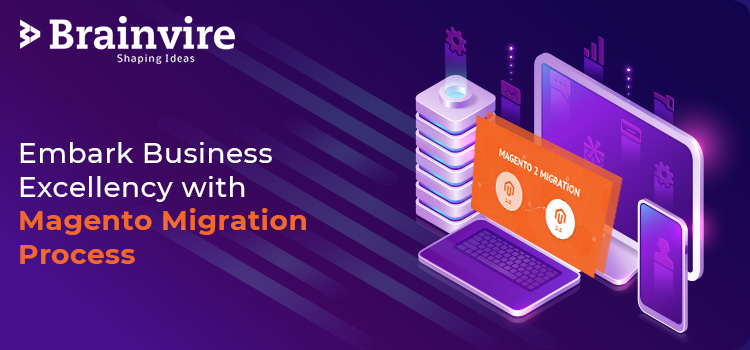 There are over 185,158 Magento stores but only 62,384 have been migrated to Magento 2. Magento 2 migration services state that the remaining enterprises are functioning under unsupported software services.
The launch of Magento 2.0 directed the eCommerce realm to switch from Magento 1.0  to 2.0. An ideal retail eCommerce solution for online stores is to plan and execute Magento migration from version 1.0 to 2.0. You can hire an eCommerce website development company as they can simplify the migration process. Besides, you will have to migrate to the latest version or a new CMS shortly to stay ahead in the eCommerce business.
Do you belong to the category of entrepreneurs who haven't migrated to Magento 2? In this extract, we have shared all necessary information to resolve your queries:
Why Should You Migrate to Magento 2?
Is Magento Migration a Difficult Process?
Steps to Follow for Smooth Migration to Magento 2
What is the Migration Duration from Magento 1.0 to 2.0?
Why Should You Migrate to Magento 2?
In 2015, Magento 1 gained constant support and also led to the launch of Magento 2. However, these updates and assistance cannot remain forever. Magento then decided to wrap the Magento 1 versions and introduced Magento 2. This means that if you haven't yet migrated, then it's time to plan the migration process. The main reason for migration is that you will not only gain Magento support but also an omnichannel experience.
Magento migration to version 2.0 can introduce your business to new concepts. With this migration, you are set to climb up the business ladder. We have shared some quintessential perks of Magento 2 migration:
Smooth checkout process
Mobile-friendly interface
Overall improved performance
Improved admin interface
Quicker page loading
Rapid processes
Reduced need for third-party extensions
Users can take advantage of dual options-platform-as-a-service and self-hosting
Magento 2 offers a countless number of advantages to your eStores.
Want to convert your idea into a successful app or website? Schedule your free call with our expert now.
Is Magento Migration a Difficult Process?
Migration is always a daunting process regardless of the industry or technology. There are several steps involved in a basic migration as well.
To simplify this complex migration process, you need reliable Magento ecommerce developers. They have the talent and resources that can streamline the entire website migration process. These experts can evaluate the complex Magento 1 to Magento 2 migration process better. They have profound knowledge about the new platform, the fresh database design, and also the advanced architecture.
Magento services offers specific advanced tools to ease the migration process for businesses and professionals to make optimal use of them. However, planning plays a key role in the migration process and Magento experts are the best suited for this profile.
Brainvire's Magento experts have the potential to dig deeper, trace your business essence, and then plan the migration process accordingly. This way, you have to experience a less exhausting migration process. Magento migration can be daunting but experienced Magento experts can simplify this for you.
Steps to follow for a smooth migration to Magento 2
Magento migration comprises a couple of critical alterations in:
API
Theme
Database Structure
As an entrepreneur, you aim to experience a seamless migration journey, skip downtime and loss involved in the process. But experts can provide you a flawless migration journey.
Discussed here are certain steps that you must follow:
Map your migration journey
Making an unconscious quick decision without thorough analysis can increase the complexity involved in the migration process. It is imperative to examine, seek expert opinion, and plan your actions.
Creating a roadmap of all your moves from one stop to another will bring in more clarity. You will have a better vision of concept completion and can plan future moves accordingly. You can create a checklist and flowchart so that you don't miss out on any essential concept. Mapping your journey makes it easier to attain migration milestones.
Evaluate functionalities
The migration process allows you to examine the functionalities of your website. Magento 2 provides an increased number of native features. This means you need fewer third-party extensions. This is the best time to examine functionalities and eliminate redundancies.
Remember that code changes require additional investments, development, and testing. During analysis, search for codes and functions that aren't used frequently and prefer trimming them.
In the past, Brainvire has suggested replacing unwanted functionalities with the required ones for a couple of flourishing enterprises. Eventually, Magento 2 migration improved the overall business efficiency of these firms.
Check your code migrations and extensions
During the migration process, experts come across certain extensions that are not native to Magento 2 but are necessary. In this case, experts recommend a smooth replacement plan to retain them.
The main hurdle in this process is that Magento 1 extensions are incompatible with Magento 2. Professionals recommend the use of a code migration tool to migrate a few custom codes and extensions. But, the same is not possible for all extensions and codes.
For instance, if your eCommerce platform needs a specific functionality, then you have to recreate it in Magento 2. Brainvire can propose a customized and feasible solution based on your business needs.
Don't have to shed data
One of the best features of this migration process is that you don't have to transfer data manually. Magento developers can use the pre-existing data migration tool in Magento 2.
This advanced tool uses map files to check consistency between database structures, imported customer information, and product data. The tool records all data transactions runs a couple of verification tests and creates logs to track budding issues.
Essential manual imports
Although we have a lot of advanced tools, it is impossible to migrate everything automatically. All the data including videos and images cannot be transferred to the upgraded website robotically.
You will have to migrate certain files manually to complete the migration process. Generally, access to control lists, admin, user accounts, and the storefront design has to be migrated manually. To ease this process, you can sit along with an expert and overlook the manual migration process.
Implement technical optimization and revise store SEO
The architecture is completely revamped and hence there is a need to compare your eCommerce SEO checklist to avoid any consequences. A flaw in the SEO checklist may have a direct impact on the organic visibility of product pages and content.
During optimization do check the following:
SEO-friendly URLs to retain product reach
Meta tags based on categories and products
Include suffix and prefix for title tags
Check path category used in URL 
Verify canonical tags for categories and products
Appropriate use of microdata and rich snippets
Confirm internal links are active and linked properly
Use well-optimized media for the site
Run tests and rectify performance issues
There are a few issues involved in the migration journey from Magento 1 to Magento 2. The transition to a new platform includes a new structure and architecture. Perfect planning also consists of unexpected issues and hence testing is compulsory.
The grey areas and improper performance issues can be rectified during the testing phase. It is a wise step to upgrade the website along with the migration process. At the same time, you can invest in an SEO-friendly and upgraded eCommerce website.
What is the migration duration from Magento 1.0 to 2.0?
There is no specific tenure because the migration duration depends on the complex codes of your existing website. Moreover, Magento developers can examine your current website, the required customizations, extensions, and provide you an estimated tenure for the migration process.
Contact to know more about the Magento migration process.