Talking About Newest Release of Magento Enterprise Edition 1.14 Magento Community Edition 1.9, At the 2014 global Imagine Ecommerce Conference in Las Vegas, eBay Enterprise announced the release of newest version of Magento Enterprise Edition (version 1.14) and Community Edition (version 1.9). Both editions include new features such as new Responsive Reference Design Theme, Cross-Border Trade, PayPal Express Checkout Improvements and Bill Me Later as a payment option.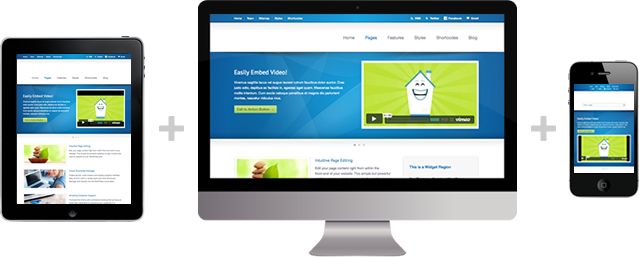 The latest releases provides out-of-the-box features extending the performance and scalability of the fastest growing ecommerce platform and help brands and retailers to quickly and cost-effectively deliver a seamless shopping experience.
Responsive Web Design Template
The new responsive design reference theme is built on modern technologies (HTML5, CSS3 and jQuery) and incorporates best practices for mobile sites. Magento web development for all platforms becomes more easy.
Retailers can easily obtain a smart phone or tablet friendly responsive site in about half the time thereby accelerating the time to market.
Retailers can control the brand consistency, make quick site changes and reduce ongoing maintenance cost.
Good for boosting conversion rates and sales too.
Merchants can participate in the fastest growing mobile commerce space and adapt to the latest technologies which are less expensive.
Offers potential SEO benefits by using Google's recommended approach to mobile-optimizing sites.
Cross Border Trade
Cross-Border Trade also referred to as "Price Consistency" was added to support merchants serving customers across international borders.
With this feature, the merchants can present a single price to customers in any part of the world regardless of the tax rates that may apply across regions and geographies
This gives them greater control over their site and how their pricing is displayed.
Pricing is clean and uncluttered regardless of tax structures and rates that vary from country to country.
PayPal Express Checkout Improvements

Magento and PayPal are further extending their partnership to provide innovative new solutions to Magento platform customers.
The improved PayPal Express Checkout allows merchants to offer a streamlined checkout experience.
Automatically tries alternative payment options when the customer's credit card is declined.
This increases the conversion rates and sales
Bill Me Later as a Payment Option

Talking About Newest Release of Magento Enterprise Edition 1.14 Magento Community Edition 1.9, The addition of Bill Me Later, a PayPal service helps retailers to capture 18% more sales by
Offering customers access to financing so they can buy now and pay later with no additional cost to the merchant.
The Bill Me Later integration provides greater benefits and helps promote a new service enabling retailers to sell more merchandise and drive repeat purchases.
Latest Magento Extensions delivers best in-class Demand Generation Capabilities
eBay also announced the availability of new Magento extensions for Magento merchants through the Magento Connect marketplace and Magento ecommerce developers.
The eBay Enterprise Display Extension offers seamless integration to all retailers' existing Magento product feeds enabling them to deliver personalized product-specific ads to retarget lost customers.
With the eBay Enterprise Affiliate Extension, Magento merchants can now easily integrate with eBay Enterprise's network of more than 200,000 affiliates and leverage best in class reporting tools to analyze, track and launch affiliate programs.
eBay Enterprise Marketing Solutions extension delivers world-class affiliate and demand generation capabilities to retailers of all shapes and sizes.
Magento Enterprise Edition 1.14 gives Shoppers Access to Fresher Search Results

In an enterprise exclusive improvement, the search indexing process has been completely revamped. Improved indexing helps merchants work more efficiently because incremental index updates no longer require manual intervention and merchants can save time and experience faster admin performance.
The indexing improvements started in Magento Enterprise Edition 1.13 have been extended to Solr in Magento Enterprise Edition 1.14. Solr indexing is now performed automatically in the background as the product catalog changes – this can also improve customer experience and conversion rates since shoppers see the most up-to-date search results.
Magento Enterprise Edition 1.14 also contains a large number of security enhancements and closes a number of security vulnerabilities present in the version of Magento Enterprise ranging from 1.13 and older. Good to know for all Magento development company.
Talking About Newest Release of Magento Enterprise Edition 1.14 Magento Community Edition 1.9, If you're considering launching of a new Magento Enterprise site, this is the perfect time to start planning and avail the advantages of these new features Contact us for Magento E commerce Development and if you're on a Magento Enterprise already then it's important to upgrade soon!