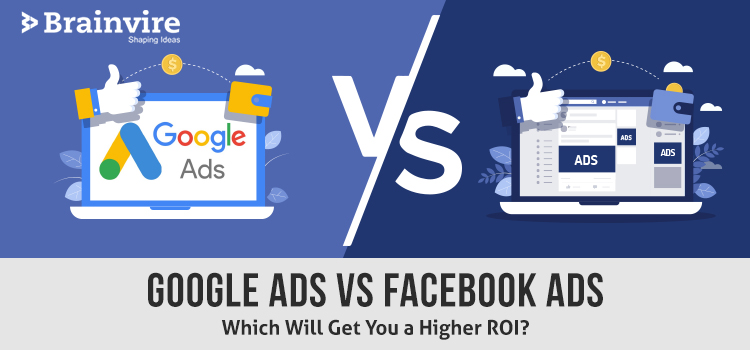 The question always arises which is better Google Ads vs Facebook Ads: Which Will Get You a Higher ROI? and it doesn't have a perfect answer to it. This is due to the fact that we are pitching two global leaders in PPC advertising against each other. 
As a senior digital marketer, I neither favor nor criticize any one of these platforms. I suggest one of them, or a combination of both, to my clients depending on their business, their target audience, and their goals. So before you approach any digital marketing agency, you should be clear about these aspects. 

Besides, you should also have clarity on how these platforms work, when to use them, the pricing and features, and their interface when we talk about Google Ads vs Facebook Ads: Which Will Get You a Higher ROI? Once you have understood them, it will be easy to take the final call with respect to promoting your business online. 

So read on and stay tuned till the end to know. All your doubts will be cleared.
How Do They Work?
Both Facebook Ads and Google Ads are pay-per-click (PPC) advertising platforms, but there are differences in how they work. Facebook Ads are known as paid social (ads are displayed in users' social media feeds). Google Ads, on the other hand, are paid search ads that are displayed in Google's search results. 
Want to convert your idea into a successful app or website? Schedule your free call with our expert now.
Facebook Ads
Facebook is a popular social media and networking platform with 2.3 billion users worldwide. As a business, you can create pay-per-click (PPC) ads using the robust Facebook Ad Manager platform. These ads are displayed to a targeted audience that is defined by user demographics, interests, behaviour, and Facebook engagement patterns. You also have the freedom to select an ad budget, ad placement, and ad run time.
How Facebook Ads look

So what distinguishes Facebook Ads from Google Ads?

It's audience targeting. Since Facebook users aren't actively looking for a product or service, the platform gives advertisers comprehensive targeting options such as factors like age, gender, income, and interests. 

You can easily create ads in Facebook Ads Manager by following the steps given below: 

Click the "Create" button on your account dashboard. 
Choose your ad format. 
Select your audience 
Edit ad settings 
Create an ad copy and images. 
You will also find further step-by-step instructions when you start using the platform.

However, you should be aware that it takes more time to convert Facebook leads to customers as they are not actively seeking your product or service.
Google Ads
Since 1998, Google is changing the ways we find, deliver, and use the information for our benefit. In the present day, Google processes more than 40,000 search queries every second, more than 3 billion per day and a little over a trillion every year. 
Source: Dominate Marketing
Now, you can imagine the reach of your business when you promote it using Google Ads.
Google Ads

To create ads on Google, advertisers must sign up for a Google Ads account, and then add text-only ad copies and keyword targeting information. Ads are built in the Google Ad Manager interface, which is a bit complicated for inexperienced people. Still, you can build a text-based ad by creating Campaigns, Ad Sets, and individual Ads with a headline and description.

Audience intent is the USP of Google Ads. On Google, users are actively searching for a specific product or service, or the answer to a specific question. If you can provide them with what they're looking for, it increases the chances of conversion. Unlike Facebook Ads, Google Ads are largely triggered by keywords and search terms.

Besides providing value to searchers, simplicity is the key to making the most out of Google Ads. You should promote your products or services in simple, actionable language along with clear use cases.
When to Specifically Use Them?
If you are confused about Google Ads vs Facebook Ads: Which Will Get You a Higher ROI? or when to use either of the two advertising platforms, just remember the thumb rule: 

Use Facebook Ads to build brand awareness of products or services that people want but do not need, such as a new high-tech espresso machine , as part of the brand marketing. Google Ads can be used to increase the sales of products or services that people need and actively search for, such as a plumber or carpenter.
Pricing and Features
Facebook Ads are known to cost almost a dollar less than Google Ads and also offer comprehensive audience targeting options. This makes it a viable option for advertisers with limited budgets. 

Google is indeed expensive but also more effective at capturing leads who are ready to buy based on their specific searches. 

Let's break down the individual set of features for each of the platforms.
Facebook Ads
Facebook Advertising Costs
With an average CPC of $1.72, Facebook Ads have a required minimum daily ad spend equal to two clicks per day. For example, if a business has a CPC of $1, based on factors like audience targeting and time of day an ad runs, then its minimum daily ad spend is $2. Facebook Ads are an affordable PPC platform, with average CPCs below Google Ads.
Audience Intent
The weakness of Facebook Ads is a lack of audience intent. As mentioned earlier, the platform's users are not actively searching for your product or service but are connecting with other users or browsing entertaining content.

However, this doesn't mean that your Facebook Ads won't get you revenue. Facebook is a great platform for introducing your brand or products to new audiences. Once it grabs their attention. you can create effective email and social media marketing campaigns to convert them.
Audience Targeting
Facebook ads easily overcome its lack of audience intent by allowing advertisers to cash in on specific audiences using a wealth of targeting parameters. They can specifically align ad audiences with their brand's target audience, thereby increasing the chances of landing a sale.

The targeting options offered by Facebook include demographic information, interests, browsing behaviour, location, political affiliations, life events, and dozens of other parameters.
Average Conversion Rate
The conversion rate of an ad indicates how often it successfully achieved the action you wanted users to take. It could be signing up for a newsletter or completing a purchase. The average conversion rate on Facebook ads is a high 9.21%, which means that for every 100 clicks on an ad, just over nine users click on an ad and complete the desired action on the connected landing page.
Ad Placement Options
Ad placement is the place where ads are displayed on Facebook pages. Facebook ads offer a wide array of ad placement options. They can be placed in: 

Stories 
User feeds 
Marketplace
Right column 
Streaming videos 
Facebook Messenger 
Instagram feeds and stories 
Facebook Audience Network
Ad Types
Facebook currently offers six different options for ad types or ad formats. These include the image, video, slideshow, carousel, collection, and instant experience (formerly canvas) ads. These ads give advertisers the opportunity to use their creativity and encourage audience engagement. But this is not possible in Google Ads as they are text-based ads.
Google Ads
Advertising Costs
The average CPC for Google Ads is $2.69. This varies greatly as CPCs can be as low as a few cents and as high as $30. Advertisers should decide how much they want to spend per day, as there is no minimum required ad spend. The higher the budget, the more clicks an ad can receive.

Google uniquely provides advertisers with a Keyword Planner Tool that allows advertisers to research the cost per click of keywords. They can gauge both interests in keywords and possible ad spend.
Audience Intent
Active audience intent is an area where Google Ads score well. Whenever a user searches for a keyword, he or she will see related ads at the top of search results. Thus, advertisers can capture users' attention at a time when they're intending to buy a product or service. This increases the likelihood of a sale and advertisers can get higher ROI.

But keep one thing in mind. If users have to search Google for your relevant keywords, they first need to know that your product or service even exists. If they don't, then you should switch to Facebook Ads to build brand awareness and capture new customers.
Audience Targeting
You can target Google Ads based on the alignment of keyword searches and keywords used in ads. In addition, there are other targeting parameters available, such as age, gender, location, and device type.

Advanced advertisers can make use of Remarketing Lists for Search Ads (RLSAs) and custom affinity audiences. These targeting options are typically used by marketing teams and PPC management companies. They are quite complex and will be covered in a separate article.
Average Conversion Rate
The average conversion rate for Google Ads is 3.75%, according to research by WordStream. While this will vary from advertiser to advertiser, it is definitely lower than Facebook Ads. However, let me tell you something worth noting. Google Ads has a much higher ad click-through rate than Facebook Ads.
Ad Placement Options
Google Ads currently offers two ad placement options: Google search results and display within the Google Display Network, which includes well-known company sites like Amazon, The New York Times, The Washington Post, and over 2 million others. The first option is usually preferred by most advertisers.

Ad Types
Google Ads will offer you three ad types to choose from. These include text-only ads, call-only ads, and shopping ads. 

Text-only ads appear on search results pages in a way similar to organic search results. Call-only ads are similar to text-only ads, with the only difference being that when the ad is clicked, it automatically calls the advertiser's phone number. 

Google shopping ads are the only ads that use images and are similar to many Facebook ad types. They are designed to encourage direct purchases. 

Many online stores prefer Facebook ads for creating shipping advertisements as it allows advertisers to use multiple images or videos in a single ad.
User-friendliness
Talking about Google Ads vs Facebook Ads: Which Will Get You a Higher ROI? Google Ads and Facebook Ads are significantly different in terms of their user interfaces. Facebook is a visual interface whereas Google Ads is a more data-focused interface. 

Facebook's basic features are easy to learn but its advanced features are quite complicated. The opposite is true for Google Ads.
Facebook Ads
The interface of Facebook Ads Manager is intuitive and user-friendly, thus making it easy to set up ads. However, Facebook has a lot more ad types, ad placements, and advanced audience targeting options than Google Ad Manager. Also, Facebook constantly adds and upgrades its features. All this can gradually get overwhelming for you.
Facebook Ads Manager interface

In the Facebook Ads Manager interface, you will find lists of ad campaigns, along with their basic information, such as whether or not they are currently active, how many ads spend each campaign has used, its budget, and more. For detailed information, click on the individual campaign. Campaign metrics such as CPC, the campaign click-through, and conversion rates will be displayed.
Google Ads
The text and data-heavy Google Ads interface appears to be more difficult to use initially. But once you become familiar with Google Ads, it becomes easier to use than Facebook Ads. This is because it does not offer as many ad types, ad placements, or audience targeting options as Facebook Ads.

Similar to Facebook Ads Manager, Google Ads Manager also shows you details of campaigns. Once you click on the individual campaign, you will see additional data on those campaigns, including metrics like the click-through rate and ad quality scores. You can also visualize individual keyword performance data.
At a Glance
| | | |
| --- | --- | --- |
| | Facebook Ads | Google Ads |
| Price (Avg. CPC) | $1.72 | $2.69 |
| User Intent | Passive—Ad viewers aren't actively looking for a specific product or brand; they are targeted based on interests and demographic information | Active—Ad viewers are actively searching for a product or brand and are likely ready to buy |
| Targeting Options | Comprehensive—User demographics, interests, life events, and buying behaviors | Limited—User demographics |
| Ad Placement Options | Facebook (Feed, Right Column, Stories, Marketplace, and In-stream Video), Facebook Messenger, Instagram (Feed and Stories), and Audience Network | Google and Google Search Partners (e.g., Amazon, The NY Times, and The Washington Post) |
| Ad Types | Image, Video, Slideshow, Carousel, Collection, and Instant Experience | Text, Call-only, and Shopping Ads |
| Avg. Click-through Rate | 0.90% | 3.17% |
| Avg. Conversion Rate | 9.21% | 3.75% |
| Ease of Use | User-friendly interface | Cumbersome interface |
The Final Verdict
When we talk about Google Ads vs Facebook Ads: Which Will Get You a Higher ROI? Both PPC advertising platforms offer opportunities to improve brand awareness and increase sales. They have their own pros and cons when it comes to generating ROI. I personally feel that you should use both platforms in concert with each other and not in opposition. Harnessing the power of both paid search and paid social will prove to be a remarkably effective advertising strategy and you can also approach Social Media Marketing Agency for best strategy.

If you are looking for a top IT consultancy firm that offers PPC management services, connect with Brainvire. We'll be happy to help you. Good luck.