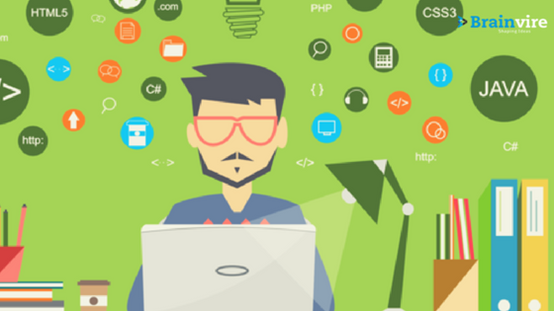 Talking About How Is Full Stack Development Booming in The IT Industry? Full Stack development is about exposing a wide range of ideas. The more you expose yourself to a variety of ideas, the more you know about disciplines other than your own, the more effective you'll be — this because you'll learn to collaborate with your colleagues and you'll have a broad repertoire of ideas and concepts to help you in your own work. That's how we're headed and that's what Full Stack development is all about.
Full Stack development services deal with the development of both the front end and back end of an application. The process involves all three layers – Presentation, Business logic layer, and the Database layer. It takes care of all the steps involved in the development of an application, from conceptualizing an idea to the final product.
Developers have the functional knowledge of the whole stack are capable of building better applications. Both front-end and back-end developers can understand each other work, and be able to build and run the app successfully. Succinctly, Full Stack developers can generate any complex application from scratch, with the proper understanding of how each technical layer should interact with the other.
Why are IT Companies Chasing Full Stack Development?
Ever growing hunger for new and better things with transient technology, demands IT companies chase Full Stack development. Out of all the reasons, here are two major reasons why IT companies are chasing full stack development for their applications.
Multiple technologies for amazing user experience: Full Stack developers are skilled in many programs like HTML, CSS, PHP, JavaScript and many more. It helps them to build a rich user experience design with the right set of technology. They are capable of handling both how the application will look like and how it will function.
Additionally, they can also convert the complex design into front-end code using their graphics and animation skills.
Unique code and multiple technologies: Full Stack developers can create a unique code using numerous software tools that are simple as well as complex. This would give an edge to the companies opting for Full Stack development.
Uses of Full Stack Development and Its Advantages
Talking About How Is Full Stack Development Booming in The IT Industry? Full Stack developers have the sound technical knowledge of each and every aspect of application development. That's why these people are termed as "developer generalists".
With the knowledge of multiple technologies and how to use them at their best, they have a lot to offer the world.
Here is a list of advantages of Full Stack development:
Hand over the entire design structure: Developers are not tied down to a single part but can view the entire design and can work on any level when needed.
Easy to transfer the ownership of Design and Implementation: A single person can take the full charge of an application at any development level. A Full Stack developer has the ability to take complete ownership of the design, build, implementation and deployment of the project.
Comprehensive work-flow: A full stack developer can master from task to task over the whole project as per need. In a team, they can divide the task of development and design as required by the flow, working in coordination with one another.
For all these reasons, even the large corporation like Facebook would rather have Full Stack developers than single stack developers.
Takeaways
Talking About How Is Full Stack Development Booming in The IT Industry? Apparently, IT companies will repeatedly use full-stack development for many upcoming years to match the advancement of the world. Full Stack development is all set to take on the world of Information technology and Brainvire is an active pioneer. To know more about Full Stack Development Company, Contact Brainvire Infotech!