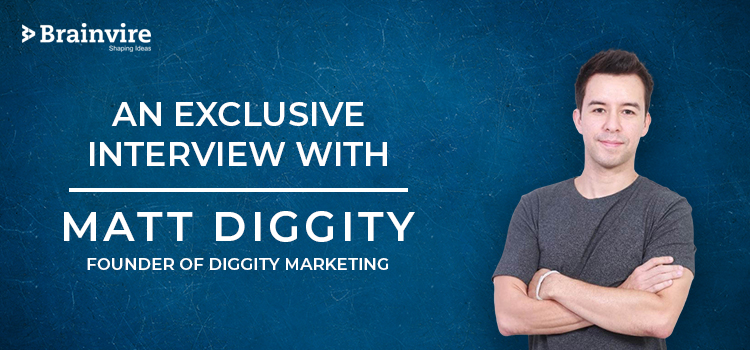 Matt Diggity is the founder of Diggity Marketing, The Search Initiative, Leadspring, Authority Builders, and the Chiang Mai SEO conference. He is an SEO expert, influencer, blogger, and conference keynote speaker. He prefers one-on-one SEO consultation sessions and has several award-winning SEO blogs featuring case studies, test results, and data-backed SEO strategies.
His SEO strategies are predominantly aimed at affiliate marketing, lead generation, client ranking, and eCommerce SEO services USA. He was one of the key speakers at the Affiliate World Asia 2019. On the stage, he shared impeccable monetization hacks mentioned in his handbook. Attendees were quite eager to hear and learn from him.
1. What are the top game-changing SEO trends to follow in 2020?
Play like the big boys.  Google keeps rewarding large authoritative sites in every niche.  Produce content and links just like they do.
The answer is on page 1.  If you want to see what works, reverse-engineer what got your competitors to page 1 already.  Hint: focus on content.
Attack those featured snippets.  With the decrease of organic real estate on page 1, one way to ensure you're still getting exposure is to go straight for position zero.
Want to convert your idea into a successful app or website? Schedule your free call with our expert now.
2. What are the top three SEO strategies to optimize your website for voice search?
Short punchy answers. Answer the query with one sentence.  Not one paragraph.
Echo back the question. For example: "The average temperature for a sauna is 90 degrees Celsius".  This makes it extremely easy for the NLP algorithms to confirm you have answered the query.
Buy a Google Home device.  Seriously.  If you want to learn what kind of answers are given by Google voice, start using it every day.  The patterns show up quickly.
I'm all about the paid ads.  Paid ads funnel into lead magnets, which grow your email list, and then you have traffic on tap.
4. What are the three advanced link building strategies we need to follow in 2020?
Get links from sites that rank for the keywords you want to rank for.  Those are the best links you can get.
If you can't get those, get links from the sites that link to them.  Those are the links that helped them rank.
Get guest posts on high authority sites by pitching rankable content that they haven't yet targeted.  (super easy to pitch, read more).
5. What are the 3 essential SEO audit points every marketer should consider?
Clean your indexing issues. Don't let Google index more than you really want them to.
Page speed – Make your website rocket fast.
Fix your mobile accessibility
6. What are your favorite SEO tools and why?
Ahrefs – Best all in one tool
Surfer – Can't live without its content optimization features
Google Sheets  – How else are you going to organize?
7. What do you think about the May 2020 Core update? What will its impact be on SEO?
Too early to tell.  But my bet is on Google favoring authority over relevance with the latest update.  How they are determining authority is up in the air.  Is it traffic, rankings, links? 
8. What are the 3 deadliest SEO mistakes that can affect website ranking?
Accidentally deindexing all or part of the website
301'ing for no absolutely necessary reason.  Even re-brands don't always work.
Hosting and speed instability.
9. What marketing tips would you give to early startups?
Find your true voice and stick to it from the beginning.  Your character and message should be authentic and consistent from the beginning.  What is it that you want to accomplish for your customers?  Let that be your battle cry.
10. How do you evaluate the quality of a link? What are the metrics you follow?
If I had to follow a metric, it would be estimated traffic.  Usually using Ahrefs.  Google doesn't give away rankings very easily.  If they're ok with a site enough to rank it, they're probably ok with its outbound links.
11. Do you have any tips to improve the conversion rate and leads for an eCommerce niche?
Color discipline.  Choose a call to action color that is opposite but complementary to your website theme and reserve it for your CTA color.  Never use that color anywhere else.
Also, don't sleep on cart abandonment (emails, retargeting, etc).  It's the lowest hanging fruit you got.
12. What is your take on feature snippet results?
Meh.  I'm not that big of a fan of content getting "borrowed" from publishers and taking away potential traffic from them.  That said, we play in someone else's sandbox, so it is what it is.  But truth be told, for users, snippets are great.
13. What do you think about structure data markup? What role does it play in SEO?
It's an excellent way to tell Google what your page is exactly about and thus making life easier for them.  When you make life easy for Google, they reward you. 
14. Should businesses continue investing in digital marketing despite COVID-19? What is your take on it?
Absolutely.  Without marketing, lead flow dries up and then sales and then profits… and then the business is dead. 
15. What are your top 3 rules for success?
Have uncompromising integrity.  Always do what you say you're going to do.  Always keep your promises, even to yourself.
Sleep like the dead – Take the time to research proper sleep practice.  Thank me later.
Treat your team like family.  After a while, you'll start to hit your own goals and your fire might dwindle.  But you'll never lose the hunger for making your loved ones around you succeed.
Ending Note
Matt Diggity's remarkable SEO tactics have been a guiding book for several enterprises as well as emerging businesses. Brainvire is keen on working with him shortly.