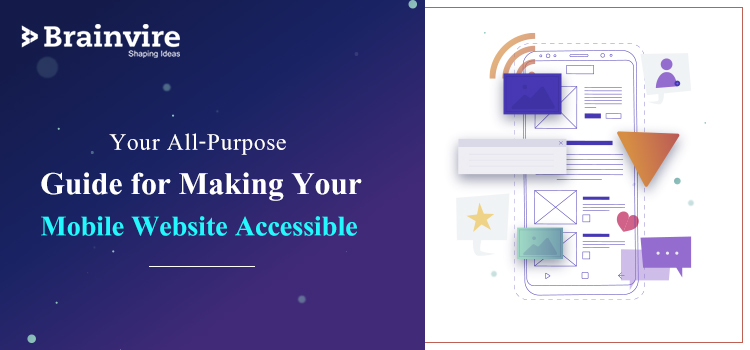 Every web designer in the world is concerned to provide the best kind of website accessibility to its users. After all, accessibility is the key to creating fantastic websites that can bring any company its desired revenue. But what exactly is accessibility and how does it help mobile users? Why is it important for launching a successful mobile app or an eCommerce website? How can you do the same for your product? To answer all these pending questions, we intend to dive deep in this post, so here are the topics you can look forward to:
· What is mobile accessibility?
· What is the importance of an accessible UI design?
· What are the benefits of incorporating mobile accessibility settings?
· Why should you make your mobile website accessible?
· What are the guidelines for making an accessible mobile web design?
· In conclusion
So, let's get started…
What is mobile accessibility?
Unlike what many think, accessibility just does not concern android app development services. It also affects all the websites today because the majority of web traffic currently comes through smartphones. Moreover, delivering an easy to use and accessible website is vital to surviving in this competitive world.
Source: 3playmedia
In the simplest terms, accessibility is allowing all users across the globe easy access to your online products irrespective of the device they are using or the disability they are ridden with. If you make your app or website perfectly accessible, you allow all the users to access your content for all the better purposes.
Keeping this in mind, many developed nations have adopted the W3C consortium to follow web accessibility standards. So, the basic principle that involves making a simple and accessible UI is very straightforward. The very purpose of this is to make your app or eCommerce website through the Magento development company very useful in real-life situations. In addition, an accessible UI design also paves the way for top-class user experience.
Want to convert your idea into a successful app or website? Schedule your free call with our expert now.
What is the importance of an accessible UI design?
As mentioned earlier, a mobile app development company always needs to worry about making an online product useful for all individuals irrespective of the physical abilities of their device properties. Various studies indicate that making an accessible web design isn't just a choice made in good faith but has now become a necessity. As per statistics, there are over a billion people worldwide that presently suffer from some of the other form of disability. To narrow it down further, one of every five people has some form of disability. Therefore, it has become very substantial to have an accessible UI design.
But besides this, here are two reasons why you should opt for an accessible UI design.
The rise of mobile-friendly websites 
To no one's surprise, today, internet users are more likely to surf the web using their mobile phones rather than their desktops. Studies also suggest that the budget for mobile marketing has outpaced that for desktop marketing. And since the biggest search engine, Google, in the world is openly favouring mobile-friendly content, no wonder organizations are creating a standard website by strictly keeping mobile visitors in mind.
Source: dmacmedia
However, just because a website can be displayed well on any device other than the desktop does not mean the users are having an ideal experience. Clearly, making a site mobile-friendly goes beyond having content to respond to various screen sizes or having a retractable hamburger menu. You can opt for Magento development services for a reputed company. Apple and Android obviously know about this, which is why they host a variety of in-built settings to make their products usable by all. Consequently, the population that uses such features is growing rapidly, so mobile development companies should now develop their sites to take advantage of this.
The importance of mobile accessibility settings
These settings are usually wrapped under the 'Accessibility' menu in the 'Settings' option of your device. Using these options, users with visual, auditory,  cognitive, or mobility disabilities can easily navigate content by customizing their overall experience. Accessibility settings can majorly be used to adjust the size of the text, increase screen contrast, and alter colors. Some other important options include voice control settings, tactile preferences, or connections to assistive touch or devices.
All these features have been specifically incorporated to make the mobile experience as comprehensive and usable as possible.
What are the benefits of incorporating mobile accessibility settings?
The 2010 US census states that there are over 56.7 million Americans ridden with disability. As per the World Health Organization, there are 285 million people with visual impairments worldwide (39 million of whom are blind), and more than 360 million people experience disabling hearing loss.
 There also exist a few individuals who'd like to term all of us as 'temporarily abled', meaning healthy or not, as one age, a person will definitely experience diminishing capacities that are bound to come with old age. Hence, mobile accessibility plays an important role in providing an extraordinary level of autonomy to individuals with all these types of disabilities.  
Why should you make your mobile website accessible?
Making your online mobile content accessible requires you to build a website, app, video, or document in such a way that people with disabilities can not only perceive it but also understand your content when browsing through it. Consequently, web developers and designers need to make sure that accessibility is built into their website at the early stages of launch itself. The following are the reasons why a mobile website should be accessible.
Source:NewEdgeWebServices
1. It provides independence
Mobile phones have drastically changed how we surf the web, the kind of services offered online, and how we engage with organizations, businesses, friends, as well as the government. A user just needs to perform a few swipes or taps to fulfill their banking, shopping, traveling, entertaining, and various other similar needs.
But if a website is not accessible, even though it is designed for any device on this planet, all the end-users with visual, auditory, cognitive, or mobility disabilities won't have all these opportunities at hand. Therefore, mobile websites and applications have the capacity to rope in unforeseen options for communication and independence.
2. An accessible design expands the website's reach
Since Apple and Android devices both offer robust accessibility options in their operating system, mobile phone activities can be carried out by everyone, be it students, teachers, businessmen, teenagers, CEOs, parents, grandparents, and more.
This is only possible if mobile applications and websites are made accessible for disabled individuals. When carried out well, these accessible features allow mobile apps and websites to play well with the built-in mobile screen readers, which can read aloud navigation cues and content. Adhering to accessible mobile web design structure provides other control options too, such as the ability to enlarge text, customize settings to accommodate special user needs, take advantage of the closed caption, among other things.
 Nobody likes to surf a website that is difficult to use, is confusing, or does not work well. It is certain that if your site is not accessible, then the user will bounce to someone whose site is better accessible.
3. It keeps you out of the civil rights litigation hot seat
As a downside, organizations need to operate under the guiding principles that involve giving equal access to information to one and all. Simply put, depending on the type of industry your work on, there are already plenty of disability rights laws in place that can directly affect your business.
In short, if your online product is found to prevent a person with a disability from using your app or site due to lack of accessibility in any way, it can amount to discrimination, which may often lead to costly litigation or serious civil rights complaints. As per sources, there are more than 800 federal lawsuits regarding the allegedly inaccessible website in the year 2017 alone. Therefore, good customer services and all-encompassing inclusivity are key factors for you to voluntarily design accessible mobile websites.
What are the guidelines for making an accessible mobile web design?
Although there are several approaches to make a website accessible, the following are the guiding principles that W3C has prescribed to be the most effective. Hence, the following are the key principles that a mobile app or web designing company should keep in mind while building its interface.
 a. Perceivable design
As per this guide, a website's design should allow the user to consume content in different ways, completely depending on the varying abilities of the users.
 b. Operable design
An operable design requires the app or website to execute interactions without causing any confusion or complexity.
 c. Understandable design
As the name suggests, a user should be able to understand the design of the website in terms of how it works and how easily users find the contents of the site.
 d. Assistive design
Lastly, a mobile website should definitely allow several assistive devices, one such being screen readers, for users that have some kind of disability.
 Here are a few tips on how you can make your user interface design on your mobile site more accessible.
Source: Linkedin
Color scheme and contrast for visual setup
 For the uninitiated, there are over 300 million people worldwide who are suffering from some of the other forms of visual impairment. A good number of these people are suffering from either color blindness or insensitivity to certain colors. Goes without saying, the design of your app or site should be optimized for visually impaired people.  
You can go ahead and create a striking visual distinction inclusive of colors and optimized contrast. Furthermore, you can also use a contrast of light and dark shades to highlight important portions so that it creates a sense of priority. This technique can also help you create a visual difference for color-blind individuals who can only view objects in black and white shades.
Also known as focus states, focus elements are a vital part of delivering an accessible mobile-friendly website. Focus elements typically include interactive elements such as links, buttons, widgets, menu buttons, and form fields. The focus indicator beneath these links and buttons can instantly attract the attention of the users.
Now, since focus elements are bifurcated into several different types, they can either be like visual indicators that show up under the navigation buttons or the link guides that visitors usually interact with.
 Your interactions should be simple and engaging
 Lastly, website design is only called accessible if it has a simple interface that can engage the audience without any difficulties, irrespective of the user's personal constraints. It is great to have interactive elements on the website as long as they help users to engage instead of confusing them by making then uneasy. However, a website designed with flashy animations with a lot of cognitive loads often tends to distract users rather than doing any good.
 The best thing you can do here is to avoid using flashing animation, but in case you indefinitely need to use it, limit the time duration of flashing animation to not more than 3 seconds. People with disabilities such as seizures or some other nervous syndrome can often find such flashy animation discomforting or disturbing. For such situations, you can make use of sliding animations that tell the story or describe something in very easy steps.
 Keeping animations aside, on-screen gestures can also be used to allow user-based interactions online. Therefore, instead of using complex gestures that require efforts, you should always opt for simple gestures that can help you enjoy accessibility with very limited movements.
In conclusion
Goes without saying, a regular 21st-century individual is bound to be glued to his/her smartphone twenty-four seven. In today's world, it is perfectly alright to rely on smartphones to carry out essential day to day tasks involving responding to emails, interacting with friends and family, keeping track of the new, shopping for groceries online, among other things. In fact, it was just the end of 2016 that marked the time when mobile internet users surpassed desktop users. It was in this year that the scales tipped to 51.2 percent for mobile users and 48.7 percent for desktop users.
And since websites that aren't mobile-friendly are quickly falling by the wayside in this fast-evolving digital landscape, it has almost become mandatory for businesses to launch a mobile-friendly and accessible website to gain the desired revenues.
contact Brainvire for Mobile App Development Services