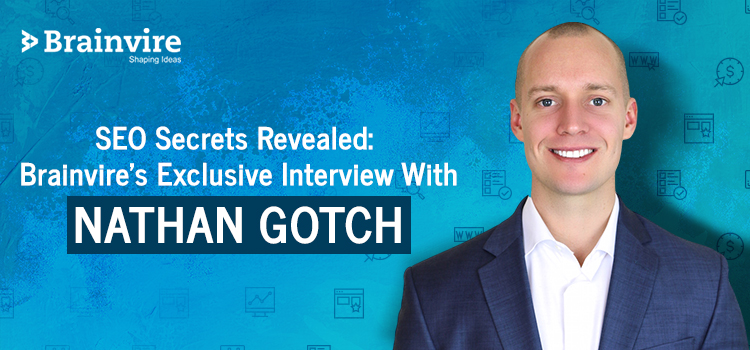 Nathan Gotch is the founder and director at Gotch SEO. This company is featured in Forbes, The Huffington Post, and other elite publications. Since 2013, he has helped countless businesses rank #1 on Google and other popular search engines. Hailing from a non-business background, he has worked his way up to launch one of the most respected academies in the world. His ultimate mission is to help businesses achieve their digital goals through seo services usa.
Here's what we asked Nathan about SEO.

Tell us about your 3 favorite SEO tools. What's so great about them?
My favorite SEO tools (and the ones I use the most) are Screaming Frog, Ahrefs, and Google Search Console. Ahrefs and GSC integrate with Screaming Frog, which turns it into a powerhouse for fixing SEO content issues.
Want to convert your idea into a successful app or website? Schedule your free call with our expert now.
What are the 3 essential SEO audit points every marketer should consider?
Crawling and indexing are first because you can't rank without it. There are many elements that impact crawling and indexing, but the biggest factor is your site architecture. I always aim to keep my most important no more than 3 clicks deep in the site architecture. If the pages are super important I'll move them further up the architecture. 
Content audits are my bread and butter because that's where most of your wins can come from. Most websites are littered with low-quality and outdated content that can be tackled. Use Screaming with the integrations above to make intelligent decisions based on the KPIs.
Technical / UX is the third most important area to tackle (on-site). Your site needs to have a seamless experience for users because that will improve SEO and CRO performance.
What's the best method to appear with a featured snippet? 
Bullet points or numbered lists (linking to sections of the blog post) at the top of your blog content have worked well for me.
How to leverage and acquire more spots in the knowledge graph? 
Having a Wikipedia page and a big personal brand is key. In other words, lots of backlinks and lots of branded searches.
Which schema mark-up would you suggest for an eCommerce niche?
Will depend on the website, but review and product markup are a bare minimum.
What are your thoughts on the Google BERT update? How do you think will it impact the SEO landscape?
It will make searches more accurate (in theory). That means your pages need to be hyper-targeting for your search queries. Accurate search results are better for Google users, so just tackle the queries with laser focus and you won't be negatively impacted.
What's your technical audit checklist for eCommerce SEO?
Too long for this purpose, but a big emphasis on optimizing site architecture. This is super important for large e-com sites. After that, going through optimizing pages on an individual level.
How do you evaluate the quality of a link? What are the metrics you follow for it?
Relevance, traffic, and authority are my three qualification standards. I use what I call the Relevancy Pyramid to determine how I prioritize link opportunities. After that, I sort the opportunities based on traffic potential and then authority (Domain Rating from Ahrefs).
Do you have any tips to improve the conversion rate and leads for an eCommerce niche?
Considering that most e-com sites convert ~1% of their traffic, it's imperative that you have a way to turn traffic into leads (for lead nurturing). The best way to do that is through coupons or other lead magnets. Also, having a solid remarketing layer can help drive more conversions.
What are the top game-changing SEO trends to follow in 2020?
 I avoid trying to chase "trends" in SEO. Instead, I focus on the stuff that doesn't really change. In my opinion, that's going to be your content and how you promote your content/website. That said, I think it's important to keep an eye on voice search. I don't think it's as popular as some people claim, but it will be in the near future. So understanding how to optimize for it is an important initiative. 
What do you think are the 3 deadly SEO mistakes that can severely affect a website's ranking?
 1. Low-quality backlinks
It's better to have no backlinks than to acquire a bunch that isn't relevant or isn't on decent quality websites. 
2. Lack of backlinks
Your overall website authority is super important for SEO performance. Get more high-quality backlinks is the best way to grow your site authority. I recommend a reverse silo for acquiring links. To do it, build out high-quality linkable assets and drive links to those. This is the most natural way to grow website authority.
3. Poor content practices
Poor content practices like creating doorway pages and having tons of unnecessary pages cause a slew of issues. Less is more when it comes to pages on your website.
Tell us about your top 3 rules of success.
There definitely aren't any rules for success because "success" is an individual metric. I will say that it seems that most people who are successful in anything exhibit the following characteristics:
They're obsessive learners
They're obsessive doers
They're never satisfied
Ending Note
Nathan's SEO insights will help digital marketing aspirants and guide millions of businesses globally. Brainvire is indebted to him for taking out valuable time to give this interview.