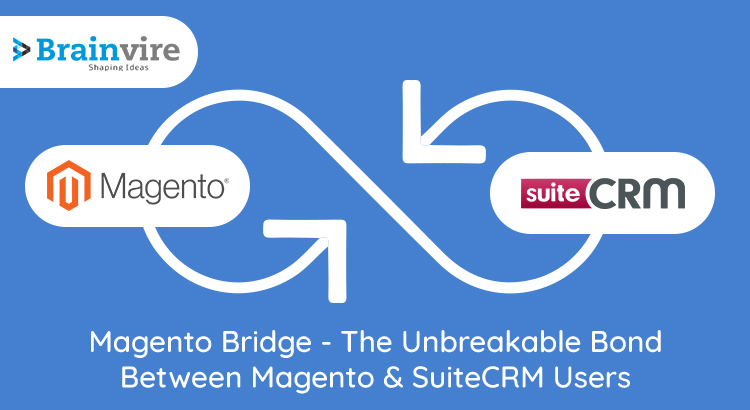 The growing needs of eCommerce businesses and the dynamic shifts in consumer expectations have contributed towards the rise of Enterprise Application Integration. These integrations are the foundation of a true omnichannel experience that every retailer dreams of. 
Magento is the leading open-source e-commerce platform that handles over $100 billion in gross merchandise volume every year. The eCommerce website development has created innumerable digital retail experiences. Being a part of the Adobe Commerce Cloud, it is equipped with next-generation technology and a Adobe Partner ecosystem that can turn your business vision into reality.
SuiteCRM is an open-source, flexible CRM platform that has changed the way retailers interact with their customers. With over 107,187 community members and 910,000 downloads, it is the most preferred CRM solution for eCommerce.
The Magento Bridge plugin, built by Brainvire, will help over 4,500,000 SuiteCRM users to access all the features of their Magento stores in a few clicks. This blog will elaborate on the modules of this exclusive plugin while discussing the benefits of integration. Taking help of Magento developers you can integrate your CRM with Magento ecommerce stote.
Modules of Magento Bridge
Magento Bridge is a blessing for accounting and sales teams for getting a complete overview of a business, customers, and orders in real-time. The plugin covers the following modules: 

Customer
Product
Quotations (Abandon Cart)
Orders
Leads
Let's explore them in detail.

Customer – It synchronizes the customer data of Magento with the CRM database using two-way synchronization and the changes are reflected in the contact module of CRM. 
Product – Users can view and manage all of their products on the Magento store and also make changes to the inventory as per requirements. The depletion of product stock can be noticed by the representatives in real-time and corrective measures can be taken so that visitors will never find any product out of stock on the website.
Quotations (Abandon Cart) – It compiles and displays the data of all abandoned carts on the quotation page. The sales team can follow up the abandoned carts and send customized orders to them to increase the chances of conversion.
Orders – Magento orders will be visible on the CRM dashboard as soon as they are placed on the website. A well-structured order management process ensures that sales activities are more efficient and improves the level of service given to customers.
Leads – A 3rd-party API will help users import leads from contact pages, websites or blogs. The team can follow-up the leads and move them forward in the sales pipeline.
Want to convert your idea into a successful app or website? Schedule your free call with our expert now.
Summing it Up
Magento Bridge will help eCommerce store owners to have a better knowledge of their existing and potential customers. They can participate in the customer journey and improvise on their selling techniques. Abandoned carts will be taken care of, and leads can be managed effectively. Ultimately, the integration plugins can boost the sales productivity of an eCommerce business by 40% in a short span of time. Furthermore, if you want to nurture an everlasting relationship with your customers, try AuroCRM today. It is an AI-driven platform that can automate your sales processes completely. Schedule a live demo at your convenience or visit https://www.aurocrm.com/ for more information.