Brainvire looks forward to attend Imagine eCommerce Conference, Grab the opportunities it presents to engage with, network and create long term business relationships!
Brainvire is all poised to attend a promising world event – The Imagine eCommerce Worldwide conference at Hard Rock Hotel & Casino Las Vegas that will commence on 12th of May and conclude in three days on the 14th of May 2014. This annual conference is an unprecedented opportunity for exchanging innovative ideas, discussing market trends, future opportunities and making long lasting connections!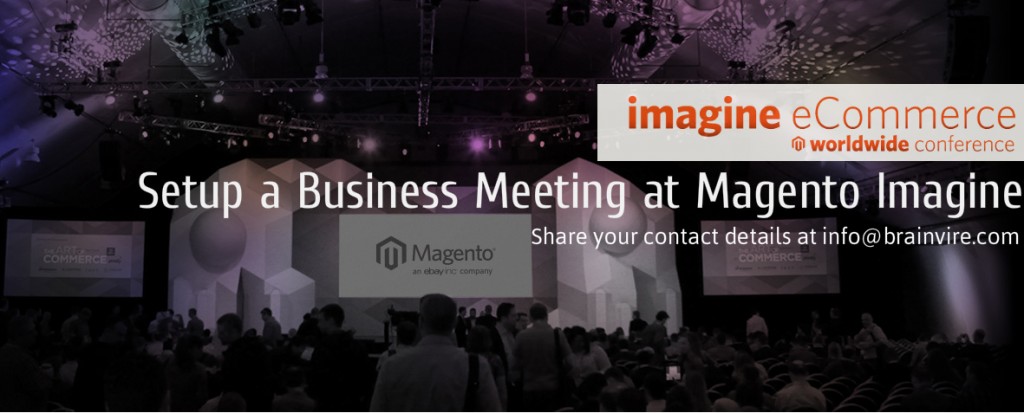 Magento's premier eCommerce event, IMAGINE is one of its kind annual events and is seen as a venue that brings together more than 1700 merchants, partners, digital industry experts and open source enthusiasts from over 35 countries with the purpose of networking, collaboration and cutting edge sessions from renowned keynote speakers. The featured keynote speaker for this event will be Malcolm Gladwell, a bestselling author. Other well known personnel at this conference will be Roy Rubin Co-Founder & COO of Magento, John Donahoe – President & CEO, eBay Inc. and more!
Brainvire will be there! Let's catch up!
Brainvire, as a Magento Website Development Company, see this as an ideal opportunity to get into conversation with industry leaders, peers and Magento enthusiasts. Brainvire has always been a catalyst that accelerates business growth by providing clients with Magento solutions that are both innovative and cutting edge. Attending this event will definitely foster greater communication and networking that will add value to our existing circles of business engagement.
We are excited to explore the opportunities and work in collaboration to the betterment of ecommerce. Let's explore opportunities together – you can set up a meeting with us by filling up a contact form here Contact us.
Brainvire is going to attend this conference – Meet us there!
Share your Contact Details : Email us at Info@brainvire.com.