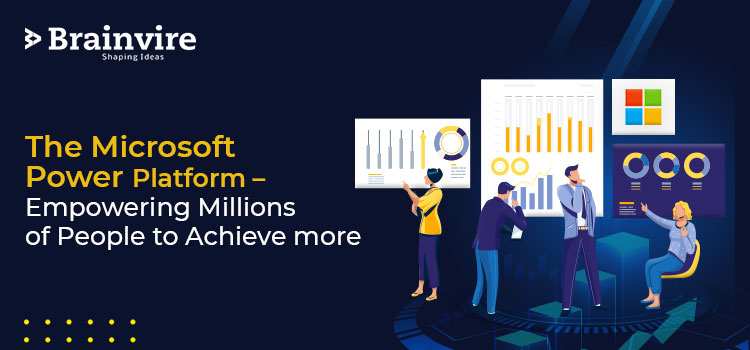 By 2023, 500 million apps will be developed to drive organizational transformation and productivity. Microsoft is at the forefront of this digital transformation, aiming to assist businesses to reimagine how to collect data, process them and create value for customers while maintaining a competitive advantage in a digital-first world offering cognitive solutions. 
Microsoft is rapidly innovating, releasing, and updating its products and solutions. Because of the rapid pace of innovation, Microsoft technologies are very exciting. The Power Platform is one of Microsoft's most significant new areas.
What is a Power Platform?
Microsoft Power Platform is a collection of Microsoft products used to develop and build complex business solutions, analyze and draw data visualizations, and automate business processes. All of these products provide a platform on which applications can be built without the use of code.
Common Data Service ( CDS) is the underlying data platform that provides a unified and simplified data schema so that applications and services can interoperate.
Want to convert your idea into a successful app or website? Schedule your free call with our expert now.
Why is the Power Platform so important?
In these digital times, we are extremely reliant on data. The amount of data created by businesses is constantly increasing. While all of this data is unavoidable, it is meaningless unless companies can derive insights and meaning from it to gain tangible value.
Historically, IT was in charge of services, such as application development, process automation, and data analysis. Business users would typically submit an IT request to assist in the automation of a process, and they would have to wait for that budgeting cycle or IT backlog to be completed before something could be built and released to production.
Furthermore, those requesting the solution are likely to have an immediate need, and waiting weeks could cause internal delays.
This is why the Power Platform is so intriguing. The Power Platform enables data democratization, or the ability for digital information to be accessible to non-technical end-users.
It includes three technologies that enable employees to do more with their data without requiring coding knowledge. While it does not allow the intricacies and flexibility of custom coding, it does provide a simple method for most users to be able to create, automate, or analyze their data in ways that the average worker has never been able to.
The Power of Triple-A Loop: Analyze, Act, Automate
The Power Platform vision arose from the realization that data was increasingly flowing from everywhere. Organizations that harness their data to gain insights are used to drive intelligent business processes and outperform those that do not.
Microsoft also recognized that there were insufficient programmers, data scientists, and technology professionals to go around. So the goal became to create a platform for non-technical users and millions of other frontline workers who seek opportunities every day to create something better than the status quo but have never been empowered to do so.
 The guiding vision was a framework known as the "Triple-A Loop" – a closed-loop system that allows users to gain insights from data (Analyze) and then use those insights to drive intelligent business processes via apps they build (Act) and processes they automate (Automate).
The Microsoft Power Platform implements this vision via three cloud-based services: Power BI, PowerApps, and Flow.
Let's take a deep dive and have a closer look at them.
Power BI
Microsoft Power BI is a self-service business analytics tool. This, along with the other tools in the bundle, is regarded as an integral part of the Microsoft Power Platform. Power BI has several offerings, ranging from the desktop version to the cloud-hosted Power BI Service. It is commonly used to connect to a wide range of data by creating interactive reports, dashboards, or stories that are supported by compelling visualization techniques.
Power BI has been adopted by tens of thousands of businesses and millions of users in just four years. The service is updated and improved on a monthly basis. Power BI is available in 43 languages and is used in 18,000 cities around the world. Every month, nearly 10 petabytes of data are uploaded to the service, and more than 10 million report and dashboard queries are executed against that data on behalf of users every hour.
Power Apps
Microsoft Power Apps is a platform-as-a-service platform. It allows users to quickly create apps that can be run on any modern web browser, such as Chrome, Firefox, or Internet Explorer, as well as on native mobile apps for Android, iOS, or Windows. PowerApps is a no-code environment that allows both developers and non-developers to create apps. You can create model-driven apps that have responsive, accessible designs and are made up of various component types such as dashboards, forms, views, charts, and business processes that work together to form a great user interface. These apps enable businesses to create websites that can be shared with third-party users.
PowerApps, like Power BI, connect to hundreds of business systems and databases, making it simple to connect employees to the existing processes and data that keep the business running. And all of the data collected in PowerApps can be returned to those systems for further analysis in Power BI, resulting in a closed-loop process for continuous improvement.
Power Automate
Power Automate, formerly known as Microsoft Flow, is a component of the Microsoft Power Platform that enables business users to automate workflows within organizations without the need to write any code. Modern businesses are constantly preparing for a faster and more automated environment in which to handle the majority of previously handled manual tasks. Apart from that, its automation process can connect various applications, such as SharePoint, Outlook, Dynamic 365, or non-Microsoft apps like Twitter, Gmail, MailChimp, and so on. Without coding, we can set up triggers, alerts, automated emails, push notifications, and much more in minutes. In a nutshell, it saves time, reduces human errors, automated workflows, and smooths business processes.
Users can create automated workflows using a simple and intuitive interface that can be triggered by Power BI insights, leveraged via apps built with PowerApps, and integrated with events from any of the hundreds of systems that the Power Platform natively supports. Microsoft fully manages and secures the workflows, which run entirely in the cloud.
Now the power is yours! The Power Platform has a lot of exciting possibilities and implications, but it can be difficult to know where to start or what it can do for your company. Everyone in your organization can now use the Power Platform to accelerate innovation and insights, save significant time and effort, and streamline processes. Being a leading Microsoft power apps development, we'll be more than happy to help you learn more about the Power Platform or discuss a potential idea.