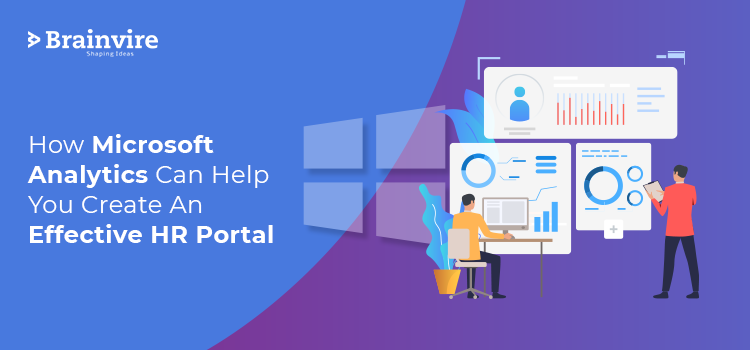 Industries like Healthcare, Media & Entertainment, Logistics, Real estate, Finance, Education, Automobile, Mobile & Wireless, Cloud Services, Retail, Advertising, and so on; needs human resources staff to handle the office culture, the staff, and other activities within the organization.  The human resource department focuses on operational performance and predictive analytics. Furthermore, the role is shifting to decisive HR. Transactional HR is being committed to Chatbots and automation. 
HR is now equal to organizational strategic planners. The existence of LinkedIn, Facebook, and Twitter communities within the company aids in the establishment of employee engagement. It investigates the internal relations that occur among workers of an organization on numerous social platforms. This study will then be used to determine how they can help deal with their reaction and performance. 
What is HR Portal?
HR Portal is the Human Resources Management System (HRMS). With the use of information technology, the HR Portal allows the administration of many HR features. An HR portal seeks to boost business productivity and reliability through the automation of hand-operated and routine tasks. This saves more time for the HR staff, which can then be used to handle more competitive, business activities.
Want to convert your idea into a successful app or website? Schedule your free call with our expert now.
Let's talk about the functions of HR
Human Resource Management in every organization is a function that is intended to improve employee performance by associating with the company's objectives. HR is mainly concerned with how employees are treated within organizations, with an emphasis on the system. 
 Sub-functions of HR:
It focuses on estimating the resource needed to produce the optimal business outcomes. Human resource strategies may be short-term or long-term.
It is important to recruit workers with the best combination of talents and competencies at the perfect time. Which covers programs such as promotions, internal work postings, and employee referrals to fill jobs.
An employee who has committed to working with a company will return to work on the date of joining. For the first day of an employee's employment with the company, a specific sequence of tasks is performed. Employee Onboarding refers to these operations.
Probation to Confirmation
Once an employee is recruited, he usually goes through what is known as a probationary period, which will last anywhere from one to six months. During this time, the organization and the employee evaluate each other to determine whether or not to continue working together. The employee will usually go through a confirmation process after the Probation period.
Employee Information Management
Maintaining correct knowledge about employees is one of the most critical tasks performed by the HR department. Name, gender, date of birth, joining date, contact information, telephone numbers, email addresses are some of the important sets of data that must be kept up to date. Also, they ask for previous employment history, information about the current company's department, place, reporting manager's email, and track of Visa, nominations, company assets, and so on. One of the most important duties of the HR Department is to ensure that employees' accurate and up-to-date information is kept since a lot of operational choices are made by managers and management depending on the data.
One of the HR Department's responsibilities is to manage or administer the organization's leave policy. 
Tracking Attendance records
Daily, tracking the amount of time worked by an employee, the time when he comes in, the time when he exits, etc., is now drawing a lot of attention of organizations and consequently of the HR department. Apart from using this information for payroll processing, organizations would also need to generate several statutory reports based on the attendance data.
Salary Revision and Increment Process
In coordination with the management Team, HR Departments are responsible for determining or revising employee salaries. A pay revision letter is usually sent for a salary revision. This data is then sent to the payroll team, which will incorporate it into the following payroll.
Salary Disbursement and Payroll Processing
Payroll management is a crucial task for both the organization and the employee. Apart from statutory compliance, it is closely related to one of the primary reasons a person works with an organization.
The HR department is evolving from a task to a more central role. One of the secrets to an organization's performance is having employees whose needs and interests coincide with those of the organization. The HR department plays a critical role in achieving this cohesion.
This aims to enhance employees' skills and knowledge. The new hire is trained on the products and processes of the organization. Employees are also specialized in soft skills such as leadership training, leadership qualities, and so on, as well as interpersonal skills such as time management, behavior, and so on.
Performance appraisal is a comprehensive task that assists an organization to measure the extent to which employees are achieving outcomes that are consistent with business goals. HR professionals develop, incorporate, and retain the Performance Management System (PMS). This task is concerned with the processes of establishing success objectives for teams or entities, as well as the creation of performance evaluation approaches.
The Need for an HR Portal
The fact is, the HR roles are increasingly relying on Data Analytics and automation. With Artificial Intelligence (AI) being the buzzword, everything is driven by delivering the best insights at the perfect time. This isn't restricted to large companies; entrepreneurs and growing businesses experience numerous obstacles that can only be mitigated by getting proper systems in place.
Data Management
Employee Self Service
Guaranteed Statutory Compliance
Today, an increasing number of businesses are turning to AI-based HR software to forecast the results of executive goals such as KRAs, etc. Employee training on emerging technology using AI to grasp new technologies and demonstrate the benefits to workers is leading to an increased application of digital technology.
How to implement Data Analytics into HR Portals?
Microsoft Power BI is the best solution. It gives you the insight you need about your Human resources and provides authentic and real-time insights into your data, enabling you to get a deeper understanding of your HR KPIs. It is easy to create dashboards to track employee turnover, efficiency, and training effectiveness. HR practitioners with no IT experience can easily follow and use these dashboards. 
Microsoft Power BI HR dashboard examples:
Dashboards for voluntary turnover
Dashboard for training efficiency
Dashboard for recruitment
Dashboard for employee management

Conclusion
This is how human resources portals influence employee performance. Brainvire is a Microsoft gold partner if you want to introduce an advanced, analytically-driven HR portal personalized to your company needs. Contact us now to learn how our Power BI approach will help reduce the everyday tasks of your HR department.