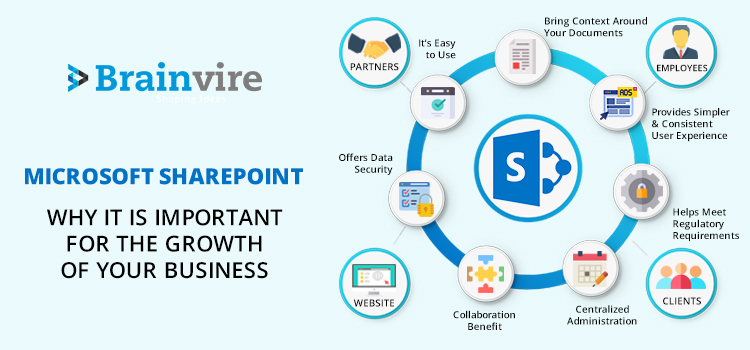 Talking About Microsoft SharePoint- Why It Is Important for The Growth of Your Business, Did you know about the web-based collaborative platform that integrates well with Microsoft Office? Yes, we are talking about SharePoint! For those who do not have much idea about it, it is a document management and collaboration tool developed by the world's famous American MNC Microsoft. It contains a set of technologies that are well integrated with Office 365 along with document management capabilities.
Although Microsoft SharePoint has been around since 2001, businesses started to harness the power of collaboration with the release of SharePoint 2007. The final version of Microsoft SharePoint was released in the year 2016 that included several advanced functionalities for end users, IT professionals and administrators.
Let us understand why SharePoint integration is so necessary nowadays.
1. Bring Context Around Your Documents
When you store your documents in a folder on a server they are stored in a traditional way. The reason why we ask you to utilize SharePoint is that it brings context around your folders saved on the server. For instance, it is easy to track the running version history for each document and recording the changes. That means you get more information that comprises of the history and context of the document saved in a folder.
Want to convert your idea into a successful app or website? Schedule your free call with our expert now.
2. Provides Simpler and Consistent User Experience
SharePoint is very well integrated with client-side applications such as email and web browsers to offer a consistent user experience. It is meant to simplify the way people interact with content, processes, and business data. This integration is combined with robust and outstanding functionalities that promote product adoption.
3. Helps Meet Regulatory Requirements
With the help of SharePoint, you can ensure that your sensitive and important business data can be controlled and managed effectively. All you have to do is specify the security settings, storage, and auditing policies, and expiration actions in relation to compliance regulations.
4. Centralized Administration
SharePoint's architecture is open and scalable and offers support to web services. It effectively manages to control the entire platform. With the help of this centralized administration feature, managers can easily access various functionalities such as managing the features and system settings, monitoring SharePoint, performing backups and restoration, and managing security settings. Managers also get the right to upgrade SharePoint, change general settings, and use configuration wizards.
5. Collaboration Benefit
This feature allows the team members of an organization to stay connected and informed throughout the project's lifecycle. This feature of SharePoint is important for organizations that are not geographically connected. It allows branches of an organization located at different places to connect with each other via one portal. It also offers a smooth and efficient approach to team-based work which allows a free flow of information throughout the organization. This, in turn, promotes better decision making.
6. Offers Data Security
This software provides security both at the broad and single unit level. The 2010 version of this software helps the organization in protecting data from unauthorized access. It does this by offering you the managing permissions for sites, lists, folders, and documents. It also ensures that the integrity of the data stored in the SharePoint cloud is not compromised.
7. It's Easy to Use
The software comes with features and tools that provide the organization with the ability to quickly respond to business needs. SharePoint has many functionalities through which you can build or update a website and even create a tool for a specific need. In simpler terms, it lets you build tools and solutions that you can access without having to consult a developer.
Talking About Microsoft SharePoint- Why It Is Important for The Growth of Your Business, Implementing this software is easy, but assessing the prerequisites for the implementation makes the difference. We recommend that you sit with a SharePoint consultant to perform business analysis to create a sitemap and learn about its work and leverage the best practice experience. Let us discuss the three steps to a successful implementation-
1. Perform Business Analysis and Evaluate the Requirements
Before implementing SharePoint, it is necessary to perform business analysis and evaluate the business requirements. Understand your requirements and know which of these can be fulfilled by this software and which cannot. Take a look at the existing shared documents drive and analyze what you want the software to do from a collaboration point of view. Find answers to questions such as what calendars need to be set up, do you need a CEO forum or a forum of new ideas and more?
2. Determine the Relevant Service Model
There are different versions of SharePoint and the first one is free. You can utilize the free version of this software after communicating to your IT guy as it comes with some limitations. Among other available options, you can seek the benefits of Office 365. Microsoft's Cloud SharePoint solution allocates as much space as 100GB per site. Another option is to host your SharePoint with the help of a third party provider.
3. Finally, Educate Your Employees
SharePoint is easy to access. Even if you are a non-IT professional, you can perform functions such as administrating, updating and changing with proper training. You can subscribe to the training courses available for SharePoint, download the video tutorial, or share the links with the employees.
Whatever the industry is, every organization works with only one goal – to increase productivity along with cost savings. As an organization, you can use Microsoft SharePoint as a tool to create websites, or as a secure place to store, organize, access and share information using any device. Also, all the deleted data is stored in the recycling bin for faster recovery, if needed. This software is becoming a market leader in document management and collaboration.
Talking About Microsoft SharePoint- Why It Is Important for The Growth of Your Business, Most of the IT organizations have already started working on SharePoint, it is time for you as well to get on board. As this helps, you share and manage all the important content, knowledge, and applications to empower teamwork. Your employees will be quickly able to find information and smoothly collaborate with other organizations. Contact Brainvire a leading SharePoint Development Company to Hire SharePoint Developers.