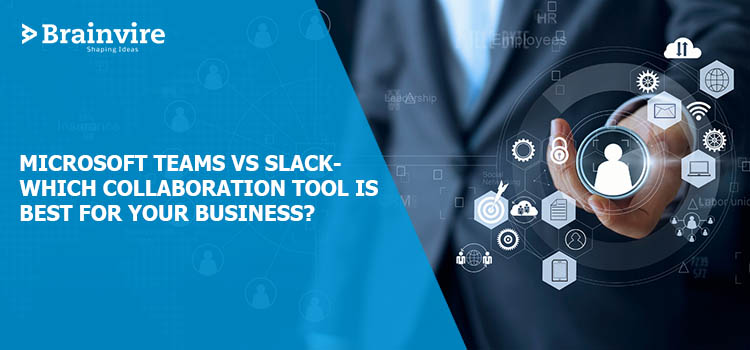 The team collaboration software market reached $9.5 billion globally in 2019.
With the COVID-19 pandemic leading to a complete shift to remote work, communication and chat resources are more essential than ever.
Businesses are scrambling to introduce collaboration tools to keep efficiency up in these unpredictable times.
Lets's take a look into the major differences between the two market leaders- Microsoft Teams from Microsoft Enterprise Services and Slack.
Difference between Microsoft Teams and Slack
In this post, we will compare Microsoft Teams to Slack based on different aspects such as functionality, pricing, user experience, and market share.
Free Plans
Slack offers unlimited users and messages with all plans, and Microsoft Teams offers 500,000 users and unlimited messages. 
A major difference is that Slack allows you to search up to 10,000 documented messages in free workspaces. On the other hand, Microsoft does not place a limit, letting you search your whole message history openly. 
The free Microsoft Teams plan additionally incorporates screen sharing, which can only be availed in the paid plan of Slack.
Group video calls and video conferencing are additionally included in the free plan of Microsoft Teams. However, with Slack, you are restricted to one-on-one audio and video calls in the free plan.
Generally, Microsoft Teams' free plan has better highlights than Slack's with fewer constraints. 
Want to convert your idea into a successful app or website? Schedule your free call with our expert now.
Pricing
Slack's essential plan "Standard" begins at $6.67 per user per month. 
It eliminates the cap on accessible messages, applications, and integrations, and video calling. It also incorporates 10GB of file storage per user, rather than 5GB for the whole workplace. 
It additionally permits your organization to include visitors and external associates, ideal for offices and advisors who work closely with partners and clients. The "Plus" plan costs $12.50 per user with advanced compliance and security features, priority 4-hour reaction time, and 20 GB storage for every user. 
There are no paid plans for only Microsoft Teams. Instead, there are Microsoft 365 plans that include Teams, and different applications. Microsoft Cloud services have paid plans starting with "Microsoft 365 Business Basic", at $5.00 per user every month. This includes a collection of their tools, including Teams and SharePoint. Desktop versions of Word and PowerPoint are excluded.
You enjoy a true price advantage when your organization is already paying for the Microsoft 365 suite. The Business and Enterprise plans incorporate the premium version Teams. 
User Interface
Let's shed some light on user-friendliness, onboarding, and instructions that the two tools offer.
Slack has a smooth UI preferred by the industry.  
Moreover, Slack has multiplied on making a characteristic onboarding process, with specific instructions for new users. Potential users will get a greeting by email. 
Next, let's take a look at the UI of Microsoft Teams. 
Most Slack contenders copy and Microsoft Teams is no exemption. The touch and feel of the UI aren't totally different. 
Microsoft Teams offers some direction with regard to onboarding in the form of documentation and an instructional video. But it's not as intuitive as the instructional video from Slack. The "groups" replace the "channels" menu-segment from Slack. Each group can have various channels to keep correspondence separate for different ventures.
Shortcuts and Productivity
Let's see which tool has the best shortcuts and profitability functions.
Slack is an efficiency trailblazer, with shortcuts and profitability hacks for pretty much everything. Indeed, even Slack's web application has a complete rundown of shortcuts you can use to increase your profitability. 
Slack also has advanced search tools that will help you locate the messages you're searching for faster.
Microsoft teams have, of course, followed suit and attempted to introduce similar productivity-enhancing shortcuts, but they're not as structured or intuitively helpful as those from Slack.
Bots and Workflows
In this segment, we'll plunge into the bots and workflows with each tool. 
Slack's "Slackbot" is included with each workspace. Slackbot is savvy and has valuable highlights that will assist you with automating regular tasks. It has a large group of combinations to help you automate essential workflows.
Microsoft Teams does not have an exclusive chatbot. You can choose from third-party apps that can be integrated with Microsoft Teams.
Integrations
Clocking over 2,000 applications to enhance its features, Slack is a strong pioneer when it comes to integrations and applications.
There are currently 530 + applications and integrations related to Microsoft Teams available in the AppSource store. But if your organization is already operating with Office 365, you might think that Microsoft Teams has the advantage here.
Slack has integrated apps for all major Office 365 programs, including Outlook, Calendar, OneDrive, and SharePoint.
Slack also has more than 2,000 other applications and integrations available, including the complete G Suite.
Security and Compliance
Both Slack and Microsoft Teams provide critical security features such as two-factor authentication for all their plans.
You may think that as a company-focused business, Microsoft is supreme, but Slack has also improved its game over the last few years.
Slack is consistent with most fundamental ISO confirmations, and you can demand explicitly arranged workspaces that are HIPAA-complaint too (HIPAA-compliance is only accessible for big business plans.) 
This settles Slack as a reasonable choice for organizations in many ventures that are searching for a collaboration tool and are stressed over security or compliance.
Microsoft Teams offers marginally better access control, data management, and security. 
Which Collaboration Tool is Better for Your Business?
The answer depends upon your current situation and requirements.
If your organization already uses and pays for Office 365 Business, then Microsoft Teams could be a better option. It offers many similar features as Slack, and a pro plan won't cost you anything extra as you're already paying for it. 
However, if you don't, you might want to make the switch. 
If your company is simply looking for an instinctive chat tool with incredible productivity features and integrations, then Slack is a good option.
All things considered, the two tools come out as equal, with slight preferences for Slack regarding UX, bots, and profitability. 
Microsoft Teams has a more flexible free plan with screen sharing and video conferencing, and its Basic Plan is also less expensive.