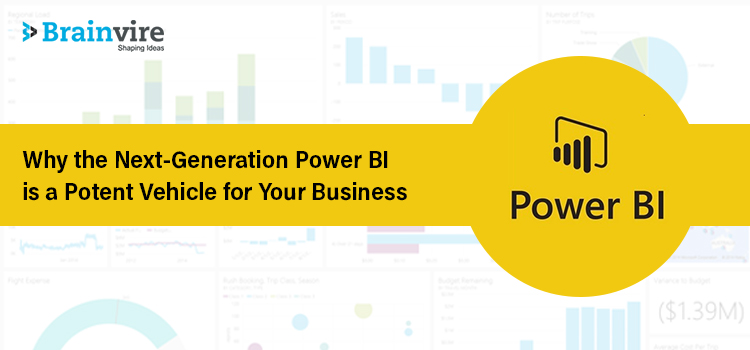 Business Intelligence (BI) and Big Data have been the buzzwords that are steering the business ahead. However, business enterprises are leveraging further with a new digital transformation trend that is more intelligent and efficient – the Microsoft Power BI.
Microsoft Power Business Intelligence is a robust next-generation analytics platform that enables business organizations to analyze data and share insights. You can share your insights amid the various departments and colleagues with the help of visually appealing dashboards. You can keep a close eye on your business performance with a flexible and accessible approach to seamlessly implement BI tactics.
According to research, the market share of Microsoft Power BI is about 4.48% with about 9,885 companies using it. The USA has the largest Power BI customer-base with 53% followed by the UK. These stats will certainly improve in the future.
Major Components of Microsoft Power Business Intelligence
Power BI Gateway
This is the core aspect of the Power BI that provides access to reports and insights as well as controlling and securing the database.
Power BI Mobile
This feature lets users view reports and other information on their mobile devices in real-time. This means users remain up-to-date with the data.
Power BI Desktop
This component allows business analysts to prepare reports and view data connections to publish the same in the shareable docs. They can also add additional data sources.
Power Query
Power Query is a vital component of the Power BI. It helps you to read data from the databases as well as delete them from different data sources.
Power Pivot
Power Pivot is an Excel add-in that enables you to perform powerful data analytics and develop best-in-class data models. Apart from that, it also simplifies the large volumes of data mashing, analyzes the information and shares insights.
Power Map
Power Map is an advanced Power BI component based on a 3D visualization tool for Excel. It enhances the experience of visualizing and making discoveries in data that cannot be viewed in the traditional 2D excel.
Want to convert your idea into a successful app or website? Schedule your free call with our expert now.
How Can Power BI Help Escalate Your Business
1. Accessing and Storing Huge Volumes of Data in No Time
Microsoft Power Business Intelligence is a robust platform that is efficient enough to view, analyze, and store huge volumes of data with ease. This is something that is not possible with the traditional excel sheet. For instance, the system takes a lot of time in opening a file size of 300MB. But the Power BI is an exception. It uses powerful compression algorithms to compress the file size.
What's more important is to note that while compressing the file size, you don't lose all your important data and information. Moreover, all details are stored in one file, which can be accessed anywhere anytime.
And that's not all.
Power BI allows making modifications such as changing the formats, removing or adding the rows and columns while preparing the data.
For those with a star or snowflake schema, Power BI lets them establish relations with different tables.
It adds new datasets as additional data with ease, integrating with the new data without the need to recombine everything.
It offers flexibility while connecting the datasets together.
Power BI has automated the process of data preparation. The advanced software memorizes the steps and repeats it systematically reducing the time and effort of the business analyst.
2. Ease of Publishing Report
Microsoft Power BI offers the facility to the users where they can directly publish the reports and insights on the internet. This makes it easier to post reports and visualizations on social media platforms that can be accessed by anyone.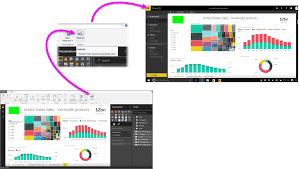 Additionally, the Power BI On-Premise gateway helps in the exploration of data sets on the organization's own server. You can monitor the number of website visitors and make a comparison of sales with customer acquisition. Power BI also offers a drag-and-drop-navigation benefit with an enriched library containing appealing visualizations and reports.
3. Ease of Integration with Microsoft Products and Services
Microsoft Power BI has been designed in such a way that you can easily integrate and use with other Microsoft products and services. These include MS Office 365, Microsoft Azure, Excel, and SQL server. You can upload the excel reports to Power BI to use them as a data source. It also allows you to benefit from the current scenario for finding actionable insights.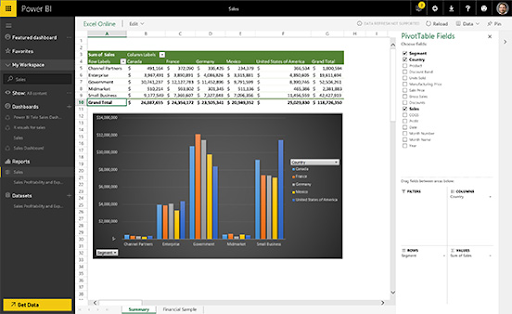 4. High Scalability Security and Reliability
The fact that Power BI is cloud-enabled offers you the right to add or remove any user at any time. Besides that, it also provides high scalability, security, and reliability to enterprise data. In fact, it is offering 99.9% uptime. This allows you to curtail your IT investment in Extract Transform Load infrastructure (it's a database function) via built-in connectivity to different data sources, both on-premise and cloud.
Power BI is known for its developer-friendly features that you can easily integrate into the applications and portals.
5. Power BI has a Natural Language Query Engine
One of the impressive features of Power BI is its natural language query engine. This means you can ask simple questions to Power BI such as what is the sales report during the last six months or how the sales are currently trending. Power BI will answer all the questions in real-time. In addition, it also provides a table or chart depicting the graphs and numbers.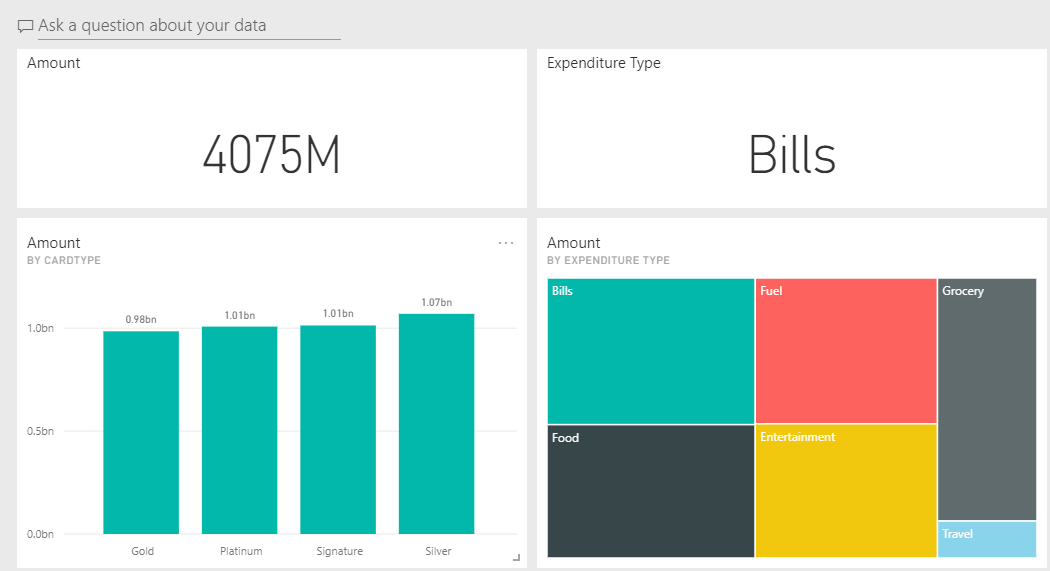 In case you are not satisfied with the first answer of the Power BI. There is an option to tweak the settings using the standard User Interface. If you find that the report is unsatisfactory, then you can pin it on to your dashboard and keep it updated daily. The reports can be used using mobile apps with a voice recognition facility.
6. Addition of Row Level Security
The developers have added a useful feature in the form of Row Level Security (RLS). This was considered a complex task for the traditional Excel sheet, but with Power BI coming into the picture, the job has become easier. In fact, it has simplified the task of the employees as they can only view only the specific data that is relevant to their local geographical area. It is easy to add access filters and there is no threat of any data leakage. If you have to set up the RLS, the first task is to set up the various roles within Power BI and then add the individuals to these roles using the Power BI online solution.
7. Can be Implemented with Ease
The implementation of the Power BI is quite simple. This means that Business Intelligent Managers don't need much support from the IT team to get the job done. They need to develop an API key and integrate it into the software. Power BI can even help IT firms in monitoring their data tools as well.
8. Power BI is Cost-Effective
Please note that Power BI solutions are cost-effective. You don't have to invest a large sum of money for implementing it. As such, it gets easily integrated with the business ecosystem. In fact, the basic plan is available for free.
Take Your Business to the Next Level With Power BI
Power BI is an innovative platform that is taking the business to the next level of data-driven technology. The fact that tech giant Microsoft has also developed a Power BI and is actively supporting it brings more enterprises to its forum.
So, if you want to take advantage of its exceptional features at an affordable price, contact us to gain an upper hand in the competitive market.