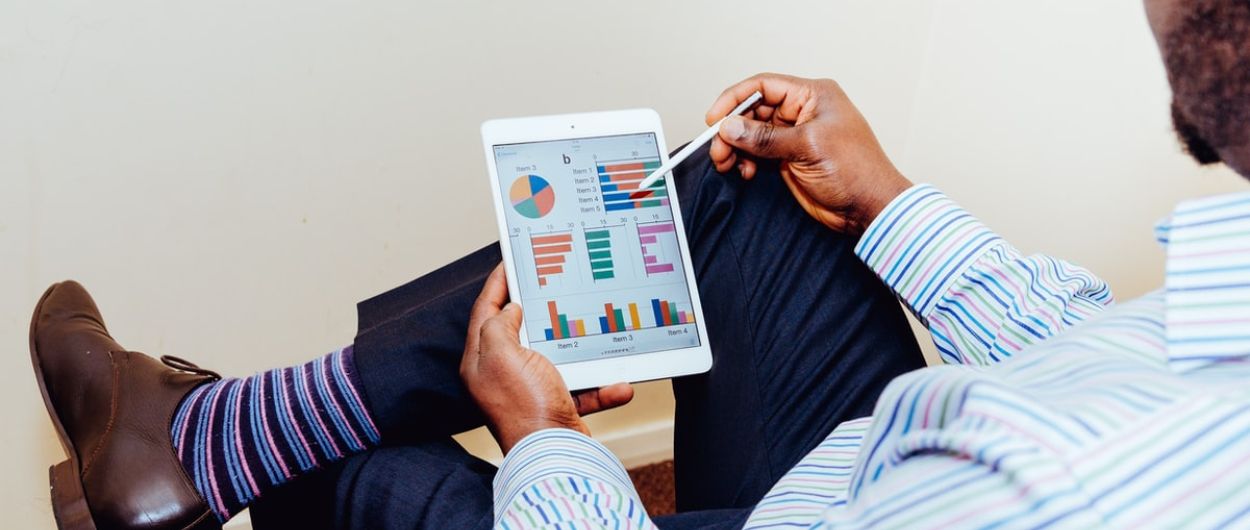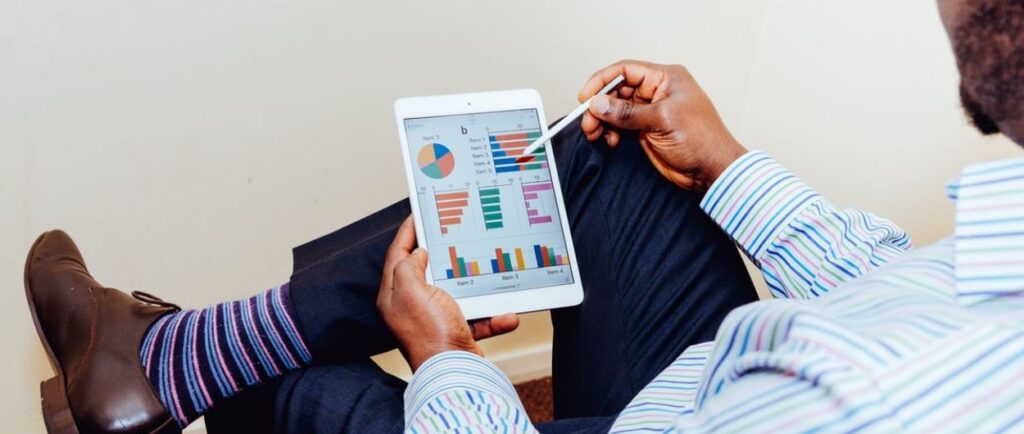 Postmates is an online service that provides goods to consumers at affordable prices across more than 90 metropolitan cities in the USA. Almost everyone compares Postmates' business model to Uber except for its customers, who may purchase from nearby stores without using a car. 
Customers can order everything in any city via postal delivery. In addition, Postmates sends out scheduled messages through their mobile devices, enabling them to track requests for supplies in a precise order.
Do you find yourself rushing to make basic purchases? Yeah, we all still live this way today, but we both know. Now we have a varied planet in which it is difficult for people to spend enough time sleeping. 
Instead, we try to control these fast movements that are always possible. Our smartphone has turned into a magic wand to give everything to you.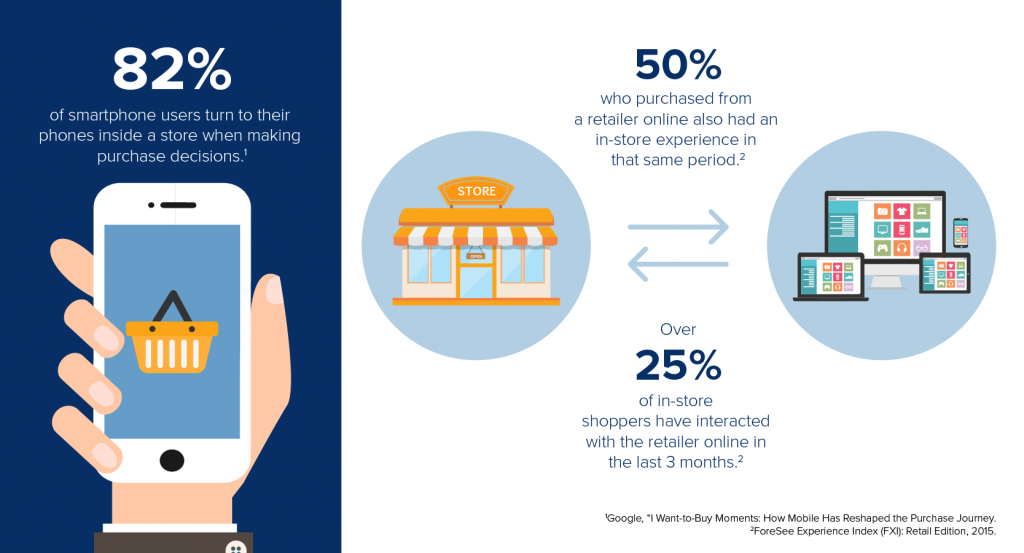 In this extract, we have discussed multiple aspects related to postmates business model and revenue sources explained:
The meaning of postmates
How Postmates Earn Revenue?
Postmates Growth: How They Find Customers
How Does Postmate Work?
The 4-Step Model About How Postmates Works
The Future Of Postmates
What Makes A Postmates App Stand Out?
Frequently Asked Questions 
The Meaning Of Postmates
Postmates is an online delivery system that allows consumers to buy and receive anything at a small fee. Postmates serves almost 100 metropolitan areas throughout the United States. Their business model is sometimes considered very similar to Uber.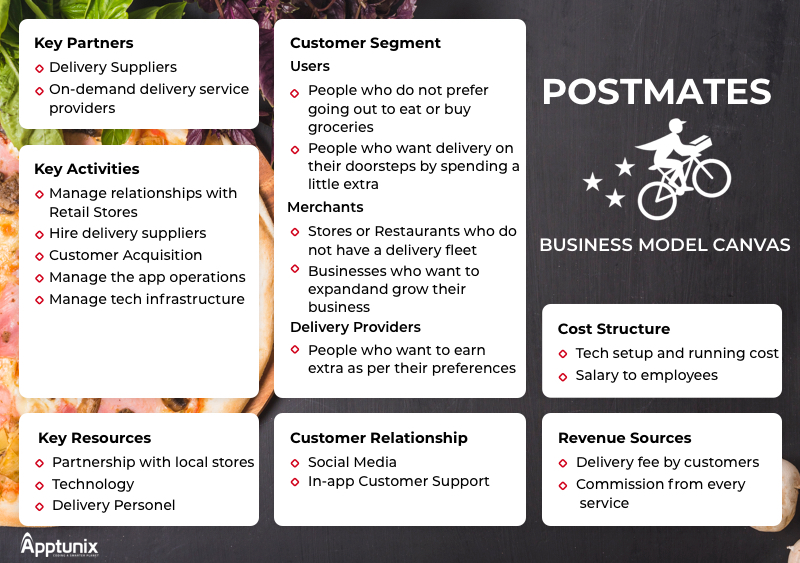 However, Postmates allows people to shop online at local shops rather than taxis from home. Postmates provide a service by delivering personalized deliveries to their clients using a network of human couriers.
How Postmates Earn Revenue?
If you plan on starting a business, then you are interested in is the revenue model. Postmate's business and revenue model is the company's backbone, leading to huge successes. 
Let's look at what Postmate's revenue models are doing. Postal service revenues come from three primary sources: 
Delivery Fee Postmates charges users a minimal fee per processing.
The shipping fee typically starts at $5, and sometimes a special offer is offered where a company can provide three or even three delivery options.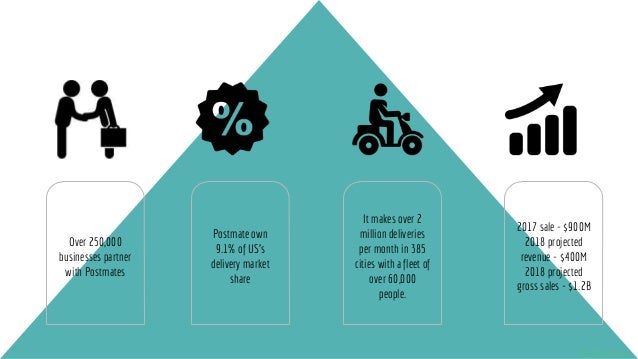 As a result, 85% of delivery costs go straight to the delivery company, while the remainder 20% will go directly towards Postmates' revenues.
Postmates Growth: How They Find Customers
You might understand the Postmates business model but, it'll be difficult for startup entrepreneurs to deliver services to gain customers. Tell me the best method of finding clients through social media? 
Postmates has already become an on-demand delivery startup, and it has already become an instant ad-based company. Postmates previously utilized online and digital marketing and other marketing strategies. 
In the TechCrunch report, Postmates recently announced they'd become publicly accessible. 
How Does Postmates Find Its Customers?
How can people get in touch with their friends or colleagues in a social network? The customer is just like a precious stone for every company, and the higher the quality. 
Customers allow businesses to flourish. However, after reaching large audiences, conversion into users becomes another issue for businesses. Postmates began using various marketing techniques when their target audience was snowballing. 
They use advertising, promotion, and many other types and formats of advertising. The digital marketing funnel shows that attracting customers is the first task of every business.
Customer Segments Of Postmates
Postmates serves three distinct segments described below as value propositions and value proposition models: Postmates business model provides unique value propositions to customers, delivery staff, and local shops. 
Tell me the value Postmates' gives this client segment? Customers: Retail: Shipping Persons: Postmates Model Business Postmates operates an army of humans that can deliver everything right at your door.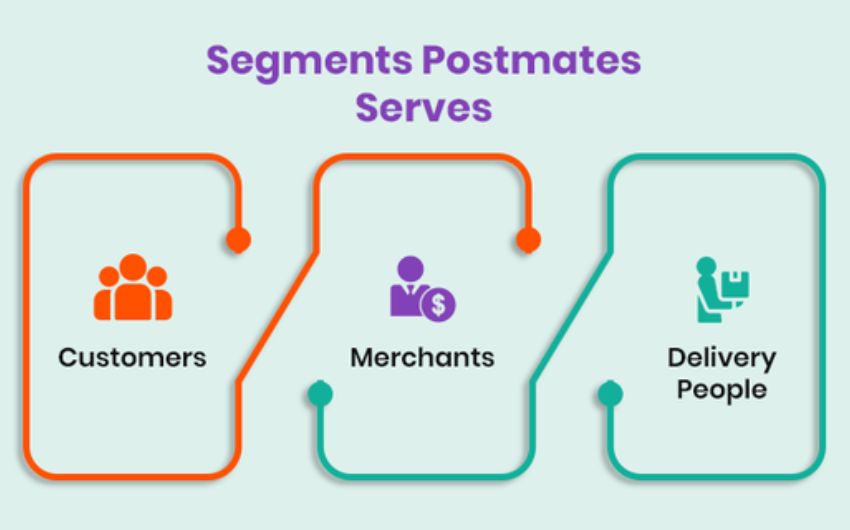 Even though Postmates has its own partnership model similar to some online startups, it can sell products even through other partners.
How Does Postmate Work?
The Postmates service connects consumers with local restaurants and retail locations through the web. Customers can order from the site or the app for iPhone or Android users. 
Users can order groceries and other items like electronic devices and clothing, along with food and beverages. However, Postmates only offers meals and prepares meals for consumers. Instead, it hires independent contractors who will be asked questions and complete the paperwork. 
Users can also make purchases without requiring a delivery charge. Postmates also handles payment transactions and categorizes products and restaurants in their network.
Track Delivery
Postmates Live Tracking Services lets customers monitor orders remotely. If delays occur in delivering goods, the delivery person may also text a customer. Payment for deliveries is made beforehand, so consumers will not be concerned if the shipment comes in. Instead, customers can get their orders once they get a delivery notification.
Make Payment
Once the buyer adds a certain amount of items to their order, it gets completed by delivery. Postmate can make payments to customers through e-commerce services in a transaction that occurs online. After payment of the order, the order will be considered completed.
Prepare Delivery
A Postmate notification is made if a customer places a purchase. Postmates visit stores and buy goods. During delivery, the items are shipped to the specified addresses of customers. The delivery personnel selected means that delivery will only take about one hour.
Add Your Products To The Cart
Customers are welcome to add items to their carts. It monitors a product and estimates the total price of a product. After adding a product to their cart, customers are informed of their purchases by clicking the "Add button."
Search For Your Products Through The Stores
Postmates lists participating stores and product lines. You can view every product or filter the product you need quickly. The user also may visit many stores selling the items.
The 4-Step Model About How Postmates Works
Postmates tries its best to build demand by creating demand. The smartphone app also allows requesting the article on the doorstep. Orders are sent to Postmates when payments have been made.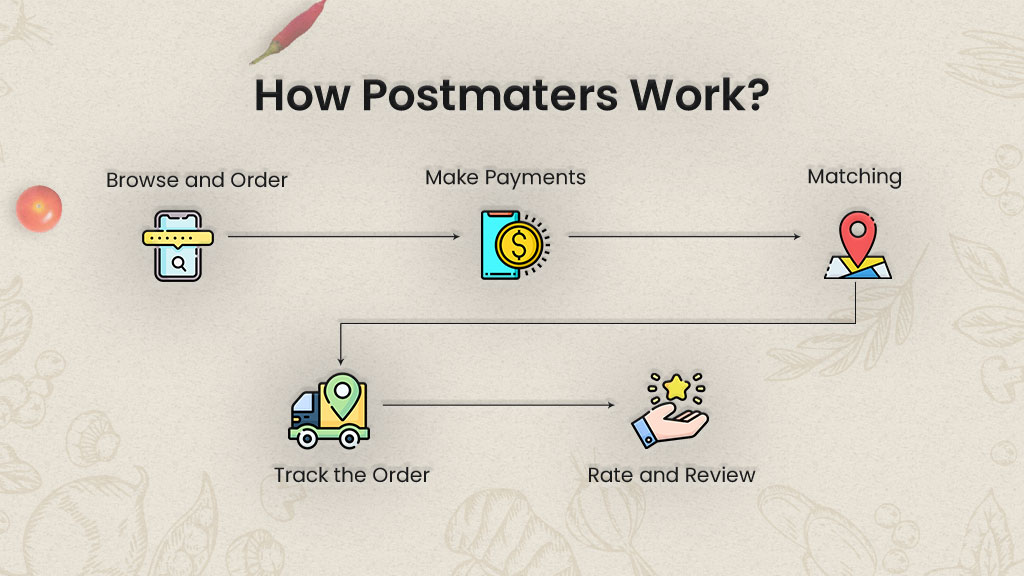 Delivery charges may vary depending on the location or delivery of the shipment. 
However, payment will always be processed in a postal office. 
Once orders are confirmed, paid in full, a notification regarding the order has been mailed to a postal mail station nearby to the shop. 
The shop clerk will take your order to the doorstep within the next 24 hours. Then, visit the posts by bike and drive.
There Are Three Main Revenue Streams For Postmates:
First, each transaction processed by Post Mate costs the user an additional fee. The delivery fee usually runs from $5, and usually, the business offers special ongoing deals that are offered for $3 or less. The remaining 20% is postmates revenues, but 20% comes directly from the delivery. 
Postmates charges a convenience fee in addition to the delivery fee. Techcrunch says the fees have not been capped at 9% yet. So it's easy to find good goods to get in your front yard without having to spend time. As a result, Postmate's revenue grew by 5%.
The Future Of Postmates
Postmates is always in a constant fight with Uber GrubHub, Amazon, small online startup companies, and small startups in the form of stiff competition. However, the business models and business strategy are well understood, and it is now possible that you can view the most useful startups in your field. 
The API release provided an alternative path to the expansion of Postmates but also announced plans to merge the company with Doordash to avoid Uber. Postmates was also #1 on Instacart and Walmart through their other major partnership.
Looking for a software developer to create a top-notch mobile application?
Talk to Brainvire experts and clear all your doubts!
What Makes A Postmates App Stand Out?
What about posts? Yeah! The success of the Postmates business was primarily due to some unusual attributes that were evident from the fact that it was very successful. 
From early on, the company's goal was to create an innovative and distinctive business model that would differentiate its products and services from competitors. 
The app had such high profile features for the segments it was promoting it had made the app a great success. This is what makes the market different and unique.
Postmates'excellent founders have several unique attributes, and outstanding capabilities make its application more responsive. In addition, Postmates has always emphasized the importance of differentiation from its competitors in the marketplace. 
The app came out of the spotlight so early because it covered the unique features they envisioned. The following characteristics help the Postmates app differentiate itself on the market. 
Postmates' Business model
Postmates have four significant steps. First, it's a perfect way to make a living from Postmate's work. Second, a framework is a technique that tracks consumer needs from big technologies companies. Third, during orders, orders are due. 
The delivery charges can be incorporated into the total cost of the postage, and the result shows how much postal charges are. The third steps match each other up. How does postmates' fleet work? Product details are sent out by a messenger close by the store when orders are submitted to a customer.
Postmates' Pickup Model
To counter the competitive market, the company recently introduced picking up. It was created with a mission to enhance the merchant experience. 
So the customer can order before entering a restaurant or store to prepare food or products. The three-stage models describe how food and other items are purchased from Postmates when they visit the store. 
A charge will not be charged for the delivery of shipments. Customers are notified by email about their order and its preparation status. It only arrives when orders have been received. Postmates can help you if you miss an event or wait longer.
Postmates Revenue Model
Postmates has numerous revenue sources. Postmates has some of the best examples: Postmates has no website that describes the services it provides. The fees, therefore, contribute heavily to Postmates'operating model. 
All orders you make are charged directly by the firm. Those fees for postmates range between $99 and $1,000 per order and can also be paid by a merchant. In addition, upon purchase from an associate dealer, Postmates will charge a shipping fee of $399 and any dealer between $599 and $99.
Postmates Marketing Model
Customers are a precious commodity of any corporation, and getting a better deal is more important. Depending on the customer, a business may be successful or declined, and it's a good idea to have customers for business purposes. 
Despite having received a broad audience, it can be a hurdle for companies to convert consumers. Therefore, postmates started utilizing many marketing techniques to gain clients. Digital advertising and promotion tools were also extensively used in this context. 
Digital marketing funnels show that this is the most important task a company looks at. Another part of the funnel should involve customers.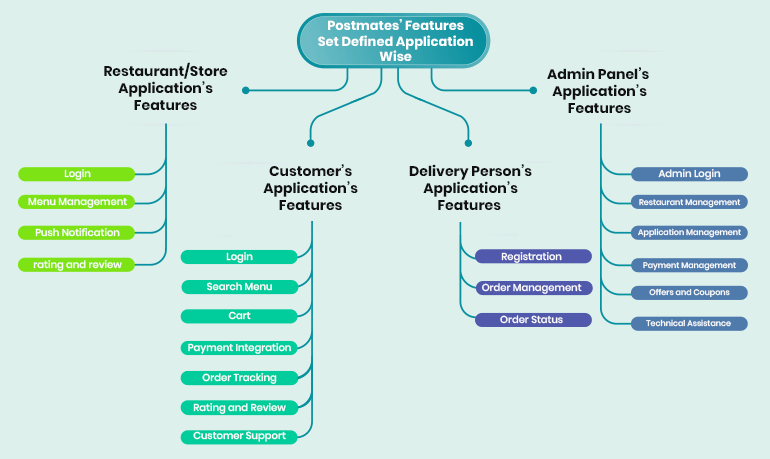 Postmates' Customers Relationships
A good customer relationship will help increase the profitability of a business regardless of the size or the sector. Postmate is a high-quality food supply company providing excellent customer care for questions and complaints. Their website also contains replies to a few FAQs. 
Tell me about the cost of Postmates? It takes the most effective social networking to win the hearts of the masses. Social networks offer an excellent means of building brand awareness and directing consumers to their followers.
Segments Postmates serves: Customers, Merchants & Delivery Persons
Postmates generally help cover three significant sections: Customers, Merchant & Delivery Person. Why? Tell us the story: Postmates staff work alongside general merchants to create an attractive website for an enormous audience. 
They often offer small payments to the postmates and the retailers they work with. So postmates work with a merchant. Because of this, the client finds it very much cheaper for them to share a substantial amount of the money with Postmates.
Frequently Asked Questions (FAQs)
Among the apps that resemble Postmate are InstaCard Grofers, FreshDirect, Talabat, El Grocer, and others. Developing a Postmate app can range from $50 to $50,000. Several features influence pricing. You, as the owner, can keep the finished result. 
You will require expert help with the back end and keep apps running smoothly. An. There's practically everything delivered by Postmate, from headphones to fresh shirts to groceries!
Values by Postmates
What is the purpose of postmates? Postmates offers valuable incentives to its three segments: customers, retailers, and customers. Let's see how the remarkable value proposition works for both the user and the business. Is it necessary for you to have an app for your iPhone and Android devices to develop quickly and efficiently?
How Does Postmates Work For Customers?
Postmates operate pretty straightforwardly. A user can order via the app after searching numerous food or restaurant options. Once the customer has paid the purchase price for the order, Postmate will arrange to pick up the order at the restaurant before the delivery of the product is complete.
How Much Does Postmates Cost?
In most cases, it is difficult for Postmate's customers to find an app development service for their needs because it ultimately relies on many factors such as the features, team sizes, technologies, geographical location from which the app will develop, etc.
How Much Is The Postmates Delivery Fee?
Postmates' delivery charges range between $29.50 and $3.50 for Partners and from 5.99 to $9.95 for other merchant types. The delivery fee automatically rises amid surges in supply.
How Much Does Postmates Pay An Hour?
It depends on the number of deliveries and tips that are received. However, most postmate drivers are paid $25 an hour in general.
How Can I Make An App Like Postmates?
Postmates is a free app developed using cutting-edge technologies.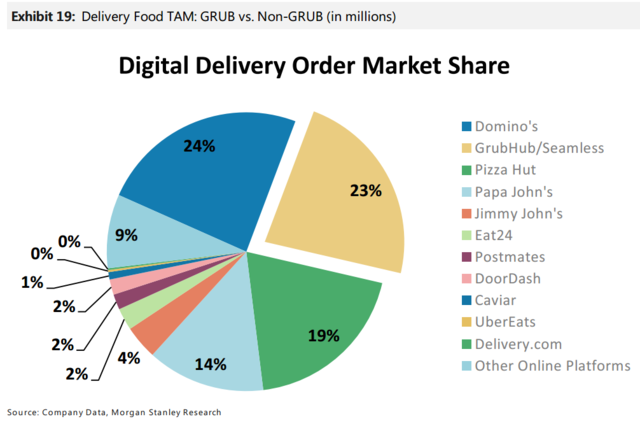 Final Note
That is our approach to the Postmates business and income model. If you loved this article on Postmates' strategy for achieving success, you could read more about these business models on our website.