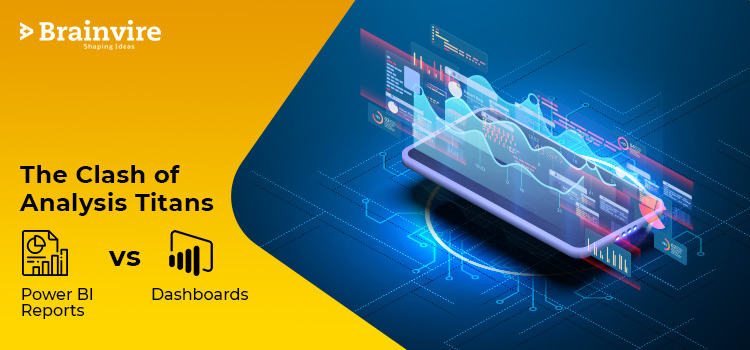 Power BI is a Microsoft tool that empowers businesses to share business insights within the company. This advanced tool can help to collect, crunch, and analyze data in the best possible way.
It can convert data into charts, graphs, and other graphical formats for your easy understanding. With time the tool gets updated and new features are introduced for user convenience.
Businesses can approach PowerBI consulting services to learn more about updates and the successful implementation of tools.
In this article, we have covered the following about PowerBI-
Getting Familiar with PowerBI Reports
Getting Familiar with PowerBI Dashboards
Prominent Aspects That Differentiates PowerBI Reports and Dashboards
Getting Familiar with PowerBI Reports
PowerBI reports are a blend of a variety of visual components such as charts, texts, values, and many others that are relevant to one another. It highlights original dataset fields and tables.
It is easy to slice the data with the help of slicers to enable complete communication with the user. Power BI Desktop and service is the most favorable option to generate reports since it has the most advanced and updated features.
PowerBI reports can offer the following-
A comprehensive view of all correlated components
Transforming complex data in easy to understand format
Quality driven insights and conclusions
Modern and innovative form of reporting
Want to convert your idea into a successful app or website? Schedule your free call with our expert now.
Striking Features of PowerBI reports
Smooth navigation across pages through pane and reliable multi-page support
Easy interactivity through significant elements
Use of slicers to slice/dice data in reports
Drill facility to navigate data across different parameters
It's easy to publish reports on social media platforms
Getting Familiar with PowerBI Dashboards
PowerBI dashboard is a flexible compilation of different tiles. These tiles offer you a visual glimpse of different reports, tasks, or workbooks. These are static tiles with text, images, or URLs.
Although these data tiles are static but they are customizable and can highlight accurate metrics, details, and KPIs. PowerBI dashboards are dynamic in nature and hence you can acquire real-time updates on the data.
Certain data is accessible to only top-level management or Board of Directors. However, today, with tailored dashboards, every user has the access to track and view data required for them.
PowerBI dashboards offer the following-
Real-time updates on business information
Comprehensive navigation of detailed reports and regularly reviews KPIs
Quality data collection and crunching
Flexibility in terms of data visibility 
Striking features of PowerBI dashboards
Featured dashboard is visible as a landing page
Different datasets are available on the dashboard
It's easy to change order and size of tiles as per user convenience
It's convenient to obtain insights from huge raw data
Frequent data alerts on dashboard tiles with automated refreshes
Real-time monitoring and quick sharing
Prominent Aspects That Differentiates PowerBI Reports and Dashboards
We have measured several parameters to differentiate between PowerBI Reports and dashboards-
Definition
PowerBI Reports- They provide a compilation of reports. They showcase graphical representation of the data usually in the form of graphs and charts to name a few. This graphical representation is highly interactive for users. They can also use filters to obtain precise information. They can be viewed from different perspectives.
PowerBI Dashboards-They offer you a better vision of the business data. Dashboards also make it convenient to navigate report origins. Dashboards offer regular updates on reports and all relevant business data.
Usability
PowerBI Reports- These reports make it convenient for sales managers or business analysts to analyze data and learn more about the company and the industry. This understanding can further assist them to make effective business decisions based on factual reports.
PowerBI Dashboards- Dashboards are used to view business insights and key performance indicators. These dashboards reduce the hassle of entrepreneurs. It provides sufficient information to entrepreneurs and senior employees to make the right business decisions through web or mobile apps.
Key Profits
PowerBI Reports- This is the ideal go-to option when in search of detailed analysis across different dimensions and facts. In case, you want to compare different parameters, then PowerBI reports can provide you with the actual facts to make the right choice.
PowerBI Dashboards- Dashboards provide a higher perspective of KPIs. This analysis can assist entrepreneurs to make better profit and loss decisions for the business. Entrepreneurs have an accurate knowledge about their profit and loss.
Real-Time Updates
PowerBI Reports- PowerBI reports have the capability to examine real-time data in detail. For instance, reports can provide you precise information about each and every medicine manufacturing company, their effectiveness, and related details. This can help you understand whether to reach that company or not.
PowerBI Dashboards- Dashboards can help evaluate the high visibility data. Real-time dashboards offer data updates almost every second. For instance, a healthcare institution can obtain updated information about patient medical history, treatments, and medicine manufacturing companies to name a few in a single breath. They can streamline activities as per these updates.
Industry
PowerBI Reports- Computer science and its technologies successfully introduced the PowerBI report model to simplify the task of generating business reports in detail. These reports have a high-end impact on the company's success.
PowerBI Dashboards- PowerBI dashboards are considered to be one of the prominent Computer IT industry's innovations after mobile apps. They simplify the daunting task of data management.
Study Materials
PowerBI Reports- PowerBI has evolved tremendously in the short span. Companies can make use of study material to learn more about PowerBI reports. Some PowerBI report study materials are also available online.
PowerBI Dashboards- In less than 5 years, PowerBI dashboard was introduced in the main PowerBI brand. PowerBI has recently developed study material that can educate firms about the optimal use of this facility. PowerBI developers can also provide you with the much-needed helping hand.
Applications
PowerBI Reports- Regardless of the industry of your business, reports play an integral part. They are used almost in every sector from sales to services and at different levels.
PowerBI Dashboards- In this modern business world, PowerBI dashboard is the most lucrative solution. The digital realm demands this innovative solution to maximize the use of business data.
Diversity
PowerBI Reports- Along with an improved decision making ability, PowerBI report also allows you to examine the flaws and striking aspects about different departments. For example, PowerBI reports can notify you about the decreasing productivity of your business and you can plan future strategies to improve it.
PowerBI Dashboards- PowerBI dashboards primarily organize the decision-making process so that you can make lucrative investments. They help shorten the decision making process and simultaneously increase profits.
Slicing
PowerBI Reports-PowerBI reports possess the feature of slice, dice, and filter. These capabilities make it convenient to generate quick reports and review them effectively.
PowerBI Dashboards- PowerBI dashboard doesn't have the feature to slice/dice data. However, it can provide you with updates on any new information.
Different Formats
PowerBI Reports- PowerBI reports can be extracted in different formats. Besides, it is easier to analyze the data through these reports.
PowerBI Dashboards- Dashboards can be exported to only a few formats which makes it easier to visualize the data.
When you actually use PowerBI dashboards and reports, you can understand its usability and effectiveness. Professionals can suggest the best solution as per your business requirements.
Get in touch with our team to know more about PowerBI dashboards and reports.