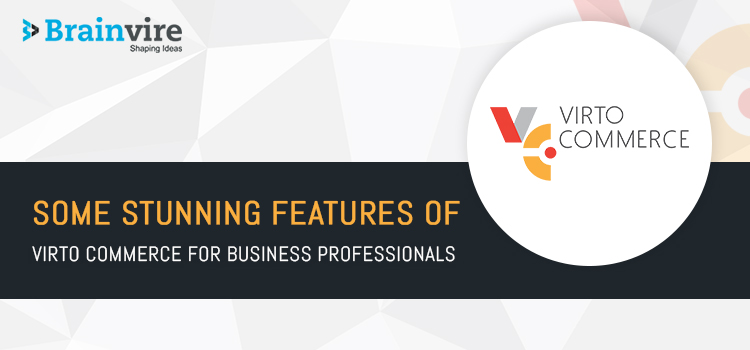 Developed by the team that created EpiServer Commerce, Virto Commerce is an highly scalable enterprise level ecommerce platform based on .Net framework and available under open source license. Virto Commerce offers powerful enterprise level features and gives you the flexibility to create unique ecommerce solution. Virto Commerce makes extensive use of MVC, EF, IoC, Azure and many other cutting-edge technologies and provides all the necessary tools required to run a successful ecommerce store.
If you are looking to develop a web store, Virto Commerce Development offers you powerful tools with the ability of full customization to increased online revenues for your unique business needs. Hire Virto eCommerce Developer and you'll be able to manage your online business across multiple sales channels and websites. Here are some of the stunning features of Virto Commerce that will help you build a robust web store and manage your online business activities with ease.
Catalog Management : The online business owner can manage their store better with different catalogs organized into as many virtual catalogs as they want. If you are already running an ecommerce store and wish to simply know how product catalogs are managed in Virto Commerce – all you have to do is integrate just the catalog module leaving all other parts of your existing ecommerce solution intact.
Multiple Store Management : You can expand your business on a global platform easily and in a very short amount of time with the help of this amazing and wonderful ecommerce platform. Reach to a wider audience and expand your target market with multi-currency, multi-language and multi-store management options. Connect to a large customer-base and enter into foreign markets that will surely boost your online sales, revenues and profits.
Pricing Management : Virto Commerce platform offers robust pricing management to maximize your profits with targeted pricing for different users. You have the option to offer special pricings to your regular customers such that they always keep visiting your store for shopping. Virto Commerce gives you greater control on pricing by separating the price lists from products.
Product Types : Provide your customers with a richer online shopping experience by linking related products, bundles, packages into kits or simply adding the products to shopping carts. Define the product relationships by indicating the product type you wish which includes SKUs, tax codes etc.
Advanced Template Engine : Templates basically defines different product types or categories. The Advanced Template Engine allows customization of the templates for individual products, categories or entire stores.
Promotions : The promotion engine enables the business owner to create free shipping campaigns, allow discounts on selected products, coupons for future purchases and much more. By creating varied promotions you can attract maximum customers to your store and increase your online sales and profits.
Customer Ratings & Reviews : With the help of this out-of-the-box feature, you can showcase to your customers the product feedback thus increasing the brand trust among your potential buyers.
Virto Commerce is a modern and innovative enterprise level eCommerce software that has been developed from the outset to meet the latest eCommerce standards. Virto Commerce is carved as a perfect eCommerce solution that will help you to build a successful eCommerce store that will boost your online sales. What's your views on this?