In today's digital era if a retailer wants to reach his customers through the digital platform, he should consider investing in trending technologies for the growth of his retail business. Once you start looking for 'trending technologies' you might get confused as you will get to see multiple technologies mentioned in different blogs. A proper R&D is needed when you think about 'technology investment' – as a bad decision can have a huge impact on your business! As a curious tech person, I have researched and analyzed the technology trends in the retail industry for interested people. In the next section, I will share the list of top 6 technologies that are trending (Retail Industry) in 2018 so that you can make the right decision for your retail business.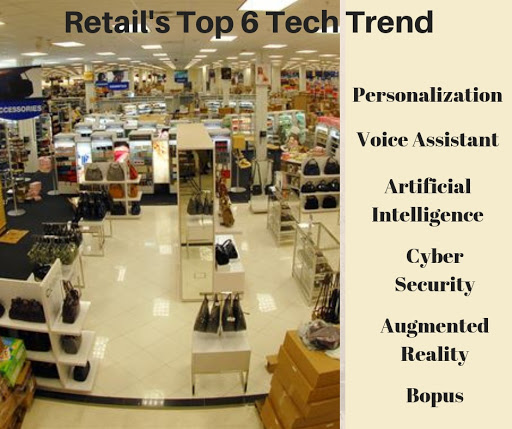 The steps you have to follow here:
Understand your customer's requirement
Have a look at the below-mentioned technologies to understand how they work
Evaluate which one solution will provide you with the highest return on investment
Here is the list of 6 top technologies based on my finding which have explained in detail so that you can make the right decision to improve efficiency & revenues in the coming days.
Personalization
Voice Assistant
Artificial Intelligence
Cyber Security
Augmented Reality
Bopus
Personalization
With personalized digital solutions it is possible to offer customized user experience. Instead of just using business cards, office applications & contact manager, the industry is adopting CRM (Customer Relationship Management) solution to fulfill their business needs. But why? This open source software follows a strategy to analyze the customer data from the database(it fetches personal data, purchase history, preference & feedback), personalize marketing efforts and improve customer satisfaction.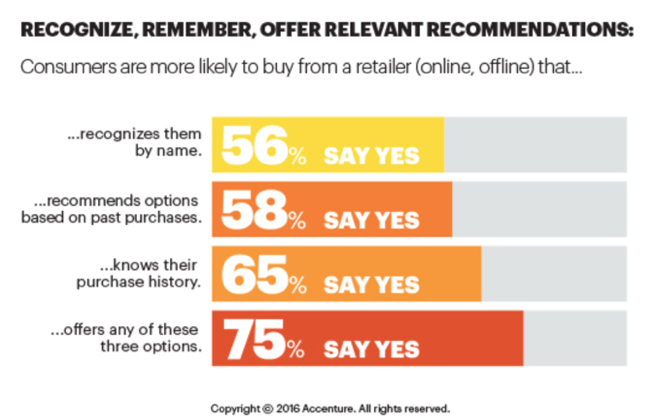 Source: www.accenture.com
Different mobile applications, email notifications, frequent promotional offers – all these are a part of providing personalized service to customers depending on their behavior patterns.
In other terms, the technology helps companies to stay connected with its customers who are coming to their store from different channels. After all, if you want to expand your business and revenue, you need loyal customers who will be there – only if you provide them with an awesome customer experience.
Voice Assistant
Nowadays consumers have started using voice assistant to search anything on the net. You might be familiar with Google Assistant, Apple Siri, Alexa, and Cortana. Well, in case you don't know, let me tell you – they are a group of 'personal digital assistants' who answers your questions using natural language user interface. So when a customer asks Alexa a question at any retail store – based on that the customer will get personalized product recommendations.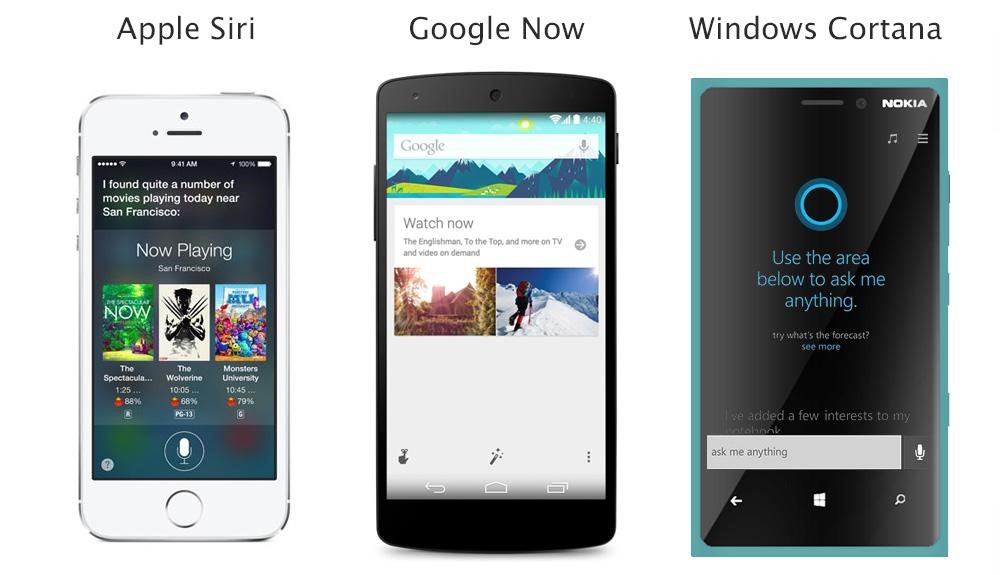 Major retailers such as Best Buy, Target, Walmart, Home Depot and some other big names have already started using these smart assistants to build a stronger relationship with customers. A smart voice interaction can provide a customer more personalized customer experience by informing about any product & its availability.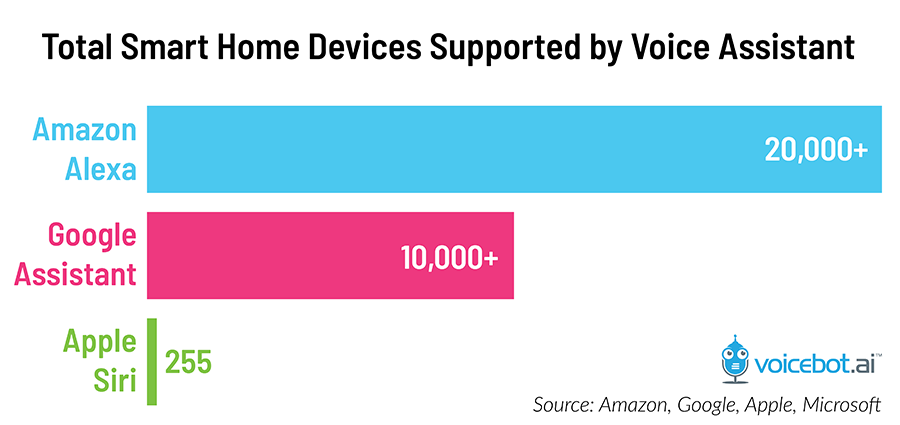 Source: www.Voicebot.ai
Artificial Intelligence (AI)
In the current scenario, Machine Learning algorithms are getting popularity for its relevant & efficient prediction across industries. AI is able to analyze customers behavior by checking a huge amount of customer's data available online & offline. Retailers can use this fact to recommend products to customers based on their search history and interest. In fact, AI allows consumers to browse through the digital catalog (personalized experience), see themselves on virtual mirrors to check if the outfit looks good on him or her and there are a lot more features using which a retailer can attract a large number of customers to the online or offline store.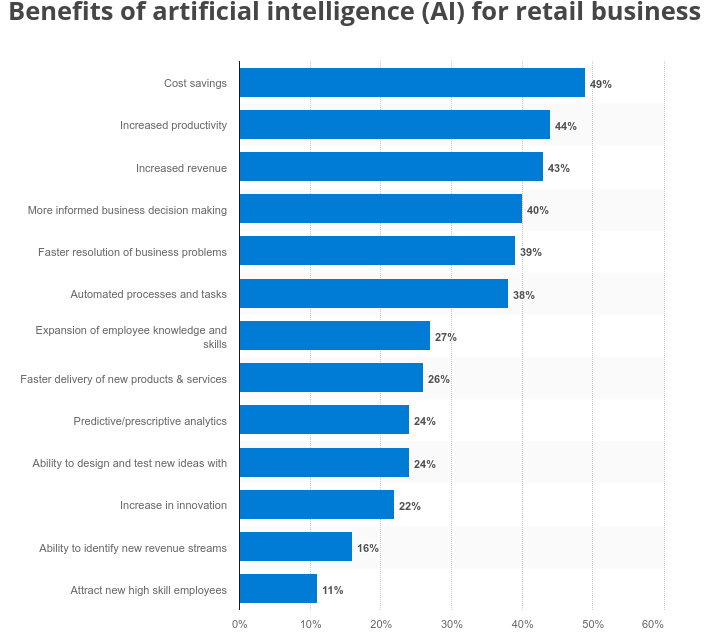 Source: www.statista.com
 Here is a short glimpse about some of the big brands who are taking full advantage of AI for their retail business:
| | |
| --- | --- |
| Company Name | Use of AI |
| Amazon | Drone delivery, Amazon Lex, Amazon Go |
| eBay | ShopBot, Voice Shopping (Google Home) |
| Kohl's | Uses AI for warehouse automation, inventory management, image search on its own website |
| Target | Voice Shopping |
| Alibaba | Smart speaker(works with Alexa AI), AI-powered supply chain technology, warehouse management |
With AI, retailers can customize shopping experience, optimize supply chain, increase conversion analyzing existing customer data and a lot more. This is the reason why big brands have already jumped in to take this opportunity and stay ahead of others.  And it's time for small retailers to give a thought on adopting AI for their business.
Cyber Security
Right from big companies to start-ups – companies are now spending money to improve cybersecurity. Security means trust. When the consumer gives his personal information to the retailers, it's retailer responsibility to take proper security measures to protect consumer data and intellectual property.
Yahoo, eBay, Target stores, TJX companies, Uber, JP Morgan, Anthem- these are the names of some big brands in retail who were the victim of cybersecurity in past. Threats can come in any form. It can be a bank account takeover, point-of-sale breach or website outage.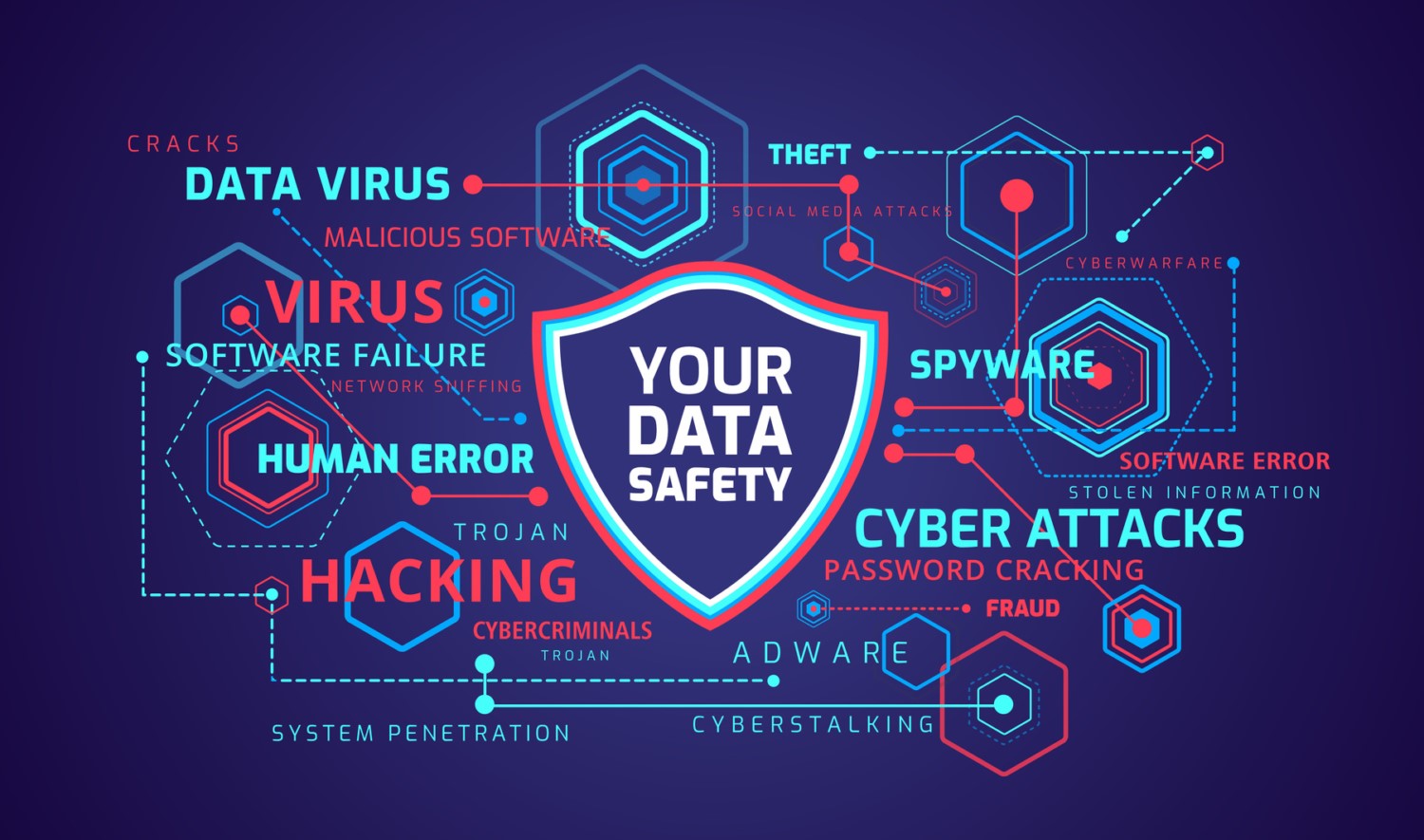 Credit:forestgraphic – stock.adobe.com
A security breach is not uncommon now but you must take precaution and necessary steps to protect your data. I would suggest a retailer follow the below tips that might help the business to protect the sensitive data to some extent:
Create a security policy & schedule a regular audit
Prioritize security along with privacy when you build new mobile apps on any platform
Monitor PCI environment
Identify & confirm security incidents- stay compliant
Follow proper security guidelines
Invest money in good security tools
The above suggestion is not just for small business or start-ups, those are valid for big companies too. As you know, "Security is a must in any Retail business!"
Augmented Reality
The emerging technology- 'Augmented Reality' has capabilities to surprise you through computer graphics and interactive environment. Retailers are going digital as more and more customers are going forward to experience shopping experience on the digital platform. According to a market research: "The augmented reality in retail market was valued at USD 411.3 million in 2017 and is expected to reach USD 7,951.2 million by 2023, at a CAGR of 47.1% during the forecast period. The base year considered for this study is 2017, and the forecast period considered is between 2018 and 2023."
Source: www.statista.com
With rich-featured technology solution, AR has the power to break the barrier between the real world & virtual world and make the customer experience virtual & versatile.
Customers can virtually try the 3D products and take advantage of virtual fitting rooms during the busy shopping season.
Awareness, Engagement, Conversion, and Loyalty – following these 4 stages, retailers are incorporating powerful AR technology for their online & offline stores to give the customer a flavor of an enjoyable shopping experience.
Bopus
Buy Online Pick Up in Store – a combination of online & offline shopping. Bopus is not new but for many retailers, it is still a significant challenge. Consumers prefer BOPUS to save the shipping cost. If you think from the business perspective, this strategy increases the probability to make an additional purchase when the customer selects in-store pick-up.
Benefit for the customer:
Convenience shopping, faster delivery, no shipping charge, easy return
Benefit for retailers:
Customer satisfaction will be improved, issues can be solved quickly
Home Depot has been using this strategy for some time and most customers are really satisfied with the service. End result: higher sales & increase in revenue.
If you consider the example of buying an expensive electronic product, it could be time-consuming as you need to do a lot of research before going for that product. Instead, if you choose and order it online and go to the store just to pay the bill, that will save a lot of time too!
A Final Word About It –
There are several technologies along with suggestions that are available on the web. The fact is, you should have a working plan and a dynamic strategy to expand your business. Understand your customer, list out the challenges you are facing and then choose the right technology that fits in your budget. Sometimes we just like to follow the trend but that might not suit your business.
If you have a business and you are planning to grow, get in touch with my team to get the proper guidance. My team will check your requirements, choose the right technology for your retail store development and together we will work on it. If you have any idea or struggling with a new concept- just drop a mail at info@brainvire.com.