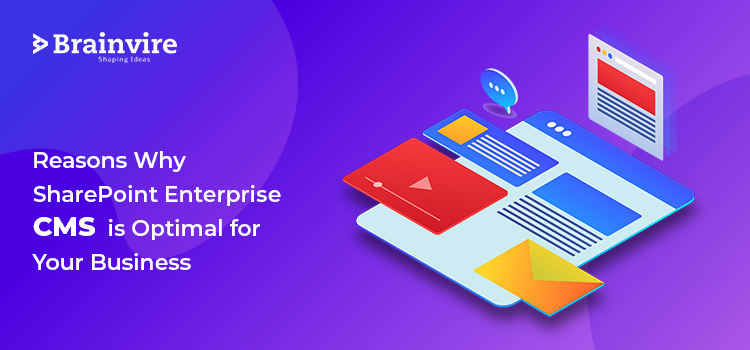 Enterprises process a pool of diverse content regularly. This comprises videos, images, emails, documents, and web content. It's quite a tedious task to manage the content that is to be searched and retrieved quickly.
Enterprise content management (ECM) software is the most beneficial solution to organize, find, and retrieve content. This software is well-designed to satisfy the increasing and complex needs of enterprises.
Over the years, SharePoint has helped several businesses to transform in varied dimensions. Similarly, ECM software on SharePoint is reliable and possesses enriched capabilities and tools. This empowers your business to improve and retain quality content.
SharePoint's ECM software possesses impressive features and is quite flexible; this makes it suitable for most enterprises. You can hire SharePoint developers to understand the system and its benefits.
In this article, we have discussed primary concepts associated with enterprise content management system on SharePoint-
An Overview of ECM software on SharePoint
Key Reasons to Select ECM Software on SharePoint  
Enterprise content management system (ECM) is a home of intuitive technologies that are combined to store, capture, manage, and share documents digitally. It is a one-stop solution for companies in search of a good and reliable content management system.
Enterprise content management software can simplify the job of monitoring and managing cluttered information, boost efficiency, and increase productivity.
However, every ECM is not the best choice for an organization. To realize the best potential of your firm's content management requirements, you need an ECM system with advanced and flexible features.
Want to convert your idea into a successful app or website? Schedule your free call with our expert now.
A system with widespread abilities to create records and manage documents with finesse. This is when SharePoint's ECM software comes into vision.
A single feature is not sufficient to choose a particular software. Modern businesses demand a single software with multiple features and functionalities to suit their business needs.
Discussed here are significant reasons why you as an enterprise must select SharePoint ECM-
Smooth Document Management
SharePoint ECM technologies and products can amplify productivity, manage a diverse range of documents with the help of following features-
Manage important document properties with ease- The software possesses the document information panel that allows you to browse and edit document properties such as metadata. Besides, you can perform edits in the same document and save time.
Manage versatile content centrally- The system can save and record all the content at a centralized location so that all your employees can search, share, and use the information.
Create a unique document- Document IDs grant a unique identity to every asset in the content database. This makes it convenient to create exceptional documents and locate them.
Handle metadata universally- Configure specific groups and sets for documents as this makes it easier to search and manage content.
Gain access to the information- Preset and uniquely-defined permissions offer you a variety of tools that can help gain access to information at different levels. For example, you can provide information access to a single or complete set of documents as per your needs. Besides, you are well-aware of who has access to your content internally.
Reuse settings and save time- Different content types need varied settings. This feature allows you to assign shared settings for similar content and save time.
Regulate collaborative document processing-Built-in workflow allows you to start, trace, and collaborate on document-related tasks from within the program.
Improved Record Management
SharePoint ECM comprises integrated record management abilities that guide firms to protect and save business records in their final form.
Firms can apply information management norms to these business records. This reduces the risk involved in litigation and simultaneously ensures that the information is in sync with the company standards.
Enhance regulatory and legal compliance- You can set approved and qualified policies for information protection, retention, and audit business records. This will ensure that all the records are retained properly. 
Enable easy litigation- SharePoint ECM software makes provision to retrieve information required to explore legalities easily in a cost-effective manner. You can have a strong command of important records and prevent their misuse.
Protect business records-SharePoint ECM software can guarantee and protect all business records in the best possible manner. You don't have to fear theft or duplication of confidential information or any data.
Quality Web Content Management
SharePoint has several web content management features and a few of them are discussed as follows:
Quick creation and publishing of content- SharePoint enterprise content management offers you intuitive and advanced tools to create and publish web content within tough timeframes. The software allows you to share different types of web content using a few clicks.
Reduced website management costs and deployment- This modern software comprises a single yet multi-tier infrastructure. This facility can be utilized to publish content to internet sites, extranet, and intranet.
24 x 7 maintenance of your website- SharePoint ECM  can provide the potential to create quality page layouts and master pages. Such pages can enhance the navigation and branding of the website. Content authors can reuse details and maintain the website.
Impactful Digital Asset Management
These features help manage digital media content inclusive of several audios and videos seamlessly. Following are the high capabilities of this particular software-
Play media content within a few clicks-SharePoint product list comprises a few in-built audios and video players. You can play audio and video directly with ease from different sites such as-
Publishing site
Portal
Learning and training sites
Community-generated sites
Make productive use of media libraries- In the SharePoint server, media asset libraries are optimized to generate quality media content. It consists of all the required management features one desires in their document library such as unique IDs, content types, and metadata to mention a few.  Media asset libraries possess built-in capability to play a preview of a video and also provide thumbnail views of videos and images.
Apart from these, there are several other striking features of this ECM software.
Connect with Brainvire-Sharepoint development company to know more about this cutting-edge utility!