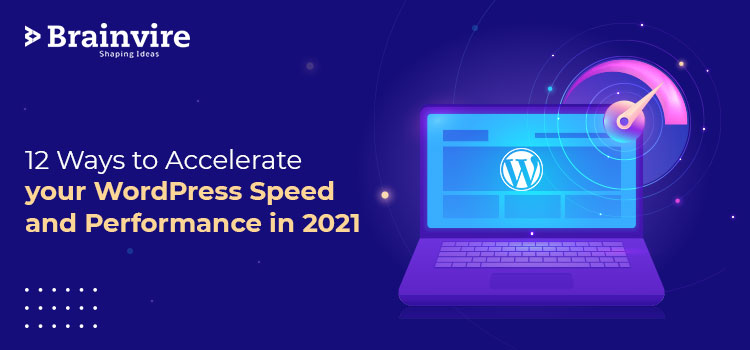 How to speed up a WordPress website is surely a crucial topic of discussion. As 40% of the web is powered by WordPress and the internet never hands out second chances.
A recent study claims that if your website takes more than 3 secs to load, it gives a bad impression to the users resulting in visitors bouncing off the website which causes loss in page view by 11% and reduces the conversion rate by 7%. And this is a matter of concern as 88% of online users are less likely to return to a site after a bad experience.
Secondly, the Website's speed is also a criterion that Google considers for ranking a website in SERPs. So, if you want to rank higher in google's search results, jeopardizing your website's speed is not an option.
#Tip – For the ones running an e-commerce store on WordPress, online users are the most impatient people of all time, they will not wait for a website to respond that is slow. So, do not compromise your profitability and work on your loading speed.
Many such reasons tell that it's time to make some major improvements to your WordPress website. If you want to achieve more website traffic, subscribers, and sales, then you need to make your WordPress site Quick!
[Also Read: Simple and Better Ways to Manage Your Site Is with WordPress]
Fortunately, there are many ways that if implied properly can fix all these issues through WordPress Development Services. Here are some crucial twelve.
1. Select the right hosting provider for your website
Choosing the right and high-quality hosting provider is very crucial as it is one of the major factors that directly influence the website's speed and performance. A well-performing host provider is essential as it will optimize your website more efficiently. There are mainly three types of website hosting :
Shared hosting – Shared hosting is when a website is hosted on the same server space along with many other websites. Many new sites which are not expecting much traffic usually go for this option as it's cheap and easy to execute.
But, if you are a big business or an online store think twice before going with shared hosting as many other websites are using the same server space so one cannot tell how much resources are consumed which affects the server's performance and slows down the website.
  
VPS hosting – Virtual private servers (VPS) also known as a virtual dedicated server (VDS), will appear to the client as a dedicated server but originally it is serving multiple websites. They are slightly expensive but worth it.VPS grants you root access to your server, high bandwidth, and good memory. It is faster, stable, and does not get affected by the neighboring site's traffic. So, if you own a big business and are ready to invest in your site VPS hosting is a good option.

Managed Hosting – Also known as dedicated hosting. Put side-by-side with shared hosting arrangements. This is why it is used when there is a lot of traffic on a website or when more server management is needed. It enables greater facilities for self-service server management. This is considered a more versatile arrangement since it allows the server, its software, and security systems to be managed.

Cloud hosting– It has become extremely popular in recent times. This type of hosting runs from many interlinked web servers that provide a web architecture that is cost-effective, robust, and efficient.
It is recommended to always go with the managed hosting as it gives the most optimized server configuration to operate a website. On the other hand, WPEngine is the most advisable managed WordPress hosting provider. 
Want to convert your idea into a successful app or website? Schedule your free call with our expert now.
2. Use a lightweight optimized WordPress theme
WordPress has a wide variety of themes with numerous functional elements such as widgets, social icons, sliders, etc that makes the page look amazingly attractive and appealing. but, using too many elements on larger pages can degrade your website's performance. 
Our advice here would be to use lightweight themes. You can buy finely-coded and optimized-for-speed WordPress themes online, like StudioPress or Themify. Otherwise, you can go with the default WordPress theme.
3. Optimize Images for speed
Images are indeed the oxygen of the content and they boost engagement on the WordPress website but using unoptimized images could be bad for your website's performance.
Here's the catch, reduce image size without compromising the quality of the image. Designers or developers will edit images in photoshop or chrome extension which is a more generic way of developing pictures in any company but it is also time taking. There are a lot of plugins available to do the same like optimal, WP smush, etc.
Hence, optimizing images in the correct format can enhance your site's performance exponentially. 
4. Minify CSS and JS files
You'll come across a dramatic change in the site-loading speed of a WordPress website. If you reduce the number of CSS and JS calls and the file size.
Again, if you are not able to perform this manually then there are various plugins to help with this like Autoptimize. This tool will help you in optimizing the CSS, JS, and even HTML of your site. 
5. Install a WordPress caching plugin
Each time the user accesses the website, WordPress undergoes a process to cater to whatever is asked by the user. This is a tedious process and usually involves lots of steps. When multiple people visit the site, it tends to slow down because of this process running in a loop. 
This is why we recommend the usage of a caching plugin. It makes the process a lot easier and therefore increases the speed. 
6. Use a Content Delivery Network (CDN)
Users accessing the website from different geographical locations experience different loading times. This happens because the location of your web hosting server has an impact on your site's speed.
In that case, CDN (Content Delivery Network) can help to speed up the loading time. CDN is a network composed of several different servers from all over the globe. The server stores the static files that are used to build a website. These files could be anything such as images, javascript, CSS, etc.
The benefit of using a CDN is that files are provided from the closest server whenever any user lands on your website. As a result, Websites perform faster and better because most of the work is done by CDN due to which the web hosting also performs faster. 
7. Avoid adding audio and video files directly to the WordPress website
Many people upload audio and video files to WordPress sites. But, to have your website perform better, skipping this could be a good option. As it is very expensive to host audio and video on the site. Plus, web hosting companies charge additional fees, or they might just even fully take down your website. 
So, instead using an audio and video hosting service like YouTube, DailyMotion, SoundCloud, etc. is a convenient option.
Another alternative is WordPress, which has an embedded video feature, so you can copy-paste the URL of your video directly into your message, and it will be embedded automatically.
8. Enable Gzip
Enabling Gzip means compressing files on your device to save disk space. This process will reduce the bandwidth usage and access time drastically.
GZIP compresses different files such that your computer will first have to unzip the website if a visitor wants to access your website. This method eliminates the use of bandwidth to a significant degree.
For this, you can use plugins like the PageSpeedNinja.
9. Optimizing WordPress
The database has a lot of useful/ non-useful data and information after using a website for a long time. Which you can get rid of by optimizing your database and improve your website's performance. 
And with the WP-Sweep plugin, this can easily be done. By deleting items like trashed entries, revisions, unused tags, etc., helps you to clean your WordPress database. With just a key, it can also optimize your database's layout.
10. Deactivate or Uninstall Plugins
On your WordPress website, getting unnecessary plugins is like welcoming a lot of junk to your web files. Besides, it increases your backup size and puts excessive load on your web servers when creating backup data. It is easier to get rid of the plugins you don't need and also search for alternative ways of automating or scheduling third-party services.
IFTTT or Zapier are two web-based services that support the website and server resources to automate certain tasks and reduce the burden.
11. Update your WordPress site
Your WordPress website needs to be updated regularly from WordPress 5.4. New and evolved features, bug fixes, and more are included with every CMS edition. Keeping your website up-to-date according to the latest update boosts not only the efficiency of your WordPress site but also keeps your site well-secured. So keep your WordPress website, theme, and plugins updated at all times.
[Also Read: Top 6 WordPress SEO Plugins That You Should Use!]
12. Keep your Website secured
A website always has danger from hackers. A WordPress firewall plugin helps you to put hacking attempts or malware to an end. 
There are different types of plugins, some run on the website that enables attackers to reach the website before getting blocked. Which is fine when it comes to security but not good for the performance.
This is why we suggest using a firewall at the DNS level, such as Sucuri or Cloudflare. And before they hit your website, these firewalls block macro requests.
Final words above-stated reasons are enough to understand why you need to optimize your WordPress website for speed and what are the ways to do it. But the most important reason for lowering your website's loading time is that it directly influences the user's experience and improves your ranking in SERPs. So, go ahead, try out these techniques and test your website's speed after implementing these tricks. For professional help, you can always hire WordPress developer.