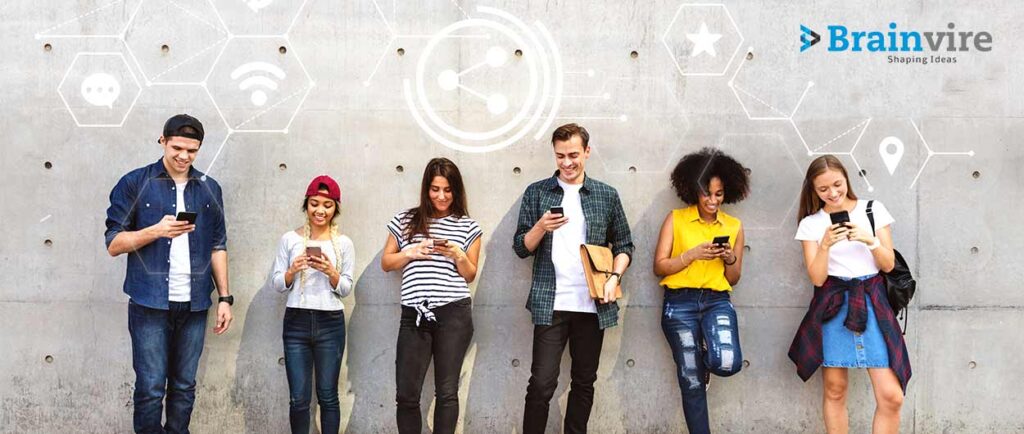 Getting user attention has become more challenging, with over four million apps available on Google Play. The weight of expectation to create content that increases subscriptions and allows for genuine engagement is immense. Unfortunately, many apps have died quickly due to their inability to generate engaging content.

"Wow, this 5-minute exercise app looks cool. I'll install it and use it every day. Oh, look, another useful note-taking app. I'll finally organize my thoughts. What? An app with 1000 FREE filters? Install!" A month later, the same user is deleting apps like crazy. They've installed so many apps that it's become difficult for them to use the phone. They are constantly receiving update notifications, but they do not care to update the apps they do not use.
According to the statistics, nearly 91% of mobile users consider content to be 'Important,' a figure you cannot afford to ignore. It is challenging to create the "right" mobile content, but it is not impossible. The first step is to regard mobile app content as a distinct entity in its own right.

Why Do People Forget About the Apps They Install?
People stop using apps because they are no longer attractive to them. Therefore, your app must be fantastic and cater to a particular audience. Otherwise, it will be forgotten. Let us go over some specifics so that we can provide a more comprehensive answer to the question.
Want to make your own app?
Want to convert your idea into a successful app or website? Schedule your free call with our expert now.
It crashes                    
Many users will download the app if it appears to be interesting. You'll lose them all if it crashes. Nobody wants to be a part of a testing situation. You must test and perfect the app before releasing its most stable version.
Free alternatives
When competing with other app developers in the same industry, you must provide more excellent value for your users' money. You will lose users if your competitors offer the same features for a lower fee or for free.
By nature, people are inquisitive. Even if the price is the same, they will want to try a different app. If it's better, they'll forget about yours.
Excessive advertising
When you develop an app and launch It, you must include advertisements to make money. However, these advertisements degrade the user's experience. They slow down the app, and users become incredibly frustrated when they accidentally click on an ad. They only have one option for retaliation: the delete button.
Sign-up requirements
Sign-up is required for some apps. On the other hand, the sign-up process causes a lot of frustrations for casual apps for daily use. For example, people do not want to create profiles for an app that provides 5-minute exercise sessions, and they certainly do not want to connect it to their Facebook account. As a result, many people delete the apps as soon as they download them simply because they lack the patience to go through the sign-up process.

You devote a significant amount of time and effort to achieving a single goal, i.e., getting your customers to download your app. You will, however, need to do a lot more work to keep and engage them. You want them to become loyal customers who will spread the word about your app. Let's see how you can do that.
Proven Ways to Retain your App Users

Evaluate the efficiency
Resolve any issues that are causing crashes and continue to monitor the loading time. Users will not question why your app takes so long to load; they will want to use it right away. When a program takes too long to load, its users become dissatisfied and delete it.
Before launching your app:
Make sure it has been thoroughly tested.
Continue to monitor the performance and reactions of your users.
When necessary, make improvements.

Minimize desktop functionality and create OS-native versions
Maintain the app's simplicity while preventing it from becoming obsolete. Apps must be quick, intuitive, and simple to use, according to users. They are not required to replicate desktop functionality precisely. Reduce the app's functionality so that it isn't crammed with buttons, and then hire mobile developers to create native Android versions. It's a one-time fee that saves you the trouble of incorporating new trends into Web views.
Explain why your app is more expensive
Many people uninstall apps because they find free or cheaper alternatives. However, suppose you notice that your competitors offer similar solutions for a lower price. In that case, you have two options:
Lower the cost if you want to keep your users.
Attract new ones.
Emphasize the features that make your app worth the money.
Perform extensive research on the competition. Install their apps on your device and thoroughly test them. After trying these, why would you pay for your app? Add more features to your app as needed to provide more value for the user's money.
Create a user acceptance testing (UAT) team
Create a user acceptance testing group composed of thought leaders within your organization and a small external group. Allow them alpha or beta access and solicit critical feedback. Be prepared to pivot your strategy based on consumer feedback before launch, and keep a UAT group on hand for gap analysis and assessment.
Modify according to the behavioral analytics
Customers nowadays have many apps to choose from, so you must provide a highly personalized experience based on behavioral analytics to drive adoption and retention. Another effective strategy is to reduce the number of clicks and touches required to make the user's journey as quick and satisfying as possible.
Make easy signing up process
When you ask your users to sign up, you are wasting valuable moments of their time. If your app necessitates such a feature, make it as quick and straightforward as possible. You have two main choices: email or social login. It is best to provide both options to your users. With social login, they will be able to share their accomplishments on social media.
Make sure your app has accessibility features
For mobile apps, accessibility has become a must-have feature. Whether your product is intended for the workplace or everyday consumer use, tech leaders must rethink usability in light of inclusion. Consider closed captioning, voice-over services, text resizing, and other assistive technology options.
Analyze user feedback
It is critical to closely monitor and measure user experience to make changes and stay on top of trends. However, all your efforts will result in stagnant growth unless you read the reviews that detail what users are experiencing and make the necessary upgrades.
Analyze the functions of popular apps
Take the time to review the top apps in your industry as well as those from other sectors. This allows you to be a fast follower of successfully implemented capabilities in your industry within your app. You'll also be a pioneer, incorporating successful app capabilities from other industries into your own when you fine-tune those features to meet the needs of your industry.
Conclusion
You're doing something wrong if your users forget they have the app installed on their phones. It doesn't mean your app isn't good enough; it simply means you aren't doing enough to engage users.As a Mobile app development company, Brainvire provides a wide range of Android app development services. In addition, we create custom Android mobile applications. Our mobile app developers have extensive experience developing AI and ML-powered mobile applications.