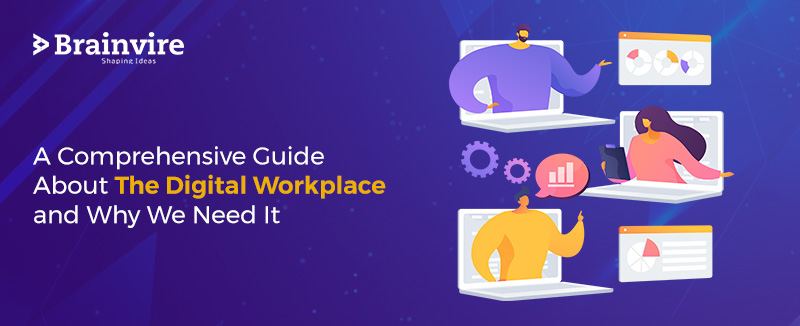 We are now in an era where the workplace is not just a physical room occupied during working hours by workers. The workplace today is an always-connected world that provides direct access to everything workers need. Like the difference between personal and professional lives, the boundaries between the physical workplace and the location where the job actually happens are being blurred.
The entire workforce and top management will connect and interact in several different and efficient ways as the workplace becomes digital. Beyond natural workgroups, this digital workforce will combine active business relationships to facilitate information sharing across the enterprise.
However, the secret to success depends on adopting a digital strategy for the workplace – requiring one that is capable of promoting meaningful change within the company.
In the last 10 years, the accelerated transition has been attributed to the emergence of 3 trends:
An aging workforce – They take most of the expertise with them when baby boomers begin to retire, which is a dilemma since their experience and knowledge are significant in setting the groundwork for future professionals.
Overload of information – Big Data is the term here. When knowledge continues to expand at exponential rates, it is difficult for many organizations and workers to find what they need, when they need it.
The need for speed – With today's fast-paced work climate, workers are expected to work quickly and work more efficiently to get their jobs done and meet deadlines. In this specific region, intranets have been very popular, and digital workplaces are just the next step.
Such trends lead to reshaping the work environment. Many argue it is a transformation long overdue. The new emphasis changes with the emergence of the digital workplace approach to how the company can help its workers function more effectively and how the hundreds of business resources can fit together as one unified entity.
What Is A Digital Workplace?
A digital workplace is an interactive network that includes all the required resources to help workers efficiently perform work tasks. A digital workplace enables workflows that represent the internal business processes of the company to be digitized. The workflows allow mundane and repetitive tasks to be automated, required approvals to be obtained quickly, creating a seamless communication channel between employees and more. 
Want to convert your idea into a successful app or website? Schedule your free call with our expert now.
Aspects of a Digital Workplace
Holistic: beyond the intranet and its associated software and resources, the digital workplace should include all personal productivity instruments, networking, business systems, and the physical workplace.
Coherent – There are numerous initiatives underway in a large company at any given point in time. Sometimes, these projects can overlap and trigger confusion.
To achieve positive and meaningful outcomes for any project, components of a digital workplace should be orchestrated. Allocation of resources may be necessary.
Usable – If they only knew and understood how to use them, their workers already have great capabilities at their fingertips. A digital workplace offers customer interfaces that are intuitive and simple and can complement current working processes and employee habits.
Productivity – Thanks to instruments, systems, and supported environments, personal productivity is placed at the core of the modern workplace. They are all structured around helping employees to do their job.
Components Of A Digital Workplace
Enterprises that opt for the digital workplace should concentrate on full-fledged digital platforms that can become the backbone of their collaboration ecosystem (e.g., Office 365, Citrix Workspace, Unily, Zoho Developer, and eXo Platform). Many companies have made a digital workplace with SharePoint Online Development, and Office 365 Development services.
So, make sure that it provides the following features when selecting the digital workplace platform:
Tools for Productivity – These are office tools, such as word processors, spreadsheet software, presentation, and calculator software, that help employees fulfill their job duties.
Collaboration Tools – These tools enable staff to collaborate with each other, which is equally important for both in-office and remote staff. SharePoint is a good example of this type since it provides document sharing in real-time where multiple individuals can edit one document simultaneously. However, online collaboration on documents should be properly structured to be successful.
Communication tools – These platforms are used for exchanging information and include instant messaging and email, internal publishing tools such as intranets, portals, wikis, and blogs, as well as full-fledged social networks for businesses. Besides, this category includes such common communication features as polls, surveys, forums, and message boards that help an organization gather employee input, ideas, and insights. When it supports multichannel communication, the digital workplace is more efficient. Microsoft Teams provides instant messaging, audio and video conferencing, for instance. In addition, it enables video and audio messages to be captured and transcribed so that, if necessary, users can return to them later.
Business applications – Process-specific tools such as HR systems, ERP, CRM, and more are part of this community. These instruments should be seamlessly incorporated with your collaboration tools for greater performance. For example, you can create a business application with SharePoint online development and merge it with your CRM system.
Why do You need To Adopt A Digital Workplace?
The advantages of embracing a digital workplace will make a convincing business case if the possibility of inaction is not enough of a motivator for you. Consider the strengths of a digital workplace-
Talent attraction – If they could work away from the workplace, 64 percent of workers would prefer a low paying career.
Productivity for employees – Compared to organizations without organizations, organizations with strong online social networks are 7 percent more effective.
Employee satisfaction – Organizations that internally rolled out and installed social media resources found that employee satisfaction had improved by 20 percent.
Employee retention – There is a related rise in employee satisfaction of up to 78 percent when employee engagement increases.
Tools for connectivity and collaboration – In contrast to "traditional" tools such as e-mail, today's staff favor modern communication and collaboration tools, specifically instant messaging.
In any organization, the extensive use of emerging technology is evident. Companies today are made up of multigenerational labor powers. At the same time, a new generation of workers is joining the workforce, and improved participation, productivity, and quality can be accomplished with the aid of various technologies.
Benefits Of A Digital Workforce
1. Collaborative Culture
You are able to build a collaborative atmosphere in your company by supplying your workers with all the instruments they need to interact and collaborate with their teammates. Smart and efficient collaboration tools also minimize meeting times and provide more space for ideas and innovation for the employees.
2. United Workforce
Build a straightforward work environment where the progress of any mission or project can be easily monitored by your staff. This in turn leads to fewer follow-ups between employees and emails. When workers are on the same page, they will concentrate more on common business and organizational priorities.
3. Brainstorming New Ideas
You will simplify the work-life for the workers by using the right technical resources and automating routine activities into a digital workspace, which automatically leads to more efficiency. This is because workers are able to use their spare time to solve problems and to come up with new ideas.
4. Provisions For Remote Work
If you can access all company information and applications online from any computer and from any location, it gives your employees more opportunities to work remotely. Although over 99% of employees want to work remotely at least once in their careers, 90% actually want to work remotely for the remainder of their careers. For organizations, that means, implementing digital workplace strategies will not only increase employee satisfaction but also help retain and attract talent.
5. Superior Customer Service
Your customers are able to get the best of the talent and technology your company has to offer when you have an engaged, efficient, and productive workforce. This leads to a better customer experience and more satisfied clients who for more business will most definitely come back to you.
6. Costs Reductions
Digitally inspiring workers will help save time on business tasks and reduce operating costs. You will save money by selecting a cost-effective digital workplace for your globally dispersed employees, which frees up funds for you to spend elsewhere, such as launching a new service or product to grow your company and sales.
7. Better Employee Engagement
From the get-go, a digital workplace gives you the best of employee engagement. A digital workplace is not just a piece of software, with a range of options to customize and build platforms where workers can connect and collaborate. It unites the workers into an entity and catalyzes their ability to work with as few challenges as possible at their peak.
8. Recruit Better Talent
A digital workplace's biggest asset is that it is untethered. And when resources are shifted or circumstances change, it is an agency that can keep running. This provides workers with a degree of independence and accountability that the most talented applicants find irresistible. They will act with full accountability and will remain instilled in them by a digital workplace for the culture.
9. Agile Workplace
A digital workplace platform helps you to create a perfectly agile workplace in the shortest possible time. These platforms' architecture is such that it makes it much easier to build and retain an agile community. A digital workplace will help the company move smoothly into the implementation of an agile workplace instead of pushing agile on workers and making them adhere to organizational diktats.
10. Increased Employee Productivity
Due to the streamlining of company processes and the elimination of contact roadblocks, the digital workplace leads to business efficiency. To help the business move to remote work, Brainvire can integrate Office 365 Development services with document management software. This will allow the complete automation of the lifecycle of a document and the accelerated completion of the document.
Conclusion
Even in the most unpredictable market environments, digital workplaces offer companies the power to face fresh challenges. Digital workplaces will drive business agility with more opportunities for productivity, flexibility, and collaboration and help businesses achieve measurable results.
You need to elaborate on a comprehensive digital workplace plan to build a productive digital workplace and stop applying the toolbox in silos. You should begin by evaluating the needs of your company and identifying an appropriate set of resources. You can then make your digital workplace run as an integrated organization to boost teamwork and increase efficiency for your business. If you need assistance with building or upgrading your workplace, get in touch with Brainvire. We have a full suite of SharePoint development services.