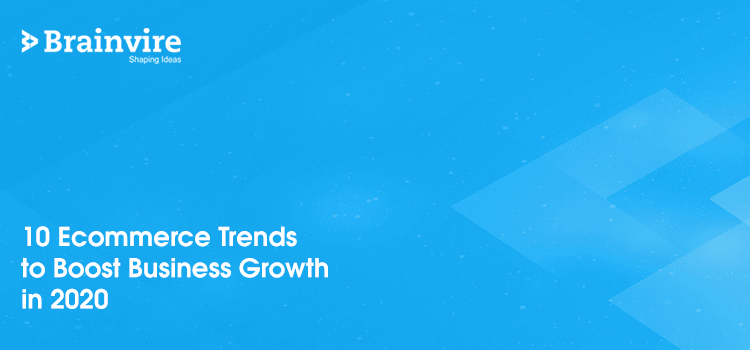 Adapting to the dynamic needs of consumers is something that every eCommerce business owner does every day. It's 2020 and if you own such a business, then get prepared! This year will be challenging (and exciting) for you.

Reading this article further will help you outsmart your competitors through 10 emerging trends. But before we get onto them, let's uncover some of the latest facts and figures.

92 billion people (about 25% of the world's population) were expected to be online shoppers in 2019. By 2021, the number of digital buyers will be around 2.14 billion.
The top eCommerce markets are the US, China, and the United Kingdom.
In 2017, the revenues generated from online sales were approximately $2.3 trillion. This number might touch $4.5 trillion by 2021.
These are global stats. If you take a look at the mCommerce stats of the USA alone, you'll be amazed.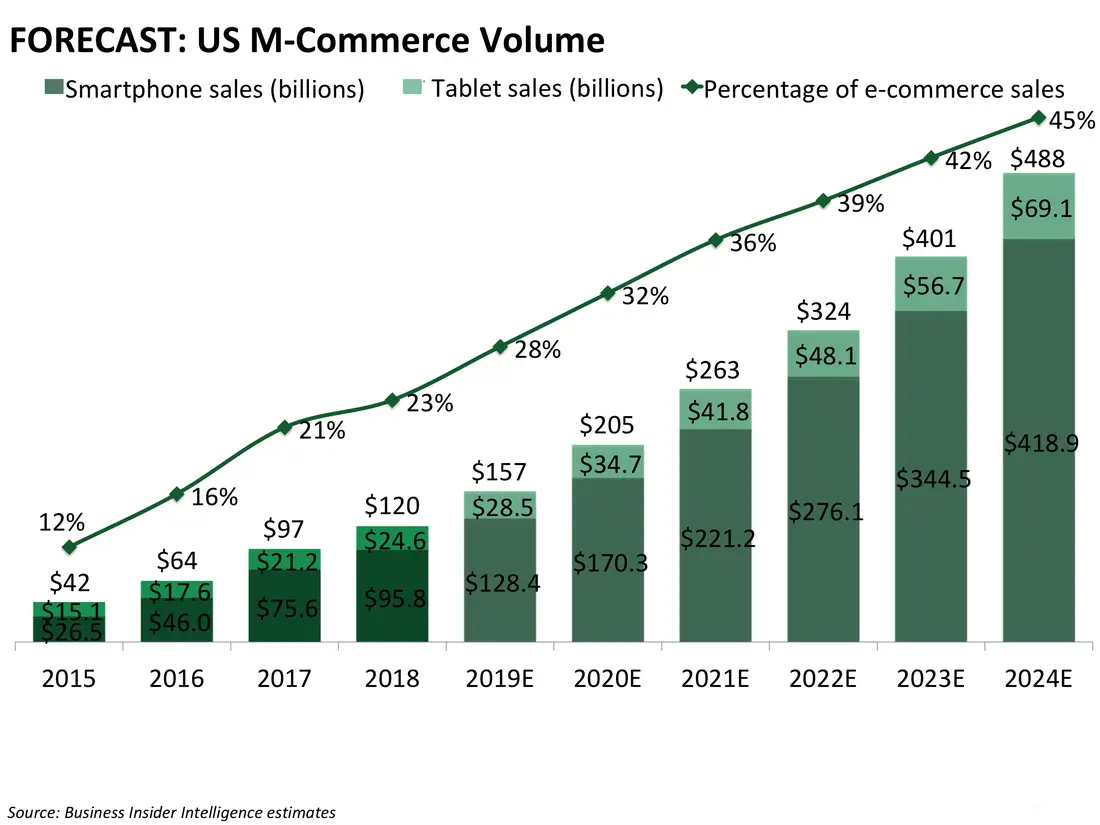 When opting for eCommerce website development, you need to adopt the correct trends to take advantage of these rising numbers. So let's explore trends that will define the industry in 2020.

For your reference, here's a quick list of what we will cover throughout this article:
Mobile shopping gathers momentum
Social shopping is the new norm
Omnichannel shopping is not an option but a need
Voice commerce is the talk of the town
Visual product descriptions are more appealing
Google is the new online marketplace
Subscription-based selling will increase
Ecommerce becomes headless
Eco-friendly product packaging will attract more attention
Expect more PWAs in eCommerce
1. Mobile shopping gathers momentum
We like something and we head straight to Amazon or eBay on our smartphone's browsers (or the app if installed). The tendency to use mobile devices instead of desktops or laptops is gathering momentum in eCommerce. The immediate satisfaction of their demands and wishes is the psychology of modern consumers. 
Instant access to products and services – with no limitations – means happier customers and increased conversion rates. What's more convenient than mobile devices for providing the freedom of researching products and buying them anytime, anywhere?
Thus, mobile shopping is the first trend on our list. Statista constantly tracks the growth of mobile sales every year and estimates that mobile devices will perform more than 72% of total eCommerce sales worldwide by 2021.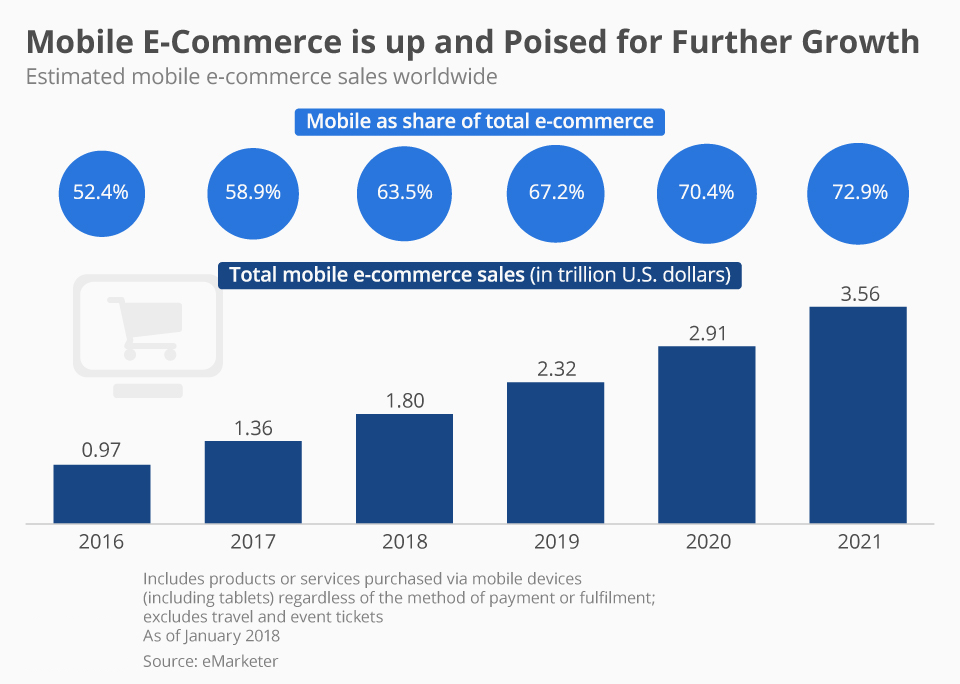 2. Social shopping is the new norm
Social shopping is the norm due to the mind-blowing popularity of social media as a whole. More brands are recognizing the potential of this popularity and are looking at social channels as powerful advertising platforms with a huge pool of potential clients. 
Social media is important in eCommerce due to the following social networking aspects:
Groups and communities
Discussions and testimonials
Likes and dislikes
AI-based recommendations
Targeted advertisements
In 2019, there were 3.2 billion social media users worldwide, and this number is growing consistently. 54% percent of customers use social networks to research for their favorite products. They are not there looking for prices but for recommendations and reviews.
When users run into an attractive offering with hundreds of likes while browsing, they'll find it hard to resist and make an impulsive purchase.
But there is one condition. The buying process should be way too easy. For this reason, major social media players such as Instagram, Twitter, Facebook, Pinterest, and YouTube have added their own "Buy" buttons. They also support product pages and try to build their own eCommerce platforms and integration solutions.
In 2020, put in efforts to create your company's accounts on popular social media channels and boost sales.
Want to convert your idea into a successful app or website? Schedule your free call with our expert now.
3. Omnichannel shopping is not an option but a need
Providing an omnichannel shopping experience to your customers is crucial for success. As mentioned earlier, customers appreciate freedom of choice during their shopping journey. This freedom ultimately transcends to sales. A single blog is never enough to cover all the concepts of omnichannel retailing. The image here will give you a quick idea about the importance of omnichannel shopping.
Source: Internet Blog
Check out this image as well:
Source: Knexus
From these images, you can understand why multiple selling and purchasing channels have become a must for retail companies. Being a Magento development company, we develop an integration strategy to create a comprehensive multi-channel shopping experience in our projects. We provide numerous possibilities to arrive at the purchase such as: 

Research online and buy in-store
Research online, buy online, pick up in-store
Research and buy in-store, choose home delivery (useful for bulk goods)
Research via an app, buy via a website (or vice versa), choose home delivery
Pay online through a credit card or by cash
It's obvious that we can't divide the eCommerce business into online-only or offline-only segments anymore. To keep pace with their competitors, companies should integrate different components into a single system while synchronizing online and offline data. These components include – 

An e-commerce website
A mobile application
A brick-and-mortar/physical store
Self-pickup points
Various delivery options
Multiple payment options
Studies have proven that the more shopping channels customers use, the higher is the average order value. So never ignore any touchpoints!
4. Voice commerce is the talk of the town
Source: Bradsdeals
The above image looks familiar, right?
Alexa created a wave in the e-commerce industry after its launch in November 2014. Amazon became a pioneer in the field of voice commerce when it enabled voice purchasing using their flagship device. 
Subsequently, the huge investments in the development of artificial intelligence (AI) and machine learning (ML) are empowering voice commerce. Today, 13% of families in the US own smart speakers and 36% of them use such speakers for regular purchasing. 
Searching for products and making purchases by voice is fun and easy, thanks to the growing accuracy and convenience of this technology. 

The driving force behind this trend is the desire of consumers to shop for better products with the least amount of effort. Thus, voice commerce deserves your attention as an e-commerce business owner.
5. Visual product descriptions are more appealing
Every technology comes with its own pros and cons. In the case of e-commerce, one of the major cons is the users' inability to have physical contact with the items they want to purchase.
So how do we convert this disadvantage into an advantage? 
We can do so through visual product descriptions. Text product descriptions and images are not appealing anymore. Most consumers, including yourself, will prefer watching product videos than reading lengthy text descriptions while researching. As a buyer, we want to look at products from different angles to dispel doubts concerning their quality before pressing the "Buy" button with confidence.
Online retailers can consider the following options to make their product descriptions visually appealing:

Sellers should also focus on interactive product descriptions that will explain all the relevant information at once. This will make customers feel like they already know what the product looks like in real life.
6. Google is the new online marketplace
The majority of your customers arrive at your website via organic or paid searches. So, to make your products visible in front of more customers, you should be optimizing for Google Shopping. 
This feature dwells on the success of text-based Google Ads. Google Shopping ads are sometimes referred to as PLAs (product listing ads) and they include images and product details.
Hence, it serves as an extremely powerful sales channel and can prove to be an incredible eCommerce SEO services for online stores. It also boosts conversions by over 17%. 
This is how Google Shopping looks like:

Integrating your eCommerce platform with Google Shopping will generate a PLA that will automatically appear on the top of the SERPs. This happens when a customer searches for a product that your store sells. This is more advantageous for eCommerce stores that sell niche products.

The setup process is very simple. Just head to the Google Merchant Center to sign up, and you can start advertising through this lucrative channel if your online store meets the ad requirements.
7. Subscription-based selling will increase
You may already be aware of the SaaS (Software-as-a-Service) model with respect to IT products. A similar trend is picking up pace in eCommerce as well. In 2020, the demand and prevalence of subscription-based services are bound to increase.
Such services are a win-win for both the customer and the company. Let's understand how.
Customer benefits
Customers can enjoy a regularly-delivered, always-as-expected experience through every engagement. Depending on the type of service provided, the customer value comes in the form of personalization, convenience, and monetary savings.
If your eCommerce company can regularly deliver such value, it will reap massive rewards.
Company benefits
Offering a subscription service can save you time, money, and other resources in the following ways:
More reliable forecasting results in better inventory management
Repeated and scheduled purchases ensure streamlined transactions
You can focus on retaining high-quality customers instead of acquiring mass amounts of one-time buyers
With all this in mind, we can expect more and more eCommerce brands to hop on the subscription bandwagon this year.
8. Ecommerce becomes headless
Headless eCommerce is a broad technological concept and includes many technicalities. For the sake of this blog, we are not going into these details but the concept is explained in the following paragraph.
Headless commerce architecture consists of a CMS (Content Management System) that stores, manages, and delivers content without a front-end delivery layer. The front end (head) i.e. the template or theme is decoupled and removed, leaving only the backend. Developers can then use APIs to deliver things like blog posts products or customer reviews to any screen or device. Additionally, the front-end developers can get to work on how to present the content using any framework of their choice.
After using such headless eCommerce platforms, you can leverage the following benefits:

9. Eco-friendly product packaging will attract more attention
Yes, you heard it right! Apart from technological advancements, human emotions also play a role in online success. One of these emotions is taking care of our planet.
Nowadays, most consumers are conscious of their environmental impact, and they support businesses who can reduce carbon footprints.
87% of consumers agreed that they are more likely to buy a product from a brand that offered a social or environmental benefit.
Ecommerce brands are going the extra mile to reduce shipping waste by using recycled or biodegradable materials – such as packing peanuts – that dissolve in water. Some businesses have got super creative in this aspect. Banish Skin Care sends products wrapped in branded socks (rather than bubble wrap) to reduce waste.
Implement such eco-friendly tactics in your business and your customers will love you for that.
10. Expect more PWAs in ecommerce
A progressive web app (PWA) is a mobile website with the look and feel of a native mobile app.
Websites like Twitter and Gmail have already used PWA technology for a while and now many popular eCommerce websites have adopted it.
For example, Aliexpress has pioneered the use of PWAs in eCommerce to achieve great success.
Source: Prisync blog

Developers implement PWA technology to ensure optimal usability of your eCommerce site on all mobile devices. It makes sites look and feel like Android apps when opened on Android devices, and iOS apps when viewed on Apple devices.

This allows for a more comfortable and streamlined experience for users of any device without downloading an app.
Conclusion
Trends inherently come and go. It is important for eCommerce businesses to pay attention to the ones that are positively impacting user experience and conversions. 
No these trends are permanent. They might evolve into something different over time. You need to keep a watch on the latest trends and start capitalizing on them ASAP. We Brainvire as leading IT company's Magento development services if you are facing any difficulty in doing so.

As of now, try to implement at least two out of these ten trends mentioned in this blog and notice the difference. Good luck!