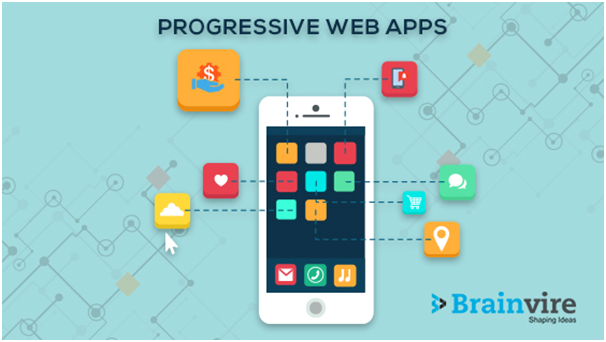 Talking About Progressive Web Apps- An Alternative Approach for Native Apps, According to a survey conducted by VacinitiMedia, "The number of mobile users in the world is expected to pass the 5 billion mark by 2019." This clearly depicts the furious increment in the number of smartphone users on daily basis. And it is seen that people spend more than 70% of their time in the mobile internet and surfing applications. Users defined a significant difference between the working of native apps also known as mobile apps and web browser mobile apps. Using the mobile app is much easier to access and understand rather than using the mobile web app to operate a website.
Comprehending PWA
To make the mobile web experience smoother for the customers around the world, PWAs were introduced. PWAs or Progressive Web Applications are web applications that use modern web capabilities to deliver an experience similar to that of using a mobile app. PWA is an amalgamation of both web and native apps that use specific technologies and patterns.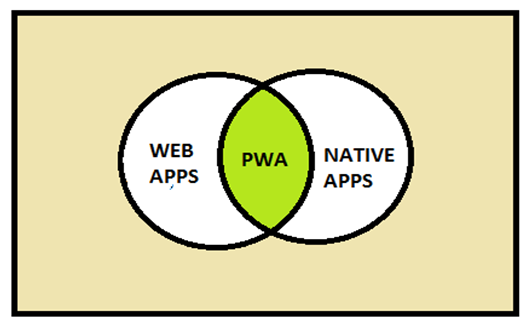 It consists of three components
An App Shell– it uses languages such as HTML, CSS, and JavaScript and can be cached offline.
Service Workers- these are background JavaScript files that are meant to handle functionalities such as push notifications and offline usage on a modular basis.
An App Manifest– this makes it possible to install an app from any browser and pin it to the mobile device's home screen.
PWAs not only provide an app look and feel of the website by abolishing the need to download the app from the app store but also it works fine with no or spotty connections.  The biggest benefit is that these can be updated without any requirement of issuing new updates from play or app store. These apps give the impression of native apps on mobile web browsers such as Chrome, Opera, etc. In fact, they have a native app like functionalities such as offline working, quick loading, background refresh, push notifications, etc.
The Need of PWA
The data below shows that mobile users tend to access mobile web properties more often than apps but eventually, they spend more time on apps installed rather than the web pages they visit.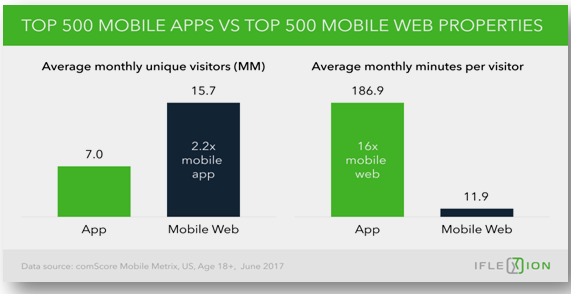 Source: ComScore, an American media measurement and analytics company.
Talking About Progressive Web Apps- An Alternative Approach for Native Apps, Undoubtedly, mobile applications are easy to download and use but what about the times when you do not want to download the whole new app for performing one small task. The downloading app consumes space which is not appreciated by many who are already running out of phone storage. Sometimes users even have to delete some less important but frequently used apps to install vital apps because of memory issues in smartphones. To accomplish these problems, Progressive Web Apps were developed by Designer Frances Berriman and Google Chrome Engineer Alex Russell.
Amazing Perks Offered by PWA
Progressive Web Applications offer multifarious benefits to both the developer and the end user. Let us discuss these in detail-
Multi-Platform Support
Progressive Web Apps are responsive in nature which means they can run on any device and easily adapt themselves to any screen they are viewed with. Therefore, it gets very handy to operate these apps from anywhere, anytime.
Low Data Usage
Data usage is a matter of concern in many developing countries. Although there has been a fall in the prices of mobile data, it is still a costly affair in many developed countries.  PWAs being a boon useless data as compared to the native applications. For instance, a native app that consumes 10mb of data can be reduced to just 500kb data with the help of a PWA. Apart from this, PWAs do not occupy much storage space of your mobile devices either. This allows users to use the free space for more important tasks without degrading the performance of the device.
No Updates Needed
Whenever you install a native app, it either updates automatically or requires manual updates using mobile or WI-FI connection.  If you do not have a WI-FI connection, then the manual update using mobile data can be very costly for the user. On the other hand, you do not have to bear this problem in the case of PWAs because they are similar to websites and updates on use. Since the update takes place when you load the PWA in your device, it doesn't require to be updated in the background or before you install it. You do not have to seek any app or play store approval and the app gets updated quicker than you can think.
Efficient and Economical
This advantage is like a jewel in the crown as the developing cost of PWA is much cheaper than that of a native app. Since native apps are required to be developed separately for both Android and iOS devices which is a bit costlier. Contrarily, PWAs are cheaper to develop and hence becomes a better option for businesses to generate a significant ROI.
Improved Performance
As the name suggests 'Progressive', these apps are built with progressive augmentation and can work on any browser of your choice. PWAs loads at an extremely fast rate which puts an impact on the search engine rankings as faster loading websites are ranked higher on SERPs. Fast loading not only improves your eCommerce SEO strategy but also provides a super cool user experience.
Easily Expandable
PWAs are easy to expand as you can add new functionalities to your apps at any point of time step-by-step. This allows easy and spontaneous updates letting businesses to make significant gains using this technology.
Progressive Web Apps are the Future!
PWAs have assuredly changed the way consumers interact with their mobile devices and brands. The storage issue has been restraining users from using apps which was proved in a study by ComScore that said the majority of people download zero apps per month.  Because of their ingrained flexibility, PWAs have become the best way in today's world to stay ahead of the curve in the mobile industry.
There are many businesses that have already started using PWAs and are mastering the completion such as Twitter, Starbucks, Trivago, Flipkart, Forbes, AliExpress, etc.
Talking About Progressive Web Apps- An Alternative Approach for Native Apps, These apps can enhance engagement, conversions, and interaction rate usage for your business whilst reducing the data. As this technology continues to develop, many new bigger and better benefits await us.
What are you waiting for? Connect with us at info@brainvire.com and get a PWA developed for your business.