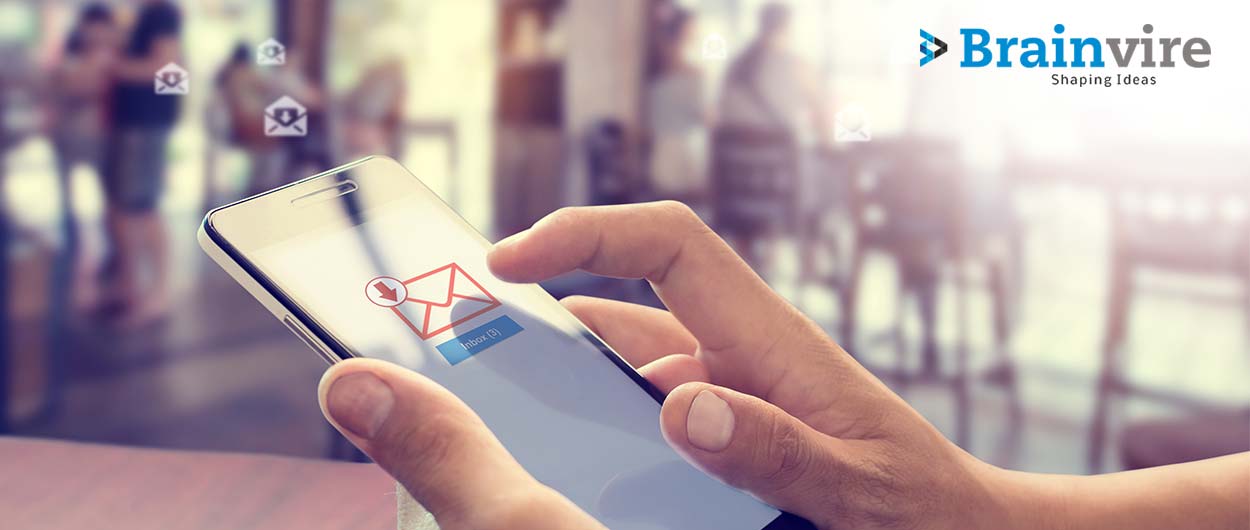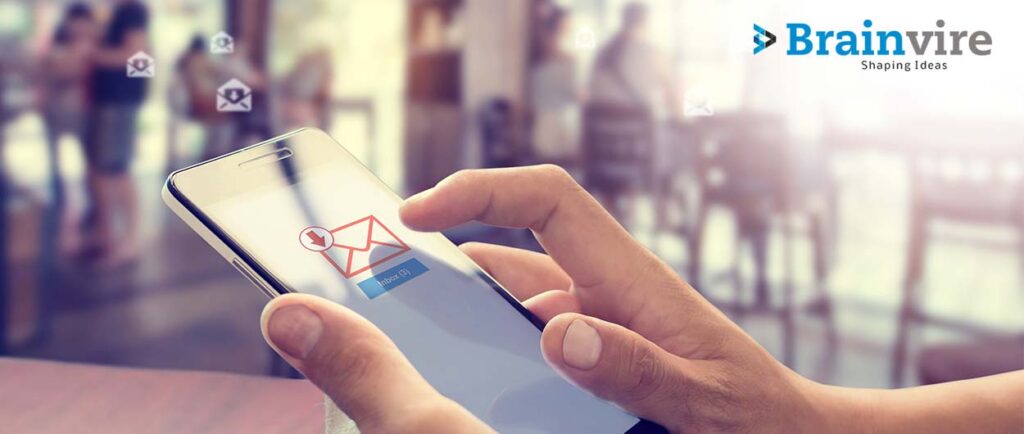 If you have a mobile application, you should be familiar with push notifications. You may know what a push notification is or how it works, but are you effectively utilizing them?
Push notifications are a fantastic marketing tactic since they allow you to connect with your customers if a user has a smartphone application. This leads to better user engagement for your business.
Just be cautious when employing this method because the users may stop your push notifications if you misuse them and use this method too much. As a consequence, you should get rid of it.
Push Notification Frequency vs.Unsubscribe Rate by Industry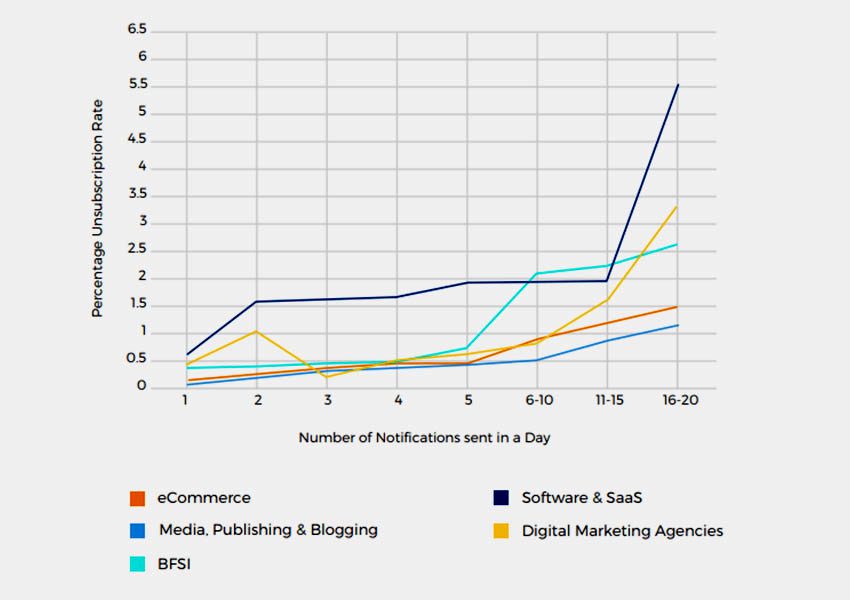 We're here to assist the users who don't understand what push notifications are or how to use them. That is why we created this guide.
We'll explain all you need to know about push notifications as a top mobile application development company in the world.
That way, you'll know how to apply them to your existing mobile app. Let's get started.
Difference between push notifications and SMS messages
Despite their similarities, push notifications are not like texts. These messages are delivered straight to the user's phone and appear similarly on their home screen, yet they are entirely different.
Keep this in mind – A character limit is required for a push notification to appear correctly on a home button.
Because text messages may be opened to read the complete statement, they can be lengthier. However, if your push notification is cut off on the lock screen, it will harm your conversions. 
As a result, push notifications with fewer inputs have greater click-through rates. Therefore, it is critical that you understand how to convey your point with minimal words.
Swiping to open a push notification has the same impact as a text message. On the other hand, an SMS will take you to your text message, but a push notification would take the user to the app that delivered the message. 
Therefore, receiving push notifications is entirely affordable. However, that is not the case when it comes to text texts.
Clicking to receive a push notification has the same impact as a text message. On the other hand, an SMS will take you to your text message, but a push notification would take the users to the app that delivered the message. 
Therefore, receiving push notifications is entirely affordable. However, that is not the case when it comes to texts.
People constantly receive similar texts from unknown numbers. You never want their business to be linked with spam.
Push notifications are superior since the user knows who is sending them. The message comes from an app they've loaded on their device.
When do push notifications go out? Industry by industry
The peak periods for push activity differ by industry, but there appears to be a preponderance of pushes in the afternoons during the week. This is noteworthy since, as we can see below, this is not a time when users like to get push notifications, nor is it the time where they're most willing to respond, by most of the research we see.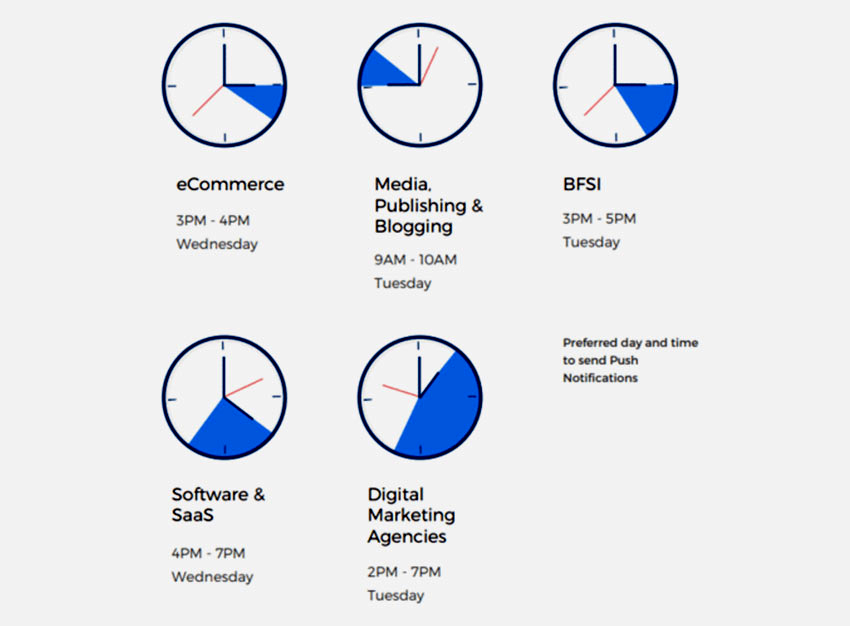 The user interface improves through push notifications
Instead of leveraging push notifications for commercial purposes, you can also utilize them to better user experience.
Consider why some are utilizing your app. For example, would a push notification improve user experience?
Here: The Lyft rates are market set, and if a user opens the app to request a trip but sees expensive pricing, they may postpone ordering a car.
So Lyft notifies like this to assist its consumers in obtaining the best possible rate, contributing to the message.
So, this statement is also a marketing technique. However, it is cleverly hidden and still improves the customer experience.
After requesting a trip, Lyft continues to provide helpful push alerts to the customer. For example, suppose someone's transportation is 15 minutes away. That individual does not want to wait outdoors for fifteen min, nor do they want to check their phone.
They don't have to. When a driver arrives, Lyft delivers another push notice. These messages also display the vehicle's license number, making it easier to locate.
This technique also applies to other businesses, such as a meal delivery app. It was the same idea as the last example. Only the notification would state that the meal is on its way.
Personalization is important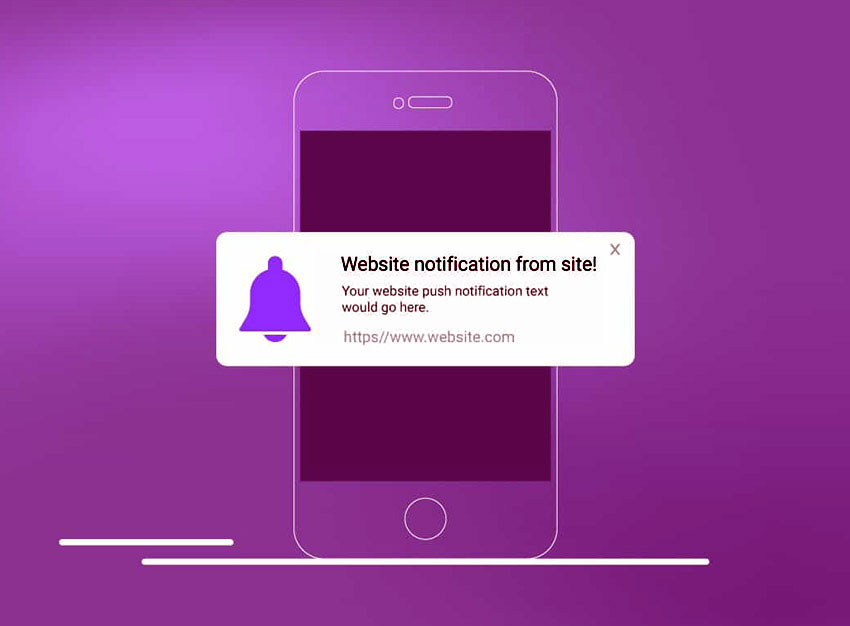 Don't simply deliver a similar message to all who have downloaded your application. You must ensure that each message is relevant to your target audience.
We have provided you with an example of a push notification from a US-based resident receiving a message regarding baseball tickets.
Consider alternative methods to customize your material.
As evidenced by the statistics, a message with personalized content offers considerably greater open rates than random ones.
Push notification open rates by industry: Overall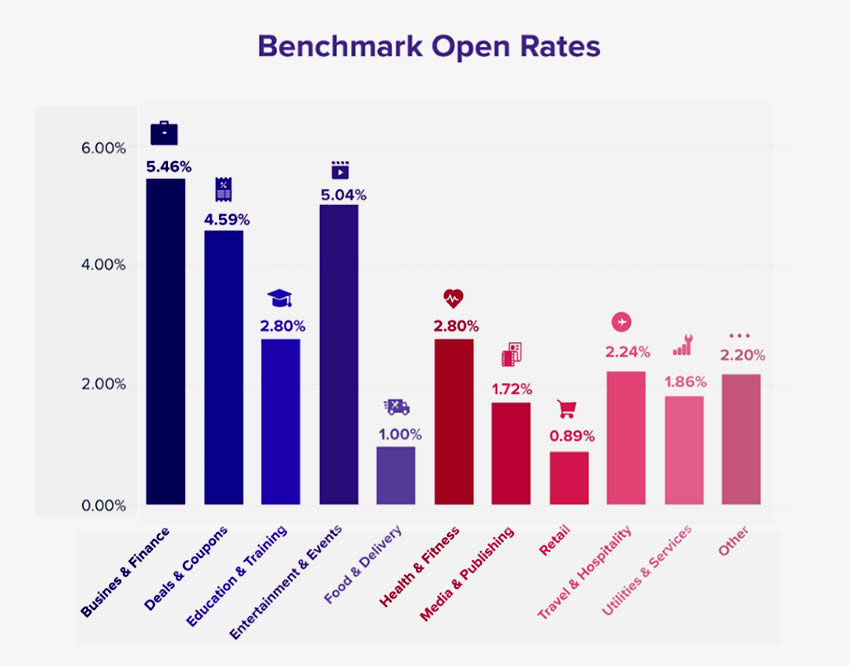 As your application will all have access to the user's data, it is simple to deliver personalized push notifications. 
For instance, if you are a shop with a smartphone app, you may provide a helpful message to clients based on their purchase history.
Assume one of your clients has recently picked up a snowboard, sunglasses, a sweatshirt, winter gloves, and a wool overcoat.
Providing customers a notification about cheap snowboard boots would be customized based on their previous purchases.
Here's another case in point. Assume you run a tiny neighborhood restaurant that specializes in authentic Asian food. You have a mobile food delivery service in your application.
When anyone orders the best Tom Yum Soup multiple times, you may give them a push notification regarding their order. 
For example, you will receive a 30% discount on your favorite tom yum soup if you order today. 
Such personalized notifications will help you.
Consider the user's device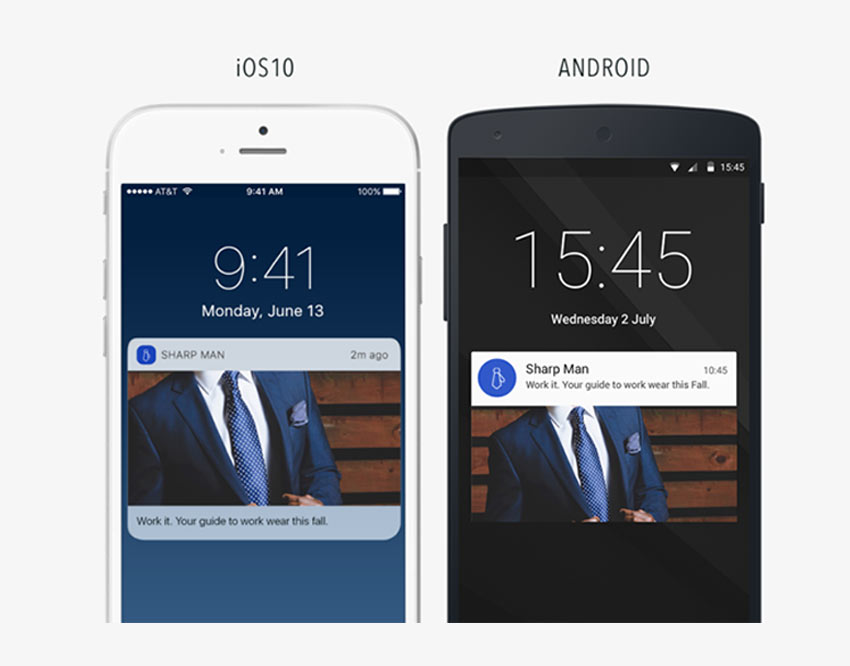 Not all smartphones are made consistent for pushing notifications.
We previously observed that Android devices have a higher number of users who activate push notifications than Apple users. Therefore let's take a striking difference in clickthrough ratios across both devices.
This is because not all alerts appear equal. The home screen and notification centers, for instance, differ among Android and iOS smartphones.
Notifications on iOS devices go in unlocking the device, regardless of whether they click a link to view the text.
However, for Android phones, the notification remains on the lock screen till the user takes action. As a result, if users don't open the notification message, they must directly clear it.
There are also minor differences across devices that run on the same platform. 
Take a look at the differences in such alerts from both these 2 iOS smartphones. For example, two users using Apple iPhones can view separate push alerts. In addition, despite having more excellent open rates, iOS users open push notifications 13 % higher than Android users.
Users can enable (Opt-in) and disable (Opt-out) push notifications
Customers can choose whether or not to get push notifications
People will turn off push notifications if they would not want to hear from you. Unlike text messages, this communication technique leaves the user in total control.
While the appropriate push notifications could have a higher open rate, providing too many messages can end up backfiring.
Push notifications are considered an annoyance by more than half of app users.
However, this is not the case for everyone. Push notifications are liked by 26% of users because they appreciate receiving information about their interests. Another 20% of users believe push alerts help them be productive.
Therefore the trick for you is to provide value to people that want notifications while not irritating those who locate them distracting. 
However, most app users choose to get push notifications. As you'll see, this differs depending on the business. Push notifications are seen differently by Android and iOS devices. But we'll go into that in a bit more detail later.
Staying selective is the most excellent approach to ensure that smartphone users do not opt out of your push notifications.
Trying to send too many is the quickest way to be disconnected. Unfortunately, that's a problem because once a user opts out of a push notification, it's challenging to convince them to opt back in. After all, you've just lost your most excellent service.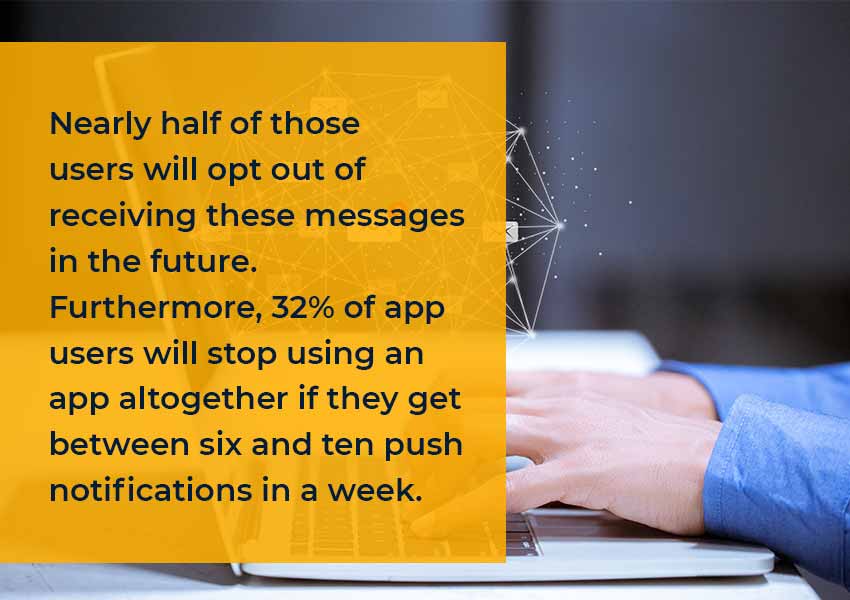 Too many of these messages will cause a negative association with your brand and app.
So make sure that you're selective whenever you're thinking about using a push notification. Stick with ones that add value to the user.
 Location-based Push Notifications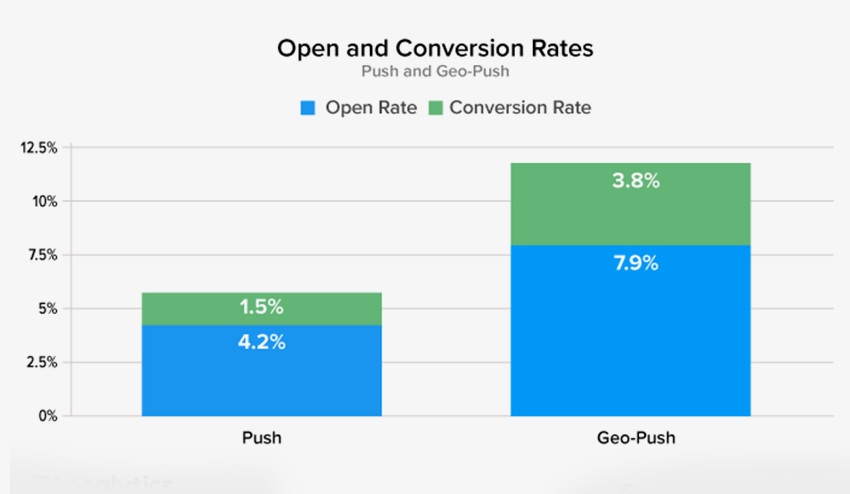 Because you wouldn't want to send push notifications too frequently, you'll need to develop a compelling reason to utilize them. One of my favorite methods is to post signals based on their location.
Large corporations employ the ability in conjunction with push notifications to improve revenue from users who have downloaded their smartphone app. This is how it operates.
Configure your application to monitor the users' location, with their consent, of course. Then, if their position falls outside your geofencing area, you may send a prompt push notification.
It's an excellent push notification since it's accurate and specific. Because the individual has this app loaded on their phone, they are interested in sports and other activities.
They receive the message since it is evident that they reside near the stadium. However, sending this message to someone in Newyork is less effective since they would have to catch an aircraft to get to this game. Furthermore, it's improbable that anyone in Newyork is a Baseball fan.
Since it is detailed, the message is excellent. However, it is not about any Baseball game. The marketing is obviously for the big day.
Eventbrite even published the cost of the cheapest tickets on their website.
If they do not act quickly, first-day tickets may run-up. Therefore, it achieved everything by tracking the user using location-based technologies.
Boost Engagement, Loyalty, and Conversion
Push notifications offer considerably greater open rates when compared to other types of marketing.
Examine the differences in open rates, clicks, and interactions among push notifications and email messages.
This is most likely true in the sense that not everyone receives an SMS notification. Nevertheless, since push notifications are less frequent, app users tend to be engaged.
Push notification engagement rates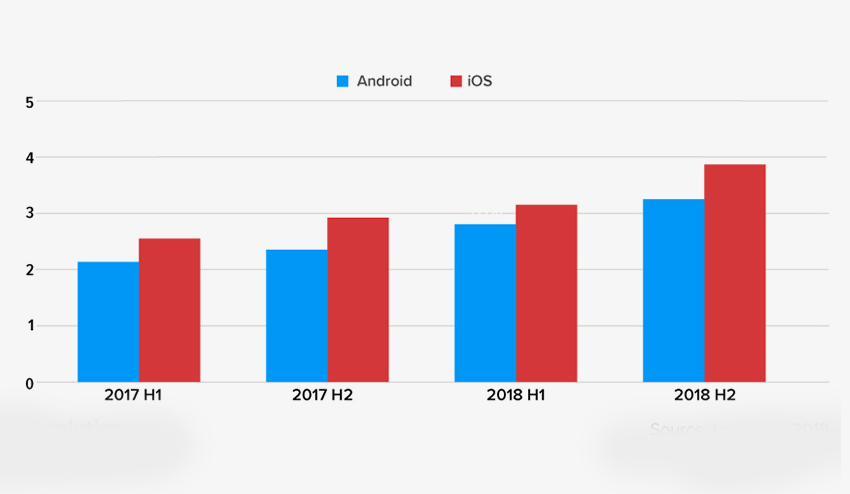 This is especially the case if you follow the prior recommendations and send prompt and valuable emails.
Users that are actively involved in your application will stay to do it and encourage your business. As a result, your profits will rise. It would also be beneficial to evaluate individuals who have downloaded your software but have not yet paid for it. 
Sending a high-quality push notification to these users will convert them into customers.
Promo codes and coupons out of their first buy may be sufficient.
You may also try to increase the number of users who install your app by implementing referral codes and sending out push notifications to market it.
So, keeping most of this view in mind will help you increase your user interest and engagement when you're sending notifications.
Closure
Is it necessary to utilize push notifications, Or is this something you must do? 
Yes, it is essential to use push notification for a better marketing strategy in this world of intelligent devices. 
Based on what we've discussed, you can now see how push notifications may benefit your app and company.
It is preferable to contact your clients using push notifications rather than text messages. 
Just rest assured you don't deliver them too frequently, or people will opt-out.
Send push notifications to users based on location to better understand their needs and provide value. 
Push notifications with tailored content, for example, could help you boost interest, loyalty, and conversion.
One last tip: Remember to keep the user's device in mind when trying to send them out.